TRACK THE PROGRESS OF YOUR HEALTH WITH THESE ADVANCED THERMOMETERS IN UAE
Thermometers are a basic medical instrument that every house should have. But before buying a thermometer that can help you in maintaining your fitness and overall health, you should look for a few things.
Firstly, you should check the device's suitability. Some thermometers could be used for everyone – from an infant to an adult, while others could be specifically designed for a particular age group. Secondly, the device should give you precise readings. It would be wise to select a thermometer that has positive user reviews and feedbacks or is relied upon by medicinal specialists. Thirdly, your chosen thermometer should display accurate results in a fraction of seconds. This is especially important when you're buying a thermometer for an infant who would make it difficult to hold the device for a minute to get the readings. Lastly, you should look to buy a thermometer with user-friendly features like a backlight display, LCD, and memory storage for the last few readings.
Here are some of the top models of thermometers that you can buy in the UAE.
Beurer FT95 Non Contact Clinical Thermometer with Bluetooth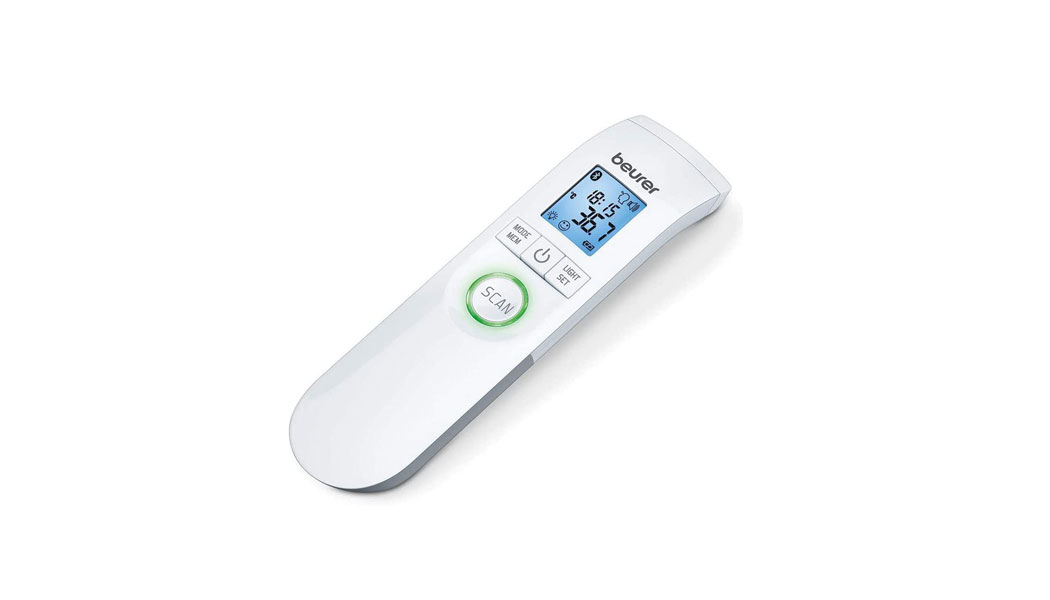 Measuring body temperature easily and quickly even when the patient is asleep is facilitated by this thermometer's colour-coded LED fever indication with green, amber, and red categories. You can even measure surface and room temperature with it. It has in-built memory storage for 60 results and can be connected to the free Beurer Baby Care or Health Manager app via Bluetooth for graphical analysis and temperature monitoring.
OMRON GentleTemp 521 Digital Ear Thermometer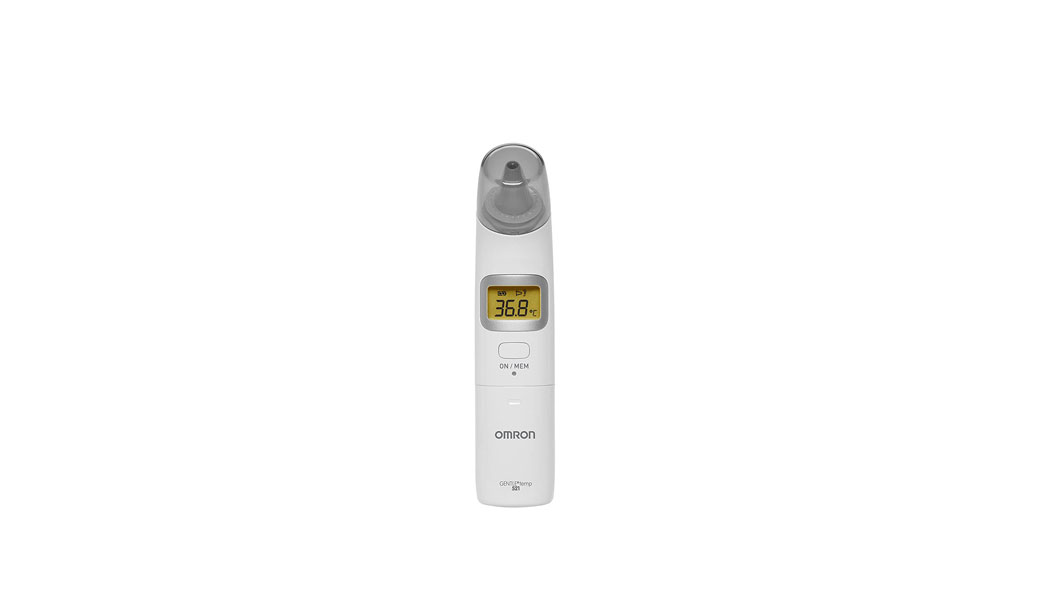 This 3-in-1 user-friendly digital thermometer with an ergonomic design can measure room temperature, ear temperature, and surface temperature from a food dispenser or milk bottle. It gives extremely precise results due to its infrared technology. For ease of use, it has a backlit screen and can store the last 25 results on the thermometer.
Tommee Tippee Digital Ear Thermometer (Pack of 1)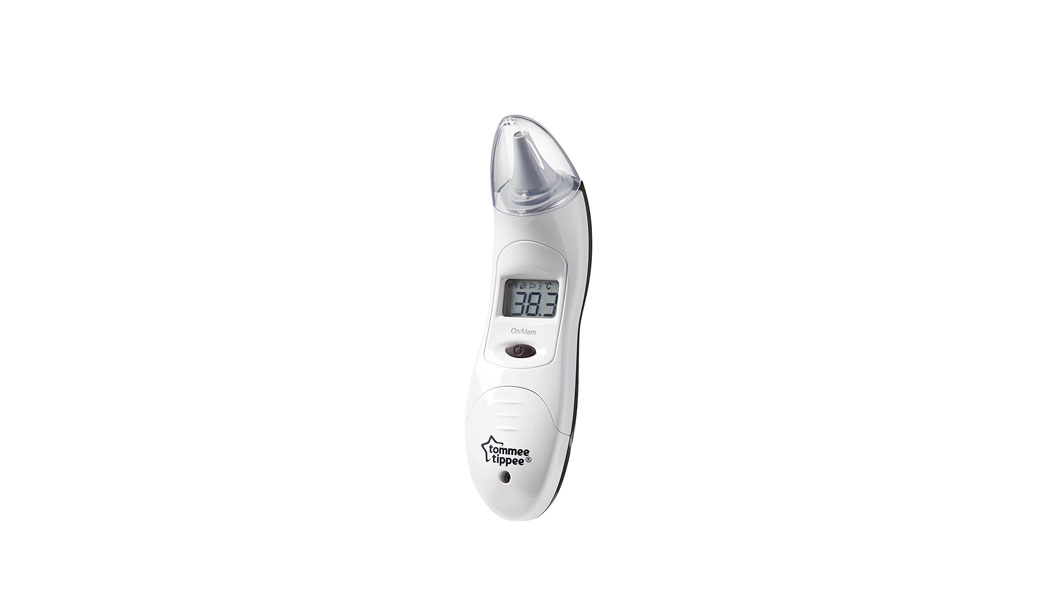 From a newborn to adult family members, this thermometer with a tiny tip is ideal to get accurate ear temperature readings of everyone within a second. It has a huge LCD, gives a fever alert alarm in case the temperature is excessively high, and can store 9 readings in memory to facilitate ease of comparison and monitoring.
BEURER FT55 EAR THERMOMETER
A 3-in-1 ear thermometer which can measure the ear, ambient and atmosphere temperature can turn out to be one of the most useful accessories in a home. With elegant memory slots for simple monitoring including date and time, the ear thermometer FT 55 Beurer has a 9-second measurement and memory space for control of the temperature profile. A hygienic and safe measurement is assured by the removable protective cap and an accuracy of /- 0.2 ° C. In addition, the ear thermometer has an easy-to-read white backlit display, a warning tone and a Fieber alarm with automatic shut-off. The display of normal or elevated temperature with color LEDs shows various colors from green to (Normal temperature) and red (fever alarm). There is an attractive display of °C and °F With protective cap for sensitive sensor tip and storage case with automatic switch-off function and Change Battery Indicator.FT55 Ear Thermometer features both degree Fahrenheit and degree Celsius display, and switches off automatically when not in use. It also has an indicator that tells you when it is time to change the batteries. It comes with a storage box that has a cap for protecting the sensitive tip. All in all, the Beurer 3-in-1 Thermometer is a handy buy to be kept at your home.
BRAUN THERMOSCAN 5 EAR THERMOMETER IRT 6020
With its unique customizable fever guidance technology and other features, the Braun Thermoscan Digital Ear Thermometer has all the advantages to keep you on track with your medical condition. To enable you to decipher your young one's temperature all the more intelligently, the Braun has built up the new ThermoScan 7 (IRT6020) Computerized Thermometer with protected Age Precision innovation which additionally makes it an immaculate infant thermometer. All you have to do is to select your kid's age, take their temperature and the shading coded display will enable you to comprehend the temperature and act likewise. By choosing Braun ThermoScan 5, you are picking the No.1 computerized thermometer recommended by doctors. On account of its protected pre-warmed tip, Braun ThermoScan ear thermometers are as of now viewed as a benchmark for precision which are generally utilized and embraced by specialists around Europe. The tip on the ThermoScan is warmed before use, to guarantee proficient exactness. Furthermore, the ExacTemp direction design affirms the right position and precision with a light and a beep. All in all, the Braun ThermoScan 5 Ear IRT 6020 Computerized Thermometer gives you a considerable exactness with regards to deciphering your kid's temperature.
BRAUN NO TOUCH & FOREHEAD THERMOMETER
Recipient of various recognitions and awards for its unique and functional design style, the No Touch and Forehead Thermometer from Braun scores way above other brands and devices. The adaptable tip offers a delicate comfort that will power the patient to utilize the thermometer securely and helpfully amid all technicalities. Being water safe and having an interchangeable battery are regular highlights for this item. The simple-to-utilize feature of the On/Off-catch and the great design naturally increases the appreciation as a fantastic Braun-thermometer. The easy-to-use placement of the On/Off-button and the excellent design reinforces the recognition as a high-quality Braun-thermometer. This thermometer offers a safe, accurate and quick temperature reading. Maximum comfort and protection are ensured as Braun No Touch and Forehead Thermometer has a flexible tip which assures smooth adjustment to any type of body. The Braun No Touch and Forehead Thermometer is very suitable to keep it in a house or hospital which will help you to check on your family's health whenever the need arises.
Omron Gentle Temperature Forehead Thermometer MC-720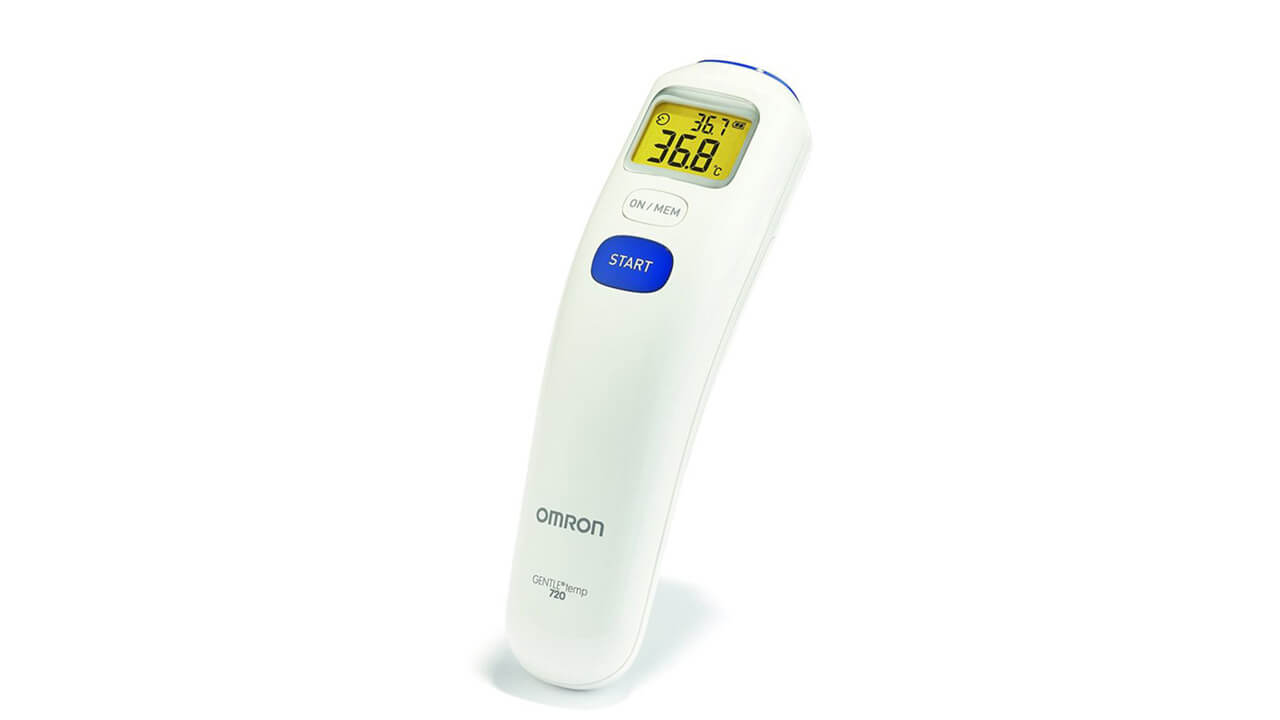 Looking for a thermometer that will give you accurate readings at just a touch to the forehead? Then try the MC-720 Forehead thermometer from Omron. It is a non-contact thermometer with a wide variety of features suitable for all ages. It's a 3-in1 measuring device i.e. three modes for various uses. The forehead measurement mode measures the temperature at the surface of the forehead by sensing infrared emission of the skin at the measured point. This is one of the best methods as the thermometer rarely gets into contact with the body and so it doesn't cause any distress. You can even take a measurement while the kid is sleeping. The Room Temperature Mode displays the room temperature even after the power is off. The Surface measurement mode lets you determine whether an object temperature is suitable for a patient or baby (for example baby milk). You can either find the readings in Fahrenheit and Celsius, depending on the settings. The display is backlit, so you can read the temperature even at night. It has a built-in memory that can store up to 25 readings.
CARE 3-In-1 Non-Contact Infrared Thermometer HX-600
This 3-in1 digital infrared thermometer is suitable for both infants and adults. It is designed to take temperatures of different body surfaces (ear, forehead, room temperature) without getting in contact with the surface. This makes the temperature reading, a convenient and easy way of temperature measurement. This Digital Thermometer takes the internal temperature from the eardrum with the help of infrared laser to get accurate true internal temperature reading and not inaccurate surface temperature. It will beep when the temperature goes very high to give a fever alert. You can take the readings either in Celsius (°C) or Fahrenheit (°F). Probe covers are not needed as the body surface doesn't come in contact with the device which makes it hygienic, eco-friendly and less expensive. It automatically shut itself after 1 minute of inactivity to preserve battery. The memory can store up to 10 recent readings at a time.
Omron GentleTemp 520 Ear Thermometer
When it comes to reliable medical equipment, no brand can beat the Omron. The Gentle Temp 520 is a based temperature measurement device from Omron uses highly accurate technology and includes advanced features. It gives you a fast temperature reading in less than a second, and the readings are super-accurate.  The thermometer is able to keep a record of about 9 temperature readings. This helps to track the temperature changes and thereby monitor the progress of illness over a period of time. It also comes with 21 disposable probe covers to minimise the chance of spreading germs. The large LCD screen displays the temperature in either degree Centigrade or Fahrenheit based on the settings. The package includes Gentle Temp 520 Thermometer, 1x CR2032 battery, probe cap, 21x probe covers, connection ring and an instruction manual.