Custom made Luxury Kitchens
German materials,
crafted in UAE.
We at WOW DÉCOR design manufacture custom-made high-quality kitchens in a wide variety of styles matching to your villa or apartment.
At wow décor we create exceptional high quality custom-made kitchens with innovative designs. Embodying stylish and functional bespoke designs these kitchens, will exceed your expectations. Unlike prefabricated kitchen units available in limited designs, sizes, and styles, From their eye-catching and varied designs to their colour combinations, materials, and styles, everything oozes a classy character that will give your home a facelift with an oomph.
Whether you want your own corner to prep food with ease, rustle up delicious dishes fast, or do them all while entertaining friends, family, and guests, a made-to-order bespoke kitchen can meet all your needs.
Not sure where to get your custom-made kitchen units from? Come to us at WOW DÉCOR for the best-quality custom-made kitchens in UAE that are brought to life by our in-house experts.
Custom-made kitchen units in Dubai manufactured using German materials
Customised kitchens can be designed to fit your layout and meet your unique needs related to space, style, appliances, and aesthetic appeal. Whether you need experts to handle your small projects like custom-made kitchen cabinets in Dubai or large-scale custom kitchen units using top-notch German materials, you will get them all at WOW DÉCOR.
Design styles we offer
Modern kitchen: If you are sold on modern kitchen designs, influenced by the design movement that started in the early 20th century and follows strict guidelines, you can get a custom-made modern kitchen unit from our experts.
Contemporary kitchen: In case you prefer something more dynamic and fluid, contemporary kitchens should be your go-to solution. Be it including a bit of rebel and rule-breaking elements, new materials and trends, or cutting-edge technology and design, our custom-made contemporary kitchens cover all these bases.
Types of kitchens based on shapes from WOW DÉCOR
The one wall kitchen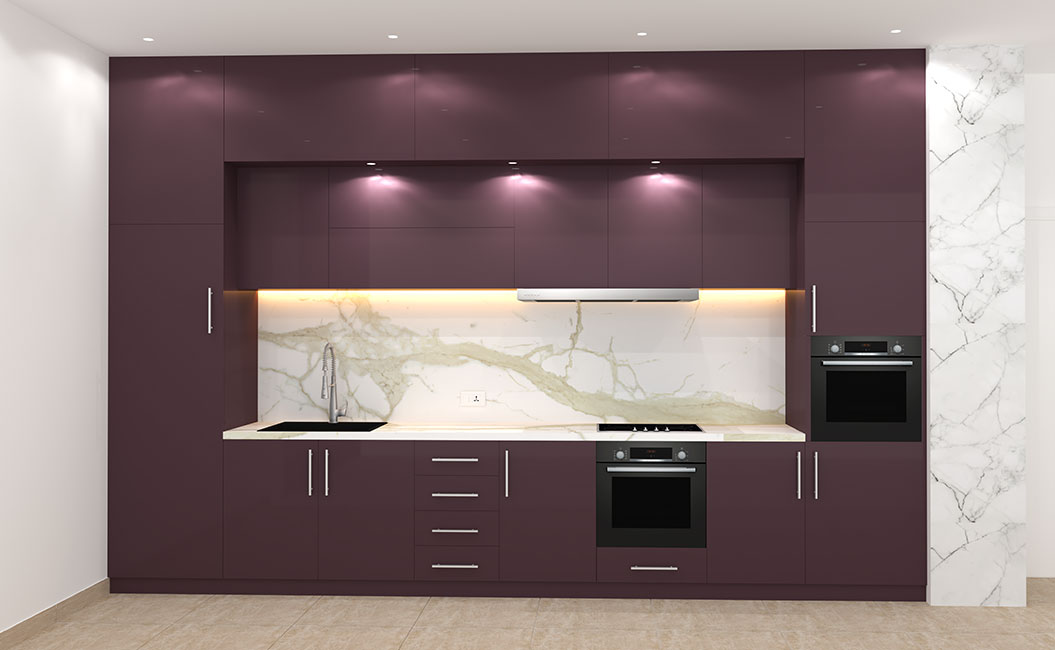 These are ideal for small homes and condos. In such a kitchen, all your kitchen counters, cabinets, and key work services are positioned along one wall.
The L-shaped kitchen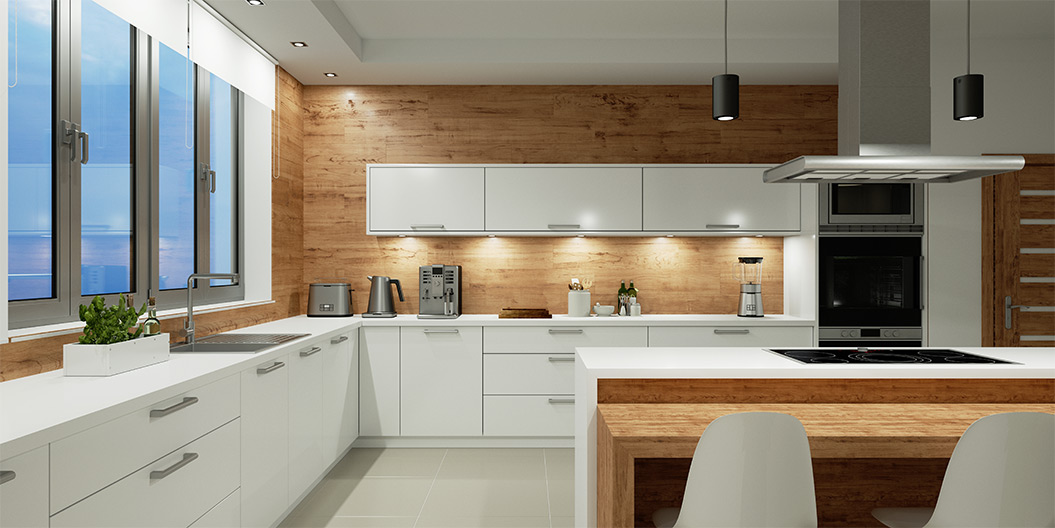 Small to medium-sized spaces can have such kitchens. These kitchens make the most of the corner, thus ensuring you don't lose valuable space. L-shaped kitchens also offer a sensible work triangle for convenient cooking and cleaning.
The U-shaped kitchen
Such kitchens are ideal for larger spaces and facilitate excellent workflow. They consist of cabinetry along three adjacent walls and offer adequate storage, while freeing up floor space. U-shaped kitchens can accommodate multiple users at the same time, making it fun to involve your family and friends in rustling up the dishes.
The Island kitchen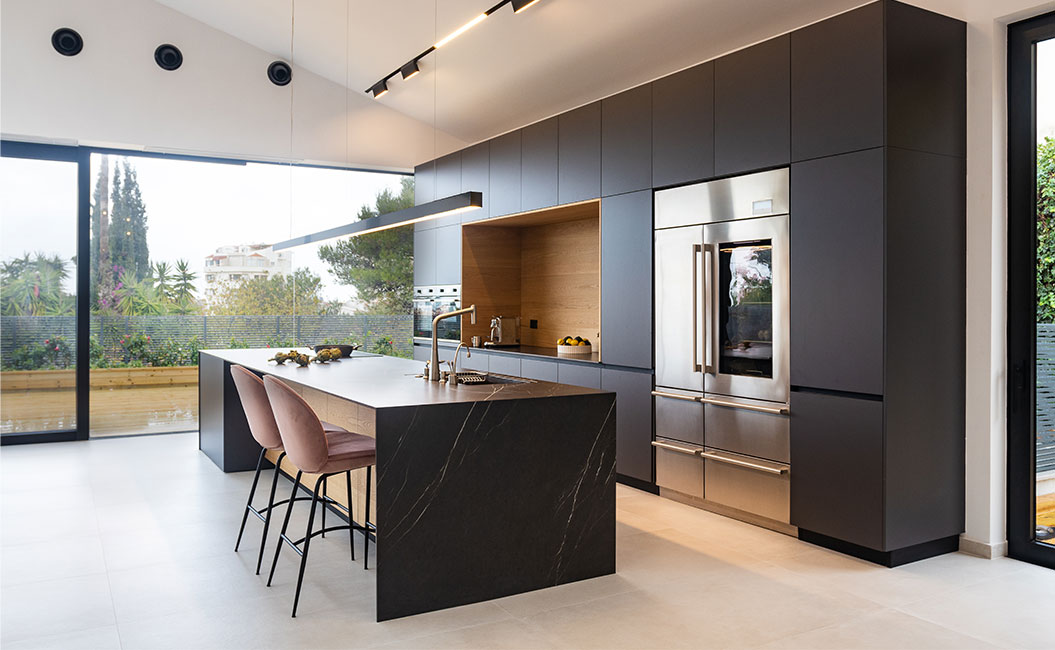 Such kitchens are a favourite in many open-plan homes. An island kitchen provides a big storage area or work surface in the middle of the kitchen. You can use the island in various ways – as a food preparation area, a space to enjoy family meals, or simply incorporate a wine fridge, cooking surface, and bar.
Open kitchen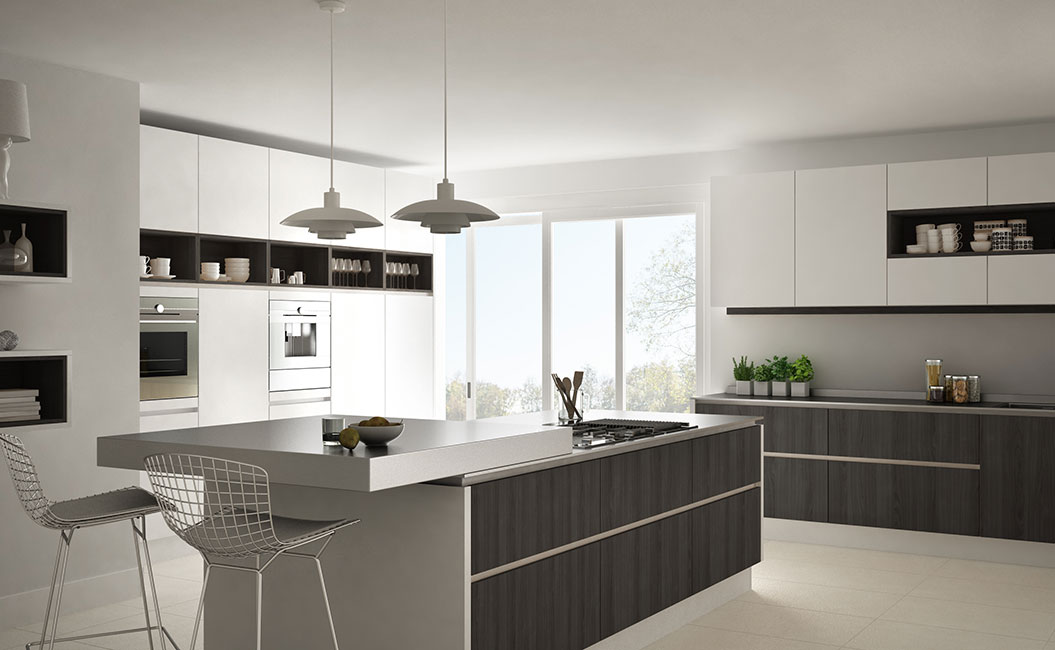 Open kitchens can add volume to modest-sized abodes. Such a kitchen will let you entertain guests while handling your kitchen duties.
Closed Kitchen
A closed kitchen design offers more privacy and work efficiency. Mostly larger families are keen for closed kitchens that involves lot of cooking, use of noisy equipment and ingredients with strong odours.
Materials used
Wood
To implement our best-quality custom-made kitchen designs, we use German-made high-density chipboards and high-quality MDF (Medium Density Fibreboard). They are scratch- and abrasion-resistant, recyclable, have antibacterial surface properties, and help build authentic-looking kitchen surfaces, furniture, and interior design elements like shelves, cabinets, wall cladding, and more.
Countertops and back panels
Quartz, Porcelain and Granite are materials we use in our kitchen countertops. Most of our customers prefer Quartz (engineered stone) or Porcelain but if you don't want to go for either, you can have Granite (natural stone) countertops.
Kitchen back panels create flawless appearance enhancing the beauty of the adjacent wall and the coordinating surface along with protecting the wall behind the cooking area from stains. You can choose from our wide variety of materials, finishes and colour schemes fitting to your home and kitchen interior. Our wide collection includes Quartz splashbacks, printed glass splashbacks, and porcelain splashbacks.
Wide range of designs in Quartz, Porcelain and Granite
Accessories
We use accessories from leading German and Italian brands like Hettich and Blum. From Blum's concealed clip-on hinges for kitchen cabinets, lift systems, box systems, and drawer runners to Hettich's sliding and folding door systems, hinges, drawer runners, and drawer systems, we provide them all.
Lighting
LED lights enhances the charming look of the kitchen and illuminates specific areas like the countertop or the kitchen stove. At wow décor we offer Task lighting, covering prep space, cooking area and sink, mood lighting which creates beautiful ambience, feature lighting, that is eye-catching and integrated lighting which increase the visibility. Choose from our diverse range of lights sourced from premium brands and add elegance and functional flair to your kitchen.
Organisation units
Cabinets
All our custom-made kitchen cabinets are designed to facilitate intelligent storage and easy maintenance.
At WOW DÉCOR, you will get a wide range of colours suitable for your cabinets that go well with your interior design and décor.
Cutlery inserts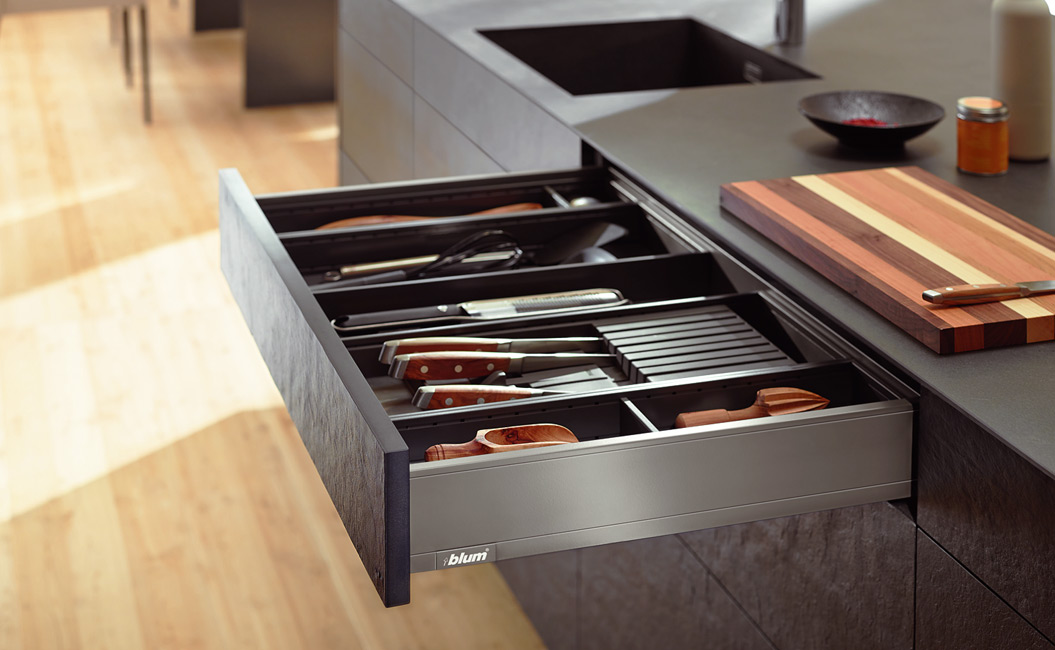 As part of our best-quality custom kitchen designs in Dubai, we bring you convenient, innovative, and practical cutlery units that are intelligently designed and customised. They are available in a wide range of colours, materials, and sizes. Since they come equipped with child safety locks, you won't need to worry about your kid getting hurt accidentally.
Our Process
Our 5-step process includes:
After an initial consultation, our experts will visit the site to get precise measurements and an experience of the space. The new information gathered from the visit is then blended with your vision and requirements to craft (and modify) a custom design.
Once the design is approved by you, our manufacturing team executes the plan and prepares the items for installation.
When they are ready, our expert installers will visit your site (after getting the dates and times finalised according to your convenience) and get everything installed and checked for use.
If you are dreaming of a custom-made kitchen in UAE, contact us now and make it a reality.