Custom made Home Office
Custom Made Home Office Furniture And Designs From WOW DÉCOR
Nowadays a home office is not a luxury but a necessity of your adobe. A home office with all the necessary furniture and gadgets is vital for your professional and business life. When you do video conferencing it is important to have an appealing background with a well-designed bookshelf or shelving unit or a nice artwork and wallpaper.
Creating a home office setup in UAE shouldn't be an arduous task. Yet, many people struggle while doing it, primarily because they don't know where to get their home office furniture from. If you too belong to the same league, come to us at WOW DÉCOR. We are UAE's premier home office solutions provider, who can help you set up your home office with furniture pieces that are customized to meet your needs – functional and aesthetic.
Ready to set up your workspace at home? Let's take a look at what we offer.
Custom-Made Office Tables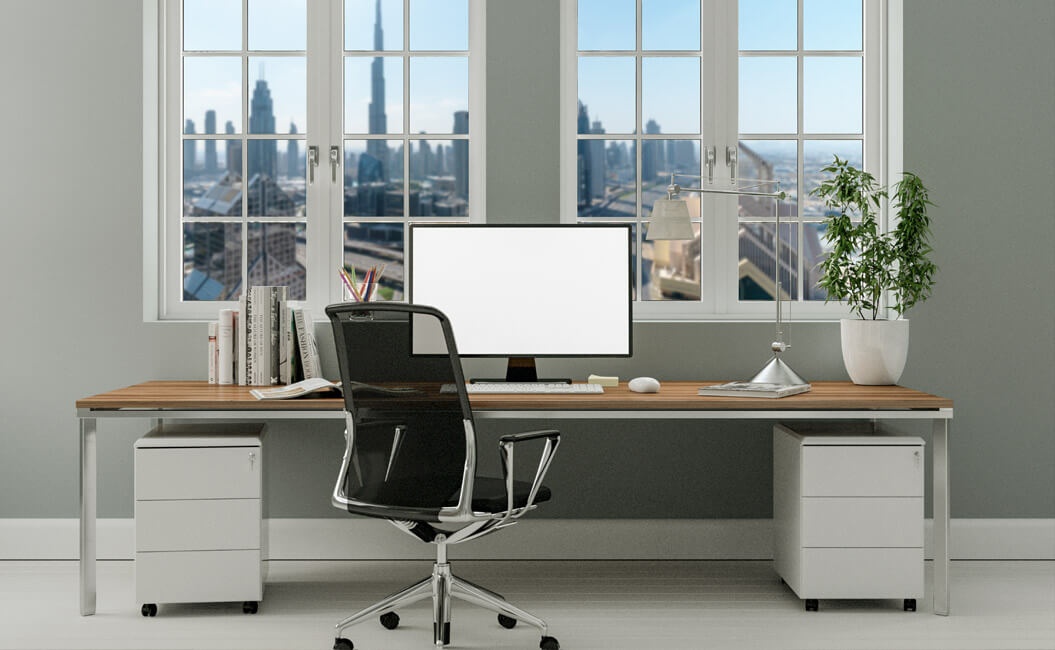 Whether you need a home office table that does duty as your computer desk, can double up as your kid's study desk, and be a temporary home for your mobile phones, chargers, books, et all, we have got you covered. We understand that people today need their home office furniture to multitask, just like they do. At the same time, they should be space-saving to ensure they fit well even in compact areas.
To fulfill the needs of today's remote workers who want to convert their guest room or a corner of the bedroom into their cosy home office, we bring you the perfect home office solutions. Unlike mass-produced office furniture online, each of our home office furniture pieces is tailored to meet your unique needs. From functionality to beautiful home office designs that have an unmatched style quotient, we blend it all to give you pieces that look good and will let you work comfortably.
Shelving Units
Shelves aren't just meant for corporate offices. They can make your home office look organised and attractive as well. By investing in custom-made shelves, you can create space for storing multiple items so they are easily accessible when you need them. From your printer and files to books, storage drive, charging unit, Television, music system, and lighting, bespoke shelves can play home to all and even more, and not make you miss your office cupboard.
Not sure why you need such shelves? They not just offer valuable storage but also help keep your home office clutter-free. These home office solutions are also an excellent way to add a decorative element to the space. By placing small accessories, such as potted plants, art prints, photographs, prizes or medals you have won, among others, you can make your workspace feel more personal, thus creating a cosy setting to work in.
Bespoke Bookshelves
Whether your home office doubles as your study room or you just want a few good books at arm's reach, bespoke bookshelves for your home office setup in UAE are a wise investment. Thinking of buying free-standing bookshelves from a physical or online store? Ever wondered what if they don't fit the space you have or lack adequate storage capacity?
Get rid of such worries by commissioning a bespoke bookshelf from us. Our custom-made piece will be tailored to accommodate all your favourite books and other items, and even complement your other home office furniture
Art Printing
Home office ideas need not always focus on office tables, shelves, etc. You should consider bringing in some artwork to make your home office setup in UAE feel personal and inviting instead of being cold and boring. Not sure how to do it?
Get some art prints and hang them on your home office's walls or put them on bespoke shelves.
Wall Paper
Choosing wallpaper for your home office that promotes a calm setting or makes you feel closer to nature can let you concentrate better and enhance your productivity and effectiveness. Perhaps these reasons make wallpapers one of the prudent home office solutions.
For bespoke wallpaper that goes well with the rest of your home office setup in UAE, come to us at WOW DÉCOR.   
Whatever be your home office furniture or décor needs, our expert team is ready to meet them and even suggest a few things to create a workspace that makes work from home rewarding. Contact us right away to know more about our bespoke home office solutions!