The Best Air Fryers You Can Buy In The UAE For Preparing Healthy Snacks
If you can't live without your favourite fries and crunchy nuggets but want to ensure your meals are healthy, you should invest in an air fryer. Since they use little to no oil to fry food, you can enjoy delectable meals without compromising on your health. Read on to know more about the benefits of using air-fryers and tips on buying and maintenance.
Advantages
Healthier and safer than deep frying: As you can fry food with little to no oil, you can enjoy meals that have low-fat content and lesser calories, which makes them healthier than their deep-fried counterparts. Compared to deep-frying that can splatter oil, no-flame air fryers are safer. Air fryers are safe to use as most have an auto-shut feature.
Multiple cooking modes for faster and easier cooking: Air fryers come with multiple pre-set cooking modes to make your kitchen duties easier. Since they take just a couple of minutes to get your air-fried meals ready, they're much faster than oven-cooked meals.
Forget messy kitchens and tiring cleanups: Since air fryers use little to no oil and have an enclosed fry bucket, they don't involve splatters or messy cooking, unlike meals cooked in frying pans using oil. Additionally, most have non-stick fry buckets that are dishwasher-friendly, which makes cleaning them a breeze.
Buying tips
Select the right capacity: Consider the size of your family to decide what food basket capacity would suit you the best. Couples or bachelors can do with a small capacity while bigger families should invest in food baskets having XL or XXL capacity.
Ensure ease of cleaning: Make sure to buy an air fryer that has a non-stick body and food basket, and is dishwasher-friendly. These will ensure cleaning is faster, easier, and calls for lesser effort and time.
Opt for fryers with automatic timer: Such a timer makes it easier and safer to cook foods. You won't need to supervise the food throughout its cooking duration and the timer ensures that the food does not burn. And even if you forget to switch off your device, it will shut off after the set time has elapsed.
Check the availability of different temperature controls: Different cooking methods like baking, frying, roasting, and grilling need different temperatures. Instead of air fryers with manual temperature controls or having indefinite temperature increase, opt for those with digital controls that work within a wider, yet more specific temperature range.
How to take care
Clean your air fryer's food basket and pull-out drawer as soon as you finish cooking. You can soak them in dish detergent and hot water to loosen the food particles, which will make cleaning them easier. You may even use a damp cloth dipped in lukewarm soapy water to clean the inside of your fryer. However, avoid letting drips or food crumbs sit overnight. Else, it would make your cleaning job a nightmare. This is especially true when you're cooking ingredients with a sticky sauce, like marinated ribs, because the mess will come off easily when it's hot, but harden once cold. Also, make sure to use a damp cloth to wipe the exterior and dry the device.
Ready to start shopping? We bring you a well-researched list of air fryers from leading brands to make your choice easier:
Black+Decker Digital Air Fryer Aerofry
This dishwasher-safe, user-friendly digital air fryer comes equipped with a food basket of 1.2 kg capacity that has a safety lock. As it uses Rapid Air Convection Technology and lets you control the temperature (80 to 2000°C), you can easily grill, bake, roast, and fry ingredients to enjoy delectable dishes.
Tefal Oilless Easy Air Fryer 4.2 L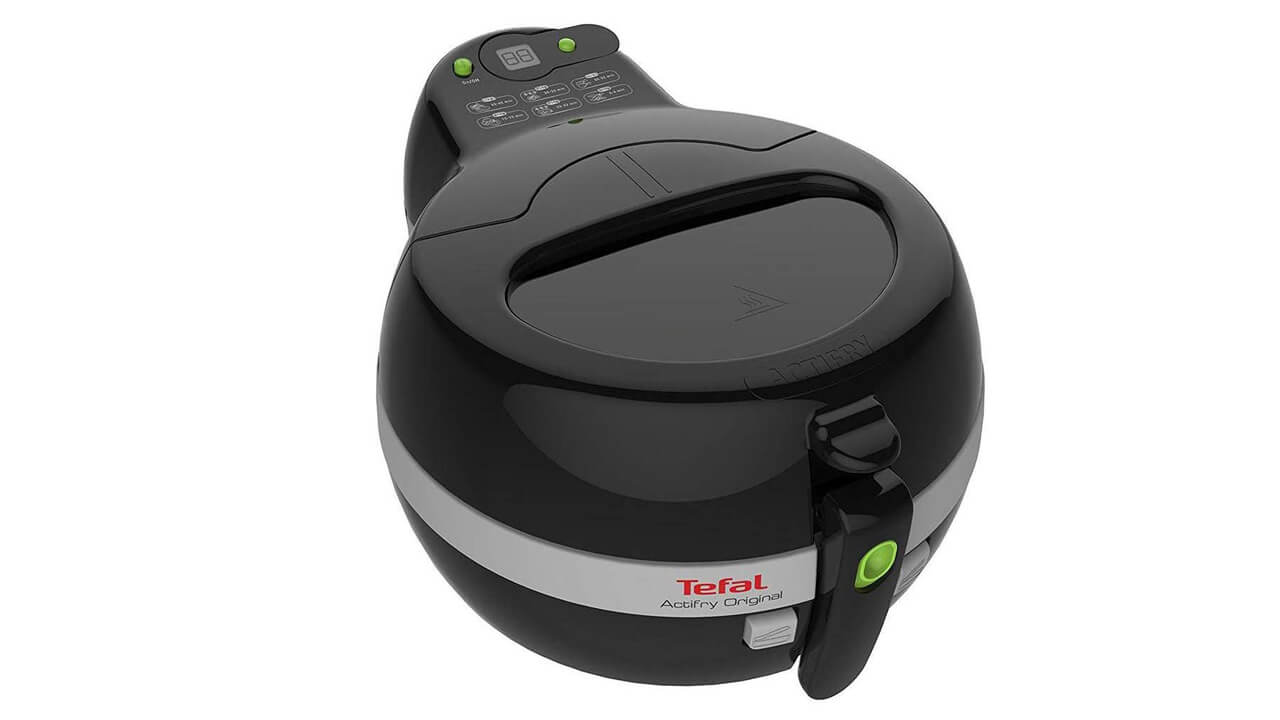 Cooking up to 6 portions (about 1.2 kg) of mouth-watering food is made easier with this XL capacity air fryer. Using little to no oil, you can fry, grill, bake, and roast at high precision temperature (80-200°C) to enjoy a variety of delectable meals.
Philips HD9860/91 Premium Collection Air Fryer
Bake, roast, grill, fry, and reheat up to 6 portions with the huge basket (7.3-liter capacity) of this air fryer. With its automatic Smart sensor, Smart Chef programs, and the ability to save the cooking setting of your favorite dish, rustling up delectable dishes will no longer be a tiring chore for you.
Black+Decker 2.5 Litre Manual Air Fryer
Enjoy your nuggets, fries, and more with minimal fat using this air fryer with a food basket of 0.8 kg capacity. It uses rapid air convection, offers mechanical temperature control (80-200°C) for a variety of cooking, and comes with a cool-touch handle having a detachable lock on it to ensure safe handling.
Philips Avance Collection1.4 kg Air Fryer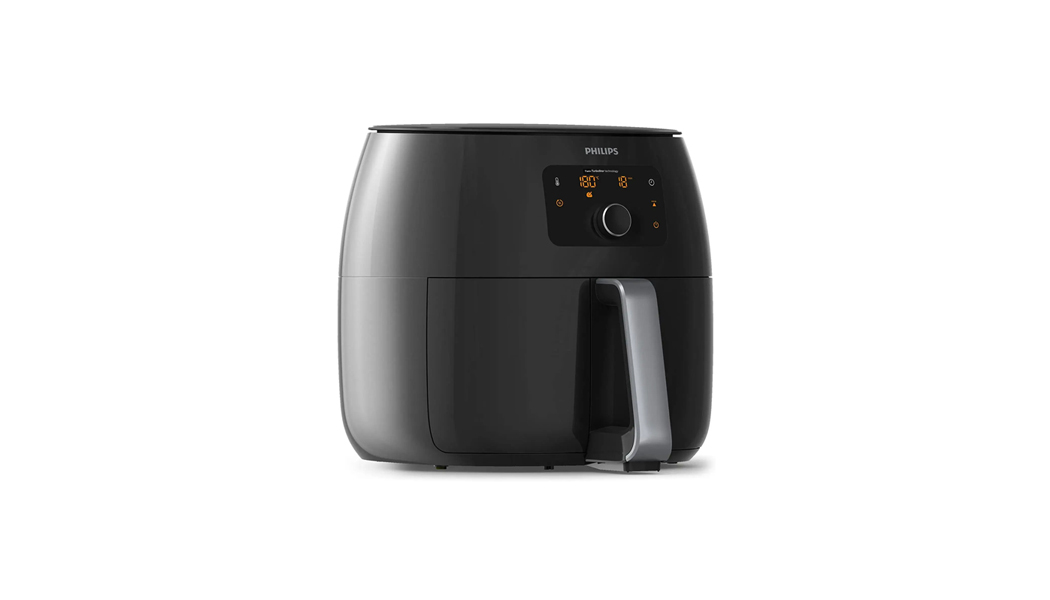 Cook your food 1.5 times faster than an oven and with minimal oil with this air fryer that's ideal for family meals thanks to its huge basket (7.3-liter capacity). Fry, grill, bake, roast, or reheat with Rapid Air and fat removal technology to enjoy healthy and delicious meals.
Philips Essential Airfryer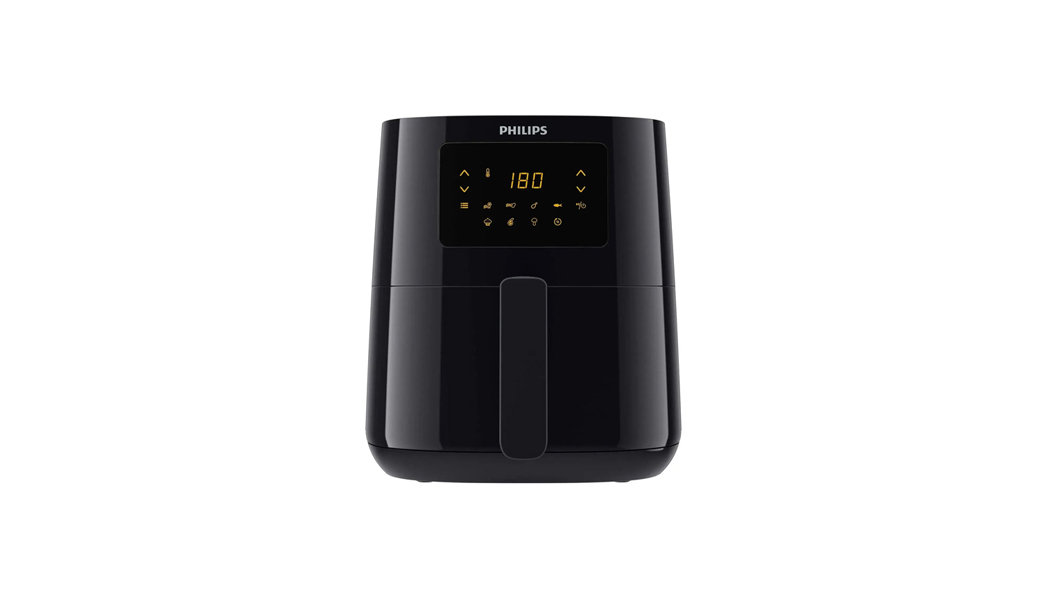 Enjoy healthy frying with up to 90% less fat, thanks to the Rapid Air technology used by this air fryer. You can use its seven preset programs (for fresh fries, frozen snacks, meat, chicken drumsticks, fish, grilled veggies, and cake) to bake, fry, roast, grill, and reheat, and even get daily recipe recommendations via NutriU.
Tefal Air Fryer FX112027
With a capacity of 0.8 kg to handle up to 4 servings, this air fryer with 7 pre-set automatic and 1 manual cooking mode lets you cook frozen fries and snacks apart from grilling, roasting, baking, and reheating your meals. Enjoy crispier cooking with its 3D Air Pulse Technology and rustle up dishes easily with its digital touchscreen interface and the free booklet with 100+ recipes online.