Wash Your Dishes Effectively by Loading Your Dishwasher Right
Everyone has a way of loading the dishwasher. But the problem is everyone feels their way is the right one, though it may not be. Knowing the right way to load your dishwasher can make all the difference between sparkling plates, cups, spoons, and bowls, and those with water spots, grime, and caked-on food.
When you find your dishes haven't been cleaned properly, you may blame the machine, but the problem could be how you load them. For instance, if you block the path of your dishwasher's spray arms or don't provide adequate space between dishes to ensure the arms rotate appropriately and water reaches all surfaces, your dishes won't get cleaned. However, there's nothing to worry much. If you learn and practice loading your dishwasher properly, you will no longer need to suffer the nightmare of pulling out dingy dishes after running a dishwasher cycle.
Given below are some tips to help you load your dishwasher correctly.
Know which items are dishwasher-safe
Before you run your dishwasher, you should ensure the items it's filled with are dishwasher-safe. For instance, hand washing is usually recommended for fine china, porcelain items, non-stick cookware, acrylic bowls, cups, and trays, sharp kitchen knives, wood cutting boards, and kitchenware that have cast iron, crystal, aluminium, wood, copper, gold, bronze, and silver in them. Putting these items in the dishwasher may ruin their finish and also cause damage to your machine. If you are not sure about whether an item is dishwasher-safe or not, it's best to wash them by hand.
Don't pre-rinse
Right after a meal, you just need to scrape off large food particles from your pans, plates, and pots before putting them in the dishwasher. There's no need to pre-rinse. It helps to leave smaller food particles as your dishwasher's cleaning detergent can stick to them and lift them away easily. However, if you need to keep your dirty kitchenware for a few days before your dishwasher is full to run, it's recommended to rinse them lightly to prevent your dishwasher from getting smelly.
Know which items should go where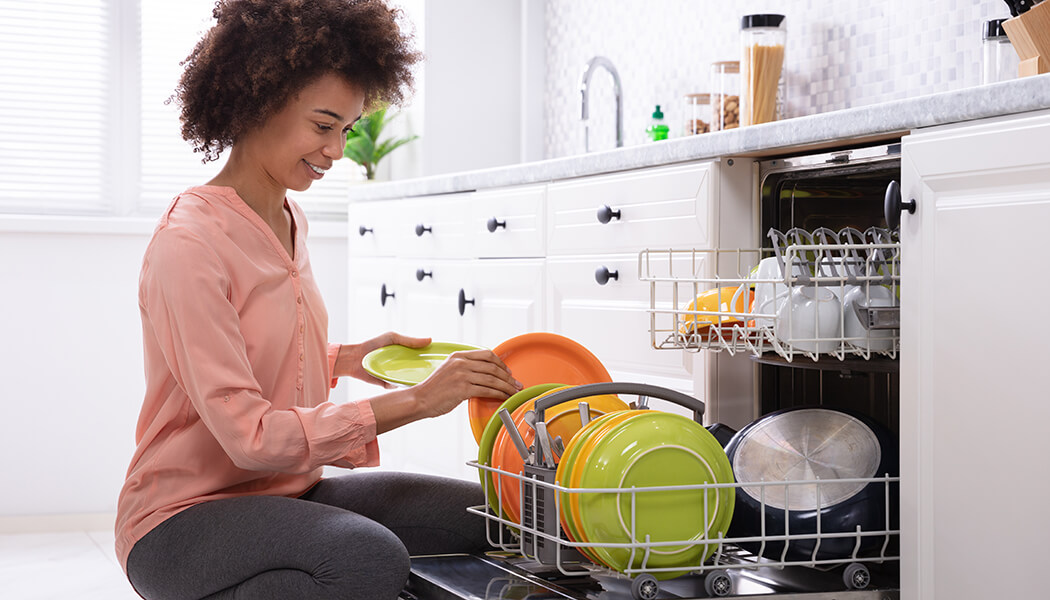 You should position all dishwasher-safe, lightweight plastic items, such as storage containers, together with saucers, cups, glasses, and smaller items on your dishwasher's top rack. Since the top rack's tines are adjustable, you can easily place those tall glasses on the top rack. Your washer's bottom racks are for bigger items, like pans, pots, plates, casserole, and bakeware. You should position the larger items on the sides and ensure they don't block the detergent dispenser door.
Load from back to front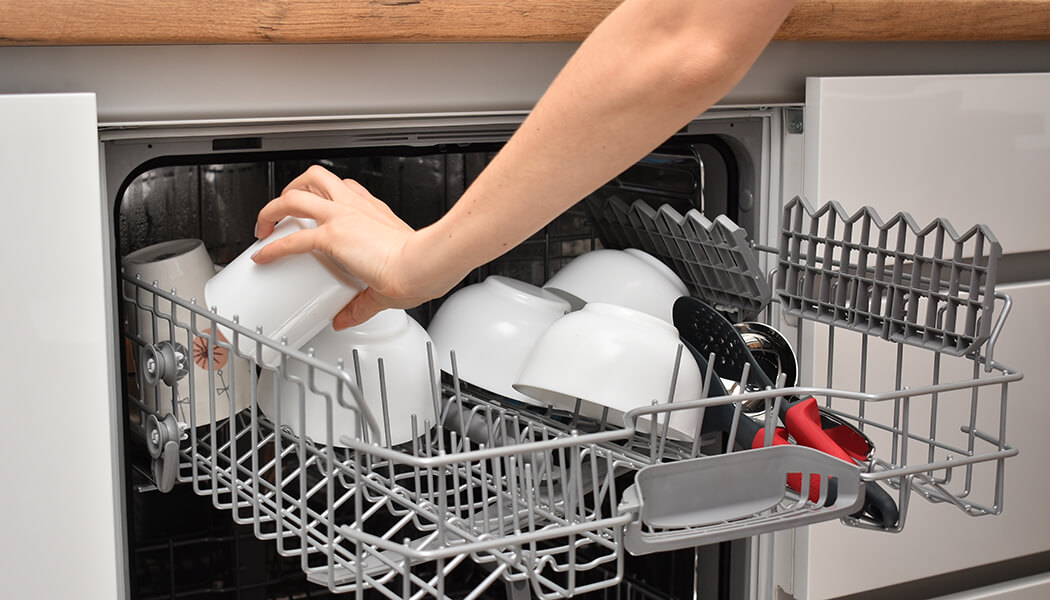 You should load both the bottom and top racks from back to front, as this lets you use the space optimally. For the lower rack, you should ideally position your plates or trays on the side to ensure you aren't blocking the spray arms, which would have otherwise affected the water flow. You can place your big plates and other large items in the middle. You should avoid nesting items to let the water completely cover the entire surface area of the dirty items and clean them well.
Avoid huddling all your utensils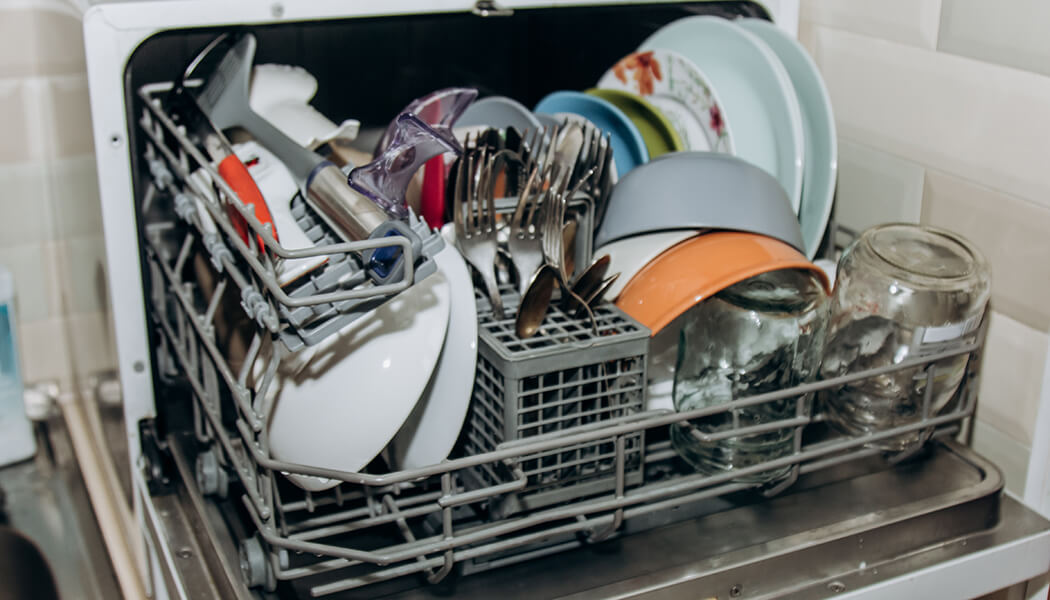 Though you should keep your utensils together, avoid putting them all too close. For the most effective wash, it's recommended to position the bowls of spoons and the tines of forks sticking up. Your knife blades should point downwards for safety. To minimize scratches and ensure the water has space to move around and clean every surface properly, you should avoid cramming too many utensils into your dishwasher's basket all at once.
Use the correct category of cleaner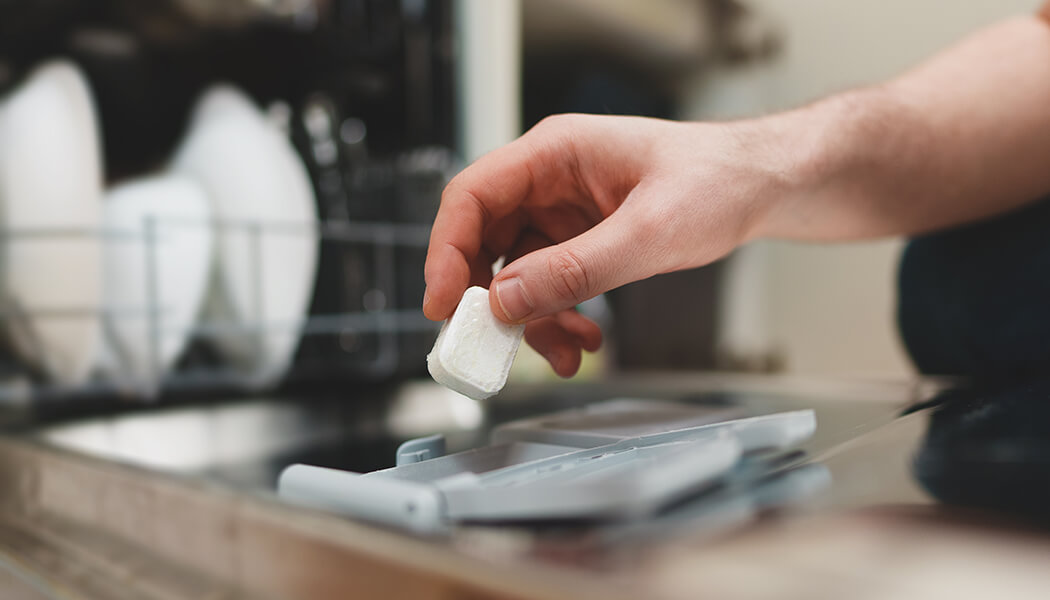 It's important to know and use the right category of cleaner for your dishwasher. Depending on your model, this could mean dishwasher liquid, tablets, or powder dishwasher detergent. You should steer clear of using dish soap because it may foam too much and harm your kitchenware.
Avoid obstructing the spray arms
Prior to running your dishwasher, you need to spin the sprayer arms using your hand to make sure no item is interfering with their full rotation. It's important to remember that the rotation of these spray arms make water pass throughout the machine during a wash cycle to clean your dishes effectively. Thus, blocking them would mean staring at unclean utensils at the end of a wash cycle.
Unload the bottom first and then move up
When loaded right, your dishwasher will open to a burst of hot steam and sparkling clean dishes. You shouldn't undo your hard work with careless dish removal. Unload your washer's bottom first, followed by reaching for the top. This will prevent any remaining water droplets from dripping onto your clean dishes.
Avoid overcrowding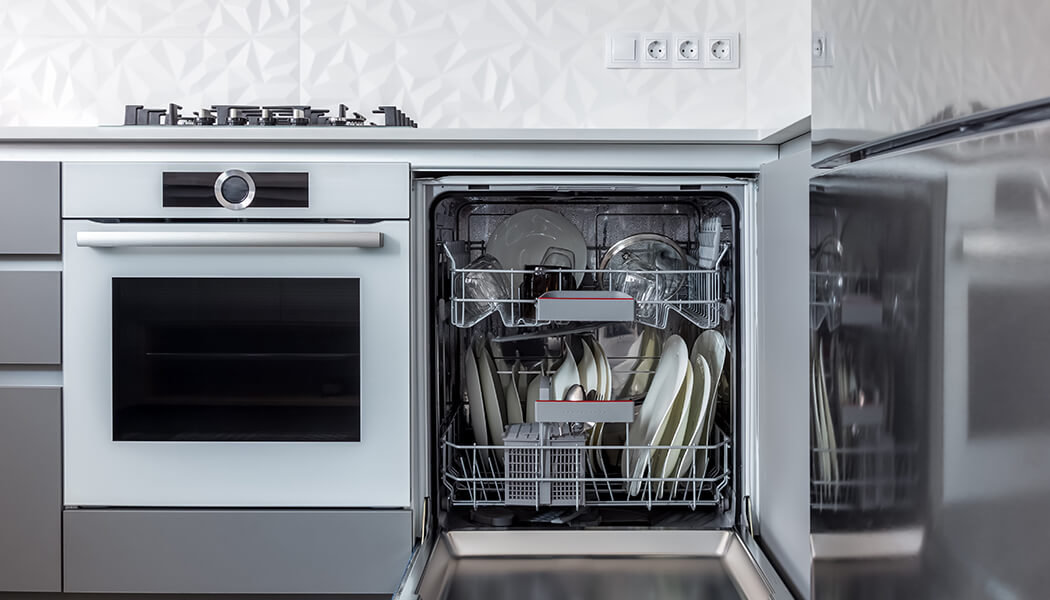 Unclean dishes in the washer after a cleaning cycle isn't always about the water's inability to reach the dishes. You should also ensure not to overcrowd your dishwasher. It helps to leave adequate space in your dishwasher for the sprayer arms to move properly. Remember – if you fail to see between your dishes, water won't be able to remove the debris.
Now that you know the secret to load your dishwasher properly, you can forget the nightmare of pulling out dirty dishes after a wash cycle.