Residential Interior Design Services
Home interior design and fit-out services in Dubai
If you are looking for top-tier interior design companies for residential apartments and villas in Dubai, then you have arrived at the right place. WOW DÉCOR focuses on creating aesthetically pleasing and functional residential interiors that will be a joy to live in and entertain guests. We invest time in listening to your needs and identifying the interior design styles that go well with your taste and lifestyle.
How we work
We use a streamlined and transparent process to deliver functional and modern interior design and fit-out services for all spaces. When you work with WOW DÉCOR, you will always be in the loop, from the final result at the start (when we craft the initial design) to having a finger on the pulse when our experts conduct the fit-outs.

ConsultationOur experts will discuss your specific needs, goals, and budget during the initial consultation stage. If you aren't sure which of our products or services would be the most beneficial to you, we can assist you in selecting one that meets your requirements. Once you decide to move forward with us, we will create a brief based on your initial consultation. This will act as the foundation for creating a basic design with the selected materials, colours, and style.

Site VisitThe next stage is where our experts will work with you to fix a schedule for the site survey. They will conduct a thorough measured survey of your spaces to prepare and fine-tune the final plan before they send it in for your approval.
Costing and DesignWe understand that no one loves sudden cost escalations or hidden charges. As a result, before we go back to the drawing board with precise measurements acquired during our site visit, we will discuss your budget. Following that, we will work on the detailed designs and send you an itemised report detailing all the costs involved in every aspect of the project. We will prepare this and send it to you for your approval. Once we are ready to kick off your project, we will send you the complete design package, consisting of the drawings, 3D visualizations and specification documents to get your approval. After you sign it off, we will start working on the manufacturing.
ManufacturingOur experienced manufacturing team is dedicated to producing the most beautiful pieces for your space, skillfully transforming raw materials into real works of art with a keen eye for detail. During the fit-out stage, our expert team will install the furniture, design elements and fine-tune them, as needed.
InstallationFinally, we will give the necessary styling and finishing touches to the final product or design during the handover stage to ensure your space oozes an unmatched charm and looks inviting with a striking "wow" factor – the USP of WOW DÉCOR.
If you believe in the art of luxury and plan to give your space a luxurious upgrade with the best interior design and fit-out services in Dubai, backed by custom-made exquisite furniture that blends visual appeal and functionality, then get in touch with us today!
Want to get a glimpse of what's up for grabs?
Living Room
Your living room should reflect your personal taste and choices. Whether you have a tight corner that you want to decorate with a custom bookshelf or an area you prefer to impart some privacy with a bespoke partition, you will get them all and more at WOW DÉCOR.
From stunning TV wall units, bookshelves, and center tables to designer partitions that go well with your living room's theme or your home's entire interior décor, avail them all at WOW DÉCOR.
Transform your living room today and make it more inviting, comfortable, and striking!
• Bookshelves
Custom bookshelves let you select custom configurations, high-quality materials, and even integrated lighting. By ensuring it fits your space, even if it's in a limited space or needs to be fitted around the window or on either side of your TV unit, these bookshelves facilitate optimal storage.
If you have been struggling to give your precious books a beautiful and elegant home, our custom bookshelves for your living room are just what you need!
• TV and Media wall Units
Take a break from mundane furniture with our bespoke TV and media wall units. Since TV is the main entertainment system in anyone's home, it is necessary to get TV and media units designed to fit your space and meet your aesthetic needs. Whether you need full wall units that are traditional and grand or modern and simplistic ones, we offer them all.
Our TV and media units are available in a wide range of styles and are designed to keep your space organised by concealing the wires and cables, thus enhancing your space's aesthetic quotient.
• Center Table
We can customise a suitable design to match your requirements, space limitations, colour and theme of your home décor.
• Living Dining Partition
A designer partition between your living room and dining room can offer some much-needed privacy to either space by blocking the direct view of it. Additionally, such a partition can help showcase your artistic decor, knick-knacks, or memorabilia, thus enhancing your interior décor.
• Shoe rack
If you need to optimise the space available at the side of the main entrance, trust us at WOW DÉCOR to create a customised shoe rack for it. You will enjoy the flexibility to choose the size, colour, and design of your shoe rack to ensure our designers create a product that matches your functional needs and serves your aesthetic preferences as well.
Bedroom
The elegance of a bedroom totally depends on the look of the bed, bed frame, lighting, and bedside tables. Our interior décor specialists will strive to design the room according to your requirements and specifications.
• Custom-made Dressing Units
Dressing units are an integral part of a bedroom, and we offer customised dressing units to meet your unique requirements.
• Custom-made Wardrobes
We manufacture closets in Dubai to suit your needs and maximize your space. We help transform one of the most private spaces in your home into an organised storage oasis when it comes to custom closet design.
Dining Room
• Dining Table
Dine in style with our custom-made dining tables, which are manufactured using hardwood, chipboard, and MDF.
• Crockery Shelf
Organise all your crockery items in an elegant way with our extraordinary crockery shelves. We use wood, glass, and best-quality German materials to craft these top-of-the-line shelves.
• Dining Bar Counter
If you want to spruce up your home with a custom-made dining bar counter to deliver a more dynamic and memorable bar experience for yourself and your guests, our team at WOW DÉCOR have got you covered.
Kitchen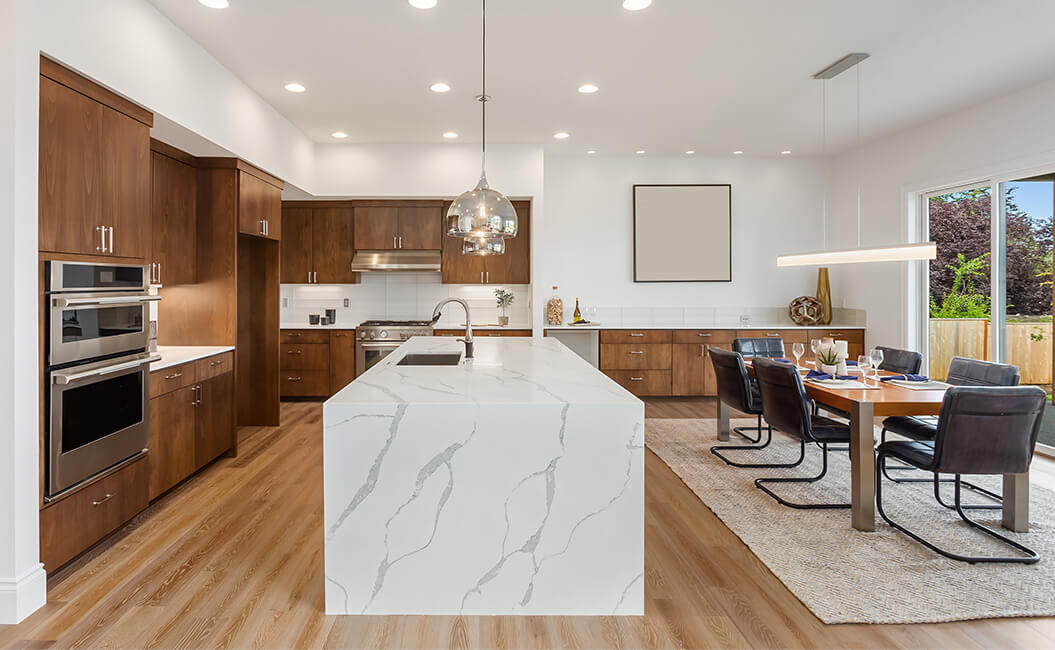 Give the heart of your home a modern and trendy upgrade with custom-made kitchens offered by WOW DÉCOR. Available in a wide variety of styles to match the interior theme or décor of your villa or apartment, we design and manufacture bespoke kitchens made with German materials.
Types of kitchens we offer:
One wall kitchen
L-shaped kitchen
U-shaped kitchen
Island kitchen
Open kitchen
Closed kitchen
Our home interior design and fit-out services aim to improve the aesthetic quotient of your home while keeping an eye on the functionalities as well. With our finest team by your side, you will have interiors that add value to your property. Now elevate your home with assistance from one of the best interior design companies in Dubai.
Contact us today for a free consultation to make your dream home a reality.