Tips for Effective Cleaning of Your Washing Machine to Make It Serve You for Long
Washing machines have become a prized household item that takes care of the family laundry, thus ensuring everyone looks their best. Since your washing machine has become an inevitable and important tool in your everyday life, it's essential to keep it clean and care for it the right way to help it serve you longer.
Why clean your washing machines?
Over time, the dirt and grime from your clothes, sheets, and towels build up inside your washing machine. If you don't clean the appliance regularly, it will get dirty. It may also harbour hard-water deposits, leftover detergent, and mildew or mould around the lid. As a result, a wash cycle can leave a residue on your laundry or make the items emerge with a bad smell. Whether you have a front-loading or top-loading washing machine, you need to deep clean it every three to six months to make it stay clean and fresh. Here's how you can do it.
Step 1: Run an empty, hot cycle with vinegar
Instead of detergent, add white vinegar (two cups) to your washing machine's detergent dispenser and run an empty cycle (regular) on hot. The mixture of vinegar and hot water will remove bacteria, if any, and prevent its growth. Since vinegar can function as a deodorizer, it will also help remove mildew odours.
Step 2: Scrub your washer's inside and outside
Mix a quarter cup of vinegar with the same amount of water in a bucket. Use this mixture, a sponge, and a dedicated toothbrush to clean your washing machine's interior sections. Give special attention to the inside of the door, around the door opening, and soap or fabric softener dispensers. In case your machine has a removable soap dispenser, soak it in the mixture you have made before scrubbing. Wipe down your machine's exterior as well.
Step 3: Run another hot cycle
Run an additional empty cycle (regular) on hot, without vinegar or detergent. If you want, you can add half a cup of baking soda to the drum to remove the build-up loosened during the first cycle. Once this second cycle is complete, wipe out the drum's inside with a microfiber cloth to get rid of any remaining residue.
Additional tips for cleaning a top-loading machine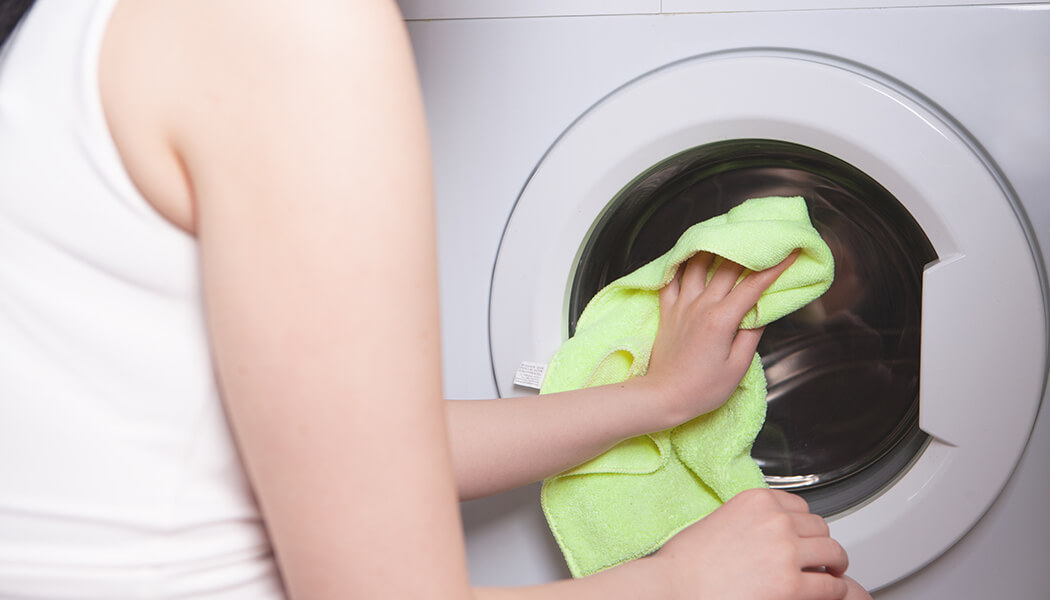 Pause your machine during the first hot cycle with vinegar and water, as mentioned above. Let the tub fill and get stirred up for about one minute, after which you should pause the cycle for an hour to facilitate the vinegar soak.
Since top-loading washing machines have a tendency to collect more dust than their front-loading counterparts, you should wipe your machine's dials and the top with a microfiber cloth soaked in white vinegar to remove detergent splatters or dust. You can use a toothbrush to scrub the difficult-to-reach areas under the tub's rim and around the lid.
Additional tips for cleaning a front-loading machine
In these washing machines, the rubber seal around the door or the gasket is typically to be blamed for your musty-smelling laundry. Since leftover detergent and moisture can offer a breeding ground for mildew and mould, you need to clean these spots regularly. To get rid of grime, use distilled white vinegar in a sprayer. Spray the spots around the door and let it sit for at least a minute with the door kept open before using a microfiber cloth to wipe the areas clean.
If you require a deeper clean, you can use a diluted bleach solution instead of white vinegar. To avert mildew or mould growth, keep the machine's door open for a few hours after every wash, as it will allow the moisture to dry out.
Opt for monthly cleaning
In between your deep cleaning schedules, you can have a monthly cleanup of your washing machine. You can use slow-dissolving cleaning tablets (like those with sodium carbonate and oxygen-based bleach as their constituents) for the purpose. You can select your washer's in-built "tub clean" cycle (or your machine's normal cycle if it doesn't have an integrand cleaning cycle), drop the cleaning tablets, and run the washer without any clothes. These cleaning tablets will create foam that gets inside all the crevices, nooks, and crannies of your washing machine before being automatically rinsed away.
Apart from the above steps to clean your washing machine, you should be careful with your detergent choice and avoid overloading the washer to maximise its lifespan.