Retail Fit-out Services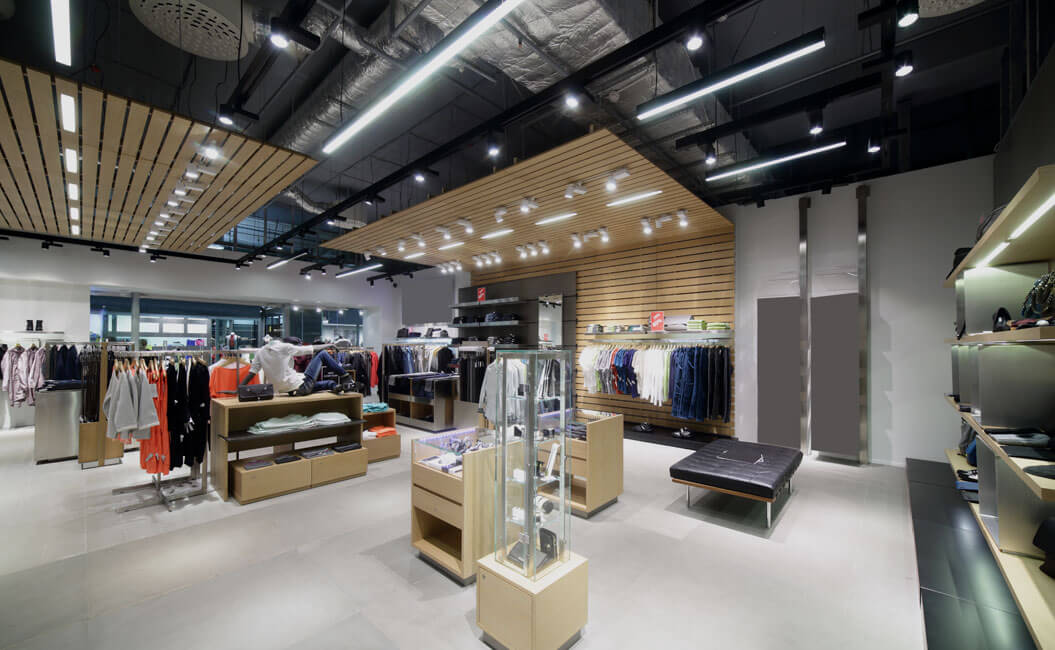 Consumer convenience has become the focal point while designing the retail experience. For them to stay at your store and interact with your brand for a considerable time, consumers look for a list of things in your retail space that contributes to their overall experience. From catchy shop layout, convenient racks and shelves arrangement, spacious walk area, easy product location, pleasing color schemes and so much more, consumers today look for nothing less than the best. And we, at WOW DECOR make all of it possible through scientific, specific, and systematic shop Fit-Out Solutions.
WOW DECOR marks its strong prints in offering comprehensive, detailed, and integrated shopfitting solutions for retail spaces. Spawning an experience of over years and with a team of professional experts, we've carved our name behind a few of Dubai's most renowned Retail store Fit-out projects.
With our customers forming the core of the entire ideation process, we devise plans for Retail Fit-Outs that attract consumers, capture eyes, drive in sales, generate revenue and make you and your business always top the charts. Our professional team has a detailed eye for design and placement, curating ambiances that make retail spaces more functional, spatial, and convenient. From competitive budget plans to cohesive time management tactics, and from tailor-made quality to professional prowess; we make your dream retail space come to life!
FOOD RETAIL FIT-OUT
Restaurants, today, have advanced to be more than just another dine-out option. They are now a destination to explore a celebrated experience of leisure, comfort, and class. With Dubai being a hub for travelers and shopping enthusiasts, food spaces don't stay much behind on their list of exploring the city. We, at WOW DECOR, realized this potential as we became the ultimate F&B interior design consultants and moved forward to design, develop and create customized solutions to Food Retail Fit-out in UAE.
Our pride vests in our consumer-oriented planning approach, right from inception to execution. Consumers today visit eateries more for their ambiance than the food and we ensure their expectations for innovative, aesthetic and Instagram-worthy space are met rightly. While making restaurant interiors look aesthetic in its colors and feel, we also don't miss out on keeping functionality as the front-runner for all our planning process. We believe that a consumer would only appreciate food if they appreciate the overall atmosphere and thus, an unmatched eating experience comes greatly with exquisite Food Retail Space.
LIFESTYLE RETAIL
More than creating a space, Lifestyle Store Interiors focuses on curating an experience. We, at WOW DECOR, ensure that the experience we build for you leaves a lasting impact and is worthwhile. We do detailed research in understanding your business requirements, allocated space, your consumers preferences, and guided expectations and then formulate plans, layout, and structure of your dream lifestyle retail space. Our team of design professionals, architects, and engineers ensure that your Lifestyle Store Fit-Out and/or fashion retail store interior is made tech-savvy, reliable, and highly functional for confirmed consumer satisfaction.
By amalgamating a design style that matches your brand's culture, vision, and identity, by keenly planning the major concerns such as layout to even the simplest details like that of light fittings, and by blending functionality with futuristic designs, we make the entire process of building your own lifestyle retail space truly effortless.
RETAIL KIOSKS
Retail Kiosks are best solution to garnering consumer attention. They hold the power to capture the consumer's focus even on the busiest of streets. Retail Kiosks run with a strong motive of grabbing customer's interest and encouraging their interaction with the brand and we, at WOW DECOR, leave no stone unturned in attaining this motive.
With functionality at its forefront; we offer flexible, convenient, and moveable Retail Kiosk service in the UAE. From ideation to installation, our team of seasoned professionals rigorously builds intricate solutions tailored to specific needs. We seamlessly blend your brand's identity whilst capturing attention that converts. At WOW DECOR, we ensure your ideas get conceptualized in every bit of your Retail and all your requirements are met with great attention to detail. Our Kiosk Service enables Retail Kiosks Solutions that are flexible, easily movable, and dynamic to changes, alterations, and inclusions making them the right fit for all your needs. With all this, we surely don't miss out on keeping Kiosks cost-effective and convenient for you.
KBC VisualWorks offers customized and intricately tailored solutions of Retail Fit-Out. We truly believe that every business is different and so are their needs and expectations. We don't believe in one-fit-for-all and invest considerate time in understanding your vision, brand, and expectations. Our team of specialists combine functionality, effectiveness, and innovation to create classic Retail Fit-Out solutions backed by a systematic approach and within the stipulated time frame. Break through the clutter of competition as we guide you with the best Retail Fit-Out solutions in Dubai.
Get in touch with the WOW DECOR team for a consultation on your retail – fit -out service requirements