These Are The Best Stylish Electric Kettles That Will Adorn Your Kitchen
Whether you are either a tea person or a coffee person, generally speaking, most people like to sip any kind of beverage. For making Tea or Coffee instantly by boiling water, an electric kettle is something you need to have in a kitchen. It's hard to find the best electric kettle as you must consider some basic features like Boiling Time, energy efficiency, Temperature Settings etc. Get out of the dilemma as we have curated best electric kettle available online.
Black & Decker Electric Kettle 1.7L- JC450-B5
This electric kettle having 1.7L capacity from Black & Decker is a must-have culinary essential. You can boil up to 1.7L or 7 cups of water in less time for making your daily tea, coffee etc. These affordable kettles are durable enough for everyday use. Black & Decker Electric Kettle, JC450-B5 uses 2000W of power to quickly boil up water in less time. It also has dual water windows, the clear water windows on both sides of the kettle include water level indicating so you can boil the exact amount of water for tea, coffee, or other recipes. Its 360-Degree Swivel Base makes for easy carrying of the kettle. Within this swivel base, there is cord storage so that you can easily wrap the cord in the swivel. For safety, it features Boil/Dry Protection and Auto shut off. Boil/Dry Protection is a safety feature which turns off the kettle when water boils or when there is no water remaining in the kettle. A concealed heating component along with the stainless steel adds durability of the electric kettle. Its Stainless Steel body is built to last and looks great in any kitchen.
Siemens 1.7L Cordless Kettle- TW3A0103AR
One of the best looking electric kettle available in the market. Siemens TW3A0103AR is a trendy electric Kettle made of plastic on its outer cover and concealed Stainless steel Heating element. It's quick to boil, easy to fill and pour, and has a 1.7-litre capacity. This easy-to-use kettle heats up water quickly so you can enjoy instant tea, coffee etc. It has a removable limescale filter that eliminates the need to clean this device often. The kettle has a power output of 2000-2400 W to ensure water boils within seconds. Its illuminated on-off switch keeps you informed about the status of the kettle. For safety concerns, the kettle features automatic switch-off so that it switches off when water boils. It also features Lift switch off that is automatically switches itself off when removed from its base. The kettle having 1.7-litre capacity has dual water level indicators so you can take water according to your need. The appliance also has a Boil Dry feature that provides overheat protection. You can also rotate its power base having non-slip feet at 360 degrees.
Kenwood 1.7 Liter Jug Electric Kettle- SJM280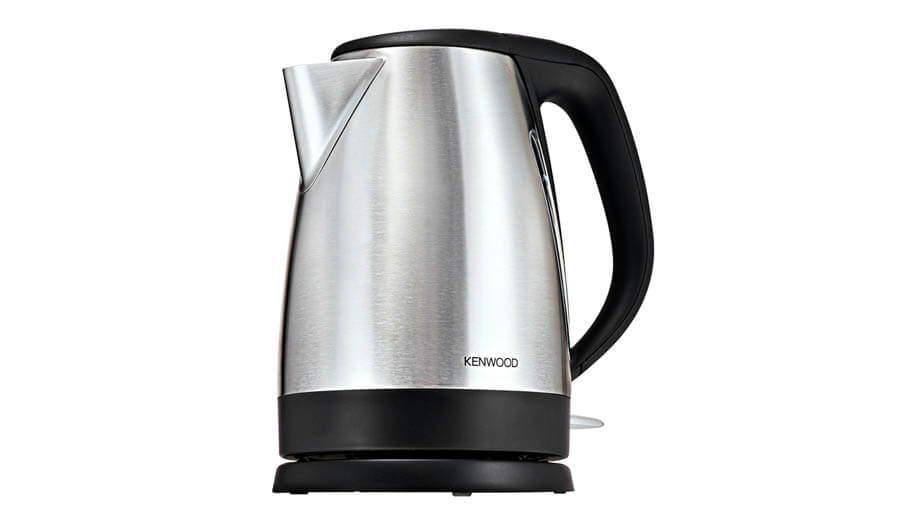 The Kenwood SJM280 Kettle has an elegant design with a sleek silver colour and a brushed stainless steel body. The black handle and bottom accentuate its aesthetic look. Powered by a 3000W motor, it provides enough performance and boils the water quickly. The kettle has a hinged lid and wide spout so that you can conveniently pour water. It has a removable fine mesh filter placed on its wide spout which is easier to clean. The inside of the kettle is polished so as to reduce and avoid limescale build up. This handy kettle from Kenwood features two transparent water windows that allow you to manage the proper filling of water. It also has an illuminated on and off switch that keeps you informed about the status of the kettle. Also, the electric kettle has a 360-degree power base with cord storage for adjustable length and orderly work surfaces for added convenience. This compact kettle having a capacity of 1.7L and weighing just 1.04kg is perfect for everyday use.
Bosch Comfort Line Kettle- TWK6A034GB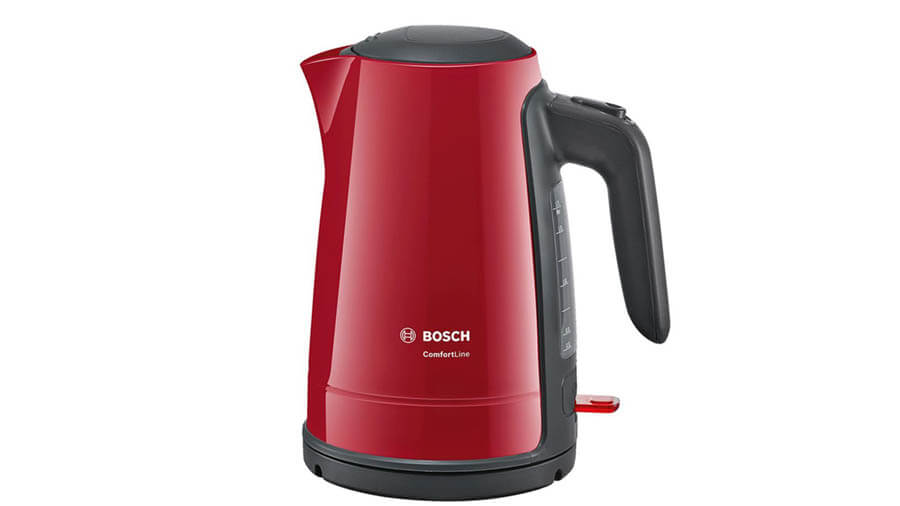 Loaded with numerous effective features, the Bosch Comfort Line Kettle, TWK6A034GB is a good looking kettle with black and red finish. Make tea or coffee with the help of this kettle to refresh your day. It guarantees triple Safety Feature: Automatic shut-off, overheat and boil-dry protection. It switches itself off the moment it is boiled and when lifted off from its base. It has 1.7L capacity and it has One-Cup feature. With its one-cup indicator, you can boil a small quantity of water, thus reducing boiling time and energy consumption. It has a water level indicator so that you can keep an eye on the level of water. In order to provide you with safe drinking, the kettle is equipped with removable stainless steel limescale filter which enables easy cleaning. The kettle also enables one-hand operation, you can open the lid by pressing the button. It consumes 2600-3100 W of power which efficiently boils the water quickly. It has a stainless steel interior base with a concealed heating element. It has a base that can rotate 360 degrees with easy cord storage
Russell Hobbs 1.7 Liter Electric Kettle- 20420
Russell Hobbs Electric Kettle, 20420 comes loaded with incredible features that make it suitable to be your kitchen. With its aesthetic design and powered by a 2400W motor that gives you a satisfying performance, the kettle is perfect for everyday use. The kettle has 1.7L capacity which can boil one cup of water in 50 seconds but weighs just 1.1kg. Its silver colour brushed stainless steel body and black accents make it look classy. It features water level gauge that allows you to control the accurate filling of water. It also comes with a water filter so that you don't have to clean the kettle frequently. It has a wide spout which helps in easy pouring of the contents in a cup. Also, a polished concealed element inside the kettle reduces and separates the scale build up. This must-have versatile kettle from Russell Hobbs has a 360-degree power base with cord storage for adjustable length and tidier kitchen countertops.
Braun Multiquick 5 Kettle 1.6L- WK500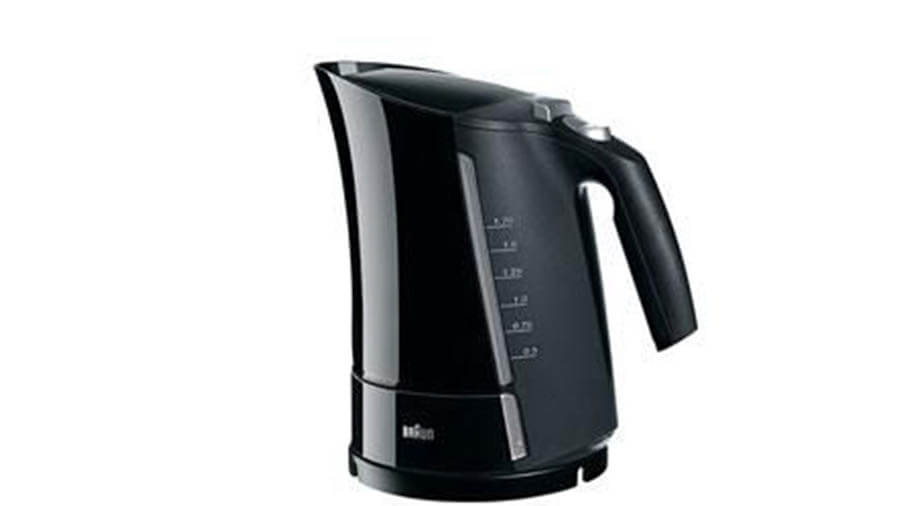 A modern kettle for a modern kitchen. Braun Multiquick Kettle, WK500 has a unique design and is available in two colour options- Black and White. Built with German technology, it ensures excellent performance. It comes with incredible features which makes you fall in love with this kettle. It comes equipped with Rapid boil system that heats up water quickly. Boiling time is just 35 seconds so you can enjoy your hot tea or coffee instantly. The kettle utilizes 3000 Watts of power that allows it to boil quickly. The main part of a kettle is a heating element and it is concealed in the kettle for easy cleaning. Another important feature is it keeps the beverage hot for a long time so that you can enjoy it at your convenient time. It has a capacity of 1.6L and to ensure safe and clean water it has a washable limescale filter. Like most the modern day electric kettle it has water level indicator so you can see and take the required amount of water to boil. One of the main things to note is it has a four-way automatic safety switch off for safety concerns.
Nikai Electric Kettle- NK817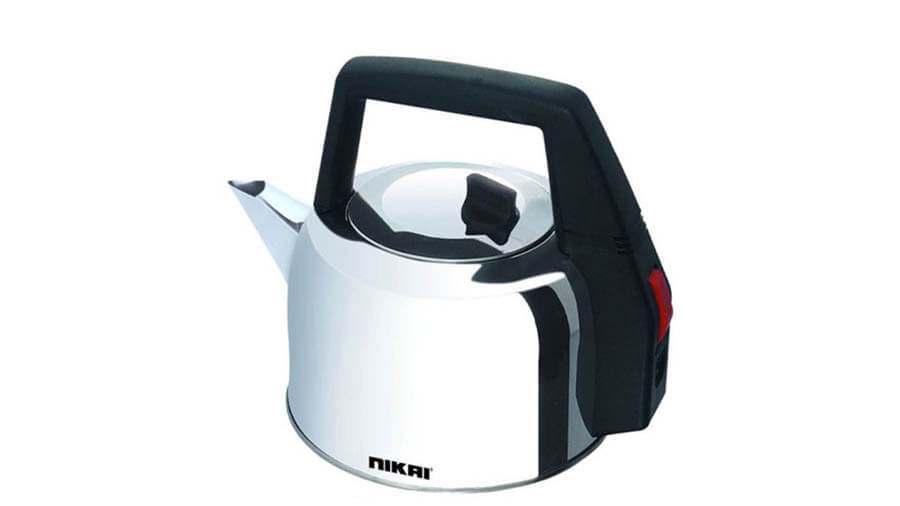 An Electric Kettle that looks like a traditional stovetop kettle that sure will look good in any kitchen. Nikai Electric Kettle, NK817 has a 4.2-litre capacity which is large enough for family use. The kettle provides 3-level safety protection including auto shutoff when the water boils, thermal cutoff, and auto shutoff when the kettle is removed from the base. Boil Dry feature provides overheat protection. To avoid the danger of accidental spills it is equipped with locking lid. It is powered by a 2400W motor that gives you a satisfying performance. Its rust-resistant stainless steel body ensures the durability of the kettle. It has a sturdy and comfortable stay-cool handle which makes serving easy. The kettle also has British strix control switches. The kettle looks good in any country kitchen as well as any modern kitchen.
Philips Electric Kettle 2200W 1.7L- HD9357/12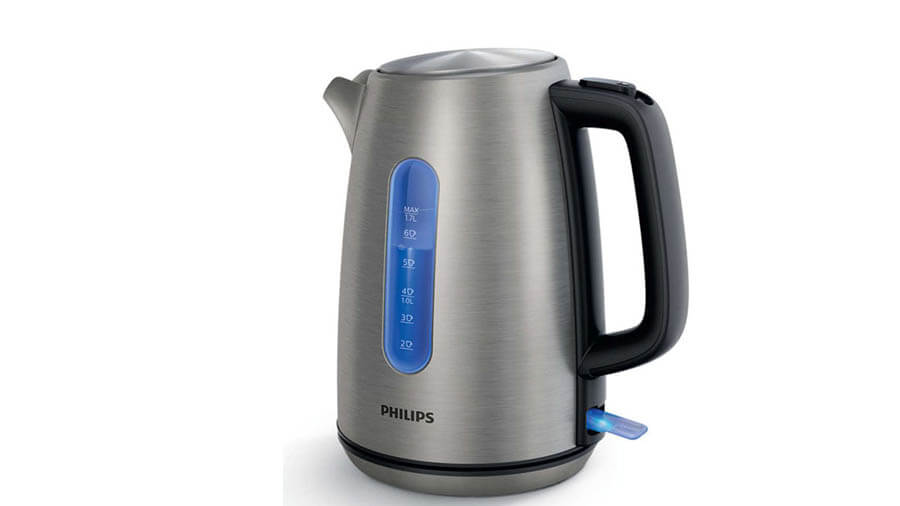 Begin your day with your favourite beverage, make evenings energetic, and tea parties enjoyable. With over 60 years of kettle manufacturing mastery, Philips electric Kettle HD9357/12 helps you to boil water. It has 2200W of power which ensures fast boiling. The kettle is made of brushed stainless steel body which makes it robust, sturdy and long-lasting lifetime. It is made of food contact safe stainless steel for your clean cup of water. The spout has a removable micro-mesh filter restricts scale particles and assures that the water is clean. The kettle shuts off automatically when the water is boiled, lifted from the base or when there is no water. That is it provides multi safety protection. This kettle has blue LED illumination inside which makes it look modern and stylish also indicates when the kettle is switched on. Then there is a dual transparent water level indicator to know the water level. For fast boiling and easy cleaning, it has a flat heating element and the stainless steel concealed element. The cordless 360° pirouette base helps in easy lifting and placing. Its spring opening lid made of stainless steel ensures effortless opening at the touch of a button.