The Best Toasters In The UAE That Will Help You Prepare A Great Breakfast
Every day, we wake up and rush to the office or school skipping the most important breakfast most of the time thereby toiling the body in no time. Here comes the relevance of toasters which bakes and toasts the goodness of bread quickly without compromising on your precious time. But as easy as toasting bread is, it is difficult to fix on a good toaster. To make your job easy, we have done the hard work and listed out the top rated toaster brands. Take a look!
BLACK & DECKER 4 TOASTER - ET124-B5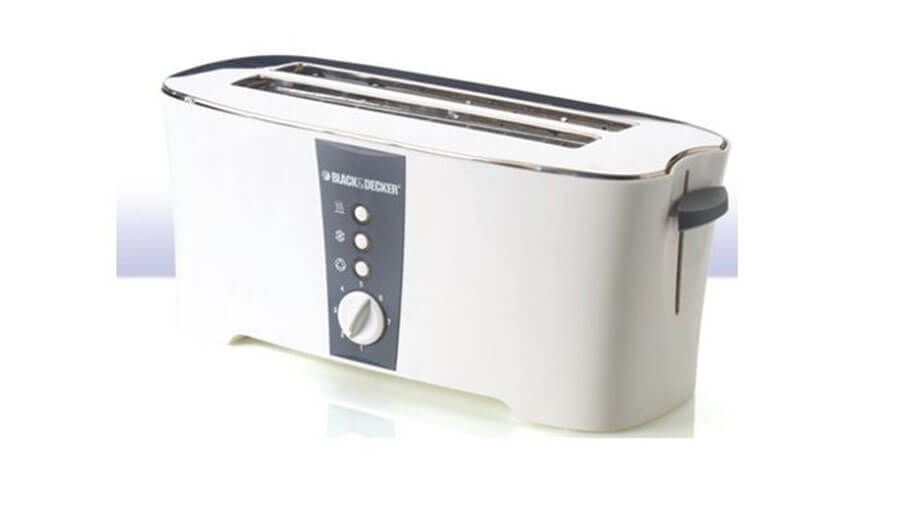 Built to toast 50% faster than previous models, the Black and Decker ET124-B5 Rapid Toast 2-Slice Toaster delivers efficient performance with a variety of color options. The additional wide spaces make it simple to fit any kind of bread, and the expanded lift ensures you recover the toast securely. Bagel and solidified capacities let you modify the toaster for extraordinary tasks, conveying flawlessly toasted outcomes without fail. Regardless of whether you like your bread simply warmed through or toasted to a fresh, the shade selection dial places you in charge. With timed options running from 1-7, you can toast bread, bagels, and waffles for everybody's tastes and preferences. The expanded lever gives additional lift, making it simple to recover your toasty treats without burning your fingers. The frozen function defrosts and lightly toasts frozen waffles and bread. There is also a cancel button that will end any function and pop-up whatever you are toasting. The additional wide toasting spaces take into consideration a wide variety of bread, with self-focusing guides that automatically adjusts to any thickness. The bagel function creates a toasted bagel top while warming the base. In short, the Black & Decker Toaster makes your breakfast and snacks healthy and tasty.
KENWOOD SCENE 4 SLOT TOASTER - TTM480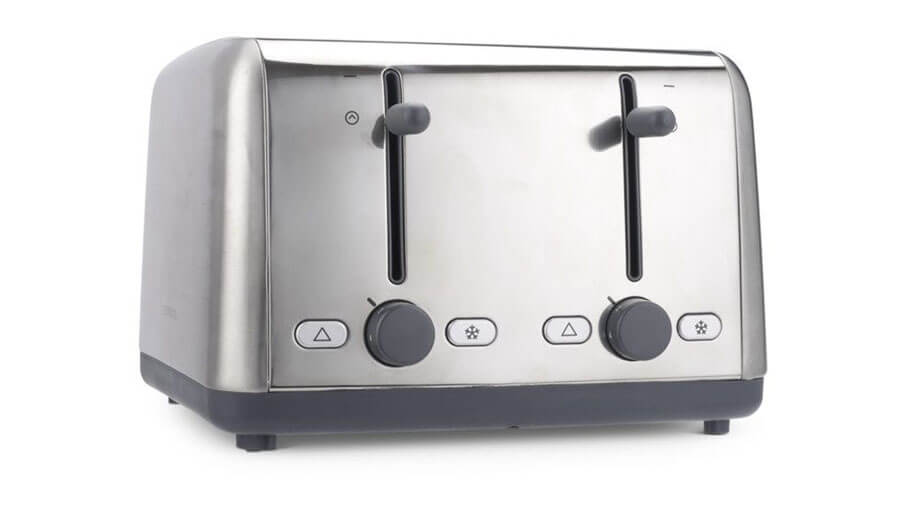 The Kenwood Scene TTM480 Toaster looks stylish and refined in silver color. It is made using metal, which provides it with a sleek look and sturdiness. This toaster features a centering system that browns your bread evenly. And adding quickness to the process is the excellent 1800W motor. It has four slots to toast four slices of bread at once, thus giving you a complete morning breakfast in just one go. It has multiple settings with illuminated buttons for hassle-free usage. The Kenwood Scene Toaster gives you not only perfectly browned and crisp bread but also lets you choose your desired brownness. It has a centering system that toasts the bread from all sides evenly, irrespective of whether the bread is thin or thick. And with its adjustable browning control, you can see to it that you have your preferred crunchiness always. The Kenwood TTM480 toaster has a high rise lift that helps you remove the bread and smaller parts without any trouble. Its crumb tray smoothly slides out, letting you clean it for further use. After you are done using the Kenwood toaster, you can keep it away in a neat and compact manner by storing its cord inside its dedicated space.
SIEMENS COMPACT TOASTER - TT3A0103GB
Siemens Toaster helps you to prepare instant breakfast without spending much time in the kitchen. The Siemens TT3A0103GB Compact Toaster lets you adjust the temperature level to get an assortment of differently toasted bread. With a portable design, this toaster fits conveniently on any kitchen's table-top to save storage space. The Siemens Toaster will let you prepare your favorite breakfast with ease in the comfort of your home. It boasts of a sturdy and ergonomic design and is sure to cut down on your cooking time while making cooking hassle-free for you. The compact size and the foldable wire make it a valuable addition to your kitchen's table-top. It works on wattage of 825 to 980W and toasts two slices of bread at once. There are integrated racks for bread rolls and a large surface heating element for instant results. It is incorporated with an electronic sensor for keeping a constant check on toasting performance. It has a high lift feature that removes small slices of bread and makes it easy to clean the toaster. The Siemens features an illuminated cancel button that functions immediately and stops toasting. The automatic shut off feature makes the toaster stop working in case the bread gets jammed inside. This Siemens Toaster is a simple way to prepare quick and light browned toasts for a healthy breakfast.
BOSCH PRIVATE COLLECTION TOASTER - TAT6101GB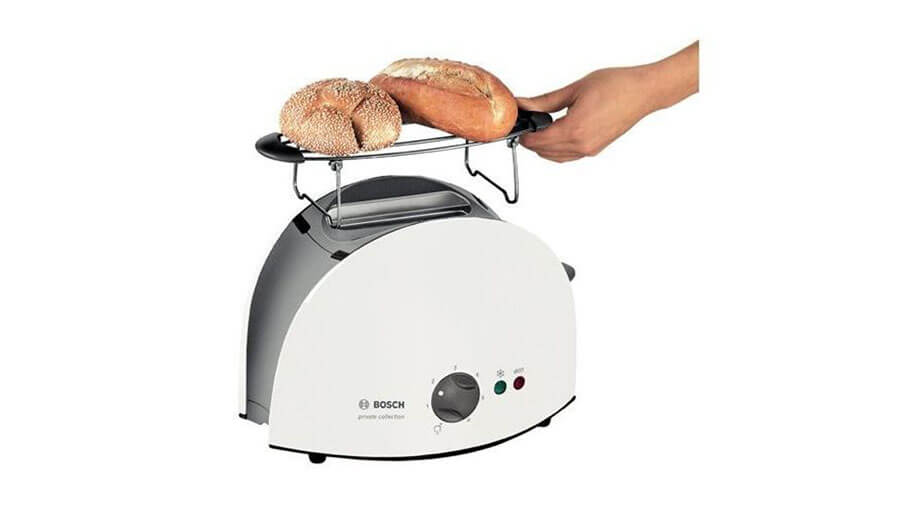 The Bosch TAT6101GB Private Collection Toaster will add efficiency to your healthy cooking. It has some advanced features that are going to blow your mind. Bosch brings you a two-slice toaster with practical features like an electronic sensor, variable electronic browning control, frozen bread setting, illuminated cancel button, thick and thin function for evenly toasted bread and safety switch off. The Bosch 2 Slice Toaster has a superior gloss white finish and features a warming rack for warming rolls, croissants, etc. Some other additional features of the toaster are the cool touch exterior for extra safety and cable storage in the base for efficient storage. The variable width slots are self-centering that gives even results for toasting. The Bosch Toaster has wider slots that allow you to toast various sizes of bread. The toaster features self-centered slots that enable you to insert both thick and thin slices ensuring that both slices of bread get evenly toasted. The compact size and the foldable wire make it a valuable addition to your kitchen's table-top.
PHILIPS DAILY COLLECTION TOASTER - HD2581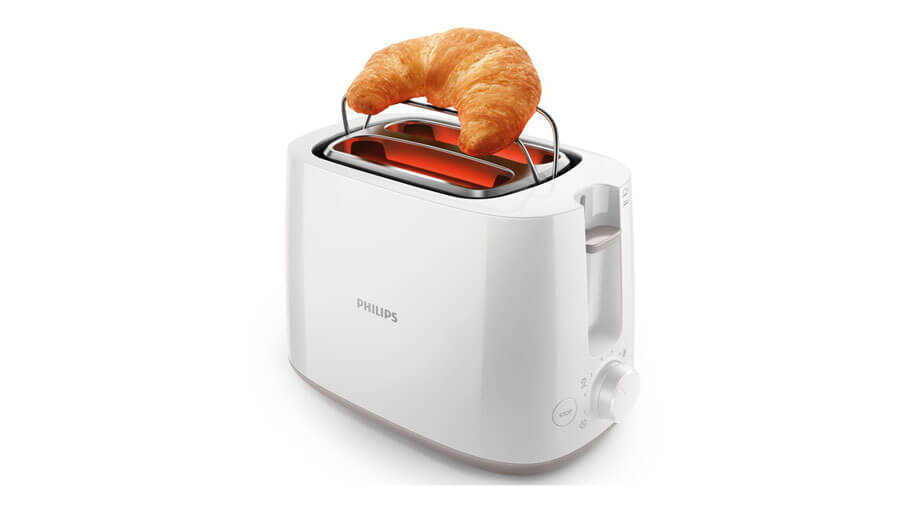 Available in a white finish, Philips Daily Collection Toaster toasts bread in beautiful golden brown color. The Philips HD2581 Daily Collection Toaster has eight tanning levels and two large variable slots that give good results, no matter which bread size you are toasting. Also, it allows you to prepare deep frozen products quickly by defrosting and heating them. You can safely remove even the small portions of bread, thanks to the lift function. This toaster has a power output of 830W that makes it productive and power efficient. This Toaster is made from a sturdy plastic material that makes it durable and reliable. This compact and portable toaster is available in a white finish that looks appealing. It has a defrost function that lets you defrost frozen pastries and bread. The reheat function can be used to heat the dishes again whereas the cancel function allows you to stop the toaster when required. It can be cleaned easily in no time thanks to the removable tray. These slots can accommodate different sizes of bread, which makes it a perfect addition to your kitchen. It is convenient and can be used on a daily basis for preparing a quick breakfast when you are in a hurry.
BLACK AND DECKER TOASTER ET304
The Black and Decker T4030 is a manual four-cut toaster. The stainless steel cross segment and capacity marker lights hoist this above standard two-or four-cut toasters. The double controls on the four-cut model give an approach to you to toast bread in various shade settings in the meantime. This is useful for bigger families that need different baked goods and bread toasting toward the beginning of the day to get relatives out the entryway. The additional wide openings in this Black and Decker toaster are perfect for toasting bagels, buns, baked goods, biscuits and craftsman bread. The high-lift openings are incredible for recovering little bits of bread when the toasting cycle is finished, so you won't have to utilize tongs or a fork. There are just six preset shade settings with the Black and Decker toaster. Extraordinary compared to other plan highlights of the Black and Decker is the cool-touch outside. The toaster has a stainless steel cross area, and ordinarily, stainless steel toasters can cause consumes on the off chance that you touch the sides amid utilize. Notwithstanding, the Black and Decker gives a cool-touch exterior that enables you to touch the sides and change the controls without the dread of consuming yourself. This Black and Decker toaster has a standard one-year restricted guarantee that spreads maker abandons.
HITACHI TOASTER HTOE20
The Hitachi HTOE20 Toaster conveys productive execution with an assortment of shading choices. The extra wide spaces make it easy to fit any sort of bread, and the extended lift guarantees you recuperate the toast safely. Bagel and hardened limits let you alter the toaster for unprecedented assignments, passing on impeccably toasted results without coming up short. Notwithstanding whether you like your bread just warmed through or toasted to a crisp, the shade choice dial places you in control. With coordinated choices running from 1-7, you can toast bread, bagels, and waffles for everyone's tastes and inclinations. The extended lever gives extra lift, making it easy to recuperate your toasty treats without consuming your fingers. The solidified capacity defrosts and softly toasts solidified waffles and bread. There is likewise a drop button that will end any capacity and fly up whatever you are toasting. The extra-wide toasting spaces mull over a wide assortment of bread, with self-centering guides that consequently acclimates to any thickness. The bagel work makes a toasted bagel top while warming the base. To put it plainly, the Hitachi Toaster makes your breakfast and snacks solid and top notch. All in all, the Hitachi Toaster has many attractive features and will surely impress you in quick time.
FRIGIDAIRE TOASTER – FD3122
Accessible in a white ensemble, Frigidaire Toaster toasts bread in excellent brilliant darker shading. The Frigidaire Toaster has eight tanning levels and two expansive variable openings that give great outcomes, regardless of which bread measure you are toasting. Additionally, it enables you to plan profound solidified items rapidly by defrosting and warming them. You can securely expel even the little segments of bread, because of the lift work. This toaster has a power yield of 830W that makes it gainful and control productive. This Toaster is produced using a strong plastic material that makes it solid and dependable. This conservative and compact toaster is accessible in a white complete that looks engaging. It has a defrost work that gives you a chance to defrost solidified baked goods and bread. The warm capacity can be utilized to warm the dishes again while the scratch-off capacity enables you to stop the toaster when required. It can be cleaned effectively right away because of the removable plate. These spaces can oblige diverse sizes of bread, which makes it an ideal expansion to your kitchen. It is helpful and can be utilized once a day for setting up a brisk breakfast when you are in a rush.
BLACK AND DECKER TOASTER - ET 122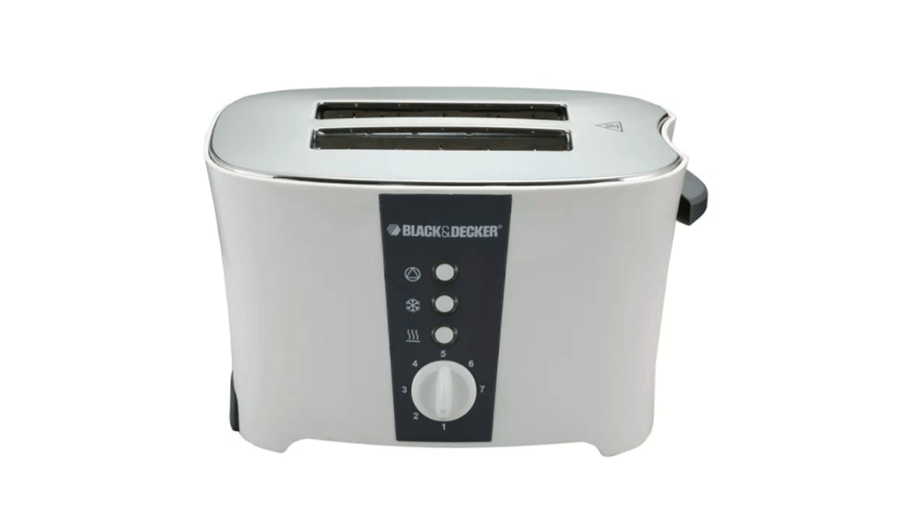 The Black and Decker ET122 2 Slice Toaster highlights 800 Watts control, cool touch body, 2 cut limit, solidified, warm and scratch off capacities, Electronic browning control, morsel plate, programmed fly up and significantly more to give you quick and energizing cooking knowledge. The cool extreme body guarantees that the toaster opposes any harm caused because of overheating of the machine empowering you to utilize it serenely. It accompanies a removable piece plate that influences simpler to clean and keep up wipe away scraps and return to toasting rapidly with the slide-out morsel plate. The electronic browning controls the degree of sautéing of the nourishment being toasted by controlling the time allotment of toasting. This toaster accompanies 2 variable width bread spaces which enable it to suit thick or thin bread cuts.