The Best Hand Blenders That Will Help You Prepare Some Delicious Smoothies
Greetings chef! Even if you are not, you cherish cooking. That's why you are looking here for best hand blenders. Hand blenders or stick blenders are a must in every kitchen for swift cooking. It's really tiresome to choose from multiple models from various brands. We have picked best hand blenders available in UAE market.
Kenwood Hand Blender- HB683
Cook your favourite food with much easiness using Kenwood Hand Blender, HB683. It has an all-white classic design that looks good in any kitchen. It features unique triple blade system and unique foot design. The True precision Triblade delivers maximum performance for effortless blending, whisking and chopping purposes. It blends the contents well, operates at 220V voltage with 450W output. It offers simple control for easy use and has speed settings for flexibility. Don't worry if you are a left-hander as it supports both left or right handed users. Blend anything easily be it juices, soups, smoothies or dips. While choosing a blender, the main criterion that we consider is its weight and compactness. It has lightweight plastic body weighing just 1.6kg so you don't get tired easily from prolonged use. It has a slim body measuring 155 x 238 x 155mm, this helps you to store or move the blender anywhere comfortably. You can also keep your kitchen neat and spacious as it doesn't take much space in your kitchen. Included attachments are durable stainless steel Triblade blending blades, 0.5l calibrated beaker and chopper, stainless steel balloon whisk. The hand blender is easy to clean and have dishwasher safe parts.
Black and Decker 4 in 1 Hand Blender with Chopper- SB3240
The change in lifestyle has made us lean towards spending less time on cooking. Hand blender market has become competitive as it has become a must-have in every kitchen. Hand Blender SB3240 from Black and Decker has some key features which make it suitable for any kitchen. Chopping, blending, pureeing, whipping, and crushing is made easy with this 4 in 1 hand blender. It is also equipped with a powerful DC motor with 500W which delivers excellent performance. With a press of a button, you get creams, juice, purees, sauce etc. You get 800ml chopping bowl and 500ml calibrated beaker to comfortably chop and puree for any meals you want to prepare. It also features an ice crushing bowl with stainless steel blades that gives you crushed ice for juices or any other beverages in just a few moments. It also has stainless steel whisking attachments for beating eggs and whipping cream. For added stability, a stainless steel blender shaft is also provided. Another important aspect of the hand blender is that it fits in any kitchen. You can also store it in a cabinet. The TPE grade, anti-slip mat keeps the blender fixed on your kitchen platform. It's stylish and compact design which makes it a perfect kitchen buddy for you.
Philips Hand Blender 650 Watts- HR1627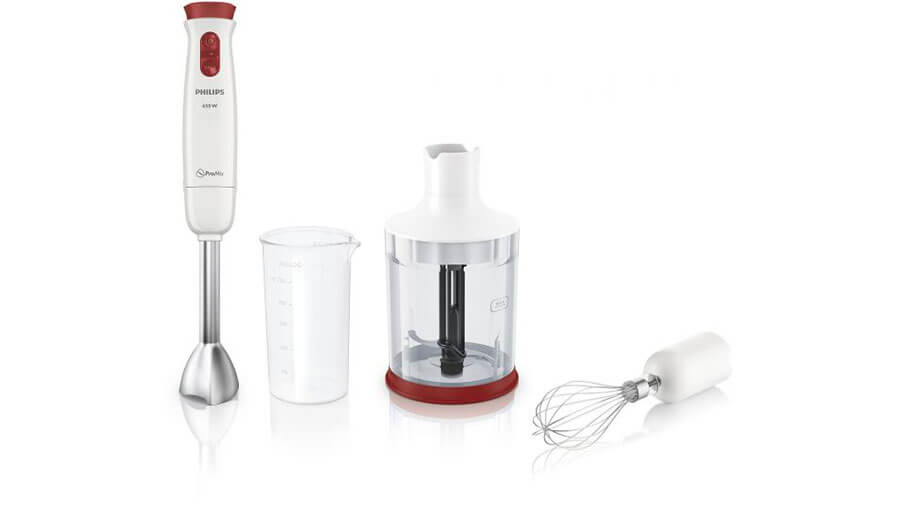 Philips HR1627 Hand Blender is no average blender. It combines a unique ProMix technology which was developed together with the prestigious Stuttgart University. The hand blender ensures faster blending. To facilitate an optimal flow with more consistency in the texture of the food item, the blender is of triangular shape. It has Turbo function that helps you cut through the toughest of ingredients. The Blender is powered by a 650W motor that lets you blend any ingredients well with optimum results. Its compact and elegant design make it more desirable. No mess, no splashes while you blend. Shielded with anti-splash blade guard with special wave shape in the bottom part of the blender you experience no splashes. Gone are the days of manual cutting and whipping processes. Philips HR1627 Hand Blender also solves your kitchen anxieties like chopping and whipping. You get Xl chopper accessory (1000ml) so that you can chop a large amount of food within seconds. Also, it has whisk attachments to whip cream, cake batter, and mayonnaise. For measuring the ingredients and to blend food quickly a 0.5L beaker is also available.Cleaning is much easier as the blender comes with a 2 button release system to remove the blending jar to clean. You can effortlessly cut, whip and blend using Philips HR1627 Hand Blender.
Frigidaire Hand Blender- FD5108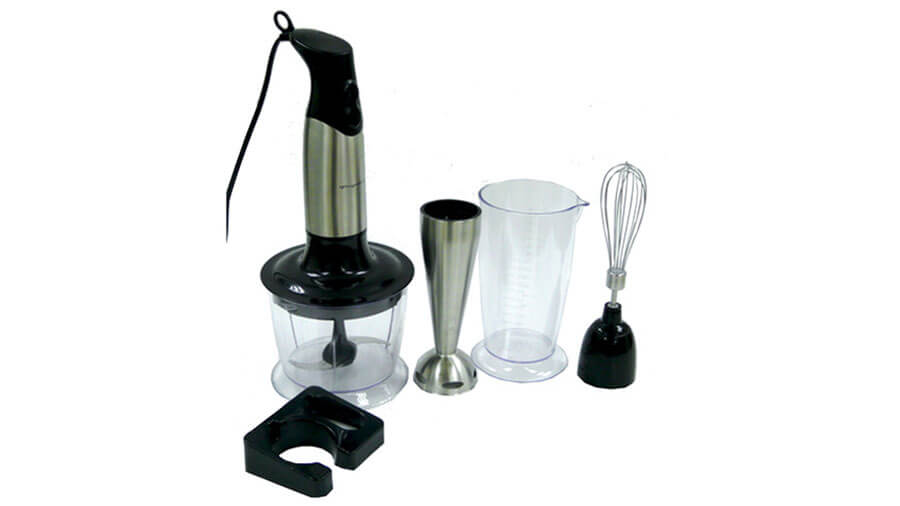 If you are looking for a Budget-friendly Hand Blender to blend, whisk and chop food items to make a meal or drinks, then Frigidaire Hand Blender, FD5108 is a good option. It includes detachable blending rod that helps in compact storage and easy cleaning. Attachments include stainless steel whisker and chopper that facilitates easy whipping of cream, beating eggs or chopping of any food items. It also includes wall mount stand that allows you to store the appliance on the wall and a 700ml Measuring cup aid correct measurement of any ingredient to prepare your delicious meal. Even though it has only a 300 Watts motor, it doesn't lag in performance. It has 2-speed settings for jumping between fast and slow. Its black and grey body makes it look like a smart kitchen appliance. Furthermore, it is durable and versatile within its price range.
Braun Multiquick 3 Hand Blender 3 in 1, 550 watt- MQ325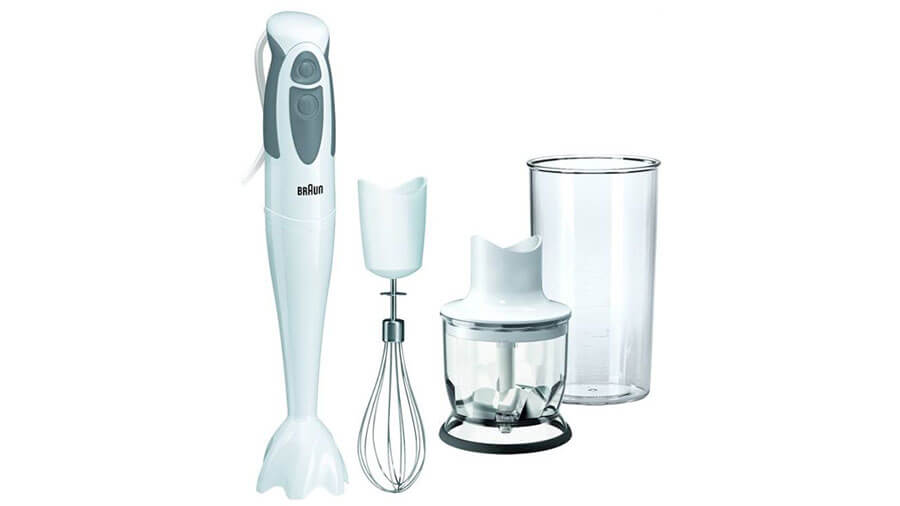 All your blending problems are hereby solved. Braun MQ325 Hand Blender makes blending process easy with its patented PowerBell technology, a combination of ultra-hard stainless steel blades and a novel blending bell shape. You can either do blending fruits, drinks or smoothies or use the whisk attachment to whisk eggs, creams or sauces. You can also use a chopper to chop meats, hard cheeses, nuts, vegetables etc. The Hand Blender is compact and has a powerful 550W motor that provides with the best performance. It has excellent built quality with ultra hard stainless steel blades. Its White and Grey body look stylish with its super-thin body. You can easily handle the blender because of its soft, firm grip designed for one hand use. With just one touch you can start blending. It has two speed settings to control speed and blending output. You also get a BPA free, 600ml plastic beaker with the blender which features ml and Fluid ounce measurement markings. In a nutshell, we can say Braun Multiquick 3 Hand Blender 3 MQ325 combines quality and performance.
Braun Multiquick 7 Hand Blender Patisserie 750 Watts- MQ775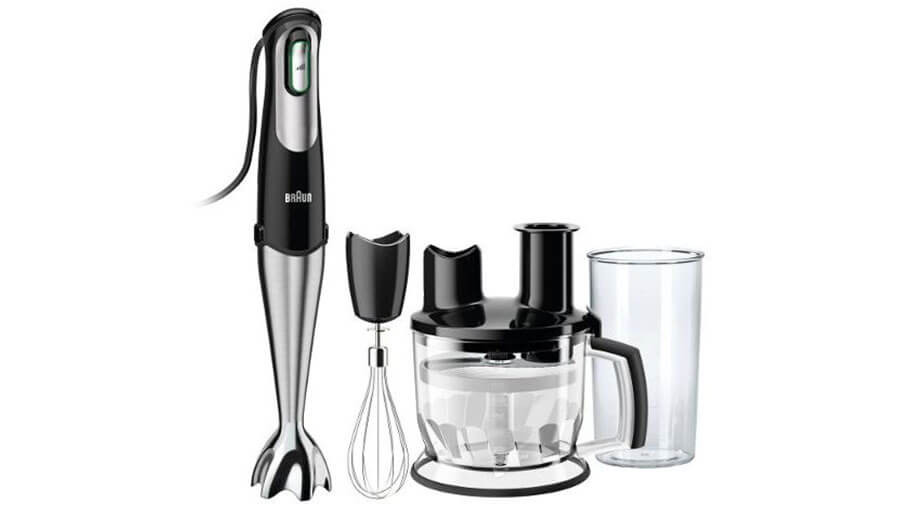 Braun Multiquick 7 Hand Blender MQ775 Patisserie is a complete package. Almost all kitchen chores can be done using this hand blender except frying or heating. But that is not the only thing you should keep in mind while buying this hand blender. It features smart speed. Squeeze the speed regulator button to change the speed without any interruptions. Squeeze more and get more power. It has a unique design, ultra hard stainless steel blades and bell-shaped shield over the blades featuring PowerBell technology. You can prepare a variety of meals because the device comes with a 1500ml food processor, a 600ml beaker, chopping tool, kneading hook, shredding insert, slicing insert, and an anti-splash whisker. That is why it is called as a complete package. The whisker is made up of stainless steel, you can whip cream, beat eggs or just stir some dishes. If you want better results you can use ultra-low speed settings. With shredding insert, you can cut fruits or vegetables into your desired shape be it coarse or fine. Slicing inserts beautifully slices anything. You can even crush ice blend smooth shakes and drinks. Its powerful kneading hook helps you prepare heavy dough for cakes, pies or bread. Combining speed and efficiency this is a desirable hand blender one should possess.
Braun MultiQuick 9 Hand Blender, 1000 Watt- MQ9087X
MultiQuick 9 is a flagship hand blender from Braun. It comes with many innovative features to make your kitchen jobs easy. It has a unique ACTIVEBlades which helps the user to effortlessly blend even the hardest foods. It also features a new flexible shaft which offers up to 2.5 times the cutting surface and as a result, a better blending performance. You are also provided with an additional milling blade for quicker and effective blending of your food. They allow cutting more things with each rotation resulting in more food being blend in a shorter time span. Apart from these nice features, you can also benefit from the SPLASHControl technology that ensures you a clean cooking. You can throw in bits of, chocolate, coconut, cashew, garlic or anything you like and leave the rest to he award-winning Braun MultiQuick 9 hand blender. It will churn out the perfect food blend for you and your loved ones to enjoy your meal with a full heart.