The Best Electric Cookers For Preparing Delicious Foods In the UAE
Looking for the best electric cooker that saves both your time and money? We have created an exclusive list of the best functional electric cookers available in Dubai and UAE. Have a look at it and 'cook' with the best-informed decision. There is no denying that we all love to have homemade delicacies and that's a fact. Whether it's for your wife, your mom, sister or for yourself, investing on an electric cooker is a good idea. If you happen to be looking for one, we have listed out some of the best electric cookers.
BOSCH HCE744353R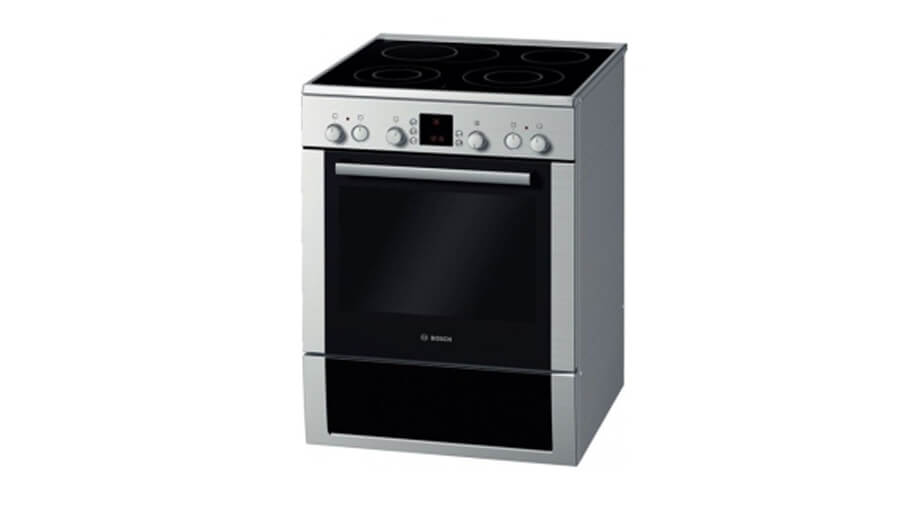 Bosch products have always been designed with a single factor in mind: to make your life simpler and easier. The Electric Cooker HCE744353R from Bosch is a pure delight with its amazing features and characteristics that makes it one of the prime selling products of the sector. The display is completely electronic that showcases exact temperature and time. The cooker houses an extendable roasting zone for large cookware such as roasting pans and frying pans. The cooking zone is a big 21 cm which has the ability to enlarge when the need arises. The electric Cooker from Bosch has also a Splash Guard which appears very functional and easy to operate thereby helping itself to clean the panel protecting the wall behind the hob. This Electric Cooker possesses a flap-door which turns out to be pretty useful especially for the opening and closing of the oven door. Fast pre-heating is another highlight of this Bosch Electric Cooker that heats up to 30% faster using the same amount of energy. The Bosch HCE744353R is also a master in energy consumption saving up to 20% of power without comprising on the baking results. All in all, the Bosch Electric Cooker HCE744353R ticks all the right boxes and is a good add-on to your kitchen. Click here to compare Bosch Electric Cooker HCE744353R prices.
TECNOGAS N2X66EVTC
Built with 4 vitro-ceramic electric zones, the Tecnogas Electric Cooker N2X66EVTC is equipped with an electric oven and electric grill which makes cooking, baking and grilling possible in one appliance. The oven capacity of this Tecnogas Electric Cooker is a mighty 64L with the option of auto ignition for convenience and safety. In addition to its distinctive design, this Tecnogas Electric Cooker has a unique glass that can be easily removed for cleaning and other purposes. Inside of this Tecnogas product, you can find thick telescoping racks, a fully-flush inner door, and four convection fans for even heating on multiple levels. This flagship model features a unique Tri-fuel rangetop: four induction burners added by an electric griddle and two gas burners making it the only gas-induction-radiant hybrid on the Dubai market. Rest assured, this Tecnogas Electric Cooker N2X66EVTC is a feast for the eyes and kitchen. Click here to compare Tecnogas Electric Cooker N2X66EVTC prices.
BOSCH ELECTRIC COOKER HCA744350M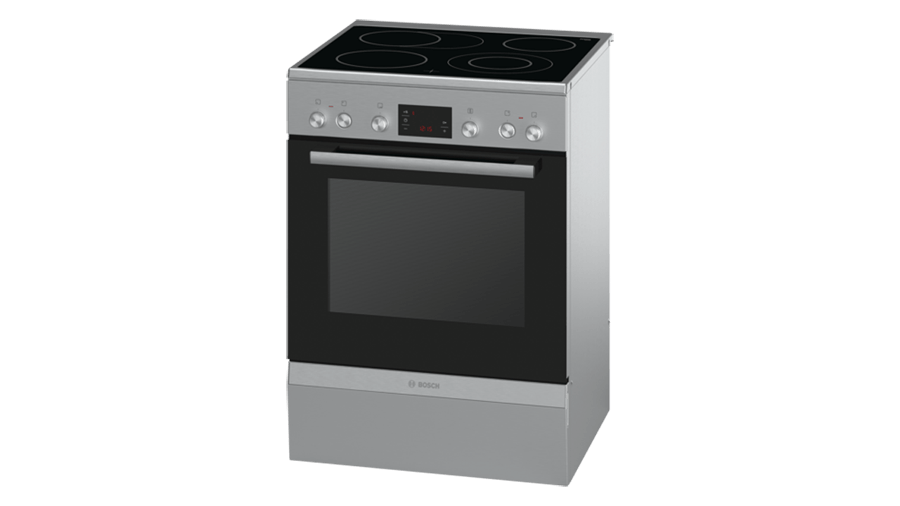 The Bosch Electric Cooker HCA744350M serves wonders to your kitchen with a multitude of features and options to choose from. There are three different cleaning programs to choose from, depending on the degree of residue that has accumulated and with pyrolytic-proof enameled trays, shelf racking and telescopic rails you can leave them in the oven during the cleaning program, too. The CombiZone feature adds more flexibility by combining two cooking zones, for roasters and large pans. Fast cooking and easy cleaning are ensured in this Induction Cooker, thanks to the wonderful features galore. Low energy consumption is guaranteed and energy up to 20% is a definite save in this Electric Cooker. The Autopilot features the electronic display of temperature and time of day as well as 40 pre-set automatic programmes. The 3D Hot Air Plus works to perfect results thanks to optimal distribution of heat on up to 3 levels simultaneously. Click here to compare Bosch Electric Cooker HCA744350M prices.
SIEMENS HA422510M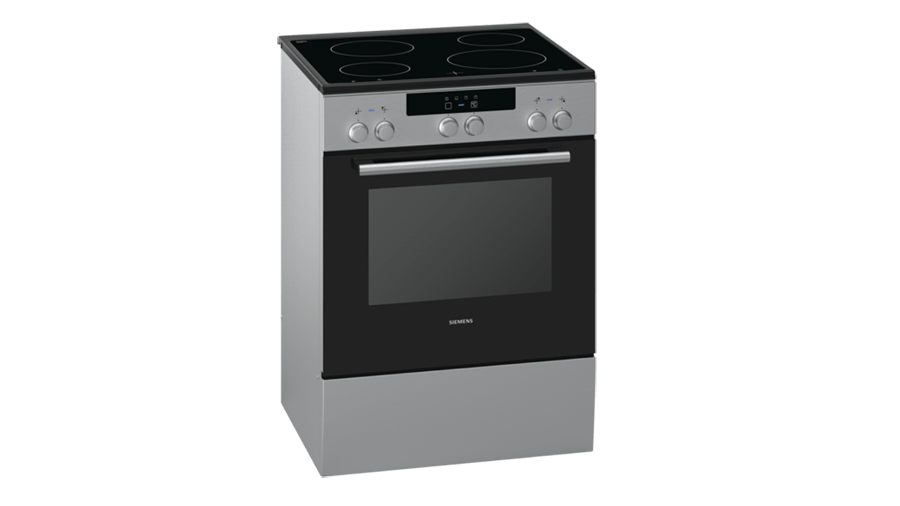 The modern freestanding cooker from Siemens Model HA422510M with a glass ceramic cooktop is a wonderful addition for cooking, baking, frying and roasting. Perfect baking is ensured due to 3 baking sheets thanks to innovative heat distribution with 3D hotAir Plus. The energy efficiency is Class A which helps immensely when you use the device for roasting and baking. The desired baking temperature can be achieved quite easily thanks to the fast pre-heating technique included in this Electric Cooker from Siemens. The interior parts are pretty functional and glossy with 1 an interior light, Smooth enameled oven interior, five shelf positions and full glass inner door. There is also a heat indicator, residual heat indicator and control panel lock to ensure that things are under control. Click here to compare Siemens Model HA422510M prices.
HOOVER FVC66.01S
Hoover FVC66.01S comes with a vitroceramic hob finish, which looks smart and also easy to clean. This Multifunction oven gives full control over the heat source, great for cooking a wide variety of dishes and is also equipped with digital LED timer and self cleaning function for your convenience. The Hoover FVC66.01S combines fanned and conventional heating technologies, allowing you to choose the perfect heat option for the type of food you are cooking. Whether you want to achieve an even bake or perfectly crispy base, this oven has it covered. Hoover cookers with the catalytic self cleaning feature do all the scrubbing for you. This cooker includes 4 burner ceramic cooking zones and Vitro ceramic 60 x 60cm cooker. This cooker has a hot surface indicator light and the ceramic cooker is attached with electric oven. This Hoover product has thermostat and 4 functions with grill. This device is Stainless Steel, 3 D design, full digital programmer, Warmer drawer. The Hoover FVC66.01S is equipped with 7 cooking functions including the really popular pizza function. There is also a fully programmable timer which lets you preset what time the oven turns on and off. If you are looking for an Electric Cooker that gives all the premium features without burning your pocket, the Hoover FVC66.01S is for you! Click here to compare Hoover FVC66.01S prices.
INDESIT I6VV2A(X)/EX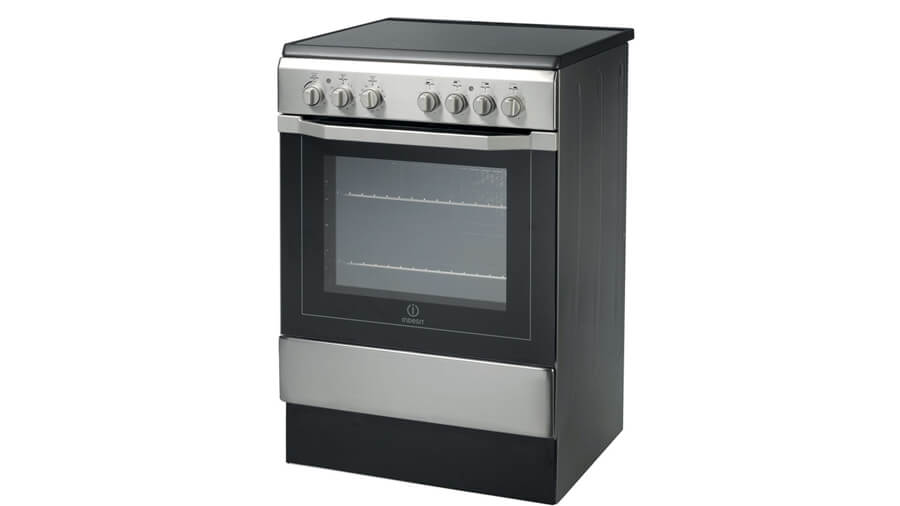 The Indesit multifunctional Electric Cooker is a fantastic add-on to your kitchen. This kitchen wonder from Indesit offers nine extremely versatile programs. The programs designed in this Indesit Cooker – Static, Pizza, Grill, Pastry, Multilevel Cooking, Ventilated Grill and the Quick Cook have all been designed to achieve the most suitable cooking style for each type of food. The Multi-Zone grid helps the cooker to defrost or keep warm the food when you are not cooking without the burner. The electronic ignition is a true wonder detailing to the extent that you can turn on the burner with one simple gesture. The ventilated grill effortlessly combines the speed of the grill with the uniform distribution of the ventilated oven which lets you cook different foods at the same time. There is also the feature of Double Grill in the Indesit Electric Cooker which is excellent for grilling heavy quantities of meat or for browning foods quickly. Click here to compare INDESIT I6VV2A(X)/EX prices.