The Best Blood Glucose Monitors To Keep Track Of Your Sugar Levels
When it comes to diabetes management, Blood Glucose Monitors are very important as it is the only means of maintaining an accurate idea of a person's blood glucose levels. Blood glucose monitoring can reveal important patterns of blood glucose changes, which can help you to make changes in your food habits, lifestyle and medication if the need arises. Here are the top-rated blood glucose monitors that promise accurate readings and attractive features.
BAYER CONTOUR NEXT METER + CONTOUR NEXT 50 STRIPS
The Bayer Contour Blood Glucose Meter is designed to help diabetes patients get a clearer picture of their blood glucose control. The meter meets the 2013 ISO standards for blood glucose meter accuracy. The Contour Next is part of the Contour range of blood glucose meters that includes the updated Contour Next USB. Quick to set up, the Contour NEXT is easy to use. One of the main appealing features for people using the Contour Next is that it allows reapplication of blood to the same test strip. There is a reversible screen contrast to best suit individual needs. A second-chance system allows users to apply more blood to the same test strip if needed to avoid wasting test strips and extra finger pricking. There are easy to use tracking system highlighted trends in blood glucose pre-meal, post-meal and when fasting. In order to provide a clearer diabetes management, a definite time period of 7, 14, 30 or 90 days have to be managed. You can store results up to 3 months, which is excellent particularly if you are looking to maintain a periodical analysis of your vitals. In short, the Bayer Contour Next Meter is a handy device for checking your body vitals.
ACCU-CHEK BLOOD GLUCOSE MONITORING DEVICE PERFORMA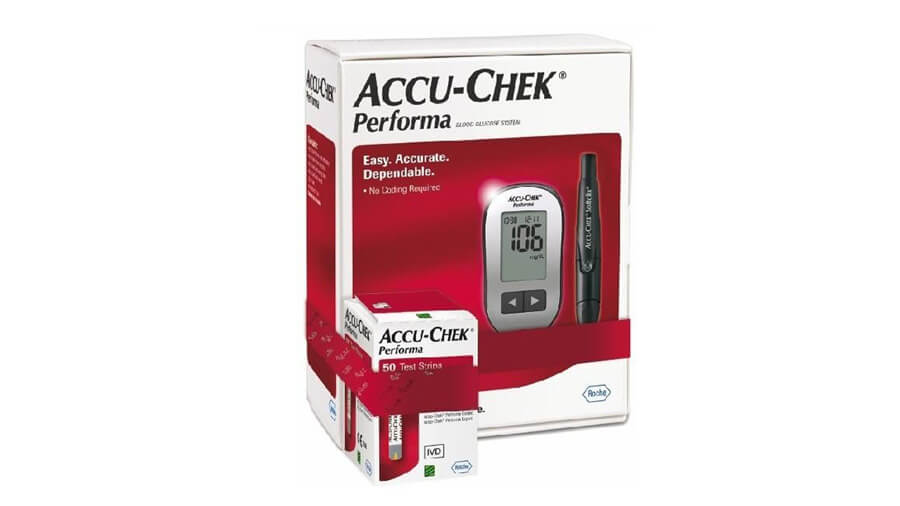 Accu-Chek is a well-known brand name among blood sugar meters. The accurate results that Accu-Chek provides every single time are one of the prime reasons for their success. It is with good reason considering just how accurate the results are with this meter. In fact, you can be quite certain that they will be as close to the proper lab readings as you can get. So, if it is important for you to be able to have near-precise recordings of your blood sugar levels, then this is the monitoring system for you. You can definitely rely on the results that you will be getting. This meter doesn't require a large blood sample, regardless of how accurate it is. This makes each test a lot less painful for you. Speaking of which, this kit has a lancing device with around eleven adjustable levels. This means that it is capable of penetrating skin of various thicknesses. Therefore, you should have some degree of success if you are trying to get blood from other sites with the exception of your fingers. This is great news for people who have to check their levels multiple times a day
ACCU-CHEK INSTANT BLOOD GLUCOSE MONITORING SYSTEM
How wonderful it would be if we could monitor blood glucose level as easy and fast as checking WhatsApp messages. It's actually possible if you have Accu-Chek Instant meter with you. There is no need to setup the device- just insert a test strip, apply blood sample and monitor your blood glucose result on the large display as simple as it sounds. It has a very sleek and modern design with a bright backlit display. There is only one button for navigation which makes it really simple to use. Also, the screen only displays what you need. It tells you test results and averages over the past 7/30/90 days. It features a target range indicator that gives you visual reassurance, also this can be individualized to suit your personal therapy goals. The meter uses Bluetooth to sync your readings with the mySugr diabetes management app. The Accu-Chek instant blood glucose monitoring system includes 1x Blood Glucose Meter, 1x Softclix, and 1x Case Bag. The Softclix lancing device is designed for comfort and pain-free testing. The Accu-Chek brand guarantees the accuracy, fulfilling the requirements of the ISO 15197:2013/ EN ISO 15197:2015.
iHealth Wireless Smart Glucose Monitoring System
The iHealth Smart is a small oval shaped personal diabetes data management device. It is a portable device which fits in your pocket and bag. Moreover, it comes with a compact travel case that can fit all the testing necessities. The manufacturer has included an iHealth Smart Gluco-Monitoring System, iHealth Lancing Device, Lancet x10, Clear Cap for Alternate Site Testing, USB Charging Cable, Travel Case, Owner's Manual and a Quick Start Guide in the package. The device can be paired with an app called iHealth Gluco-Smart which becomes a digital logbook that keeps track of readings on your smartphone. Here the readings and data are presented in an easy way with colour-coded data, charts, and graphs. You can set reminders and get push notifications to remind you when its time to take glucose test, medication, or insulin. The app also allows you to export results as an Excel, PDF, or CSV file and send it to your anyone. The device is also accurate with the results.
BeneCheck 3-In-1 Multi-Monitoring System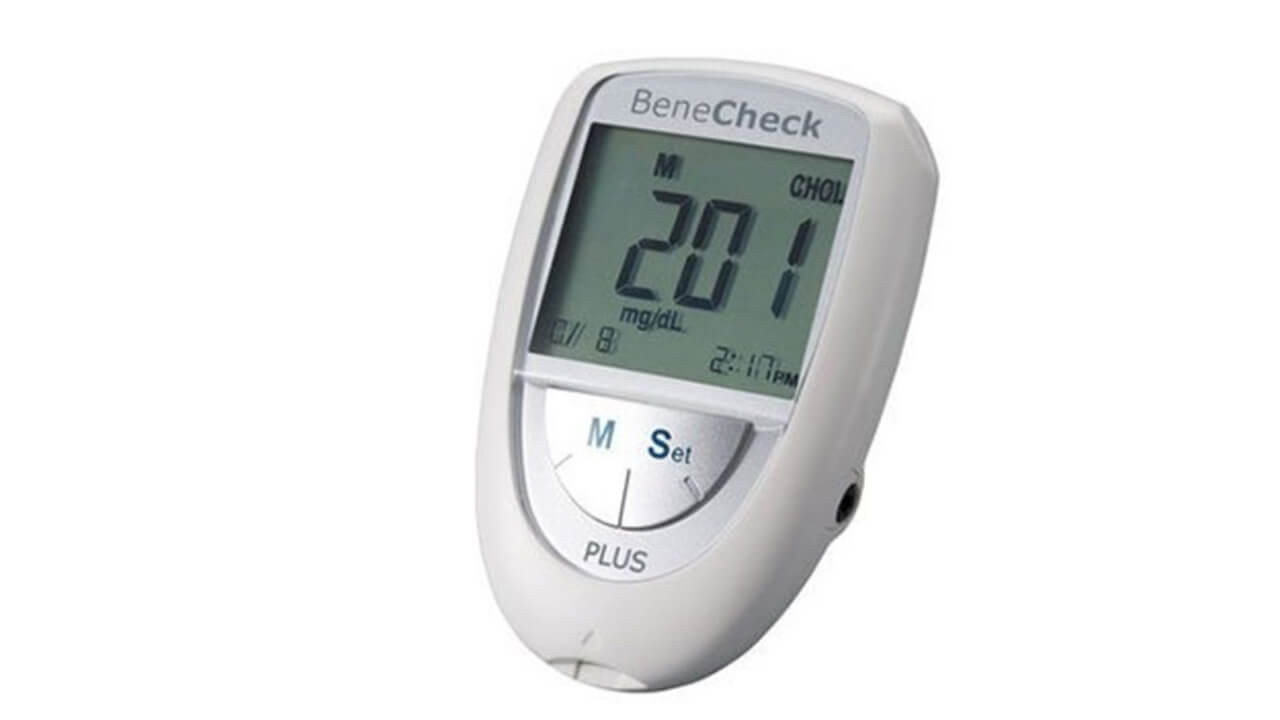 This Swiss-designed meter is a multi-monitoring system. The BeneCheck 3-In-1 Multi-Monitoring System allows you to check Glucose, Cholesterol, and Uric acid levels. You can really consider this device as a personal doctor at home because you don't have to run to a doctor or a lab to check your blood sugar levels, Cholesterol, and Uric acid levels. It is also accurate and quick in delivering the results. Even though it is a 3-in1 system, there is no complex menu system to confuse you. With Auto-Strip Recognition function, the device recognizes the inserted strip while testing, thus making testing at home easy and amusing. The package contents: Benecheck PLUS multi-monitoring device, 10 pieces of glucose test strips, 5 pieces of cholesterol test strips, 10 pieces of uric acid test strips, Lancet for collecting capillary blood, 25 pieces of lancets, and 3 types of chips.
One Touch Select Plus Blood Glucose Monitoring System
Keep your diabetes under control with One Touch Select Plus Blood Glucose Monitoring System which is specifically designed for people with diabetes that need to test regularly. It uses ColorSure technology that instantly displays an indication of whether the blood glucose levels are in range or whether they're too low or too high. A range is already pre-set on the meter but this range can be easily changed by you or your doctor at any time. The device also offers helpful meal tagging which benefits patients see how food choices affect your blood sugar. The package includes OneTouch Select Plus meter (batteries included), OneTouch Delica lancing device, 10 OneTouch Delica sterile lancets,  booklet, get started guide and a carry case. The One Touch Select Plus meets all the criteria of the 2013 ISO standards for blood glucose meters.
Care Netz TD-4265 Blood Glucose Monitoring System
The Care Netz TD-4265 is beneficial for those with diabetes who don't want extra bells on their device. This means that there are no unnecessary buttons on the device. This device is very accurate. It uses a 0.5 μL sample and you will get your result in just 5 seconds. The meter weighs 39.8 g without battery and measures 125mm(L), 33mm(W) and 14mm(H). With just 33mm width, the device is extremely slim that you can easily hold in one hand. The device can hold 150 readings on its internal memory with Date/Time. The user can set up to 4 alarms to remind themselves to test their blood glucose. Users will also be able to add details whether they took the reading before or after a meal. You can assess your blood sugar trends easily by plugging it directly into the USB drive of your computer or laptop. This device display calendar and clock when in meter standby.
Beurer 3-In-1 Blood Glucose Monitoring Device
The brand Beurer is synonymous with health. They always made quality products thereby recognised in the health industry. The 3-In-1 blood glucose monitoring device from Beurer is no different. With its illuminated display, wide test strips, 3-in-1 system, and innovative features, this device found a spot on the list. It has a simple measurement marking for effortless and optimized diabetes management. You can also get an overview of the results and trends in the target range in a simplistic way. The design of the device is very unique. The blood glucose unit, patented lancing device, LCD monitor, plug-in USB and onboard software comes in a compact stick format. It has a built-in detection system which allows measurements only taken when a sufficient blood sample is provided to ensure accuracy. The package includes: 3-in-1 monitor, patented soft & safe lancing device, AST-clear cap, 10 lancets, 10 test strips, batteries, pouch, instruction manual, short instruction, blood glucose diary. It takes just five seconds to test with a tiny blood sample of 0.6 μl. Features code-free test strips and tells you your average value calculation 7, 14, 30 or 90 days for all or marked measurements. The device includes built-in GlucoMemory software but is also compatible with Diabass and SiDiary diabetes management software.