PREPARE A HEALTHY FEAST WITH THE BEST ELECTRIC GRILLS IN THE UAE
If barbeques with perfectly seared meat or grilled vegetables on the menu are an integral part of your lifestyle, you just can't do without a grill. Though you can choose from electric, charcoal, and gas grills, electric grills seem to be the preferred choice of many. Before you decide to buy an electric grill in the UAE, here are certain things to know which would ensure you get optimum value for the money you spend.
Advantages of grilling
One of the biggest health benefits of grilling is less fat. Grilling vegetables and meat doesn't need excess fat. Additionally, the fat present within your food drips away before you bring it to your plate.
Vegetables retain their minerals and vitamins when they're grilled, irrespective of whether you grill them bare or wrapped in a foil. This applies to meat too, which retains more of its riboflavin and thiamine, when grilled. Grilling is synonymous with consuming lesser calories as you won't need oil or butter to cook food since the juices from vegetables and meat would ooze out to make your dishes tastier.
How to choose
Your cooking requirements are the primary factor to focus upon when buying an electric grill in the UAE. If you intend to feed just one or two people and plan to limit your cooking to sausages and hamburgers, a simple grill would be adequate. However, if you want to cook a wide range of dishes like chicken, fish, red meat, sandwiches, sausages, and more in order to feed family and friends often, you need to look for appropriate electric grills.
Checking the features of your electric grill is another important task. Right from its power consumption to preset cooking programs, manual cooking modes, cooking level indicator, size of juice tray, etc., you'll need to ensure the features align with your preferred mode of cooking and the types of dishes you consume often.
Staying within your budget is an equally important factor to consider. Though electric grills are more cost-effective than charcoal and gas grills, you can get advanced features as you go up from the basic models and are ready to spend a bit more.
Checking your chosen grill's after-sales service and warranties is crucial as how well your device continues to serve you in the long run would depend on them. You should also check the grill's portability and ease of cleaning to ensure you enjoy hassle-free and convenient cooking with it.
How to use
To ensure your electric grill works optimally, you need to clean it after every use. But before you start cleaning it, you should ensure you have unplugged the device and removed everything like food particles, food debris, etc. from its cooking surface by using a paper towel. You could use a grill scarper for the task.
Next, you should use warm water and a few drops of dish soap to clean the grill's surface. You can use a grill brush for the purpose. Once the cleaning process is complete, wipe the excess soap mixture off with a paper towel until the surface is thoroughly dry.
To clean your drip tray, you should remove any excess grease or oil from it and clean it with a wet sponge that has a few drops of dishwashing liquid on it. Wash off thoroughly and air-dry it.
Before packing and/or storing away your grill, you should ensure it's completely dry.
How to care
Some important care and maintenance tips for your electric grill's long-lasting operation are as follows:
You should always power off your device and let it get cooled completely before starting any cleaning process.
You should never immerse your entire device in water. Remember – the grilling plates of most models are removable and can be cleaned either with a damp cloth or by using the dishwasher.
Don't damage your grilling plate's non-stick surface by using abrasive cleaners or metal scouring pads.
Though you can wipe off the heating element gently with a soft cloth, it won't need cleaning in most cases as the heat will burn off the debris naturally.
Ensure the device is perfectly dry before storing it away or switching it on.
FAQs
Q: Are electric grills safer than gas cookers?
A: Yes, electric grills are safer compared to gas cookers. You cannot use gas grills inside because of safety concern but electric grills can be used both inside and outside. Electric grills obviously use electricity as their heat source while gas grills use natural gas or propane. So gas grills have a chance of explosion if the tank gets too hot or if there is gas buildup.
Q: Are electric grills a good alternative for gas cookers?
A: Electric grills can be a good alternative if you considering space limitations, convenient use and storage. If you are living in an apartment, then most probably gas grills may not be allowed. Electric grills are available in a wide range of size, so you can opt for the desired one. It is also easy to use and can be used both indoors and outdoors.
Q: Why is electric grilling good for health?
A: Generally grilling is a healthy way to prepare food compared to other alternatives. In the case of electric grills, there is no emission of toxic charcoal smoke or gas fumes, thus healthy. Consider buying an electric grill having a drip tray to reduce excess fat and oils.
Q: Can I use electric grills inside my home?
A: Yes, you can use electric grills inside your home. Electric grills produce negligible smoke, so no need to worry about smoke in the kitchen. It is also hazardless. But it's better not to use outdoor specific grills inside your home. Electric grills specified to be used in indoors and both outdoor/indoors can be used inside your home.
Q: Which are the best electric grill brands in UAE?
A: Electric grills are becoming popular and it is essential to know which the best brands are. With so many brands currently available in the UAE market, the best electric grill brands in UAE are Kenwood, Philips, Russell Hobbs, Orbit, Elekta and Tefal.
Now that you know enough about electric grills, here are some of the top models in the UAE to buy.
Elekta Electric Tepanyaki Grill EBBQ-715
A tabletop electric grill that helps you prepare mouth-watering food in no time from your kitchen countertop. Cook your favourite food- meat, chicken, beef, prawns, fish and vegetables using this functional as well as stylish Grill. Made of high-quality materials and measuring 45 x 30 cm, this appliance is sturdy and durable. It has a non-stick cooking surface which means less oil is needed and cleaning is easier. With 1800 to 2200 Watts of power, it ensures fast cooking. Moreover, to ensure healthy cooking, drainage holes and heat-resistant Bakelite oil tray is equipped on the appliance. It has an accurate temperature controller that you can set according to the demand of foods. It also has got stainless steel shiny baffle and cool touch nylon handle.
Sinbo Electric Grill With holder Handles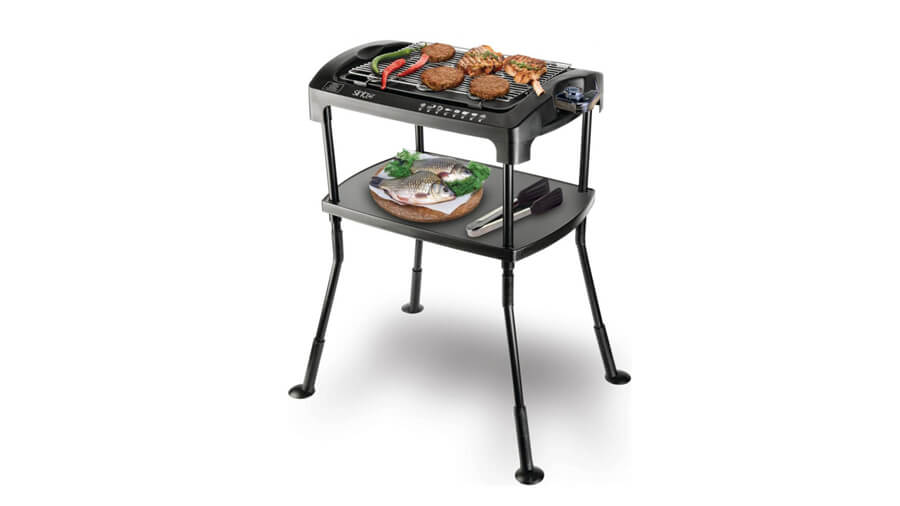 Sinbo Electric Grill is a great indoor/outdoor grill. If you are more into barbecues then this product will be the ideal one because not many electric grills are not capable of perfect barbecue grilling. It has 5 heat settings to choose the desired level of heat. With the large metal cooking surface, the grill provides enough room to cook. This grill has a power capacity of 2000 watt. You can safely use indoors as this provides a smokeless cooking. It is a lightweight and has an easy to install portable foot. Other features include a removable grid and tray, non-flammable and non-stick baking sheet, and holder Handles and rack. It does not emit any flammable or toxic gas.
Kenwood Electric Health Grill - HG230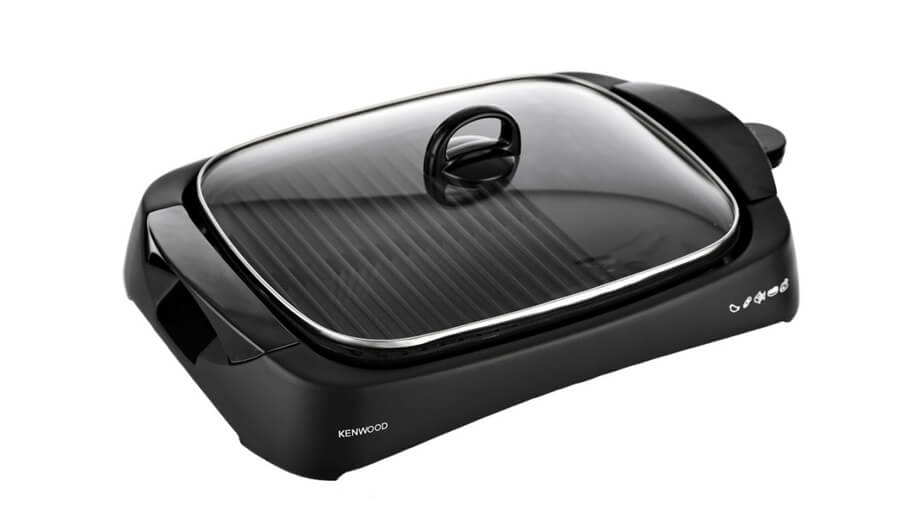 Style meets functionality in Kenwood Electric Health Grill – HG230. This stylish Grill having 1700W of power is perfect for cooking meat, veggies, fish, chicken, and steaks. The grill comes with a nonstick griddle where you can place all the food items. As the name of the device implies, this grill is designed to help you cook healthy food. The grill is made in a way that channels the cooking juices and excess fats to the drip tray at the bottom. Thus eliminating these fats and oils from your food ensure a healthy cooking. It has a glass lid that retains heat for even cooking of food and also lets you see the food being cooked. You can safely use the grill with the help of cool-touch handles. This appliance can be easily disassembled so that you can thoroughly clean each part like a drip tray, glass lid, grill, base and all of the non-electrical parts are dishwasher-safe. Its variable temperature control allows you to cook food according to your liking.
Philips Electric Table Grill 2000W HD6321/21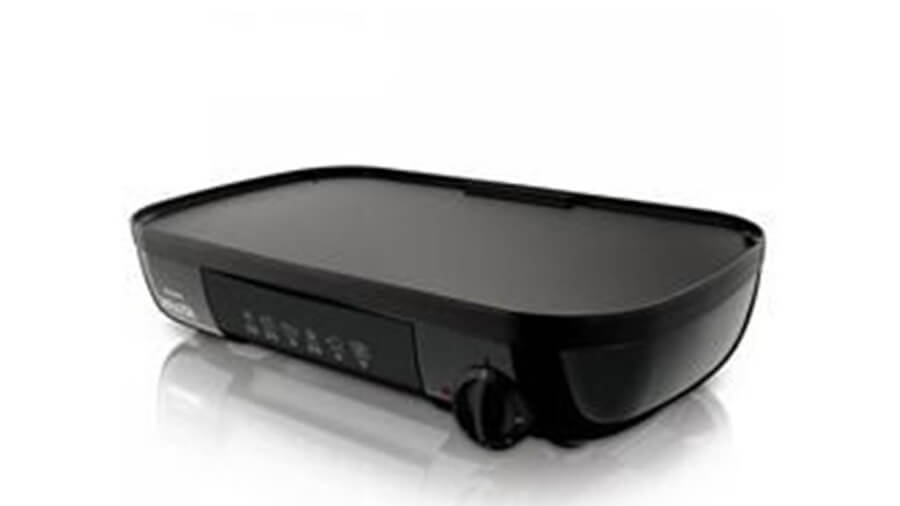 An amazing electric countertop grill that features a 1500 W heating element. Perfect for cooking chicken, meat, steak, fish or vegetables. The electric grill measures 42 x 10 x 10 cm. High-quality material, strong and compact construction, and quality design are the features which make it the best among the countertop electric grills. The casing is made of plastic so ensures durability. It has got a duo plate which is reversible to cook a variety of food. The smooth surface is ideal for cooking a small portion of food like vegetable and fish. The ribbed surface can be used to cook meat, hamburgers, sausages etc and that creates a flame-grilled effect on your portions of meat. It has a non-stick surface that allows us to cook without extra oils so you can keep the taste of food intact. There is also an oil tray to collect excess fat oozing out the food. Furthermore, it features temperature Light and non-slip feet.
Russell Hobbs Electric Grill, 18603-56
An all-purpose electric grill which is one of the best available in the market. Russell Hobbs Electric Grill available in a black finish has got all the features to cook delicious food with ease. It has a griddle that can serve up to 4 portions and a grill plate that can serve up to 6 portions. The grill and the griddle plate can be used at the same time or independently as you wish. These plates are non-stick coated, so is easy to clean. This electric grill features 2100 Watt heating element that delivers efficient and fast cooking. It features a removable drip tray that collects the excess fat from food. You can adjust the height of this appliance according to your needs. It has independent variable temperature control for each section so that you can cook different items with precision. The power and temperature indicator light informs you the time to place and remove the food. It has a plastic construction which may not seem like a welcome feature but it makes it durable and lightweight. Because of its compact construction with ample cooking space, you can carry this appliance for picnics, camping and outings. All these features make Russell Hobbs 18603-56 Electric Grill, a desirable one.
Touchmate Electric Health Contact Grill, tm-cg101s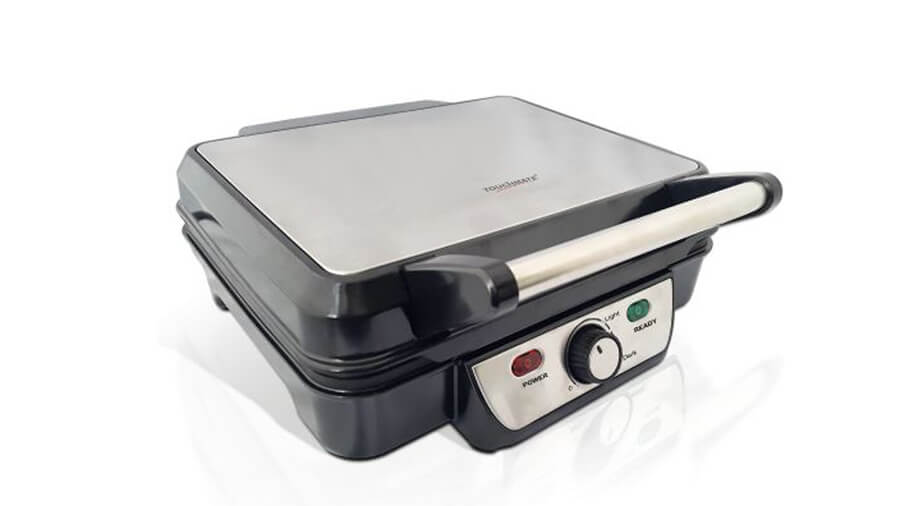 Touchmate TM-CG101S Electric Health Contact Grill is a worth buying grill. It is a perfect appliance for grilling and toasting. You can cook meat, chicken, prawns, fish, paninis, steaks, toast etc. It is ideal for contact grilling, a popular way of indoor grilling. The non-slip feet ensure a stable position anywhere. It has a large cooking surface to cater all family food needs. An important feature of the grill is its 180 degrees full open adjustable hinge to adjust to the thickness of the food or you can open flat to create a second grilling surface. It has a temperature control dial with LED indicator that gives you complete control of this grill. The grill includes a drip tray and spatula.
Princess Table Top Grill PRN.102320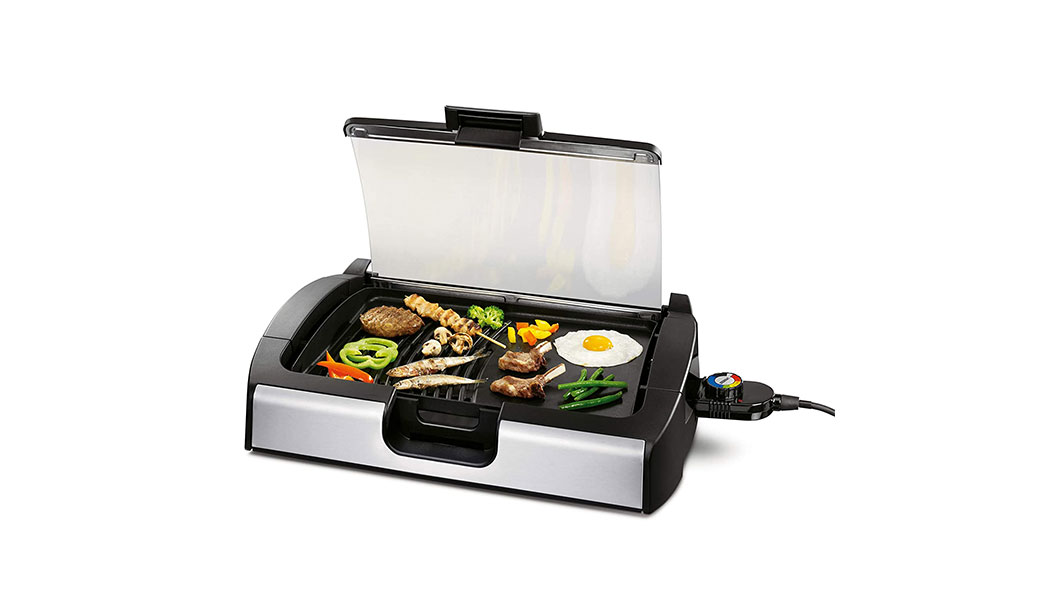 Princess Table Top Grill PRN.102320 has a sleek and pretty design. It has a thermostat that can be regulated up to 220 degrees. All parts of this grill are detachable thereby you can easily clean it. You can also easily assemble the grill in no time. It has a large cooking surface with the non-stick plate which is easy to clean. It has a removable nonstick drip pan that is dishwasher safe for perfect cleaning. It's reinforced glass lid which ensures even cooking. The drip bowl on the grill collects all extra fat and oil from the food, thereby ensuring healthy cooking.
Orbit 2-in-1 Electric Vertical Grill 21Ltr- VGR-2010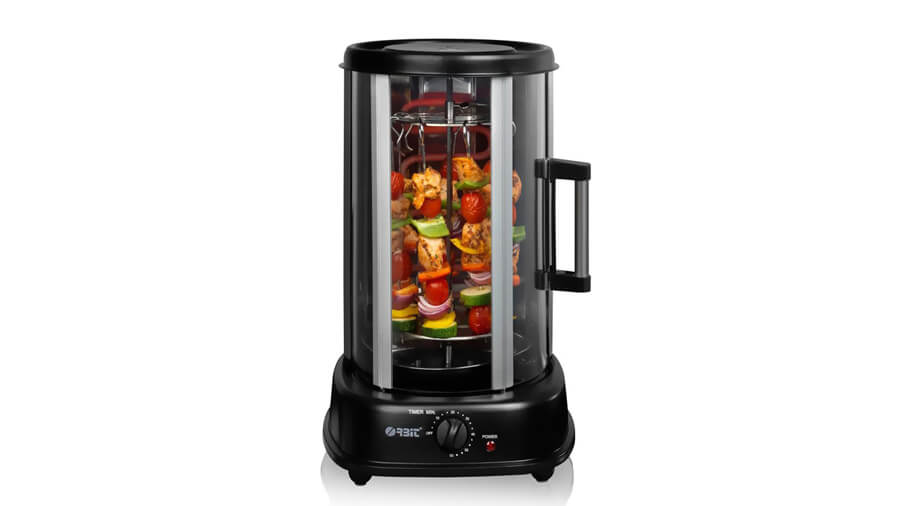 A hassle-free cooking is guaranteed with this Electric Vertical Grill. This oven comes with a 1500 Watt heating system which makes it ideal for cooking succulent slow-roasted meat, kebab, shawarma and many others. It is easy to use with features like 60 minutes timer with auto shut-off and lamp inside to check whether cooking is done properly. The grill has a slidable glass door, a rotisserie shaft with end forks, 7 Piece skewer set for making kebabs, and a drip tray to collect excess fat thereby ensuring healthy cooking. For safety concerns, the power will automatically shut off when the door is open. Overall an efficient and user-friendly appliance much needed in any kitchen.
Tefal OptiGrill Plus Indoor Electric Grill 1800W GC712D54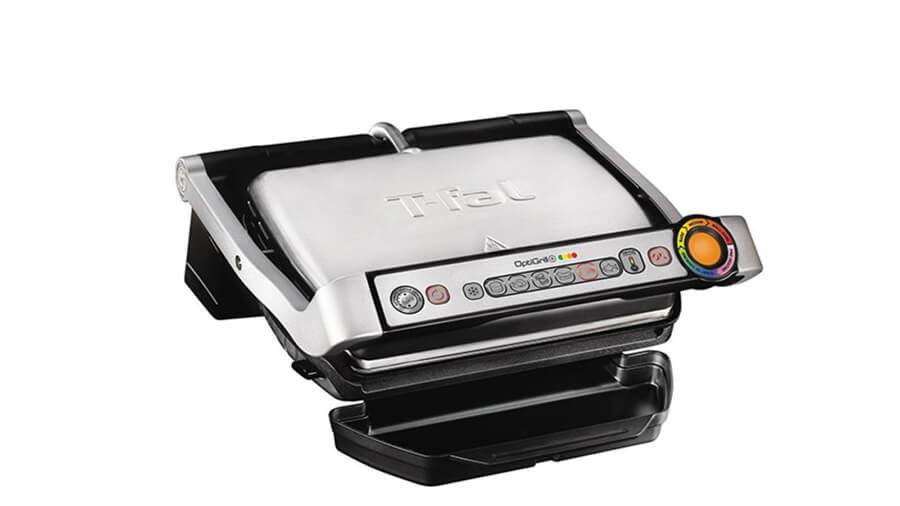 Tefal is a well-known cooking appliance manufacturing brand. Its OptiGrill is an ultimate innovation. It has got "Automatic Sensor Cooking" technology which quickly detects the number of items placed on the grill and also their thickness so that the temperature and cooking time can be automatically adjusted. It is equipped with a cooking level indicator light to monitor the cooking- Blue then green when cooking starts, then yellow when the food is rare, orange when it is medium and red the food is well done. There are 6 automatic cooking programs for Red meat, Burger, Poultry, Sandwich, Sausage, and Fish to automatically adjust the temperature based on the food and to cook it perfectly. Then there are 2 cooking modes: one for frozen food and other a manual mode. The grill made with non-stick die-cast aluminium plates has a surface area that can serve up to 4 people. It comes with a large juice tray and plates at 7° angle to ensure that the cooking juices run off.
Tefal Indoor Electric Grill, 2000 watts, Stainless Steel, GC712D28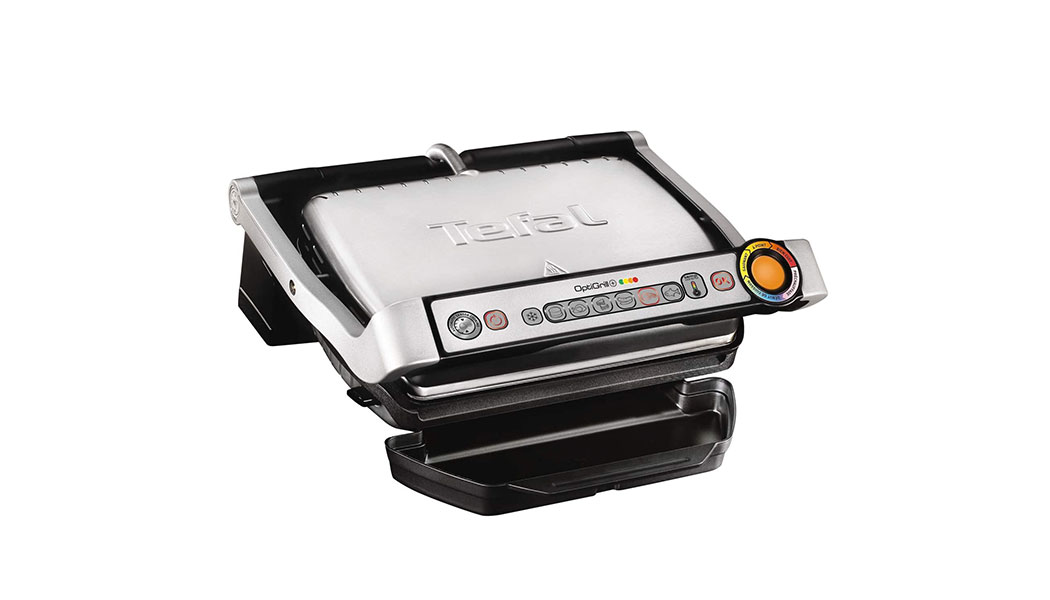 This high-performance electric grill features 6 automatic preset programs along with a manual mode with 4 temperature settings. With it, you can now cook everything – right from sausages, sandwiches, and burgers to chicken, fish, red meat, and more. Thanks to its cooking level indicator, you can get rare to well-done cooking results to appease your taste buds.
Tefal Plancha Electric Smokeless Grill with Lid, Black, Plastic/Steel, CB6A0827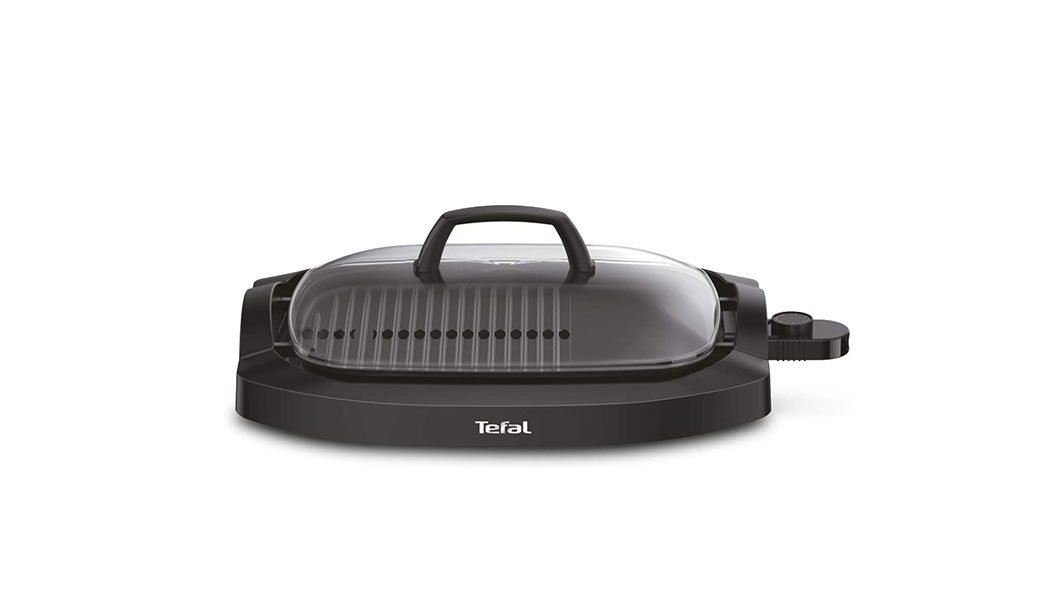 Enjoy oil- and fat-free cooking with this 2000W high-performance device that's ideal to rustle up seared and juicy meals. It comes equipped with an adjustable thermostat that can be set at 5 different levels of temperature. It also features a smokeless indoor grill that has 1/3 flat plate and 2/3 grill to deliver more options for cooking, a removable juice tray and dishwasher-safe plates, and tempered glass lid with a cool-touch handle.
TEFAL Optigrill Plus Indoor Electric Grill with Snacking and Baking accessory, 2000 Watts, Silver, Stainless Steel, GC715D28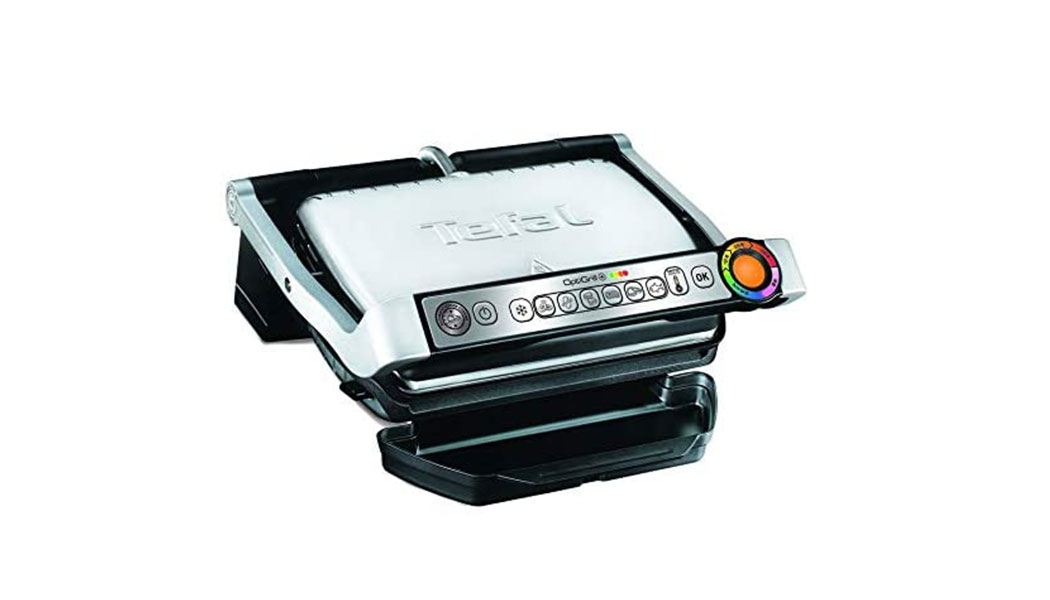 You can cook any type of food, irrespective of their thickness and quantity, using this indoor electric grill that features a manual mode with 4 adjustable temperatures along with 6 automatic programs and a cooking level indicator. Thanks to its 600 square centimeter cooking surface made up of non-stick die cast aluminum plates and a large juice tray, which have a 7-degree angle, your cooking juices will run off easily.