Here Are The Best Water Purifiers to Keep Your Family Healthy
Nowadays, the drinking water that you use contains a handful of substances that are harmful to your body. This is the reason why you should always have a good water purifier at home so that your family drinks purified water. Here we have handpicked the topmost water purifiers you can find in Dubai and UAE.
FORBES ENHANCE UV STORAGE WATER PURIFIER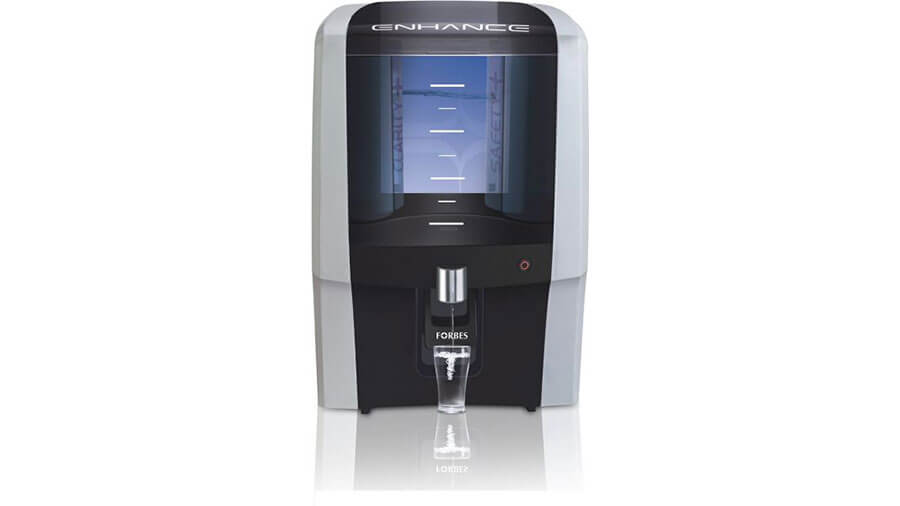 Forbes has its own prominent place among the companies who meant for the manufacturing of water purifier. Forbes is USEPA approved company and Member of Water Quality Association USA. Nowadays water purifier has become a necessary home appliance in our house with the help of that we can able to purify water for drinking, cooking, etc. Forbes Enhance UV storage water purifier can able to remove diseases causing germs present in water and prevent us from many of the water-borne diseases like typhoid fever, cholera and Hepatitis A or E. For purifying water it uses 6 Stage UV and UF protection technologies and by using these technologies it can able to remove dirt, dust, chemicals, chlorine, sodium, virus other microbiological impurities. The purifier has very simple installation process we can directly connect this water purifier to our house tap. Direct connection of purifier to the tap helps us to avoid the use of the dispenser and bottled water. The product has 8-liter storage tank which fills automatically. A single cartridge last for purifying 6000 litres of water. Forbes Enhance UV storage water purifier is considered as a healthy and environmentally friendly product. Drink safe purified water and be safe from diseases.
MILANO UF WATER PURIFIER
Milano is a famous brand for manufacturing home appliances mainly water purifiers. The water purifiers are considered us an important home appliance nowadays. Doctors recommend each and every person to drink a lot of water to be healthy. Water is considered as the medicine for almost every disease but if we drink impure water it can cause water-borne diseases like typhoid fever, cholera etc. Milano UF water purifier is widely used because of its slim and compact design pattern which helps us to save more space than other water purifiers in the market. The product comes with a diameter of 370×200×470 mm. The product has a power rate of 30W and the water purified flow rate is 0.13-liter per minute. It helps us to reduce sediment, rust, Organism, bacteria, viruses. Milano UF water purifier helps to keep the essential minerals from the water and maintain its natural quality. The post-carbon technique of water purifying used here will help it to reduce odour and chlorine and provides water with great taste. It comes in several colors from which we can choose our desired color which suits our kitchen. It is a lightweight product so we can easily transport it from one area to another.
FORBES HD RO WATER PURIFIER
Forbes has proved to be the leader in the market for the manufacturing of water purifiers. Water is considered as medicine which keeps you active and stimulates bodies metabolic functions; it monitors the key functions of the body organs and keeps us healthy and energized. The purifier works in an input voltage of 230VAC/ 50-60 Hz and the power consumption of the product is 35W. We can easily handle this product because of its light weight of 7.8 Kg and has a dimension of 316 x 251 x 462 mm. The product has a very good storage capacity of 7 litters. The input water pressure for this product is 0.6 kg/cm2 and it works better in a temperature range from 10 to 40°C of the input water. The Purifier helps to filter the microscopical, chemical and other bacterial impurities. Forbes Enhance UV Storage Water purifier comes with very attractive and stunning design in black colour. Forbes Enhance UV storage water purifier is a top load purifier with metal body and has HD RO water temperature type. The water cooler style used here is the countertop system. The Purifier lacks user digital interface but it is compensated by other advanced features used in the product.
KENT RO PURIFIER
KENT distributes high-quality water purifiers to the market nowadays. One such leading product in the market is Kent Wall Mountable Mineral RO (Reverse Osmosis) Purifier which comes with a stunning design suits every kitchen. As the name suggests it a wall mountable RO purifier with a diameter of 41 x 26 x 52 cm, so it consumes less space only. The purifier suits more for office use than household use because it does not consume more space and fits anywhere easily. It comes with a huge storage capacity of 8 litters helps to provide water even in the absences of electricity. It has many advanced features which other product for similar purpose lacks like, in this product the user can adjust the mineral level that should be retained after filtration. The purifiers use double purification process by using RO+UV/UF technology and it gets controlled by computer operations so it provides us with the correct indication about its filter failure and other faults occur in the device on time and by doing this we can trust this product that it does not generate unpurified water at any cost. It has an inbuilt water level indicator show the level of water in the storage tank. The purifier is made up of good quality plastic due to this reason it is lightweight and comes in an attractive white colour.
FORBES WATER PURIFIER
Forbes Dr Aquaguard HD RO Water Purifier is one of the leading water purifiers available in the market. The water purifiers help to prevent diseases causing germs from entering our body through water and prevent us from water-borne diseases. It comes with a stylish design and colors which is suitable for every modular kitchen. When compared to other product of similar function it has many advanced features. The water purifier weight only 7.8 Kg and has a diameter of 316 x 251 x 62 mm so it's easy to carry and assemble anywhere according to our wish. The product works on an input voltage of 230VAC/ 50-60 Hz, with a power consumption of 35 W. The product holds a metal finish body which prevents it from breaking. Forbes Dr Aquaguard HD RO Water Purifier has a huge storage capacity ranging from 4 – 10 Liter. The TDS controllers are present in the purifier. The purifier works its best in the input water temperature range between 10°C to 40°C and it helps to remove chemical impurities like chlorine etc from water and provides it with its natural taste by holding the natural minerals present in the water. Forbes Dr Aquaguard HD RO Water Purifier is a top load water purifier with countertop water cooler style.
PURIPRO UNDER SINK RO PURIFIER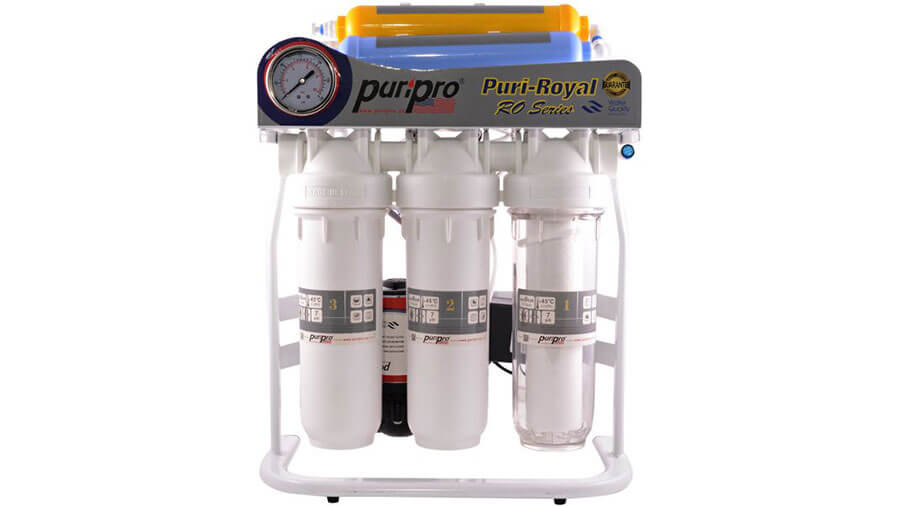 The water purifier is used to filter the unpurified water that comes through our tap nowadays. So it's important for every family to install water purifiers in their house, this situation creates immense pressure on the companies who manufacture this product to make those products more attractive and affordable for the customers. Puripro introduces one such product to the market namely Puripro RO (Reverse Osmosis) Purifier Under Sink 7 Stage Drinking Water Filter. They design this product tackle most problems produced from water pollution. The product helps to filter bacterial impurities as well as organic and chemical salts one by one in various levels of water purification process. It helps the water to maintain its natural freshness and smell free water. Drinking pure water helps to improve our body metabolism and keeps you hydrated. The purifier comes with a huge capacity of 200 LPD. The product weighs only 15Kg with a diameter of 49 x 17 x 12 inch and it works on 220V electric supply. The purifiers have 7 stages of the filtration process and each stage holds its own unique filters. The PuriPro RO Water Purifier comes mainly in white color with a unique design which definitely holds everyone's attention.
FORBES-WATER-PURIFIER-Black/Silver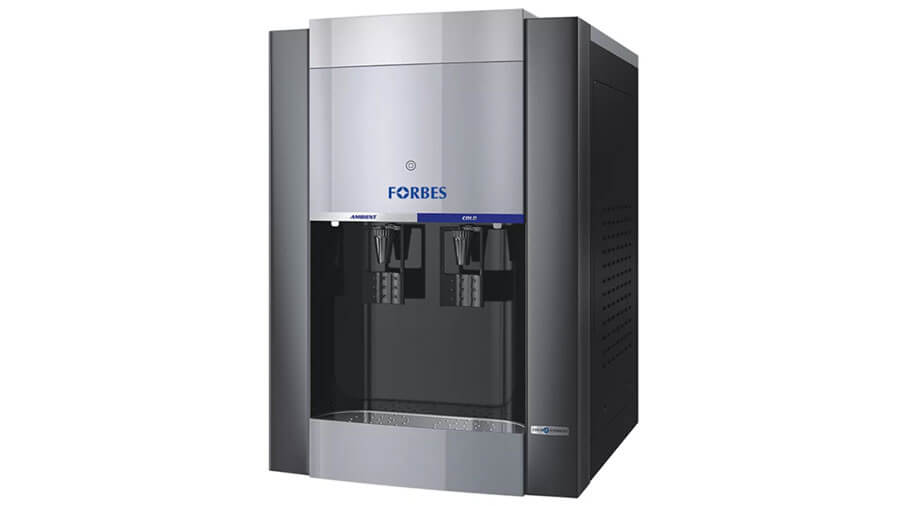 Forbes Water Purifier is widely used and most accepted type of water purifiers available in the market. Forbes is one of the leading manufacturers of water purifiers in the market, the products from Forbes leads the market because these do not make any compromise in the quality of the product manufactured in their company. It comes mainly in grey color. The Purifier has only less weight and has a diameter of 40 x 17 x 31 cm which helps in easy transportation and installation. The purifier has its maximum Hi Flo capacity of 2 litres. Forbes Water Purifier uses powerful 253.7 nm UV technology for us to remove micro bacterial impurities as well as other chemical impurities which are harmful to humans when it gets into our body through water and it provides extra pure drinking water to our family. The UV Lamp sensing technology used here will indicate as for to change or service the UV filters used in the purifier and serves pure water throughout. In short, we can conclude that Forbes Water Purifier is one of the best water purifier available in the market nowadays with high quality and stunning design which is sure to be loved by every family.