Check Out The Best Toaster Ovens To Help You Bake Better
Looking for toaster ovens that help you prepare breakfast in a matter of minutes? We help you make the perfect decision that is suitable for your family and budget with this detailed list containing the best toaster ovens you can find in Dubai and UAE.
BLACK & DECKER LIFESTYLE TOASTER OVEN - TRO60-B5
Featuring the most advanced convection technology, the Black and Decker 6-Slice Toaster Oven helps to circulate warm air to cook all your favorite snacks and pizzas in no time. Moreover, the interior of the oven is designed to focus heat towards food for fast and even cooking. With four cooking functions (bake, broil, toast, and keep warm), and adequate room to fit in all types of food like pizza or bread, this toaster oven makes mealtime easy. The 60-minute precision timer includes a stay-on function for longer cooking tasks and the dedicated toast timer finds the right shade. The bake pan/drip tray serves two functions. As a baking pan, food would be placed on the pan and then the pan on top of the slide rack, while baking or re-heating. For instance, baking a roll of biscuits or reheating a slice of pizza, the baking pan would be used in this manner. As a drip tray, the bake pan hangs below the rack while broiling meat, to catch any drippings. The baking pan should not be used when toasting, to allow both sides to brown at the same time. The crumb tray is a separate part that rests on the very bottom of the oven, below the lower elements.
PANASONIC 9 LITRE OVEN TOASTER - NT-GT1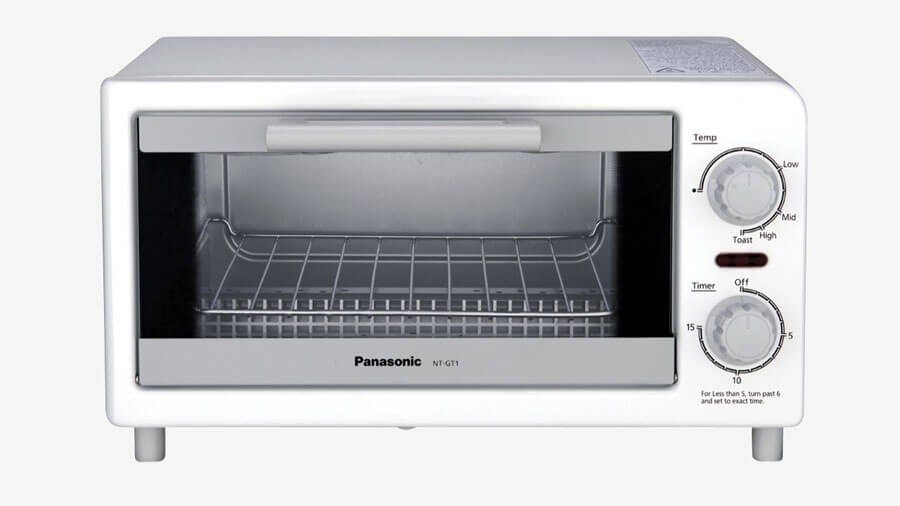 Thanks to 'FlashXPress' double Infrared Light, the Panasonic Oven Toaster ultimately cooks up to 40-percent faster than conventional toaster ovens. With amazing features and easy-to-use functions, the Panasonic Oven Toaster is indeed a smart one with automatic cooking time settings and adequate control over the heat for the variety of preparations. The Oven Toaster is coupled with a great looking and serviceable control panel with 6-menu illustrated presets for toast bread, pizza and frozen foods. The Oven Toaster is blessed with a perfectly compact design on countertop and the tray which is easily removable. There are 6 different preset functions to choose from. Each cooking function will automatically calculate the correct cooking time. One feature that is very convenient and something customers love is the slide out rack. As the rack is fixed powerfully to the door, it automatically slides out when it is opened. This is very handy and makes taking out hot items much easier. This toaster oven is also easy to clean. The rack is easy to take out, and there is a front access crumb tray that makes taking out fallen food particles painless. A removable crumb tray, oven rack, and oven tray are provided with this unit.
AFTRON OVEN TOASTER - AFOT4800GR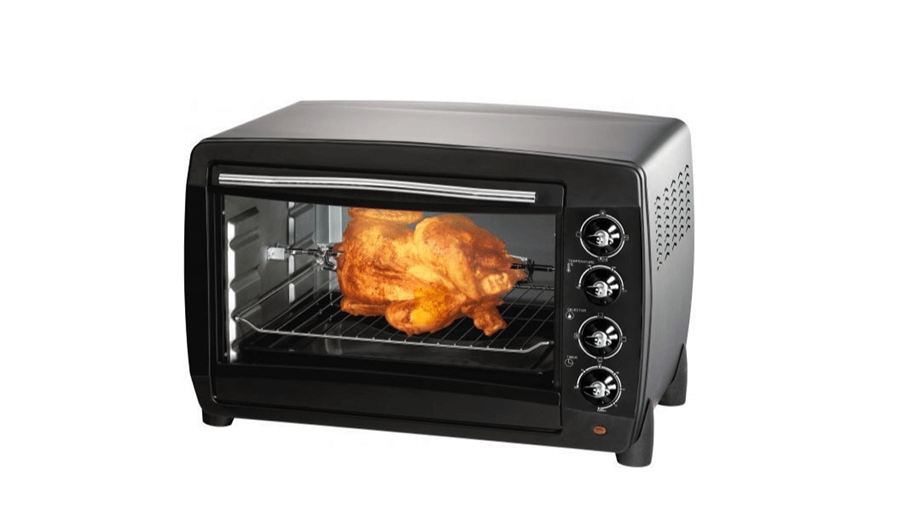 Ideally suitable for large gatherings and dinners, the Aftron Oven Toaster comes with a big 60-liter capacity and a rotisserie function. The AFOT4800GR Oven Toaster arrives at the scene with a 4-piece stainless steel heating elements which include a back tray, wire rack, back tray handle and rotisserie set. This countertop appliance from Aftron can easily make a variety of dishes ranging from garlic pieces of bread to healthy vegetables. This automatic pop-up toaster features an electronic browning control, so you are assured to get your choice of shade of brown to your bread. Other enticing features of the Aftron Oven Toaster include buttons for frozen, reheating and cancellation. There is an attachment of crumb tray in the Oven Toaster which will make the cleaning process much easier and quicker. The temperature control of the machine is perfectly fixed at 100-250 degree Celsius. Amazing features like inner lamp function, four-stage switch for up-down heaters and a 60-minute timer with sound notification are all there included in the Aftron Oven Toaster.
WESTPOINT 80-LITER ELECTRIC OVEN - WOY-8016.5
With Westpoint's relatively more compact WOY-8016.5 microwave oven, the heating process happens quicker and more effectively. You can cook the same kinds of meals through the WF-2310 but lesser electricity will be consumed as compared to full-sized ovens. Westpoint claims that the oven saves you about a half or one-third of the energy consumed by other ovens. The oven works as a toaster, rotisserie and a BBQ grill to allow you to prepare all kinds of meals. While the microwave is compact, the 24-liter capacity still allows you to make meals of a reasonable size for you and your loved ones. The convection baking is certainly enjoyable that circulates hot air throughout the oven for flakier crusts, crispier edges, and even browning in no time at all. In addition, everything is carefully controlled by means of the simple to-utilize board that offers exact warmth and time alterations. Its shape makes accessing the food inside easy and painless, whether you're checking on your pizza to see if it's cooked through, or you're trying to pull toast slices from the back of the oven. It highlights basic dial controls that are anything but difficult to ace, and you can choose when you need to cook/prepare for convection heat.
BLACK&DECKER OVEN TOASTER GRILLER - TRO50-B5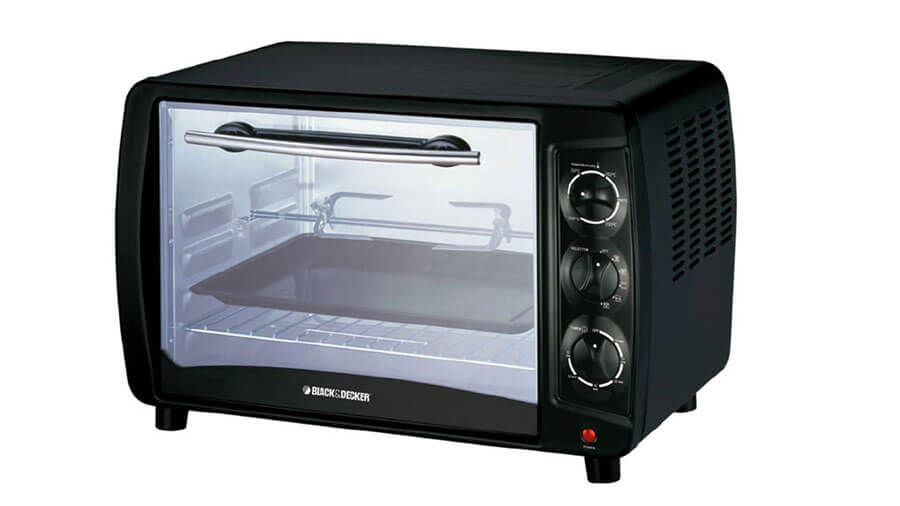 The Black and Decker Countertop Convection Toaster Oven highlights one-touch functions for an entire range of food: bagel, pizza, snacks, potatoes, and cookies. Convection preparing circles hot air around your food for quick and even results, and the extra-deep curved interior fits 12″ pizzas thus considerably more. The extended inside fits a 12″ pizza or six cuts of bread, and convection warming innovation courses warm air all through the stove for fast and notwithstanding cooking. Convection warming circles air all through the stove for brisk and notwithstanding cooking. The Oven Toaster from Black and Decker gives 20% quickness in cooking results than with past Black+Decker toasters. A hour long clock with stay-on usefulness in the Black and Decker is awesome for longer heating occupations, and the devoted toast clock guarantees perfect outcomes for each toasting errand. It is anything but difficult to utilize and comprises of a clock handle to alter the clock for the toasting level, or for the broiler capacities. The set incorporates a broiler rack, a heat container and a sear skillet to cook numerous dishes at the same time. It additionally includes a simple view glass way to keep an eye on your dishes every now and then.
SUPER GENERAL OVEN TOASTER SGEO064KRC
With a vast inside and 20% quicker cooking circumstances, the seven committed cooking capacities rapidly idealize everything from 12″pizzas to leftovers. Natural computerized controls make it simple to set the time, temperature, and cooking capacity, and the 120-minute clock highlights stay-on and auto-shutoff usefulness. Furthermore, the simple view glass entryway gives you a chance to watch out for your sustenance all through the cooking procedure. The BLACK+DECKER 4-Slice Toaster Oven prepares, cooks, toasts, and keeps food warm. Temperatures run from 200-450°F and the 30-minute clock highlights stay-on usefulness for longer undertakings. Furthermore, the swing-down scrap plate keeps sustenance from consuming in the base of the broiler so your kitchen remains crisp and clean. Convection innovation flows air inside the stove for quick and even outcomes while heating. Additionally, the outside morsel plate is anything but difficult to slide in and out, making cleanup a breeze.
SONASHI ROTISSERIE + CONVECTION OVEN TOASTER - STO-731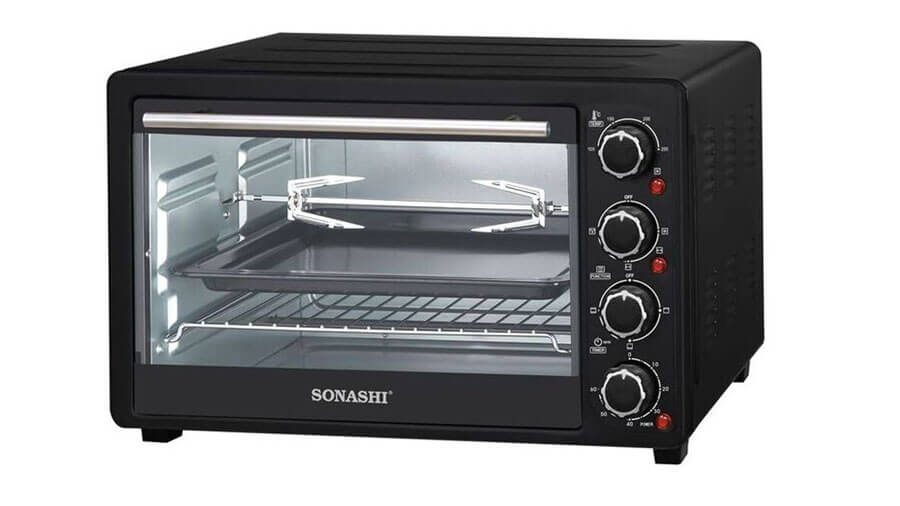 Sonashi electric oven includes a wire rack. This toaster oven allows you to cook one whole chicken at a time. If you love moist roasting, baking, and grilling, Sonashi STO-731 Rotisserie Plus Convection Oven Toaster is the perfect choice for you. With the fusion of rotisserie and convection function, you will never get bored of eating home-cooked food. This toaster oven has a 36L capacity that allows you to bake delicious cakes and soft bread, grill vegetables, roast meats and much more for all your family. This electric oven has an adjustable temperature selector for preparing a variety of dishes. Furthermore, the four heating selection of this oven allows for easy control. Available in a black finish, this Sonashi appliance is an apt addition to your kitchen. This Sonashi electric oven has the power and efficiency to deliver excellent results in less time. It has a high-quality housing that allows you to cook delicious meat while keeping it moist evenly. The four heating selection of this toaster oven allows for easy control. The adjustable temperature selector allows you to select the preferred temperature while 60-minute timer lets you set the cooking time ranging from 0 to 60 minutes, allowing you to take care of other chores while your food is being baked or cooked. Furthermore, the baking tray allows for efficient and easy baking.