Best Westpoint Refrigerators in UAE
Westpoint – The Brand
Since the 18th century, CFEE-Westpoint International has been operating as part of a family Group set-up in Bordeaux. It collaborated with Thomson-Brandt French Group and extended its niche from white goods activity to the latter's product. It started distributing the goods in Africa and the Middle East markets. In the late 1970s, Thomson-Brandt concentrated its distribution to only the European market and dropped the tropical line. In 1978, CFEE launched Westpoint and launched its Tropical brand to serve millions of consumers worldwide.
Westpoint Refrigerators
Its refrigerators are available worldwide with the brand keeping in mind the latest technology to be inculcated in the products. The features that you get in the fridges offered by the brand are as follow:
No Frost Technology
An upgraded air duct and circulation system makes the Nofrost technology of its fridge unique. The technology ensures no-frost in the freezing and cooling cabins of the system. As a result, users don't need to defrost the system manually and food remains fresher.
LED Display
Electronically controlled LED display helps you to track the accurate temperature set in the system.
High-Moisture Retention technology
The level of humidity in French door system can be more than 50 percent of the normal no-frost refrigeration system. The brand's fridges have been tried to improve with the improvement of the duct system along with better frequency conversion system incorporated in them.
Automatic Ice-making
Ice making is done in three modes – ice blocking, ice crushing, and conversion into ice water. A Japanese water supply device can be opted for by users. The device has Ag+ filter block. It will make the ice-making process easier and properly shape it as cubes by just adding water.
Additional features include, water dispenser integrated, multi-air flow, stainless steel handle, spill-proof shelves, mute slide designs among others.
A few of the most in demand models are upright freezer WNMN-4714I and WNMN5716I. Both of them are equipped with almost all the above mentioned features.
Westpoint 240-Liter Refrigerator WRN-2414
How many times have you tried to fit in a tall jug of juice into the refrigerator but turned back disappointed because there just was not enough space to put it in? Thankfully, there is a fridge that can solve this problem. The Westpoint 240-Liter Refrigerator (WRN-2414) is the absolute king of space utilisation. With a gross capacity of 240 litres, the fridge comes with a freezer on top, which makes sure that there is limited loss of cool air each time you open a particular door. From its vegetable try to its compartments, the refrigerator exists to give you maximum use of its space. You'll never be left shifting containers around to fit more.
Westpoint 400 Litres Refrigerator WNT-4016ER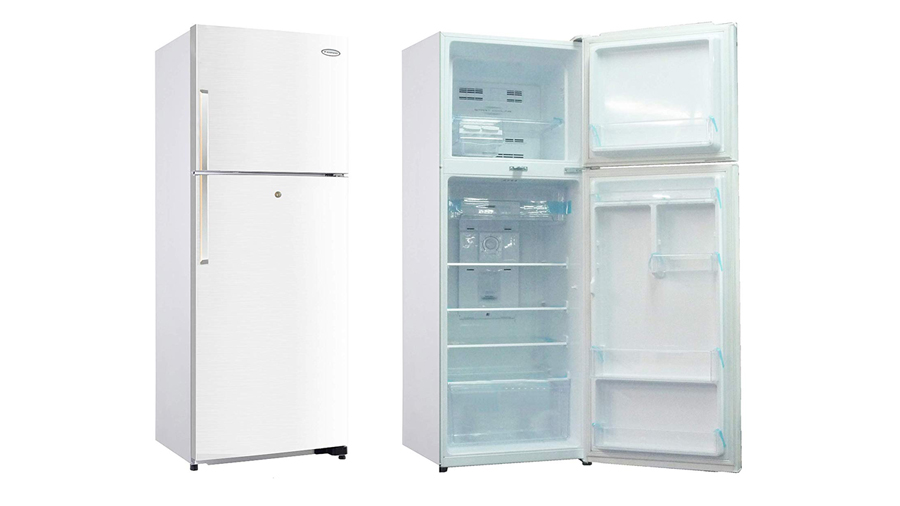 This one is for you if you are a big believer in eating food fresh. The Westpoint 400 Litres Refrigerator (WNT-4016ER) has its own Fresh Zone shelf for doing just that and keeping your greens in great condition. The double doors of the refrigerator are fitted with racks customised to suit your every storage need. Its white finish is complemented by an energy efficient lighting system. A handy twister makes sure you get ice cubes quickly and are not left hacking at a frozen over ice tray. What's more, the ergonomic make of the refrigerator makes it the king of effective space use, giving you less of a headache of what to place where.
Westpoint 350 Litres Top Mount Refrigerator (WNMN-3516ERI)
The Westpoint 350 Litres Top Mount Refrigerator (WNMN-3516ERI) is no ordinary fridge. A robust structure that is as durable as it is sleek, the refrigerator comes with a special freezing capacity that will make you the preferred frozen dessert maker in your circle. In addition, it comes with a Fresh Zone compartment that promises to keep your produce in top condition for as long as possible. The fridge's auto-defrost system is a boon to anyone who has had to maintain a refrigerator that frosts easily. Armed with an energy efficiency rating of A+, the fridge is a go-to green option. The ultimate storage facility, it comes with a double door advantage that makes sure the freezer is unbothered each time you open the main compartment.
Westpoint Fridge 800 Litre WNT8016WDI 800L
Not many 800 litre refrigerators can claim to be smart, stylish and providers of utilities other than storage. Yet the Westpoint Fridge 800 Litre (WNT8016WDI 800L) can. The absolute end to your storage problems, at a capacity of 800 litres, the fridge also provides you with the added luxury of a water dispenser which is built into the door and thanks to which you will have a cool drink in hand even without opening the door. Stainless steel and with double doors, the fridge comes with a freezer on top. This way, each time you open the doors to the main compartment, you do not risk cool air of the freezer escaping. This keeps your ice-creams safe and chilling until you are ready to take them out!
Why WOWLYST.COM?
WOWLYST.COM is an exploration space for users that guides them while buying home appliances online. The prices of the products on different online websites are also provided on the website. This will let you compare the prices of the same models on different websites so that you can choose the one that best suits you in terms of requirements as well as your budget. It also shows the deals by major online retailers of UAE such as Souq.com, Jumbo.com, Jadopado, Carrefour Online, Sharaf DG.
The Relevance and Other Information of Westpoint in Dubai, UAE market
It is a French brand that distributes its products to all nations around the globe, including the UAE. A few popular refrigerators by this brand in the region are WNMN5716I(Double Door Refrigerator) and the upright freezer WNMN-4714I.