Best Midea Microwave ovens in UAE
Midea – The Brand
The dream to create a company came into the mind of Mr. He Xiangjian from Beijiao, Shunde of China in the year of 1968. It entered the market with bottle lids and car parts and then it took a leap of faith into electrical appliances for home use and since then it has not looked back. Now it has an entire range of home and kitchen appliances and has become a market leader covering as fast as 200 countries.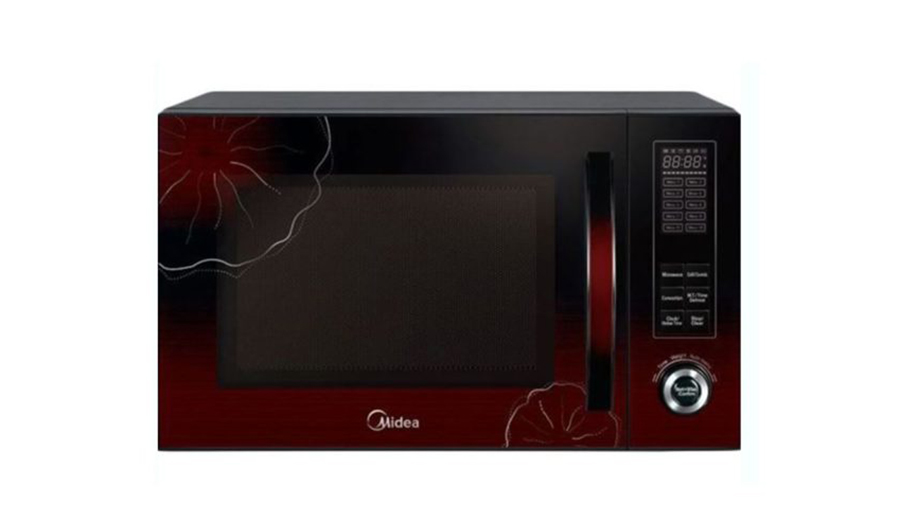 Midea Microwave ovens
It first partnered with Belarusian Microwave manufacturer Horizont and now it produces its own state-of-the-art microwaves through own R&D. So if you are looking for a good brand that will give you the best satisfaction against your money, then definitely you can go with this one. For foodies in UAE, if you want to make pizza or pasta or Kebabs then definitely this microwave can fit into your kitchen.
Products of this brand like the AC930AHH has the best of features like stainless steel cavity which is easily cleanable, microwave, grill, convection, digital control and delay start allow you to decide what you want to do with your food.
The EG142AWI also has action packed features in it like being a massive 42 L machine, it ensures your whole chicken can be roasted without any worries, with digital and time delay feature you can put it and cook it to your convenience. Child safety is always a boon in this type of equipment.
Midea 30 Liter Microwave Oven with Grill EG930AHM
If flexibility is what you treasure in your cooking sessions, then the Midea 30 Liter Microwave Oven with Grill (EG930AHM) has your back. This steel grey uniform exterior flaunts an LED display that can guide you through 11 power levels that help you tailor your machine to your own cooking style. With 1000 Watts of grill power, you may rest assured that your roasts and grilled sandwiches are in good hands. The compact look hides the fact that there is an astounding 30 litres of space inside, thanks to which even your big meals need only one trip into the microwave. Among enviable features are a child safety lock which can come as a relief for any parent, and a much-needed defrost function, which can evenly warm up frozen food which you just do not have the patience to thaw.
Midea 28 Liter Microwave Oven MM928EHR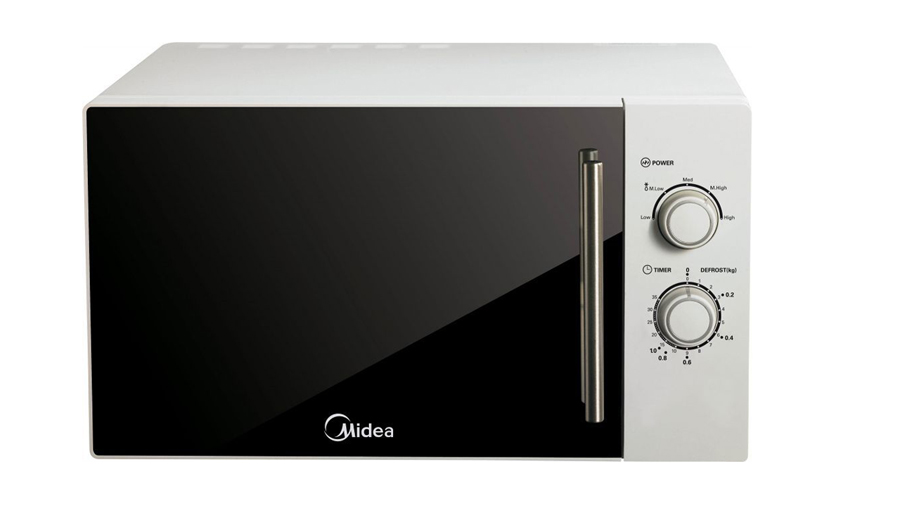 If fast cooking is your demand, then the Midea 28 Liter Microwave Oven (MM928EHR) can deliver all that you are looking for. Its sleek black glass door makes it a stylish addition to any kitchen space. With a capacity of 28 litres, a crystal clear LED display, well-defined stainless steel handle and a timer, the machine is as friendly to use as it is convenient for everyday meals. The oven has five power leaves to regulate the amount of heat your meal might require. The microwave offers you the freedom to make your own food in your own way, thanks to its manual control. Both, versatile and also simple enough to make sure even quickly heated food tastes good, look no further than this must-have when it comes to your kitchen.
Midea 20 Liter Microwave Oven MM720CJ9
The neat layout and the clean system of the Midea 20 Liter Microwave Oven (MM720CJ9) make it an obvious choice for even the new cooks among you. The oven has five power levels which offer you obvious choices for regulating how your meals are cooked. The cooking timer lets you know with a satisfying 'ping!' when your favourite dish is done. And, in what might come as a real surprise to those always on the move, a defrost function helps thaw out any frozen food quickly. Don't be fooled by its simplicity, the number of dishes you can cook in this 20-litre oven is endless.
Midea 30 Liter Microwave Oven with Grill AG930AHY
Designed for convenience and performance, the Midea 30 Liter Microwave Oven with Grill (AG930AHY) can give you the efficiency of fast cooking with the joy of a carefully prepared recipe. Its 11 power levels complement the eye to detail that any cook would have and thanks to its 1000 Watt grilling power, your meat and other time-consuming foods are in good hands. The microwave comes with eight pre-set cooking menus, along with an enviable defrost function that will help you thaw frozen items in a jiffy. Its compact design will ensure you can fit it any corner of your kitchen top. Whether you are cooking for guests of a meal for yourself, the 30 litres of capacity in this microwave guarantees that you can cook it all in one single batch.
Midea 30 Liter Microwave Oven with Grill and Convection (AC930AHH)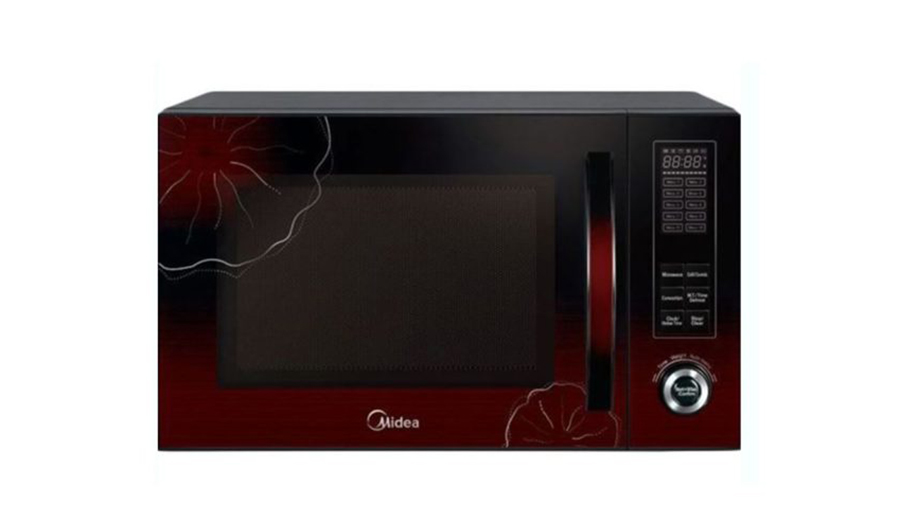 A snug machine that will add to the beauty of your kitchen and make your life a million times easier. That's the Midea 30 Liter Microwave Oven with Grill and Convection (AC930AHH) for you. A power output of 900 Watts that can manage quick and efficient cooking, the microwave has an additional 2500 Watts of convection power and 1100 grill power, which ease your everyday cooking tasks a great deal and opens up a vast variety of recipe options to work with. The defrost function makes it possible to thaw your frozen food in no time, with no pre-planning necessary. The microwave might appear simple but it is powerful enough to sustain you through all your kitchen adventures.
Why WOWLYST.COM?
We live in an era where everything is measured by the parameters of convenience, less straining and time consuming.  If you are looking out options to make shopping an easy task, WOWLYST.COM is the answer. It helps in comparing prices and delivery dates from all the major players in the online retail market place of UAE like Souq.com, jumbo.com, eroshomes.com so that you can conveniently choose and get the best deal out of them.
Relevance and Other Information of the Brand Midea in Dubai, UAE Market
This Chinese giant has taken it as a motto to provide the best to its customers all over the world, so UAE customers can also get the best from its product line. With awesome microwave ovens from its factories like the Midea AC930AHH, Midea EG142AWI, Midea AG925EBLS, Midea EG823AEL, Midea AG930AHY etc. you can cook the best and the easiest way at home or even at your office.