Best LG Refrigerators in UAE
LG – The Brand
It is a South Korean brand that rules the world while promising to make its customers' lives good. People place the brand's name on the top whenever they are to opt for an electronic products' hunt. From its television sets to refrigerators, each segment is a hi-tech product to make your life easier and simpler.
LG Refrigerators
The highly compatible and innovative features of its refrigerators make it the best product to keep your food fresh. The Hygiene Fresh feature of the fridge makes sure the items preserved in it are 99.9 percent free from bacteria. The bacteria free food will mean no odor. As a result, not only your food remains fresh and smell-free but your fridge also remains clean at the same time.
Another important feature of it refrigerators is their multi air flow nature. It ensures cooling the items from each and every corner of the freezing system. There is an inverter linear compressor that lets you maintain adequate temperature for keeping your food fresh and thereby help you save a lot on your power bills. Some popular brands of its refrigerators available include GRB227GLQS, GNY221SLC, GRJ257JSXN, etc.
Its refrigerators are available in different shapes and sizes. Thus, you can buy the one that suits the space available for accommodation in your household. You will get side-by-side fridge along with other options like top-freezer, bottom-freezer, door-in-door refrigerators, and others.
LG 360 Litres Top Mount Refrigerator GR-C362RLBN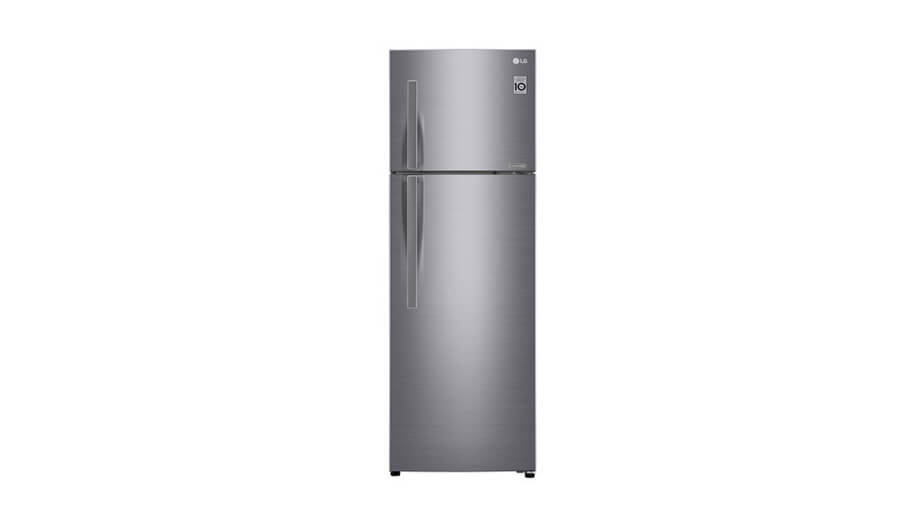 What do you look for in a refrigerator? Space? Energy efficiency? Dependability? Lucky for you, the LG 360 Litres Top Mount Refrigerator (GR-C362RLBN) is all that and more. Fitted with multiple air cooling vents that chill food and ensure that they are kept fresh, the refrigerator comes with a mammoth capacity of 360 litres. Some of the great features of this top mount fridge is precise temperature control, a patented Door Cooling Plus feature that has proven to be 35 percent quicker in cooling food than traditional systems, a Moist Balance function that makes sure crispy food does not get moist while in the fridge, and most importantly, an Inverter Linear Compressor, that gives the refrigerator an energy efficiency that makes it one of the most trusted brands on offer.
LG 220 L Single Door Freestanding Refrigerator GN-Y221SLC
For you to find the refrigerator best suited for you, you need to be offered all the various choices first. LG is a brand which will do just that. If you are looking for a compact yet efficient refrigerator, then the LG 220 L Single Door Freestanding Refrigerator (GN-Y221SLC) is the one for you. You may be surprised by its large capacity, considering that it appears on the outside to be a tightly packed model, and for that, you have the high-density insulation technology to thank. The freestanding fridge not only utilises space like never before, but it also comes with a 15.9-litre vegetable storage box and a semiautomatic defrosting system that will help you defrost the fridge within a matter of hours at the press of a switch.
LG 830 Litres Top Mount Refrigerator (GR-F832HLHU)
Just because a refrigerator is a must for every home does not mean you will settle for one which does not specifically address your unique needs. With the LG 830 Litres Top Mount Refrigerator (GR-F832HLHU) you are ensured a truly space efficient kitchen companion that can help keep all your fresh and prepared food in great shape for a long time. The fridge boasts unique technologies like an exterior water dispenser, a stylish touch LED display to adjust settings, and a Fresh 0 Zone compartment that ensures defrosting is quick by controlling the temperature at 0 degree Celsius. The clincher, however, is the Hygiene Fresh air filter that kills bacteria and indeed keeps your hygiene concerns at bay.
LG 930 Litres French Door Refrigerator GR-J33FWCHL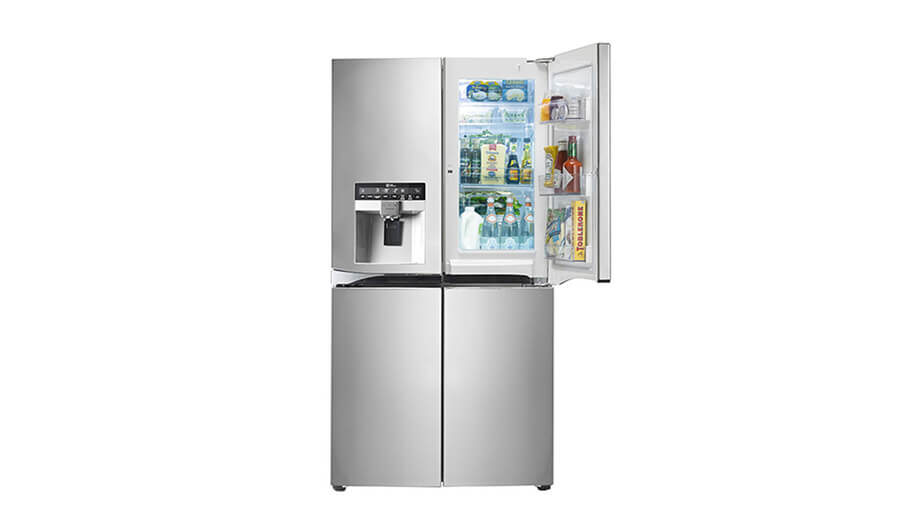 Have you ever seen a technological marvel whose perks are just too many to list? You have if you have seen the LG 930 Litres French Door Refrigerator (GR-J33FWCHL). This fridge of the future is a smart Korean make and within its shiny steel French doors is a system intricately designed to let you rest easy in the knowledge that your food is well taken care of. Energy efficient, thanks to an inverter linear compress, the refrigerator offers easy access to all compartments with its door-in-door design that results in up to 47 percent less loss of cold air each time you open the fridge. Its smart storage system is complemented by hygiene filters that remove 99.99 percent bacteria and keep your meals absolutely fresh. Thanks to its innovative inbuilt ice maker, your everyday ice needs will not take up any more space within the fridge either!
LG 730 Litres Top Mount Refrigerator GN-D732HLHU
Some of the best technological inventions are those which are modifications upon trusted and traditional technologies. The LG 730 Litres Top Mount Refrigerator (GN-D732HLHU) uses the brand's famous Door-in-Door feature and makes it even better with an intuitive Touch LED display and a system of maintaining sub-zero temperatures in a Fresh 0 Zone compartment which cuts out the need for thawing from your cooking process. With LED panel lining giving it longevity, the fridge also boasts of a removable ice maker, multiple air flow vents, a hygiene-ensuring system that keeps bacteria out, a Door Cooling technology and the patented Smart ThinQ feature which even allows you to control the appliance with your smartphone when you are not at home!
Why WOWLYST.COM?
WOWLYST.COM will let you explore various ranges of refrigerators and then choose the one that suits your requirements the most. It is a common portal where you cannot only go through a wide range of refrigerators but you will also get an opportunity to see what kind of refrigeration system various brands offer. WOWLYST.COM provides a list of features that a particular model of LG refrigerator offers. It also informs you about the technologies used in it and how will they help you while you use it. Plus, the prices of the products are also mentioned, which makes making a choice even easier.
The Relevance and Other Information of LG in Dubai, UAE Market
The UAE market positions this brand on the top of the list of the most customer-friendly brands. This is because the brand is the most sought-after one as it tries to inculcate innovative feature in whatever products it offers. From cooking appliances, microwave ovens to refrigerators and dishwashers, this label is what the people in the UAE look for. Through WOWLYST.COM, you get a list of websites that offer LG refrigerators along with the prices of those products. You can compare the price of the same model on different websites and choose the one that offers an affordable deal.