Best Daewoo Dishwashers In UAE
The brand was founded in 1967 by Kim Woo-Jung. The company was founded by Daewoo industrial and was the second largest conglomerate after Hyundai Group, followed by Samsung and LG. The brand Group is huge and there are 20 divisions under it.
Daewoo  Dishwashers
Stylish with minimalistic design, the brands dishwashers will catch your fancies. With world-class designs and power-packed performance, high energy efficiency rating, these dishwashers allow an easy way of cleaning in a short time without messing up your kitchen.
Its child lock combined with smart delay start ensure that your kitchen work becomes highly convenient. Every model comes with 12 places settings, child safety lock, digital display, height adjustable upper basket, foldable bottom plate racks, etc. These are free standing dishwashers that can accommodate in any given space easily.
It should be known that each newly manufactured dishwasher is tested industrially for performance and design to make sure that it suits the convenience of all kinds of customers. Each machine is tested to assess the noise level, energy efficiency score, drying score, washing score, etc. Compared to most other branded dishwashers in the market, the brand dishwasher stands a fair rating above the rest.
Daewoo 8 program Dish Washer – DDW-M1411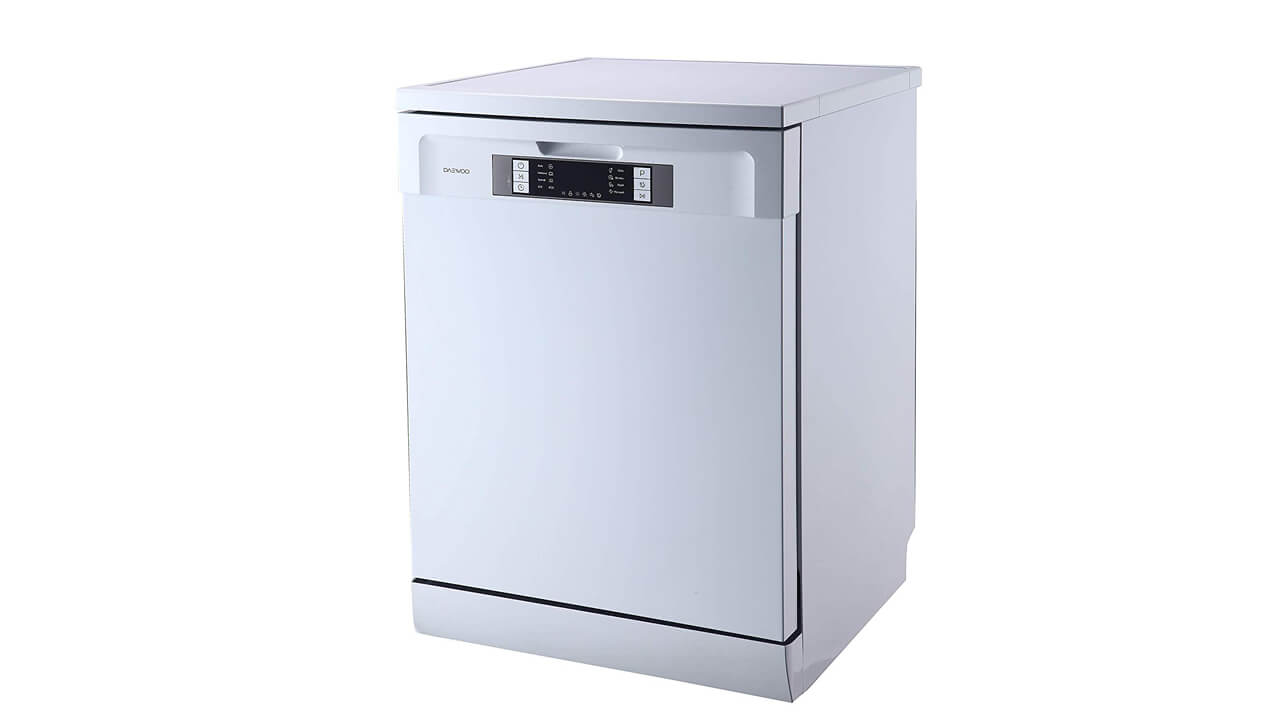 Most dishwashers are not well designed to clean efficiently. But Daewoo DDW-M1411 dishwasher is an exception. This is a 14 place setting dishwasher with 8 wash program settings and sanitization option. The 8 program settings include: Auto/ Intensive/ Normal/ Eco Wash/ Fragile/ Wash 90 '/ Wash Fast 30'/ Prewash. There is also a timer with 24 hrs time delay settings and options such as half-load and extra-dry. The half load function is a great way to save water and electricity when the appliance is half filled. The extra dry function enables better drying by taking an extra 10 minutes. It has separate space for cutlery which makes the work easy and also means more space for other plates and utensils. Other features include Anti-leakage safety Aqua Stop, display of the remaining time, Child Lock, Water indicator and Product Detector. The upper basket is height adjustable which gives you more flexibility.
Why WOWLYST.COM
Washing dishes is a hassle-bound job. Therefore, it is important to find a dishwasher appliance for your kitchen to help you clean utensils with maximum ease. Every dishwasher machine comes with inbuilt features that allow accommodating a large number of utensils at a time, washing them with hot water between 55 and 75-degree temperatures.
Once cleaned the dishes are dried with spray hot water. At WOWLYST.COM, you will come across a range of dishwasher machines from several popular brands like Beko, Blomberg, Bosch, Daewoo, Bompani, LG, Samsung, Electrolux, Siemens, Whirlpool, etc. The website displays Daewoo dishwasher prices in Dubai, UAE and other dishwasher models prices from all major online retailers in the UAE region. This helps users to compare the varying prices in order to help you select the most reasonably priced product. The popular online stores as listed on WOWLYST.COM include Jadopado, Souq.com, Carrefour Online, Sharaf DG Online, etc. These are the top-notch online retailers in UAE that have their products listed on WOWLYST.COM. Grab the best Daewoo prices in Dubai, UAE through WOWLYST.COM. Going through each model, its specifications and price will help you make an ideal choice.
Relevance and Other Information of the Brand in Dubai, UAE Market
The brand dishwashers in UAE provide A++ ratings and come with a good number of years of warranty. The most popular brand models are listed on WOWLYST.COM, allowing you to know which the best machine from your favorite brands is. The website is the best platform for comparing the Daewoo dishwasher prices in Dubai, UAE with other dishwashers brands and ordering the one that you want.