THE BEST WIRELESS HEADPHONES FOR A TANGLE-FREE LISTENING EXPERIENCE
If you plan to buy wireless headphones, you may be baffled by the sheer amount of choices in brand, type, and price that the market offers. Additionally, there are several factors that you should consider while choosing your headphone but may not be aware of. For instance, you can get wireless headphones with in-ear or open-fit designs. Earlier, customers were inclined to buy the former as they were believed to fit better inside the ear canal and offer better physical noise cancellation. However, the scenario has changed significantly today as open-fit wireless headphones have surged in popularity as they provide consumers with a more comfortable experience. Since they're using contemporary active noise cancellation (ANC) technology, they have become comparable to some of the ANC features you could get earlier only in high-end in-ear earphones.
Importance of good headphones in the present scenario
If you aren't yet sure why you need a pair of quality headphones, here are the top reasons:
Enjoy supreme audio quality: Whether you're looking for higher audio output, better bass performance, or an enhanced listening experience, modern headphones offer them all. Thus, you can enjoy supreme audio quality, be it of your favourite music, show, audiobook, or anything else.
Make your hands free: Whether you want to take or make a call while scribbling a note or workout while listening to your favourite music, you can do it with hands-free headphones. The physical freedom these devices offer lets you focus better on your tasks (which could be a workout, scribbling a note, cooking dishes, etc.), thus letting you potentially increase your productivity.
Fantastic connectivity and additional features: Modern headphones offer better connectivity than many of their traditional counterparts. Additionally, they offer several added features like long battery life, voice-controlled or one-touch access to AI assistants, ANC, etc. All these features make them worth your money.
How to choose
Once you've decided you want to buy a wireless headphone that no longer keeps you physically tethered to a device, here are the factors you should focus upon to find the one most suitable to meet your needs:
Type: Three basic variations you'll find in the market are in-ear, over-ear, and on-ear. In-ear headphones are the smallest amongst the three types that fit in your ear canal. Over-ear varieties cup your ear or surround it and stay on through light pressure on your upper jaw and temple. On-ear ones are lighter and smaller than their over-ear counterparts, and they stay on your head through pressure directly on your ears. You can take your pick from these based on what suits you the most.
Features to look for: From sound clarity and ease of use to active noise cancellation, long battery life, and quick charging option, you should check if your short-listed model has the features you'll need or prefer.
Check for add-ons, accessories, and compatibility with your existing gear: If you plan to use a headphone amplifier, headphone stand, or DAC (digital-to-analog converter), you should check if your selected model offers them. In case you want to pair your headphone with your existing gear, it's important to check their compatibility.
Now that you know about buying the best headphone, here are some wireless headphone models worth trying.
BEATS SOLO3 WIRELESS ON-EAR HEADPHONE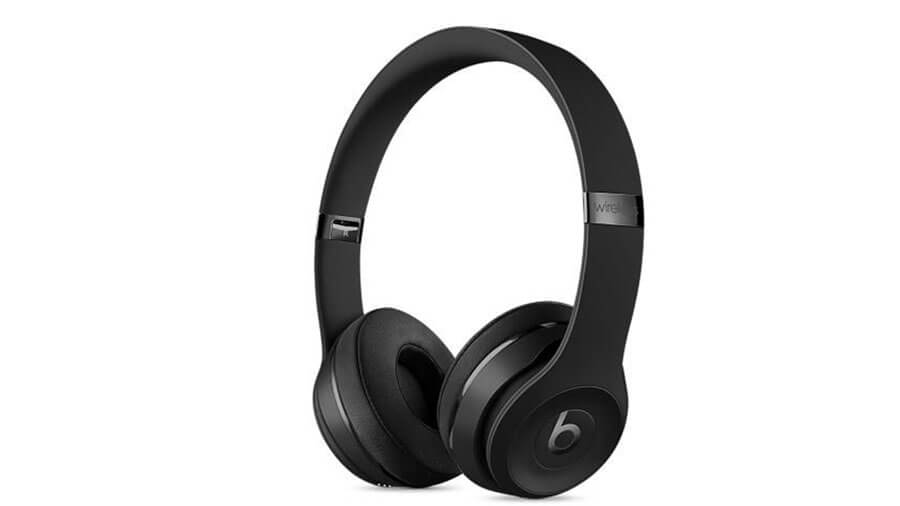 Sleek and portable, the Beats Solo3 Wireless On-Ear Headphone A1796 can be your headphones which you can wear all day long. Featuring a beautiful, streamlined design in a stylish black finish, these wireless headphones can be connected via Class 1 Bluetooth in no time. The Beats Solo3 Wireless On-Ear Headphone furnishes you with up to 40 hours of battery life as it prepares the very productive Apple W1 chip. The Beats Solo3 Wireless On-Ear Headphone causes you monitor your battery level utilizing an enlightened LED fuel measure that is situated on the earphone itself. In the event that your battery is running low on charge, this earphone brandishes a Fast Fuel 5-minute charging that gives you 3 hours of playback to hold you over when you're in a rush. Solid battery to give you with the best, grant-winning sound. Appreciate adjusted acoustics with the greatest clearness and adjust for a genuine and individual sound involvement. With its ergonomic outline, this Beats earphone is devoted to furnishing you with an adaptable fit with movable on-ear padded ear mugs for listening solace that keeps going the whole day. The Beats Solo3 Wireless Headphone wins you over with its brilliant features and amazing quality.
Sennheiser PXC 550-II Wireless – NoiseGard Adaptive Noise Cancelling, Bluetooth Headphone
Enjoy the legendary Sennheiser sound quality with this wireless headphone's active noise cancellation feature. In addition to 30 hours of battery life and an exceptional ergonomic design, this headphone has one-touch access to voice assistants (Alexa, Hey Google, and Siri), auto on-off and smart pause features (the latter can be activated through the app), and easy access to the controls including play, pause, stop, volume, and track skipping. Taking incoming calls is made effortless with its touchpad on the right ear cup. Thanks to its triple microphone array, you can enjoy unmatched speech clarity when making calls on the move.
Sennheiser M3AEBTXL Momentum Wireless Noise Cancelling Headphones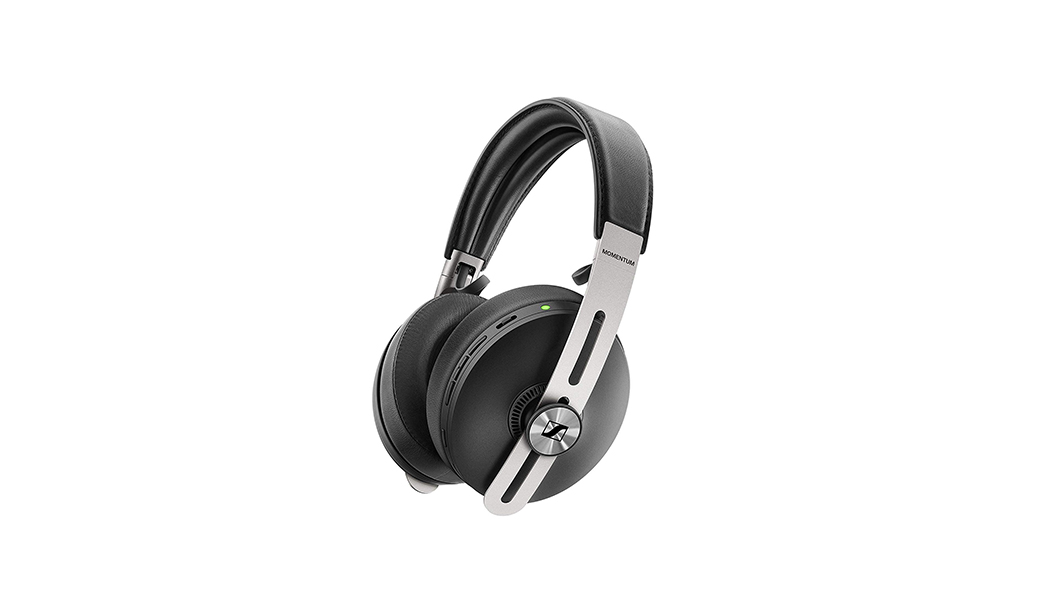 This wireless headphone lets you play your music faster than any other headphone, thanks to its Smart Pause and Auto On/Off functionality. It can adapt to your environment with its active noise cancellation and transparent hearing features. For comfort and ease of operation, it has a soft leather headband and ear pads, a three-button interface, and an automatic pairing mode for hassle-free setting on the first activation.
SKULLCANDY HESH 3 WIRELESS OVER THE EAR HEADPHONES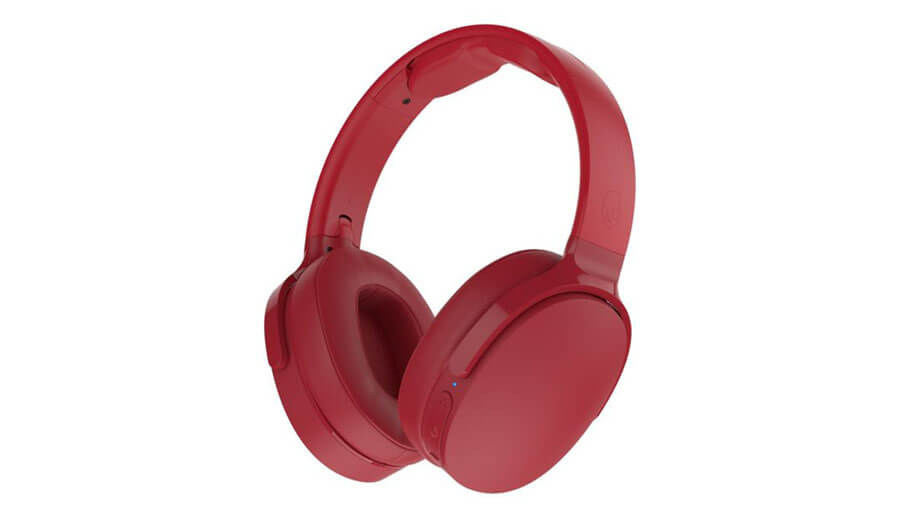 Featuring a giant skull, The Skullcandy Hesh 3 is available in a wide range of shades available in a range including lime green, neon pink, black and gold with pearlescent inlays. The Hesh 3 outer is made of matte black plastic, with the stem that links the cups to headband a glossy black plastic. The headphones offer rapid charging, too. The multi-overlap pivots additionally turn side to side, permitting Hesh 3's earcups to change serenely to any head shape – it likewise enables them to lay level on a table or around the neck when not being used. On the off chance that your battery gets low, Rapid Charge innovation will rapidly help you go down to 4 hours of remote tuning in after only a short, 10 minute use of the included USB link. Ear cushions made of memory foam aren't just incredibly comfortable, they create a seal that isolates outside noise and keeps your music in – all you hear is rich, dynamic audio free from interference. The multi-fold hinges also pivot side to side, allowing Hesh 3's earcups to adjust comfortably to any head shape – it also allows them to lay flat on a table or around the neck when not in use.
SONY MDR-XB650BT EXTRA BASS BLUETOOTH HEADPHONES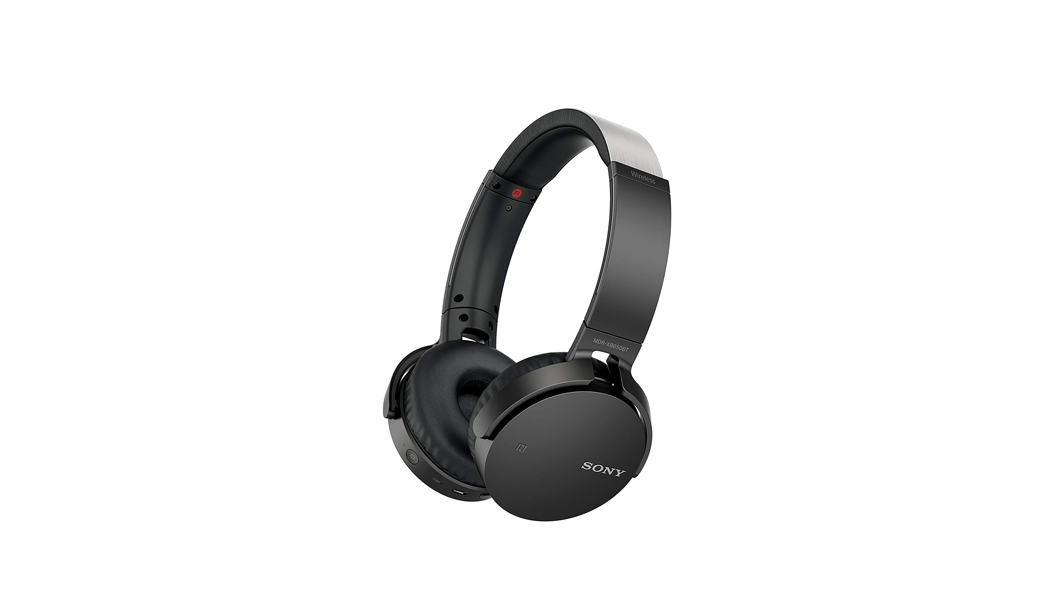 Thanks to the bass booster technology, the Sony MDR-XB650BT Bluetooth Headphone is equipped with an amazing sound system. The bass booster technology is incorporated in this headphone for the extra bass that delivers good and punchy bass. It has a 30-mm neodymium driver unit specially made for this model. The good quality sound and extra bass technology make SonyMDR-XB650BT extra-bass Bluetooth headphone strong and sturdy. This headphone model has a long lasting battery life up to 30 hours. Sony MDR-XB650BT is built with a metal headband with a soft cushion that makes it comfortable to use all day long. It is designed with soft cushion ear pads for easy bass transmission. They are portable; ear cups are flexible and can be kept flat for easy packing. Along the external board of the left earcup, there is a power button, a bass impact key, and a cancelation button. Each of these has a status drove alongside it so it's anything but difficult to tell when one component is empowered or not at a speedy look. The earcup houses the committed volume control and also a multifunction rocker-style button that controls playback, call records, and track route.
BOSE QUIETCOMFORT QC35 WIRELESS HEADPHONES II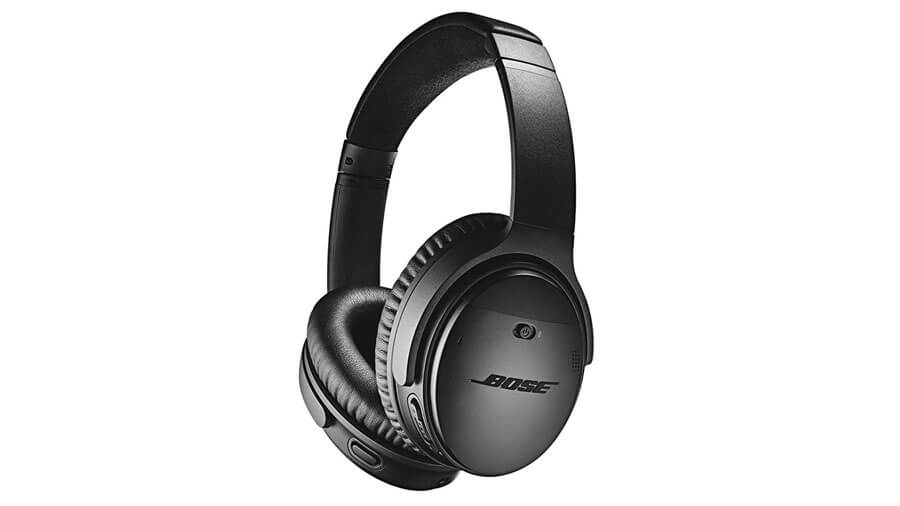 Bose QuietComfort 35 headphones let you experience a whole new level of sound clarity. These wireless headphones provide you with the premium music experience. They are engineered with world-class noise cancellation so that you can get a seamless wireless listening experience. All the more, these Bose headphones have a built-in Google Assistant feature that lets you play music, receive texts, and take calls without reaching out to your device. All you need to do is press and hold the Action button to activate your assistant. With their Acoustic Noise Cancelling technology, you get a quieter and better sound so that nothing comes in between you and your music. All the more, these wireless headphones are crafted for uncompromising portability and high-fidelity sound quality. Thanks to its lightweight built and functional design, the Bose QuietComfort 35 headphones can be carried to any place quite easily. The QC35 headband is both soft as well as luxurious. The ear cushions are made of synthetic protein leather that provides you with optimum wearing comfort. The Bose QC35 guarantees you a battery life of 20 hours which is more than enough for a regular music lover.With a quick 15-minute charge, these headphones give you another 2.5 hours of immense music pleasure.
Sony WH-1000XM3 Wireless Noise-Canceling Headphones
From the powerhouse of sound comes a headphone you can bank on. No more must you listen to the sounds of your co-passengers prattling on the bus, or the noise of your neighbourhood train rattling on while you enjoy your music. These headphones cancel noise around you, allowing you to focus on the music you love. In addition, they are wireless, and thus incredibly easy to carry while you are on the move, making sure you are never parted with your music. A buyers' favourite with umpteen gushing reviews, this headphone is also a stunner to look at. Its matte black exterior is complemented by deep red undertones, both of which create a look that can go with any outfit or any look to choose to wear on a particular day. The gear is compatible with all ports you can think of, so you are truly left to enjoy your chosen music without worrying about anything else.