Here Are The Best Budget Gaming Laptops In The UAE
Looking for the right kind of gaming laptop that help you play without having to work too much on the price? So, if you are about to buy a laptop that lets you play and more, but can't make up your mind what to get, this comprehensive list about the best-rated gaming laptops is just for you!
HP OMEN 15-dc0005ne Gaming Laptop
This laptop is the full package for gaming- excellent performance, solid display, impressive keyboard and a lot of excellent features. It has a black and red aesthetic as we find on most gaming laptops. It is equipped with a 15.6-inch 4K IPS anti-glare display with a resolution of 3840 x 2160 pixels. It has a game-focused backlit keyboard with 26-key rollover which is carefully designed to accelerate your gaming experience. It boasts the 8th Generation Intel Core i7-8750H processor, plus NVIDIA GeForce GTX 1050 graphics card. The Omen 15 Laptop is equipped for easy upgrades and maintenance with a single access panel to HDD, SSD, and RAM. It has only a few screws for easy removal for upgrading and maintenance. The audio features include DTS Headphone: X technology support, dual speakers, HP Audio Boost and custom tuning by the experts at Bang & Olufsen. As for ports, the Omen 15–dc0005ne includes one USB 3.1 Type-C Gen 1, DP1.2, three USB 3.1 Gen 1, one HDMI, one RJ-45 and one headphone/microphone combo.
HP Pavilion Gaming 15-cx0019ne Gaming Laptop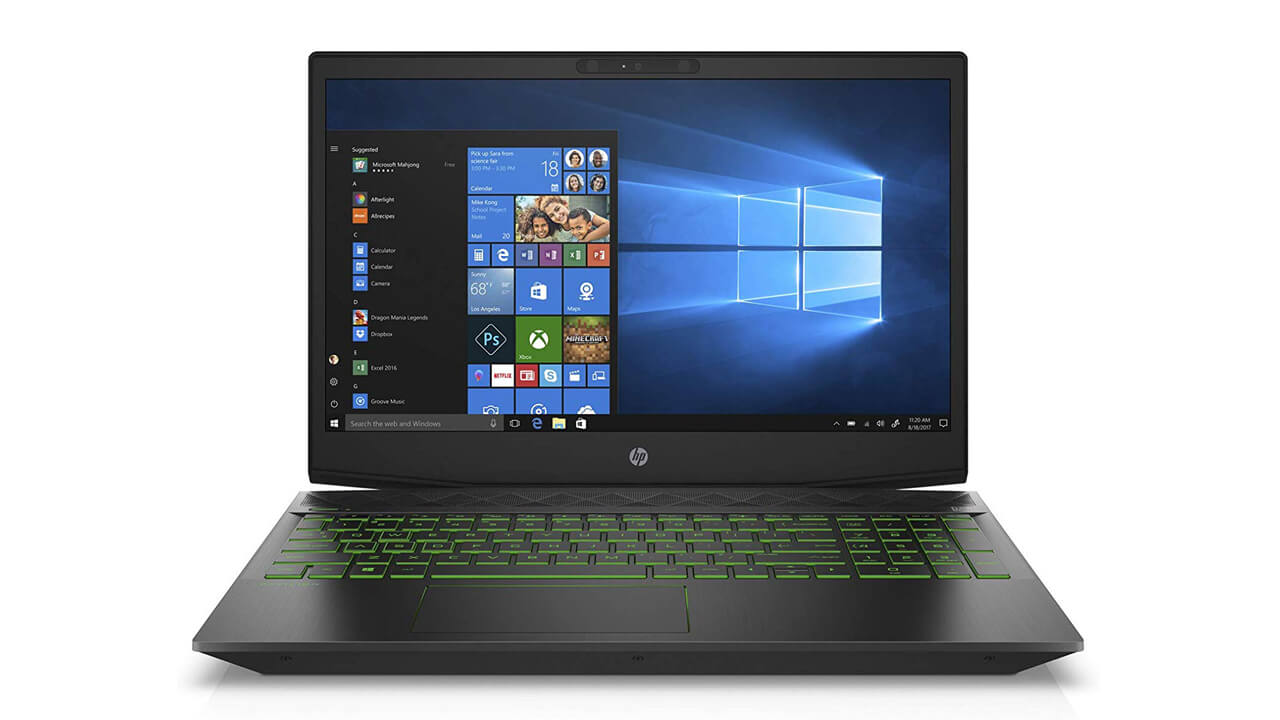 The HP Pavilion Gaming 15-cx0019ne is the cheapest model among all of HP Pavilion Gaming 15. It still delivers top-notch performance with a Core i5-8300H processor, a GeForce GTX 1050 GPU, 16 GB RAM along with 1TB HDD at 7200RPM. It sports a matte black plastic chassis, HP calls this Shadow Black, which perfectly contrasts with bright green keyboard and other small green areas. The air outlet at the bottom is another striking design feature. You also get a 15.6-inch Full HD WLED backlit display with a screen resolution of 1920 x 1080 pixels. The Gaming Pavilion 15 has a good selection of ports, one USB 3.1 Type-C Gen 1, three USB 3.1 Gen 1 (1 HP Sleep and Charge), one HDMI 2.0 port, 1 RJ-45 and one combined headphone and microphone jack.
Asus FX504GE-DM231T TUF Gaming Laptop
The Asus FX504GE ticks all the right boxes for a gaming laptop. It has a durable design made with a combination of aluminium and plastic. The diagonal lines over its brushed metal texture make it look very different and unique. The keyboard comes with red backlighting and follows the full layout. It also has decent design features needed for a gaming laptop. The Hypercool technology combines patented Anti-Dust Cooling system with the customizable Fan Overboost function provides the cooling for graphically-intense gaming sessions and provides a longer lifespan of the machine by removing dust particles and dirt. Fitted with an Nvidia GeForce GTX 1050 Ti GPU along with 8th-generation Intel Core i7-8750H processor, the FX504GE-DM231T guarantees you a solid performance. The laptop has all the ports on the left side including a power jack, one USB 2.0 and two USB 3.1 Gen 1 Type-A ports, an HDMI 1.4 port, one ethernet and one audio jack. Since all of these ports are situated on the left side of the laptop, your mouse is kept away from tangled cables.
Acer Nitro 5 AN515-54-76FH Gaming Laptop
Not for hardcore gamers, but casual gamers will find the Acer Nitro 5 worthy and affordable. It has a solid mid-range graphics card, speedy overall performance and decent battery life. This particular model (AN515-54-76FH) includes the Intel Core i7-9750H processor, Nvidia GTX 1650 GPU with 4GB, 12 GB of RAM, 1TB HDD and a 128GB SSD. Its 15.6-inch Full HD (1920 x 1080) LCD display is a little disappointing but we can look past it since we get it at such a low price. It has a plastic-built chassis with sturdy display hinges. Inside the sturdy exterior lies a user-controllable dual-fan cooling system to channel heat away from the processing units and keep it cool. the Acer Nitro 5 comes packed with ports including HDMI, one USB 2.0 Port, two USB 3.1 Gen 1 Type-A Ports, one USB 3.1 Gen 1 Type-C Port, and Ethernet (RJ-45) port.
DELL G3 (G3-1242-BLK) Gaming Laptop
Looking for a budget laptop offering excellent performance? The Dell G3 15 may be the one you have been looking for. Priced at below 3000AED, the G3 comes with an Intel Core i5-8300H, Nvidia GTX 1050 with 4GB of memory, 8GB of system RAM and a 15.6-inch full HD display. The laptop has good aesthetics, with a black exterior accentuated by the baby blue lighting on the keyboard. The battery life is impressive for a gaming laptop lasting about 4 hours on a single charge. At just 22.7mm thickness, the G3 is the thinnest 15-inch laptop in the Dell G Series line, making it easy to carry it around. Ports include one USB 2.0, two USB 3.1 Type-A, one HDMI, one Ethernet, and one SD reader.
DELL G5 15 5587 GAMING LAPTOP
The Dell G5 15 5587 Laptop is an entry-level gaming laptop but has all the processing power you need for gaming, video editing etc. It is powered by Intel Core i7-8750H (8th Gen) processor, coupled with 8 GB of RAM and has 1 TB HDD storage. It offers NVIDIA GeForce 1050 Ti graphics and 4GB GDDR5 video memory as well. This gaming machine is specially designed with cooling vents and dual-fan cooling technology to keep it cool and ensure your system works fine under a load of demanding games. This allows you to play for long hours. The Dell G5 15 5587 Laptop runs on the Windows 10 Home operating system that is packed with a lot of features. It has a slim design with just 25mm thickness. The sleek red and black design is typical of many gaming laptops but can also blend into an office environment.
A Guide On How To Choose The Best Budget Gaming Laptop
Planning to buy the right budget gaming laptop but confused on the specifications, brand and price range you can spend on? Do you have certain questions that need to be answered? Check out some of the most commonly asked questions answered below by our experts.
Q: Are budget gaming laptops capable of handling most of the PC games?
A: While gaming laptops are far more capable of playing PC games than traditional laptops, budget gaming laptops come with entry-level or mid-range hardware that may also be available on high-end multimedia laptops. These low-priced gaming laptops are capable of playing most of the PC games, provided that the gamer actually tunes down the graphical settings of the game title and play at the standard Full HD screen resolution.
Q: What is the ideal price range for budget gaming laptops?
A: Budget gaming laptops normally range between AED 4000 to AED 6000, depending on the configuration and the brand of the laptop. In the case of expensive brands like Alienware, their budget laptops might cost more as compared to a laptop with a similar specification from the likes of Dell or HP.
Q: What is the ideal screen size for budget gaming laptops?
A: While many would prefer bigger screens, there are many users who still prefer 15-inch models instead of 17-inch displays or anything lower than 14-inch models. Users who prefer slim budget gaming laptops are better off with 14-inch and lower, however, laptop manufacturers have managed to use a 15-inch display with lesser screen bezels for smaller gaming laptops. In this way, you get both a bigger screen size and a slim form factor for portability.
Q: Are 4K displays worth considering for budget gaming laptops?
A: While 4K gaming has still a long way in becoming the norm, one would need to own the fastest graphics card that can try to handle 4K resolution gaming at 60fps. The NVIDIA GTX 1080 Ti, which can barely run all games at 4K (ultra-settings at 60fps), is one of the most expensive cards in the market. Then its clear at this point that budget gaming laptops will never come with high-end GPUs. While you can opt for a 4K screen to view movies at 4K, it's better off to tune down the resolution to 1080p while gaming with optimal settings.
Q: Can we upgrade the CPU and GPU of budget gaming laptops?
A: Laptops in general only allow upgrade of certain components like the storage and battery. However, processors and GPUs aren't upgradable as its soldered within the motherboard. The same goes for gaming laptops, regardless if its based on the budget or high-end category. So, once you buy a budget gaming laptop, you are better of choosing the model with a decent processor and GPU. There are also ways to connect a GPU by using an external graphics card box via the Thunderbolt port.
Q: Are SSDs beneficial for budget gaming laptops?
A: While normal hard drives are good for mass storage and cheap to manufacture, their loading time and copy speeds are quite low by today's standards. Budget gaming laptops often come with a mix of both SSD and a hard drive. The primary Windows installation will be on the SSD as the C drive, and the rest of the media are stored on the secondary hard drive. If the game is installed on the SSD, the game loading time will be much lower as compared to a hard drive.
Q: How much storage do we need on a budget gaming laptop?
A: Since gaming laptops will often be used more for games, it's better to always have more storage if possible. While the cheapest budget gaming laptop will feature a minimum of 1TB HDD, most of the recent PC games released in the market requires a game installation size of more than 100GB in total. This way, if you install more of these games, your hard drive will surely run out of storage in no time. Of course, you could always opt for a laptop that lets you upgrade the hard drive to 2TB or more of space. We should also remember that games aren't the only thing that we will be stored on a laptop, as users would also store movies, music and other applications.
Q: Are budget gaming laptops good enough for video editing work?
A: For those who do video editing work for a living but can't spend a lot on expensive laptops, budget gaming laptops do a decent job for rendering work. But it also depends on that application that you work with. Adobe Premiere Pro and Adobe After Effects, for example, are more of a CPU-bound software and only depends on the GPU for certain tasks. This means that the laptop you select should come with a high-performance multi-core processor. Some of the other video editing applications such as Black Magic and Sony Vegas combines the power of both CPU and GPU efficiently.
Q: Which are the best brands for budget gaming laptops?
A: While MSI, ASUS, Alienware, Gigabyte and so forth, already makes entry-level gaming laptops, some of the common brands such as Acer, HP, and Dell also make cheaper models. These models may not exactly come with a dedicated gaming design or theme but feature a similar hardware specification for a cheaper price.
Q: How is the battery life offered on a budget gaming laptop?
A: Gaming laptops often come with mid-range or high-performance processors and it's almost the same case with budget gaming laptops. These processors and its corresponding hardware don't offer more than 2-3 hours of normal usage at most. If the laptop comes with an ultra-low power processor and entry-level GPU that's used on ultrabooks, chances are that the battery life on those models can be used more than 4-5 hours. However, gaming on the battery will zap the power within less than an hour. Also, the gaming performance while playing on battery power will be lesser as compared to when the laptop is plugged in.
Q: Do budget gaming laptops have enough cooling for its processor and  GPU?
A: While it's always better to have sufficient cooling, the present generation of gaming processors and GPUs for laptops produces less heat and consumes lesser power. This allowed the laptop manufacturers to make slim gaming laptops for both budget and high-end category. However, slim gaming laptops still have a chance to slightly overheat in some areas of the laptop and the fans could be slightly audible. So, before you purchase one, make sure to read online reviews and see which portion of the laptop does it overheat. If the budget gaming laptop overheats around the keyboard area and palm rest, it's likely that the user will find it difficult to use the laptop. Generally, gaming laptops do come with dedicated fan vents for both the CPU and GPU.