The Best Portable Bluetooth Speakers that You Can Buy in The UAE
Portable music speakers have become a great piece of accessory for all those outdoor party goers and the ones who want to hear their favorite music tracks where ever they are, be it during a celebration, in the swimming pool area where it can resist water splashes, or during a weekend party with friends and family at a park in Dubai. Since there are a lot of portable wireless speakers to choose from, we have listed some of the best portable Bluetooth speakers that you can buy in the UAE.
SONY XB20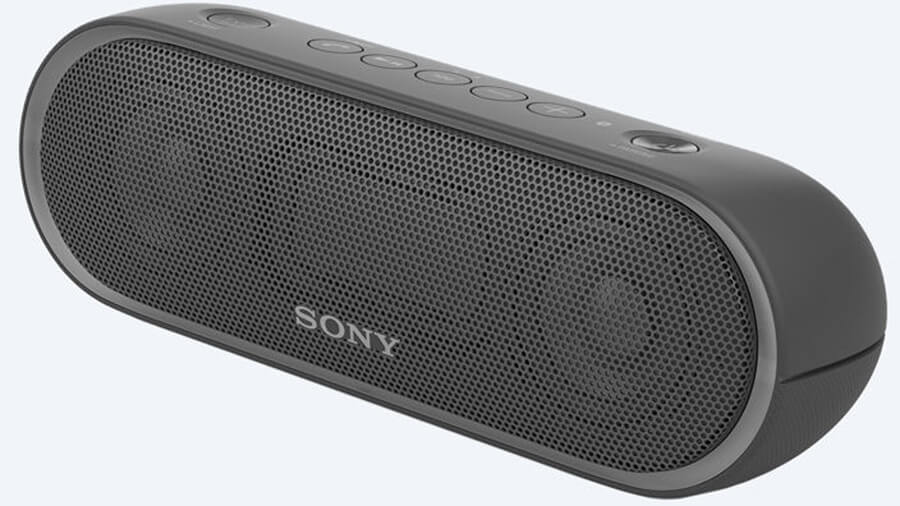 Over the years, the name Sony has been synonymous with unmatched quality and superior sound, particularly for music lovers around Dubai. Following this golden tradition of the brand (Sony has some of the best wireless speakers in the market) is their new wireless speaker XB 20. The XB 20 has a sleeker look with nice smooth edges and compact circular buttons which gives it a trendy appearance. With two dedicated drives and a passive radiator up front, this speaker is louder than your 'loudest' expectations. XB 20 is available in four different colors: blue, red, white and black. One of the impressive things that stand out the most in XB 20 is the LED band that wraps around the edge of the speaker which adds a very futuristic look to the product. Volume, track selection, and the play/pause function all have their own dedicated buttons. There is also a large extra bass button that turns the bass boost on or off, and a button that allows you to answer calls. The speakers are very bass heavy which provides the bass a tight and designed feel. With an incredibly sleek and stylish case, a vibrant sound signature, and a durable body, this just might be one of the best affordable Bluetooth speakers on the market.
JBL CHARGE 3
One of the top names that rise to your mind when you think of buying a wireless speaker, JBL has one of the best waterproof speakers and is here with its Charge 3 edition which also doubles up as a charger for your portable devices. The JBL Charge 3 looks similar to its famous predecessor JBL Charge 2+ and delivers an impressive battery life of 20 hours. Using the JBL Connect app, you can wirelessly link the speaker to other JBL Connect enabled speakers to magnify the sound for a live-concert like an experience. JBL Charge 3 is not merely water-resistant but entirely waterproof, which means you can rock it at your next pool party. JBL Charge 3 looks cylindrical and also has bass radiators on either side of the speaker. You can easily this speaker with your smartphone, tablet or any other Bluetooth-enabled device. There is a small stand built into the design of the speaker with five small indicator lights which give you signs of its battery status. With super cool button options, you can easily pause or play music, control the volume, and also skip to the next song if you double-tap the play button. The high-capacity 6,000mAh battery of JBL Charge 3 provides 20 hours of playtime and can charge your smartphones and tablets via its USB output.
SONY SRS XB30
The King of Sounds, Sony again cracks the speaker world with its new entrant, SRS XB30! The Sony SRS XB30 is not only one of the biggest Bluetooth speakers, but it also delivers powerful sound and great performance. The battery life is quite impressive that lasts for 24 hours of continuous playback. There is also a microphone built-in so you can have a hands-free conversation or a conference call using the XB30. The Sony SRS-XB30 speaker features great sound, a multi-color LED light ring and easy pairing for NFC-equipped phones. A quick press of "Extra Bass" button substantially increases lows and adds a great bass effect, especially considering the size of this speaker. You can answer incoming calls on this speaker by tapping the phone button and can also call up Siri or Google Assistant by tapping the phone button and speaking a command. Another unique feature is the ability to pair this Bluetooth speaker with another similar Sony Bluetooth speaker. Other enhancements include Extra-Bass which is meant to amplify up the bass further in case you're not happy with the sound. Overall, the sound quality and built-in lights of the Sony SRS-XB30 Bluetooth speaker are sure to keep you entertained.
BOSE SOUNDLINK REVOLVE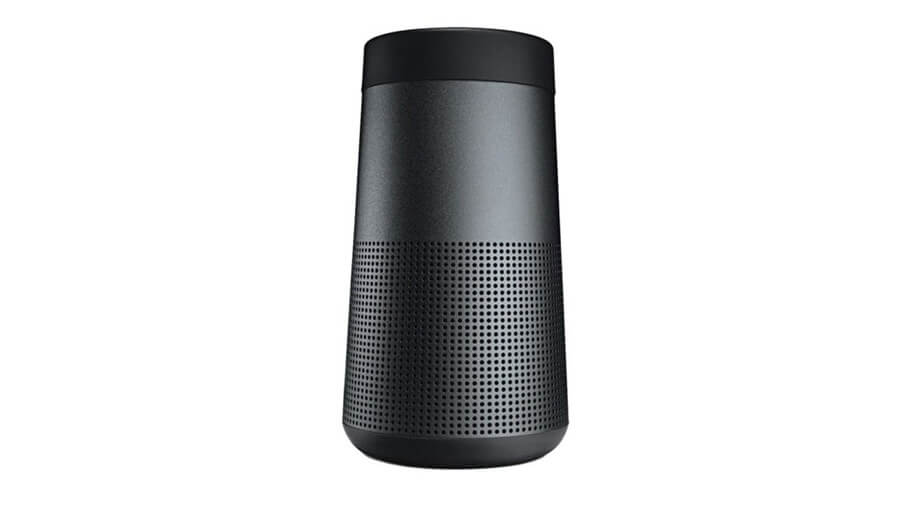 When it comes to top Wifi speakers with great audio quality, BOSE has some of the best in the market. Delivering true 360° sound consistently and constantly, Bose Soundlink Revolve is sure to hit your ears and senses at the first sight itself. The Revolve is crafted out of aluminum and without saying it looks pitch perfect. This wireless speaker is durable, water-resistant and enjoys up to 12 hours of play time from a rechargeable battery. Designed to be portable, the Revolve is compact enough to be carried in a backpack. For such a small speaker, the Bose Revolve delivers a surprisingly big and bold sound. The sound from the Revolve is detailed and spacious, which makes it a hot favorite for your next house party. The Revolve can also act as a USB speaker when connected to a PC or Mac. The Revolve is IPX4 certified which means it can handle a light rain shower or splashes of water but isn't meant to be submerged for extended periods of time. The Revolve can connect to two Bluetooth devices simultaneously and can remember up to eight previously connected ones. When using a paired iOS device, increasing the volume from the device boosts the speaker's internal volume level in steps. Premium design combined with impeccable sound quality makes Bose Soundlink Revolve one of the best Bluetooth speakers around.
SKULLCANDY SHRAPNEL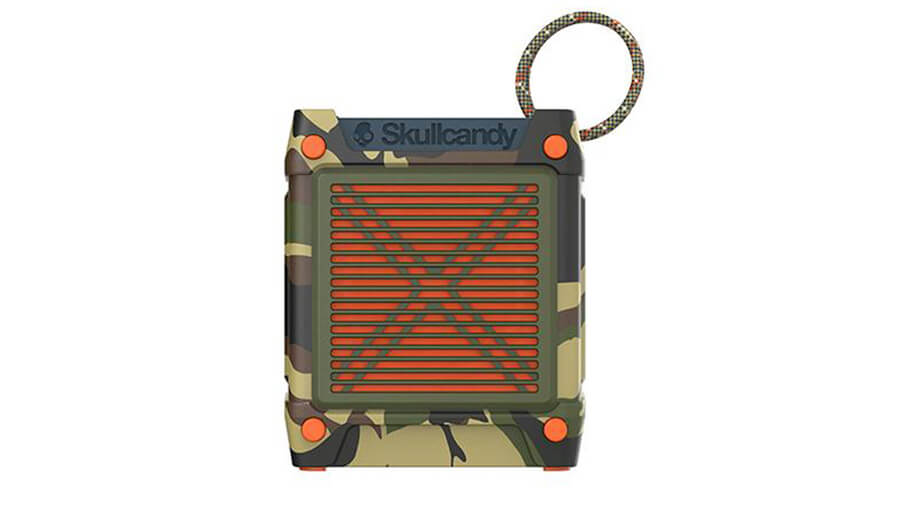 When it comes to selecting Bluetooth speakers that promise you great quality along with sheer clarity, the Skullcandy Shrapnel would definitely feature well up there and one of the best small wireless speakers! As a budget Bluetooth speaker, Skullcandy Shrapnel has plenty going for it. The Shrapnel can get impressively loud for its small frame, but most of its sound signature is focused on the mids and highs. The affordable Skullcandy Shrapnel Bluetooth speaker offers good audio performance, a rugged design, and a strong feature set. Beyond its portability and eye-catching design, it has speakerphone functionality and an exterior that is highly water-resistant. The rear of the speaker has a 3.5mm auxiliary port if you want to use the speaker with a non-Bluetooth device with a Micro USB charging point. As for sound quality, the Skullcandy Shrapnel speaker delivers more volume than you will get out of your smart phone's built-in speaker. The battery inside is good for about 10 hours of listening, which is impressive for the size. The Shrapnel can be considered as a good buy for its build quality and sheer volume alone.
HARMAN KARDON ONYX MINI WIRELESS SPEAKER
The speaker feels very luxurious and the quality feel is phenomenal. The effort to dress up the back in genuine leather feels a little odd considering that you never really get to see it, but it's a nice detail that contributes to the whole visual appeal. When we connect the sound source, there are plenty of options. It features Airplay for Apple-thingies, DLNA and Bluetooth with NFC pairing.
LOGITECH X300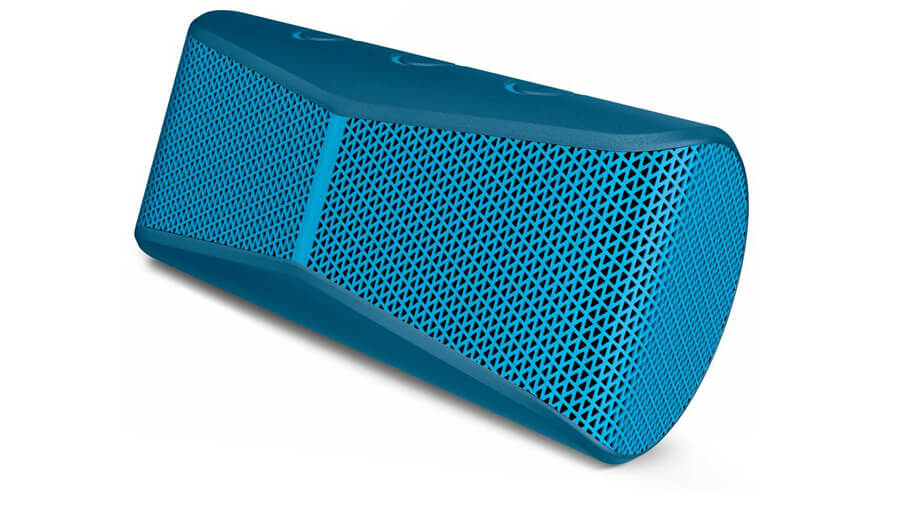 If you want a Wireless Speaker that fits into both your budget and preferences, Logitech X300 will leave you quite cheerful. Logitech X300 is a well-built, good looking speaker matched with an array of interesting features. Logitech X300 has just 3 buttons on top, which is the volume up, volume down and Bluetooth buttons with the Power button placed underneath. When there is an incoming phone call to your smartphone, you can answer directly with the speaker by pressing the Bluetooth button. The Logitech X300 makes a real impression thanks to its bright colors and eye-catchy designs. The X300 is built with a sturdy and attractive design that seems suitable for both indoor and outdoor use. Only 150mm long, this powerful compact speaker delivers deep bass response and detailed mid and high range sound. The Logitech X300 boasts of a rubberized body to give it a better grip on most surfaces and the buttons on top are well placed and easy to operate. A micro USB port for charging the device is located just across the power button on the rear along with a standard 3.5 mm port. The battery life- of this device is quite impressive and offers 5 hours of non-stop playback once fully charged.
CREATIVE MUVO 2 BLUETOOTH SPEAKER (MF8255)
Regarded as one of the leading speaker manufacturers worldwide, Creative Muvo 2 Bluetooth Speaker has a solid build and soft-touch finish. Easily one of the lightest speakers with stereo capability, Creative Muvo 2 is a smart looking compact speaker with dimensions of 67 x 190 x 38 mm and weight of just 340g. The connections on the back include a microUSB port, a 3.5mm audio port, and a microSD card slot. The Creative speaker is powered by a 2,200 mAh Li-ion battery helping the battery life to clock at around 10 hours. Muvo 2 has equipped itself with an IP66-rating, making it splash-proof but not waterproof. You can connect two MUVO 2 speakers to enjoy a wider soundstage and bigger audio performance. Creative Muvo 2 Bluetooth Speaker is mighty impressive with great features such as the capability to play music from the inbuilt micro-SD card player, connect your speaker directly to your computer via USB and the capability to add another additional speaker. The 2200mAh Li-ion battery is quite capable and doesn't weigh the speaker down much either.
JBL CLIP 2 PORTABLE BLUETOOTH
Already a hit with the music connoisseurs all around Dubai and UAE, JBL Clip Series announces its new version with Clip 2. The JBL Clip 2 is an ultra-light, ultra-rugged and ultra-powerful portable speaker. Completely waterproof, the JBL Clip 2 provides 8 hours of playtime, allowing you to take your music wherever you go. You can also wirelessly connect two Clip 2 speakers together to enjoy the amplified sound. Like the JBL Clip's previous editions, Clip 2 also has an integrated cable and a built-in speakerphone. The speaker sounds relatively impressive particularly when one considers its tiny size. As a well-rounded portable Bluetooth speaker, the JBL Clip 2 can be considered a winner with its understated compact design, handy features like carabiner, integrated 3.5mm cable, and appreciable battery backup. With improved sound quality, ruggedness and battery life, the Clip 2 is the best inexpensive speaker available now. The Clip 2 improves on the already impressive audio quality of the original Clip, delivering impressive treble, midrange and bass for a small speaker. Its wireless daisy chain functionality lets you connect two speakers for more audio output. The left side of JBL Clip 2 features the power and Bluetooth pairing button, along with a micro USB port for recharging the battery.
Bose SoundLink Mini Bluetooth Speaker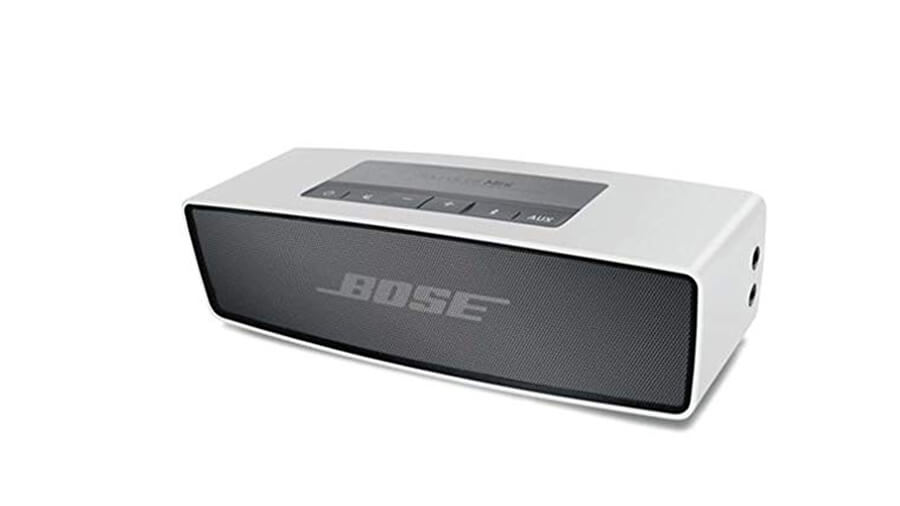 SoundLink series speakers are one of the most popular speakers in the market. The Bose SoundLink Mini Bluetooth speaker is compact and sleek that deliver great sound performance. This wireless speaker consists of a rechargeable, lithium-ion battery. You will get up to 10 hours in one charge. Bose SoundLink Mini delivers fuller and loudspeaker sound, even though it is quite small. The bass response is outstanding and there is no audio distortion even at higher volumes. The detail of sound is pretty good too; the crisp, clean midrange acoustics and the natural vocals, all of these are delivered to perfection. The design is compact and small. It consists of an aluminium body with control buttons on top. It can be connected to any Bluetooth device. There is a micro USB port on the back of the device. It comes in five stunning colours; blue, grey, silver, black and white.
Creative Muvo 2C Palm-Sized Water Resistant Bluetooth Speaker
Creative Muvo 2C is proof that size doesn't matter. The Muvo 2c is a palm-sized water-resistant Bluetooth speaker. It is full of features even though it is small enough to fit in your pocket. You can play thousands of songs with this device as it comes with a built-in MP3 player. It has an integrated audio amplifier and it can play high-quality audio formats including FLAC and WAV, WMA and MP3 formats. It has a rechargeable 650mAh lithium-ion battery which provides 6 hours of entertainment. You can charge the speaker via the micro USB cable. The MUVO 2c is IP66-certified water resistant which means you can carry it at a pool party. This device has a passive radiator, this makes it sound bigger than it looks. It can keep up with a song that have strong bass lines even on high volumes.
Sony Bluetooth Speaker, SRS-XB21
When its party time, grab your friends along with Sony SRS-XB2. It is an impressive portable speaker with the excellent build quality and audio quality. It delivers extra bass to boost your party and make it more enjoyable. If your intention is a festival vibe, then don't hesitate to buy this. It has Live sound mode which gives you a real 3D experience. It is small on size, fits easily in your pocket but doesn't compromise on sound. Not just the sound, it even has got lights to light up the party. The flashing lights perfectly sync to the beat of the music. Still, if your party is not lit, take up to 100 wireless speakers and connect it by Bluetooth to form a Wireless Party Chain. Dance to the same beat with the music and lights up. The SRS-XB21 is rustproof, dustproof, washable and waterproof. it provides up to 12 hours of battery life even with extra bass on you get up to 10 hours.
JBL Flip 4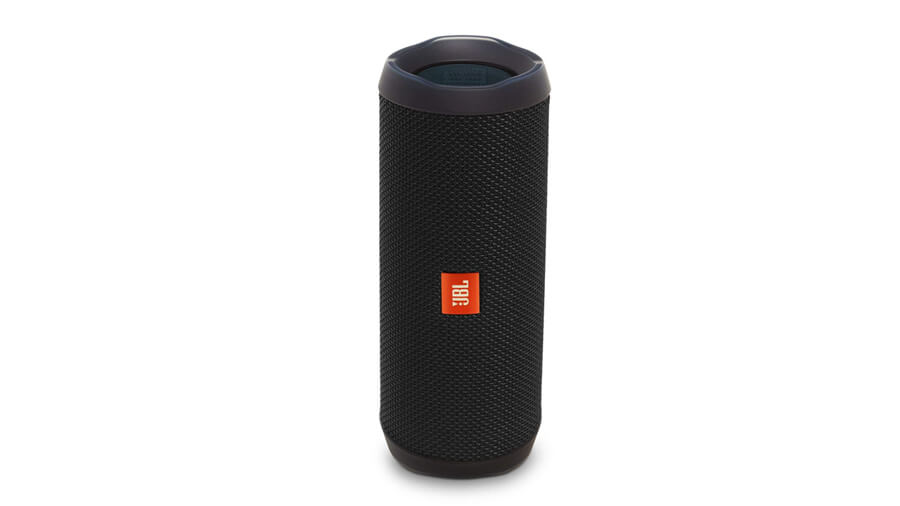 JBL Flip 4 is the most affordable yet the most amazing wireless speaker you can buy right now. It provides up to 12-hour battery life with its built-in 3000mAh rechargeable Li-ion battery. The lightweight JBL Flip 4 allows you to move around comfortably and we can access Siri or Google Now from this device. You can easily carry it around this compact and lightweight device. It has IPX7 Waterproof casing which means you can even submerge it in water. You can connect up to 2 smartphones or tablets to the speaker through Bluetooth. To add oomph to the party, there is a JBL connect+ feature which allows you to link more than 100 JBL connect+ enabled speakers together to party hard. This most loved wireless speaker comes in six fun and vibrant colours.
JBL Boombox Portable Bluetooth Speaker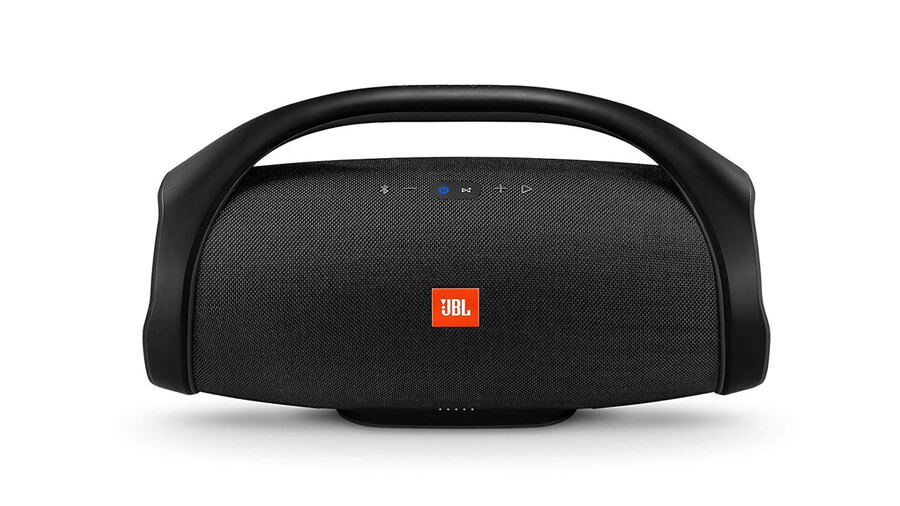 An ideal party mate. Enjoy your parties with the exciting music from the JBL Boombox. It is the real party animal that can blast out music for 24 hours continuously. You can even connect your smartphones or tablets using Bluetooth and play music from them. You can also use the ports to charge your smartphones from this speaker. The JBL Boombox comes with playing modes both for the indoors and outdoors. Thanks to its rugged, IPX7-rated design you can carry it around anywhere in any weather conditions. Twin modes for indoor and outdoor lets you listen to music in any conditions. There are the deep bass and rich sound for the indoors and the expansive sound with strong bass for the outdoors. The speakers give out the best sound quality for your parties anywhere. Designed to please you in all ways, the JBL Boombox is a rugged beast that gives you the best music ever. This waterproof speaker is trendy to be part of your party. The 20,000 mAh rechargeable battery lets you listen to music for up to 24 hours continuously., so you don't have to drop the party at any time.