The Best Budget DSLR Cameras That You Can Buy In The UAE
There is no doubt that budget DSLR cameras are one of the most fast-moving products in the UAE market, thanks to the affordable prices and special bundles and deals offered by various retail outlets and online stores in Dubai. Despite the sudden boom of smartphone cameras that gets better in every iteration, it's good to have an entry-level DSLR for capturing some of the best moments of your life in high quality. Thanks to the Auto modes on every DSLR, users will not need to worry about the skills required to use them like how professional photographers handle them.
Some of the most popular DSLR camera brands include Canon, Nikon, Sony, Pentax, and more. Most of these brands manufacture great DSLR cameras with features such as continuous burst mode, smartphone connectivity, touchscreen display, tiltable screens, and more. We at WOWLYST.COM have done extensive research and chosen the best and the most affordable DSLR cameras in Dubai market that comes below AED 2500. The entry-level DSLRs that we have selected will come with features that are more than enough for any normal user.
Our list will also include bundle deal options that may be of your interest. Bundle deals usually include multiple lenses, tripod, SD cards and more.
Nikon D3200
One of the cheapest Nikon DSLR camera in Dubai that we picked is the Nikon D3200. The camera is compact and light and comes with a 24.2 MP APS-C image sensor of Nikon's DX-format category that supports sensitivity from ISO 100 and expandable up to 12800 for lighting up dark areas. However, video recording of this camera only includes 1080p at 30p, 25p and 24p format playback. The camera also offers continuous autofocus capability while recording videos. The D3200 is powered by the EXPEED 3 image sensor for snappy processing of images and in-camera filter effects. The DSLR is also capable of 4fps continuous burst mode for capturing the right moments. Nikon also brings WiFi connectivity with this camera that allows users to control from a smartphone via the optional wireless adapter. The display on the rear side is 3-inches, however, the screen is fixed.
Nikon D5300
Want to buy a better Nikon DSLR without breaking the bank? How about the Nikon D5300 camera that features a 3.2-inch articulating main display on the rear and built-in wireless connectivity so users can take control of the camera via the smartphone. The screen can turn 180-degrees so users can capture some great selfie images of their best moments with family and friends. There will be no requirement of an external wireless adaptor as the other Nikon cameras we mentioned earlier. There is also a built-in GPS for tracking the location of the image taken. The number of AF points on the Nikon D5300 is 39. The camera also offers time-lapse recording and better low-light camera performance, thanks to the 24.2MP APS-C image sensor. The camera also features inbuilt stabilization and video capture can be done up to Full HD at 60p playback.
Canon 700D
Canon also offers great and affordable DSLR cameras for the mass market who isn't really keen on spending a lot. The Canon 700D is an 18MP APS-C DSLR camera with the DIGIC 5 image processor for loading captured images with less noise, while you shoot in low-light conditions. The Hybrid CMOS autofocus system helps for continuous AF capability while shooting videos. However, the camera is capable of recording videos at 1080p 30fps and 720p 60p formats. The maximum video recording duration is 29 minutes and 59 seconds. The Pentamirror viewfinder offers 95% coverage. The LCD display on the rear can be adjusted so users can take the best-angled shots with ease. The display also has a touch panel so normal consumers will not need to worry about fiddling with the complicated camera control buttons. The sensitivity of the camera can be adjusted from ISO 100 to 6400 and can be expanded up to 12800, which more than sufficient light up any dark scene.
Canon 750D
Featuring a 24.5MP APS-C image sensor, the Canon 750D produces great images and the DIGIC 6 image processor is capable of processing finer details and less noise for low-light photos and videos. The 19 point AF system is capable of focusing on subjects, wherever they are in the frame. The Hybrid AFIII CMOS helps for continuous tracking of the subject while shooting videos. The 750D is capable of recording videos up t 1080p video resolution and 30fps framerate. The camera can shoot up to 5 frames per second for continuous burst mode. The variable main display screen helps users to shoot different angles. The display is also a touchscreen so users can experience touch-based controls that are easier than using the dials and buttons. Looking into the sensitivity, the Canon 750D can adjust from ISO 100 to 12800 and expanded to 25600 for the best shooting experience.
Nikon D3400
Clearly one of the best budget DSLRs in the market, the Nikon D4300 features a 24.2MP APS-C DX-format image sensor with ISO sensitivity ranging from 100-25,600. The camera also allows users to shoot in burst mode up to 5fps. It's also one of the few budget DSLRs in the market to support FHD video capture up to 60fps. The display size is 3-inches and with wide-viewing TFT panel, however, the screen isn't tiltable. The viewfinder features an eye-level Pentamirror with 95% horizontal and vertical frame coverage. The shutter speed of the camera ranges from 1/4000 to 30 seconds. The D3400 has 11 autofocus points and the autofocus sensitivity is -1 to +19EV. The camera also features its own built-in flash.
Canon 1300D
Our next affordable recommendation is the Canon 1300D DSLR that features an18MP APS-C image sensor that supports ISO sensitivity from ISO 100 to ISO 6400. The ISO can further be expanded to ISO 12800, which reduces the need of flash in low-light conditions. The DIGIC4+ image processor helps to reduce unwanted noise and grains when shooting at low light situations. The camera also uses 9 autofocus points. The AF modes available in this camera is AI Focus, One Shot and Al Servo. The Canon 1300D shutter speed ranges from 30-1/4000 seconds and Bulb mode. Users can take advantage of the Pentamirror that offers 95% frame coverage. The 3-inch TFT screen features 920k dots. The camera offers 1080p video recording at 30fps and 24fps framerates. The maximum time duration for video recording is 29 minutes and 59 seconds. Users can choose to use SD cards, SDHC or SDXC memory cards on the Canon 1300D.
Nikon D5600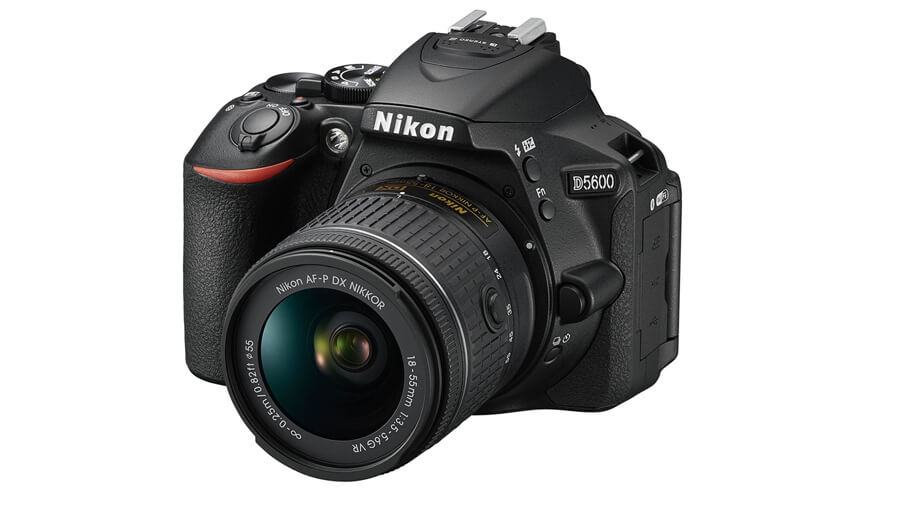 Nikon D5600 DSLR is a great camera having a 24.2MP sensor and 18 to 55mm optical zoom. It has an aperture of f/3.5 to 5.6G lens giving you sharp and vibrant images. The camera is great at capturing blur-free photographs be it on adventure trips, birthdays or other events. The lens has VR image stabilization that captures every frame without any distortion. The camera is capable of shooting Full HD videos at 1080p resolution making the videos colourful and without blur. In-built Wi-Fi and Bluetooth allow easy image sharing. You can connect to the camera from your phone using SnapBridge. Connecting from the phone turns your phone into a remote to allow you to click selfies or take shots from a distance.
Nikon D3500
Nikon D3500 is an easy to use camera that can be used as a point-and-shoot as well as for professional level photographs. The camera has a DX format 2.2MP CMOS sensor that allows in more light to enable crisp images even in low-light situations. A 5fps continuous shooting feature is capable of capturing five full-resolution frames at once to get the desired shot. The camera can be used to record Full HD videos too. The AF-P DX NIKKOR 18-55mm f/3.5-5.6G VR lens is great for taking shots of landscapes, videos, sport photographs, nature photos, concert shots and other perspective photographs. Fast moving objects or action shots are captured easily and in clear details with this camera. Nikon D3500 also has 11 autofocus points that can be used to fine-tune individual settings for every shot. Nikon's SnapBridge app can be used to pair your camera and phone so that taking backups is easy.