The Best Thin and Light Laptops That You Can Buy in the UAE
Whether you are looking for a premium laptop or a powerful multimedia machine or something in between, there are numerous options to choose from. All you have to do is to have a sharp eye to look for the best according to your budget and preferred specifications. Fret not, we are here to lessen your workload by listing the top-rated premium laptops which you can find in regions of Dubai and UAE:
MICROSOFT SURFACE LAPTOP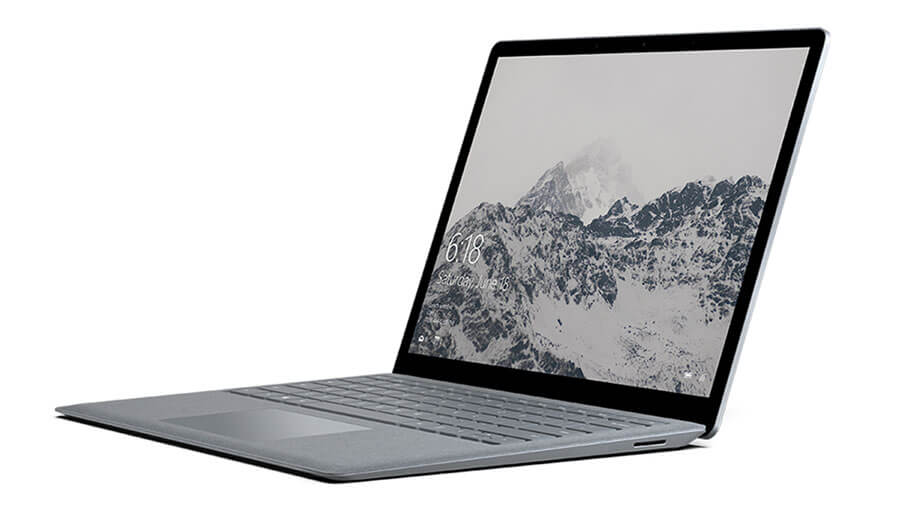 The champion player of laptop world, Microsoft has brought its latest laptop called the Surface Laptop to the table. The Surface Laptop sports a conical design, slightly wider at the back with a 13.5-inch, 2256×1504 screen secured with a sturdy built. At 2.76 pounds and about half an inch thick, it slightly undercuts the 13-inch MacBook Air. The Surface Laptop has a big and beautiful 13.5-inch touch screen and enjoys a 3:2 aspect ratio. The battery of Microsoft Surface is impressive with 10 hours of usage. The specifications are good enough for a fair amount of multi-tasking and Word docs, but not so much when it comes to heavy gaming. The overall design of Microsoft Surface is a natural stunner and looks really sharp. In addition to the aforementioned features and specifications, Microsoft Surface equips itself with the Surface Pen which sports a new eraser button which now has 3 functions to do. Microsoft Surface is readily available in regions of Dubai in burgundy, blue, silver, and gold, all with a polished matte finish. On the right side of the Surface Laptop, you find the wide, skinny port for Microsoft's proprietary charger and on the left, a headphone jack, Mini Display port, and a single USB 3.0 port
ACER SWIFT 7
The Acer Swift 7 measures 9.98 mm which naturally makes it one of the portable laptops ever to arrive on the scene. The design of Acer Swift 7 looks premium from all angles with rubber lids on all corners and two LED indicators to show power supply status and hard drive status. When it comes to the display, the Acer Swift 7 packs quite a punch with a 13.3" inch full HD IPS display coated with Gorilla Glass giving the laptop a cool feel. Acer Swift 7's clickable 'Precision' touchpad is pretty spacious and has really good accuracy. Thanks to Acer's Color Technology, the colors in Acer Swift 7 look vibrant and well saturated. The Acer Swift 7 has a great design, impressive built and good display. Inside the Acer Swift 7 is Intel 7th Generation Processor which gives the laptop unmatched performance and operates remarkably well without any hassles. Running Windows 10, Acer Swift 7 features all the new functions Microsoft has included in its latest OS. The Swift 7 has 256GB of built-in SSD storage, which makes it pretty fast when it comes to loading heavy files. If you are looking for an ultra-thin, yet super powerful laptop, the Acer Swift 7 is your best option, which is one of the most affordable and premium ultrabooks in the market. Click here to compare Acer Swift 7 prices.
Dell XPS 13
Dell's XPS range of laptops has become the epitome of style meets performance concept of late. The brand new XPS 13 does no harm to Dell's reputation of the same and scores quite a punch with its stylish looks and impressive performance. The all-new Dell XPS 13 features a high-end laptop configuration, along with a strong built of aluminum and carbon fiber body giving the machine a compact look. The super display of XPS 13 boasts of a brilliant 13.3 inch 3200 *1800px IPS specification. The high-resolution results in clearer visuals and greater color integration. The keyboard is superbly crafted and highly functional paving way to easy navigation among keys. Dell XPS 13 performs smoothly thanks to its Intel Core i7-6560U with 8GB RAM. The battery life is pretty impressive giving around 6 hours of normal usage. The laptop can handle high-resolution files with ease, and streaming movies and TV shows on the laptop is real treat. The built-in speakers are pretty loud, and Dell uses the Waves MaxxAudio software suite for sound enhancement. The Dell XPS 13 seems to possess all the prerequisite qualities and specifications by offering a 13-inch screen in a more compact package than its competitors, along with a winning combo of design, comfort, performance and battery life. It's easily one of the best premium laptops of 2017. Compare Dell XPS 13 prices.
HP SPECTRE 13 4000 X-360 CONVERTIBLE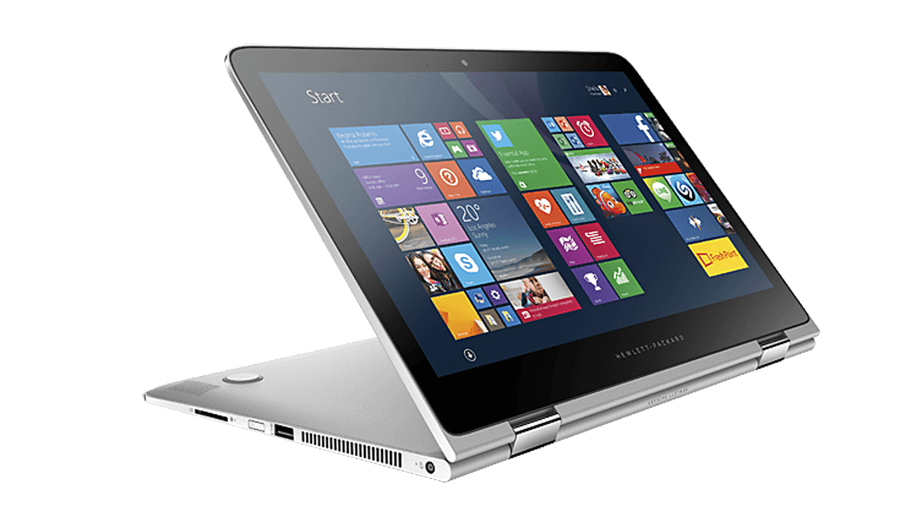 The HP Spectre 13 is the leading PC manufacturer's premium offering in the ultra book market. It is solidly built, yet remarkably sleek and slim with a chassis from aluminum and carbon fiber. The 13.3-inch display with a resolution of 1920 x 1080 pixels is protected by Corning Gorilla Glass. The Windows 10 64-bit system uses an Intel Core i7-6500U, 8 GB DDR3L SDRAM, an Intel HD Graphics 520, and a 256 GB SSD. A Wifi and Bluetooth 4.2 combo adapter makes wireless networking possible. The connectivity includes a USB 3.0/3.1 Gen1 port, two USB 3.1 Gen2 ports, two Thunderbolt ports, and two Display Ports. HP assures the Spectre x360's energy efficiency as it is ENERGY STAR certified. Video telephony is possible thanks to a front-facing HP TrueVision HD webcam. The Spectre 13 delivers impressive sound quality with four Bang & Olufsen speakers. The backlit keyboard offers a satisfying, easy and comfortable typing experience. Thanks to a full-size island-style keyboard with backlight, usability will not even be affected under low-light conditions. A low weight of 1.16 kg makes the Spectre x360 an appealing device and outright winner much ahead of its competitors. In short, there is no doubting the fact that the HP Spectre is a powerful and impressively built laptop. Compare HP Spectre x360 prices, here.
ASUS ZENBOOK TOUCH UX31A
Over a period of few years, Asus has been slowly but steadily climbing up into the top bracket of laptop manufacturers with a diverse portfolio of products ranging from budget-friendly models to super-slim ultrabooks. With a 13.3-inch display, a full HD resolution of 1,920 by 1,080 and built-in IPS panel, the Asus ZenBook Touch UX31A easily scores some brownie points in the looks department. The UX31A comes equipped with Intel's Wireless Display technology (WiDi 2.0) which enables you to stream HD videos from your system to any television outfitted with an adapter. Asus has packed the ZenBook Touch with high-end internals such as a third generation Intel Core i7 processor, Intel HD Graphics 4000, 4GB of memory, and a 256 GB SSD. The ZenBook UX31A Touch comes with a one-year warranty, which covers parts and labor plus accidental damage. If you want a first-class display, which is better than most of the competition, the Asus Zen Book Touch UX31A is what you have been searching for. The new ASUS ZenBook is one of the slimmest ultrabooks that's available in Dubai. Compare ZenBook Touch UX31A prices.
ACER ASPIRE S7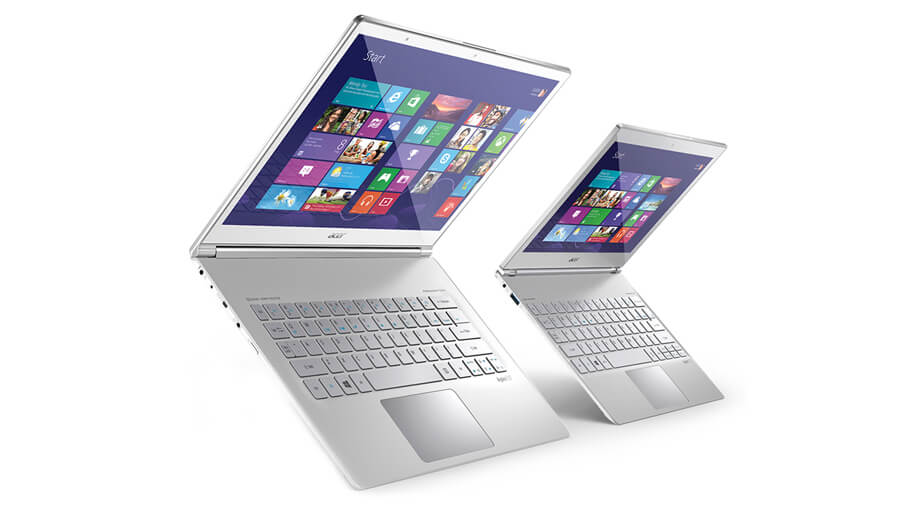 There is not an iota of doubt that the Acer Aspire S7 is a smashing stunner with its 13.3 inch LED Backlit IPS Display and 1920 x 1080 pixels resolution. The Acer Aspire S7 easily fits into an ultraportable laptop with 256 GB SSD and 4 GB RAM. The connectivity options available on the device are WiFi, Bluetooth 4.0,2 x USB 3.0 and HDMI. The QWERTY row has controls for Wi-Fi, sleep, multiple display control, mute, screen rotation, the keyboard backlight, and disabling the track pad. Del has its own key in the bottom row, which displaces the Windows menu key to a secondary action for the right Alt key. It supports an optical Drive, comes with Backlit Keyboard, Built in Webcam, Memory card reader. It is backed up by a 4 cell battery that keeps the device running for up to 8 hours or a considerable amount of time. Acer Aspire S7 is loaded with Stereo speakers and High Definition Audio, Dolby Home Theater v4 for a great audio experience. With Aspire S7, Acer has overcome some of the Ultrabook specification's constraints, most notably with its use of a dongle for VGA and Ethernet ports. The most impressive features are its higher resolution screen with touch and better connectivity options. Find the best Acer Aspire S7 prices here.
ASUS ZENBOOK UX310UQ-FC421T LAPTOP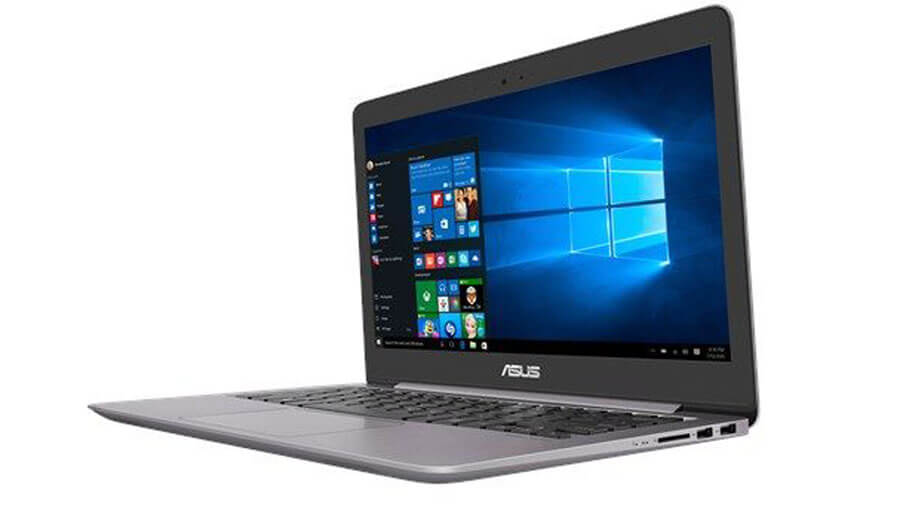 Driven by an Intel Core i7 7500U Dual Core processor, this Asus ZenBook laptop has a precision touchpad with a built in fingerprint sensor. The Asus Zenbook UX310UQ FC421T Laptop combines elegant and sophisticated looks with superb performance to give you a premium level laptop experience. It has a gorgeously slim and light design that is crafted from solid aluminum. With its travel friendly weight of 1.4Kg and a 13.3inch, FHD display the Asus ZenBook laptop yields crisp and clear visuals for excellent performance in multimedia and gaming. This laptop is equipped with ASUS SonicMaster technology that delivers an immersive sound experience. Furthermore, this Asus Zenbook laptop is powered by an Intel Core i7 7500U Dual Core processor that allows for seamless online HD video streaming and multitasking. The 2GB NVIDIA GeForce 940MX graphics card enhances the performance of the processor to ensure to a smooth rendition of heavy duty games and video editing apps. The 13.3inch display gives your eyes a visual treat whether you are viewing photos, reading text or watching videos. Ultra wide color gamut of 100 percent sRGB delivers accurate and vivid colors for a mesmerizing visual experience. Asus Eye care mode keeps your eyes protected by reducing the emissions of blue light by up to 30 percent.
APPLE MACBOOK PRO 13 WITH TOUCHBAR 2016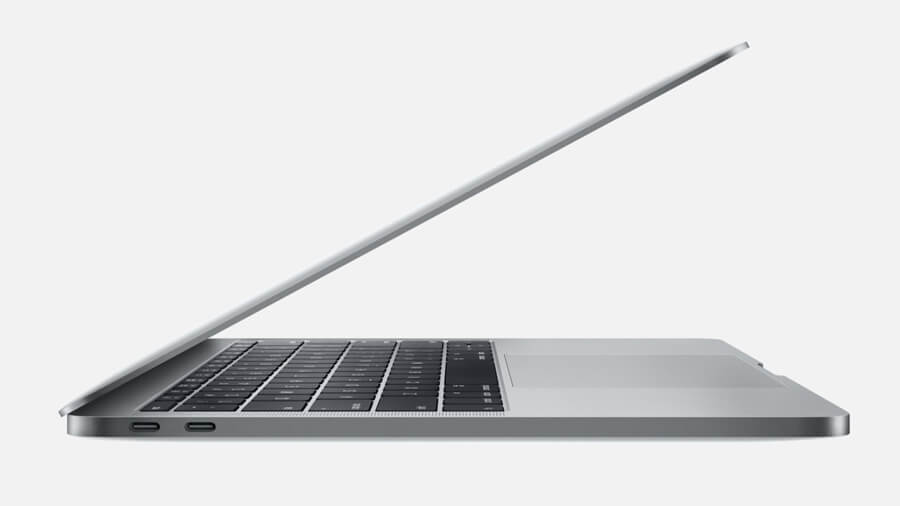 Apple's MacBook Pro 13 is a true game changer with entirely new design, impressive features and an innovative multi-touch screen. One of the ground-breaking features that the Apple MacBook Pro 13 possesses is the Touch Bar which replaces the Function Key Row. The Multi-Touch Touch Bar is fully interactive and context sensitive which easily adapts itself to different apps and workflows. The Touch Bar on the MacBook Pro 2016 will show auto-correct suggestions and the ability to control text on screen. What's noticeable is that a growing number of apps now feature Touch Bar support, including Evernote, Microsoft Outlook, and LastPass. Right next to the Touch Bar is the 'Touch ID' fingerprint scanner, which makes it easy to unlock the Mac. The display is brighter, has better contrast and supports a broader range of colors. In terms of battery life, the 13-inch MacBook Pro 2016 models claim the 10-hour battery life. The Apple MacBook Pro 13 processor has a quad-core Core i7 6th Generation Skylake chip, running at 2.6GHz or 2.7GHz configurations. The first configuration offers you 256GB SSD storage and the second one, 512GB. Both computers have 16GB of RAM and an AMD Radeon Pro 450 series graphics chip with dedicated 2GB of graphics memory. It's the best MacBook that you can buy in the UAE. Compare Apple MacBook 2016 prices, here.
LG GRAM 15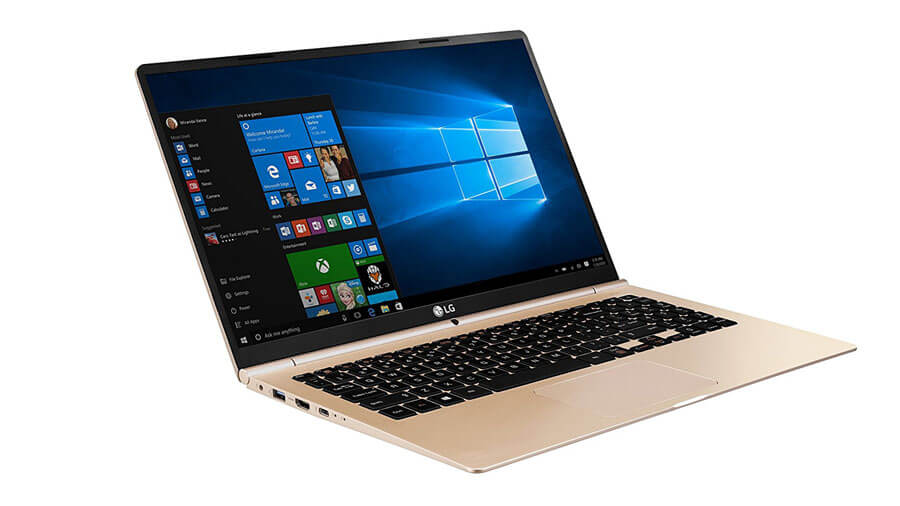 A wonder to hold and a sight to behold, LG Gram is the one of the lightest notebooks ever to be introduced with 15.6 inches and weighing at just 2.4 pounds. Measuring 14.08 x 8.99 x 0.66 inches, the screen of LG Gram is quite compact and solid. On the right side of the machine is a Kensington lock slot, a USB Type A 2.0 port, a USB Type A 3.0 port, micro SD card slot, and headset jack. The LG Gram boasts a dark silver magnesium alloy body with a highly polished lid and a fine metallic carbon-fiber-like finish sporting bottom. Apart from the weight, the most impressive aspect of LG Gram is its 15.6-inch 1080p screen which fits perfectly for watching movies and browsing the web. The LG Gram comes in three models, a 13-inch model, a 14-inch, and 15.6 inch. They all share the same basic design and features, with a few more USB ports for the 15.6-inch version. The LG Gram packs a seventh-generation Intel Core i7-7500U processor, 16GB of system memory (DDR4), a 512GB solid state drive, and a touch-enabled 15.6-inch display with a 1,920 x 1,080 resolution. LG promises up to 12.5 hours for its Gram edition which is mighty impressive for a laptop measuring just 0.6 inches thick and weighing a mere 2.4 pounds. Click here to compare LG Gram 15 prices.
LENOVO YOGA 720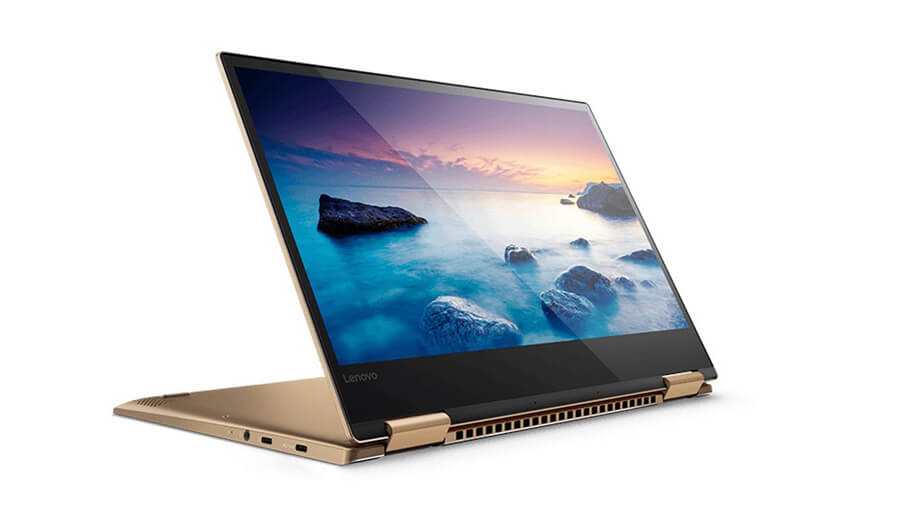 If you are looking for a laptop combination that has solid graphics at a reasonably good price, then your search ends at Lenovo Yoga 720. The 15.6-inch, 1080p display on the Yoga 720 is great to look at with vivid colors and sharp details. The Lenovo Yoga 720 houses the Intel 7th generation low power processor and a Full HD (1920×1080) IPS touch screen. The Lenovo Yoga has 8 GB of RAM and a 256 GB NVMe SSD, both of which come standard on the line but can be upgraded to 16 GB and 1 TB respectively. The 15-inch Yoga 720 has a beautiful all-aluminum chassis that looks and feels great. The entire device is well-built with a tight, even gap connecting the keyboard deck to the bottom panel. The finish is highly resistant to fingerprints and is able to retain its fresh look after handling. There are two USB 3.0 Type-A ports, one on either side, for other peripherals. The Lenovo Yoga 720 is equipped with some useful security features. In addition to software-based TPM in the system BIOS, the notebook comes with a fingerprint scanner on even the base configurations. Overall, the Lenovo Yoga 720 is a winner in the new set of notebooks. Click here to compare Lenovo Yoga 720 prices.