The Best Dual-Lens Smartphone Cameras To Capture All Your Memorable Travel Moments
Dual Camera smartphones are considered to be the new trend in mobiles which easily makes the photos look beautiful from all angles. The market has exploded during the past few years with dual-camera smartphones and it seems that dual-camera sensors are here to stay. In order to help you choose the very best, we have enlisted the top-rated smartphones with dual lens that will help you to click more attractive images.
SAMSUNG GALAXY S9 PLUS
Gaining an added edge over S8 Plus which was a major success in the year 2017, the Samsung Galaxy S9 Plus packs quite a punch with new upgrades and design innovations. What's remarkable to notice is the bezel at either end of the display has become thinner and the Gorilla Glass 5 coating thicker. However, the biggest change in the design is the fingerprint scanner which is now placed below the camera sensor instead of positioning it on top of the camera sensor. Keeping up with Samsung's tradition of packing its mobiles with impeccable features, the Galaxy S9 Plus is loaded with a water-resistant body (IP68), microSD slot, QI and PMA wireless charging with a headphone jack. Beneath it, sits an all-new octa-core Exynos 9810 SoC, clocked at 2.7 GHz and paired with 6 GB of RAM and 64 GB of internal storage. With 18:5:9 AMOLED panel and 2560 x 1440 resolution, the Samsung Galaxy S9 Plus is the same as S8 Plus, but with more brightness. The camera quality is simply outstanding thanks to the dual aperture 12 MP wide-angle camera and a 12 MP camera along with an 8 MP front camera. The connectivity options include a support for 4G LTE bands with enhanced 4×4 MIMO and LTE Cat.18 support, Wi-Fi 802.11 a/b/g/n/ac (2.4/5GHz), Bluetooth v5.0, NFC, GPS and a USB Type-C port that sits rightly at the bottom end. The handset is powered by a 3,500 mAh battery and comes with quick charging, both for wireless and wired chargers.
SAMSUNG GALAXY NOTE 8
Touted as a heavy competitor to iPhone X and iPhone 8 Plus, the Samsung GalaxyNote 8 is Samsung's grand comeback to the phablet market. With a gorgeous design, incredible 6.3-inch screen, great software and excellent performance, no wonder the Note 8 is considered as one of the year's best smartphones. Blessed with a 6.3-inch display, the Note 8 has an aspect ratio of 18:5:9 making multi-tasking relatively easy on the device. While the Galaxy S8 and Galaxy S8+ have a more pleasing aesthetic design, Samsung keeps on gesturing at its clients with more honed edges and a squarer camera module. There are a front-facing camera and iris scanner inside the best bezel alongside the earpiece with a LED warning light. The camera module involves two sensors behind two focal points, an optical heart-rate screen and a unique mark scanner. The AMOLED display oversees clean whites, rich hues and just a trace of movement obscure while looking through content. The metal frame on the sides is also thicker, with overall width rising to 8.6mm. There is also the 3.5-mm headphone socket, USB Type-C connector, speaker grille and a slot for the S-Pen. The Galaxy Note 8 ships with a Type-C cable, power adapter, AKG earphones, a Micro-USB to Type-C adapter and a USB Type-C to Type-A adapter.
APPLE IPHONE 8 PLUS
Featuring a 5.5" display and a screen resolution of 1080 x 1920 pixels, the Apple iPhone 8 Plus runs on iOS v11 operating system. Loaded with a Touch ID fingerprint sensor and 5.5-inch retina display, the Apple iPhone 8 Plus runs on the unmatchable A11 Bionic CPU that offers extraordinary performance and great battery life to the phone. Thanks to the 5.5inch Retina HD display, the iPhone 8 Plus delivers true colors and high contrast to give you a captivating visual experience. The True Tone technology in the iPhone 8 Plus plays a major role in reducing the eye strain by adjusting the onscreen white balance to match the color temperature of the light. The iPhone 8 Plus comes preinstalled and pre-loaded with the most advanced operating system called the iOS 11. It brings your phone to life with its easy-to-use and beautiful interface. Equipped with 12MP wide-angle and advanced features, the iPhone 8 Plus comes in 256GB and 128 GB. The in-built image signal processor and the power of A11 Bionic chip make advanced photography techniques automatic and easy. In short, the Apple iPhone 8 Plus seems to be an excellent choice to flaunt for all iPhone lovers.
APPLE IPHONE X
The iPhone X marked the beginning of a major transformation for Apple. It changed the way its flagship smartphone series was made. It shed its trademark home button and altered the very basic layout of the iPhone design. The display of the iPhone X has undergone a complete makeover and has adopted a bezel-less design followed by the majority of Android smartphones launched this year. The display type is OLED that brings great values of color, sharpness and details on the screen. Also, the glass layer is resistant to threats posed by water and dirt. The camera features a 12MP sensor that comes with many advanced features like new color filter, telephoto camera with OIS and deeper pixels. The wide angle zoom and the telephoto sensor work hand in hand to create the desired images. The device is powered by A11 Bionic chip which is the best processor used by Apple yet and it can do 600 billion calculations per second. The iPhone X also supports great augmented reality games and applications. Overall, the newly styled iPhone X has become the talk of the town and has paid off quite handsomely for Apple for its daring and innovative approach to the entire aspect of its premium smartphones.
LG V30+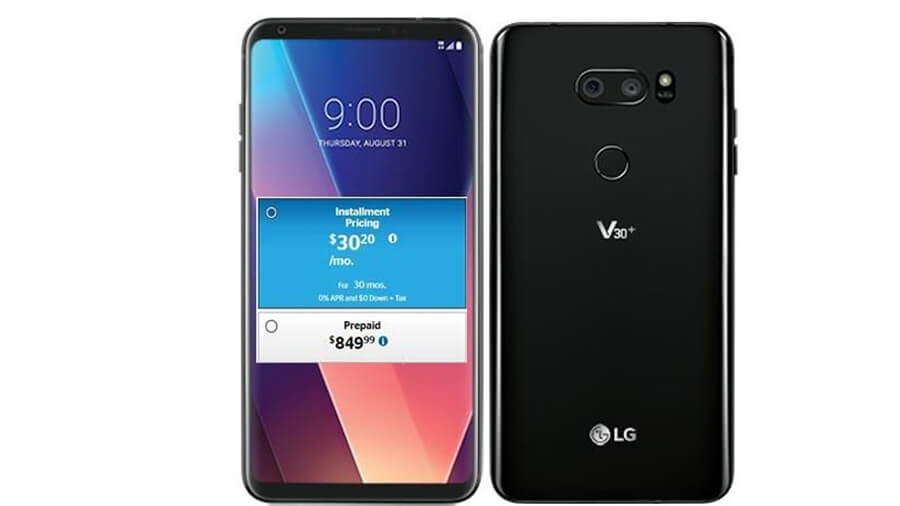 Withstanding the tough competition from Apple, Samsung and Google among others, LG has definitely loaded the V30+ with high-end specs and extraordinary performance. The smartphone has an octa-core Qualcomm Snapdragon 835 processor with 4GB RAM. For storage, it offers 128GB in-built memory as a microSD card of up to 2TB. The LG V30+ functions on Android 7.1.2 along with LG's UI skin on the top. One of the most attractive features of the LG V30+ is its amazing dual rear camera of 16MP standard angle (f/1.6 aperture) and a 13MP 120 degrees wide angle (f/1.9 aperture) lens. Believe it or not, LG V30+ possesses the distinction of having an aperture of f/1.6 which induces more light into the camera lens thereby improving the techniques of low-light photography. The video shots in 4K at 30fps with crisp audio recording will definitely steal your hearts. The camera app is studded with a wide variety of features which will keep everyone interested. There are some amazing features such as slow-motion, time-lapse, Panorama and Cine Mode. The camera easily zooms a particular spot or face and adds filters to it to make it more attractive and eye-catching. All in all, the LG V30+ has many advantages to its pocket and is definitely worth for its money.
HUAWEI MATE 10 PRO
Sporting an identical design to the previous Mate 10, the Huawei Mate 10 Pro is guarded with a polished metal frame with curved Gorilla Glass 5 and bezels all around. When you look closely, the Huawei Mate 10 Pro also has a USB-C port in the bottom edge and an IR blaster on the other side making it the only option if you want your next smartphone to double as a TV remote. The Mate 10 Pro has a 6-inch 2160 X 1080 display with AMOLED, HDR10 support and 18:9 aspect ratio. This is a definite increase in the specs when you compare it with the previous Mate 10. The Mate 10 Pro has definitely upgraded with a 12-megapixel main sensor with a 20-megapixel camera. Another impressive feat of Mate 10 Pro is that it is Huawei's first smartphone to launch with a dedicated chip for handling artificial intelligence, called the neural network processing unit (NPU). There are a wide number of camera features offered in this phone such as Portrait mode, true black-and-white photography and a 2.0x optical zoom which will make the photography enthusiasts very happy. The Mate 10 Pro is equipped with a 4,000-mAH battery which effortlessly delivers 14 hours of continuous playback. The Mate 10 Pro is available in three attractive colors – grey, blue and brown.
HUAWEI P20 PRO
No two words about it – the P20 Pro is easily the best looking phone in the family of Huawei, particularly with its stunning Twilight gradient finish. Weighing 180g and with a thickness of 7.8 mm, the Huawei P20 Pro suits perfectly onto your hands. The OLED screen on the P20 Pro measures 6.1 inches and has a resolution of 1080×2240 pixels which translates to 408 PPI. The P20 Pro also has a Voice Control feature called OK Emy that wakes the device up and listens for your commands. The Huawei surprises everyone with its astounding set of three rear cameras – a 40 MP sensor, an 8 MegaPixel sensor and another camera with 20 megapixels. The camera app has a portrait mode, an aperture mode, slow-mo, time-lapse and light painting mode. In terms of connectivity, the P20 Pro has Bluetooth 4.2, and dual-band Wi-Fi 802.11ac. The P20 Pro is a dual-SIM device with two Nano-SIM slots and supports 4G. Thanks to the 4000 mAh battery, the P20 Pro is a solid performer that stays awake for almost a day. The highly polished metal frame adds immense charm to the device. The P20 Pro ships with a Huawei-branded fast charger in the box along with Type-C in-ear headphones and a Type-C-to-3.5mm adapter.
Samsung Galaxy S10 Plus Dual Sim
When it comes to smartphones, Samsung has few competitors. And the reason is clear, its phones are devoted to providing a seamless user experience no matter what your needs and whichever the model. One of the most popular in the Galaxy series, this one features a 6.4-inch dynamic AMOLED Infinity-O display that instils realism as you have never seen before on any phone screen. Armed with stereo speakers that come with Dolby Atmos technology, the phone does not stop there. It also has an eye comfort display which stops harmful rays from the screen from straining your eye. Most lucratively, however, the phone has three ultra-wide-angle cameras with dual optical image stabilisation, which make sure that every photo you shoot has the quality of a professional masterpiece. An 8GB RAM and a fierce processor makes this phone a favourite for those who love to play a game or two on their phones.
Samsung Galaxy S10 Dual Sim
These days, there is a smartphone in every pocket, so what makes the one in yours stand out? Samsung takes care of this question with its Galaxy series, each phone of which addresses all the needs you might ever have out of a smartphone. Samsung Galaxy S10 Dual Sim model is a photographer's delight, with three rear cameras that can switch between a double optical zoom and an ultra-wide angle within a matter of moments, helping you take pictures without missing any detail. In addition, a 123-degree field of view is provided with the Ultra Wide Lens of the cameras. The front camera peephole is a thing of the past with this model, as it is now discreetly tucked away within the display screen itself. The phone also comes with a fingerprint scanner and boasts of a revolutionary power share technology with which it can charge other devices. The 128 GB of memory is a photographer's dream and makes it unnecessary to ever delete a picture you have taken.
HUAWEI MATE 20 PRO Dual Sim
It takes a lot to impress a smartphone buyer these days, which is why you need a phone like this Huawei model here, which addresses every modern day need of a person on the move. Built to please the photographer in you, this aesthetic smartphone combines not just any triple camera system but an ultra-wide angle Leica lens along with a flash. The phone is run by a Kirin 980 processor and its flexible CPU and GPU multi-core architecture make it incredibly fast, leaving you never waiting for a page to load or an app to function properly. The phone also comes with a 4200 mAh battery with a supercharge function, which will never make it imperative for you to stop for a charging session during your day. It also has a 6 GB RAM and a dual SIM function, making it the complete model for you.
HUAWEI Mate 20 Dual Sim
The HUAWEI Mate 20 Dual Sim phone is a device that is especially noted for its capacity to run for hours on end without needing to be charged. This is thanks to the phone's 4000mAh battery which also incorporates a supercharge function. The phone comes with a Leica Triple Camera powered by artificial intelligence to give you images rich in colour, definition and drama. The phone has a 12MP main RGB lens which makes sure every photo you take is steeped in detail. Two additional cameras come with an 8 MP telephoto lens and a 16 MP wide-angle lens making it a photographer's dream, promising perfect distance shots and landscape snaps. The phone's Dewdrop display supports a full screen with a dreamlike screen-to-body ratio. In addition is the industry-leading 7nm process technology Kirin 980, which directly translates to very high power efficiency.
Huawei P30 Pro Dual SIM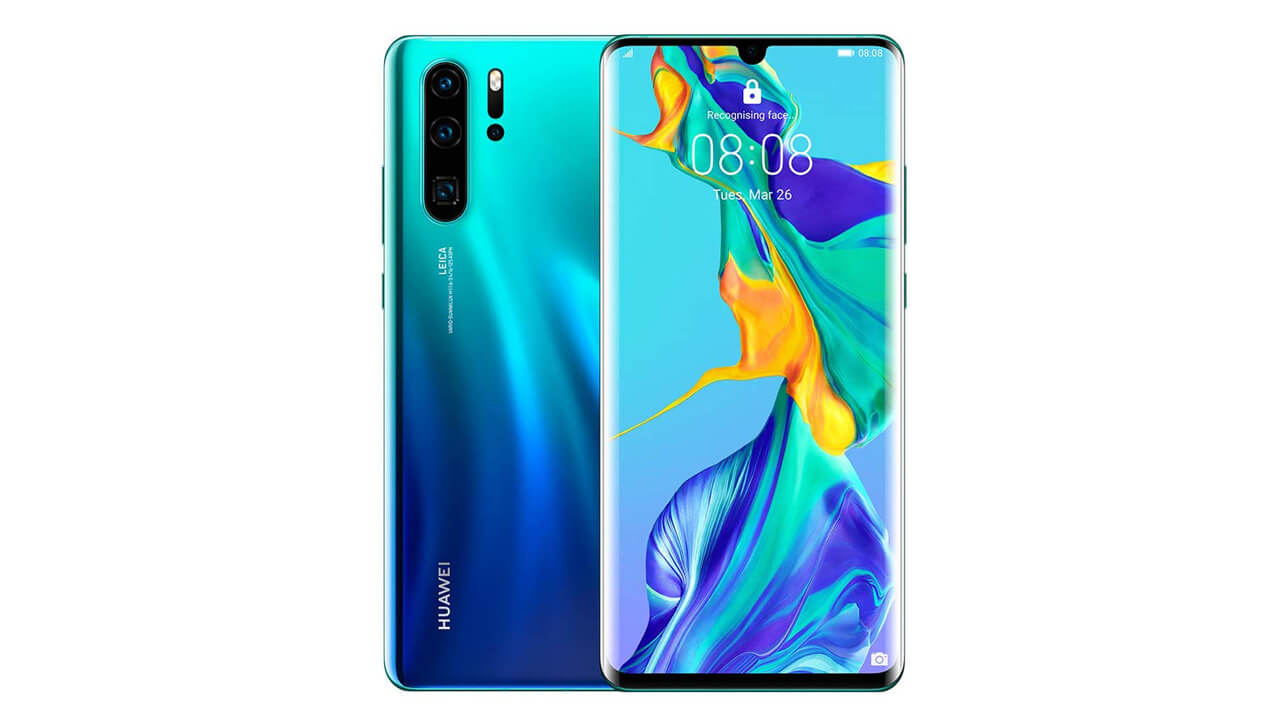 The Huawei P30 Pro Dual SIM comes with a Leica Quad camera that is armed with a lens that boasts of a SuperZoom feature which does not compromise on quality while delivering magnified images. In addition are a 40 MP Super Sensing camera, a 20 MP ultra-wide angle lens, AIS Long Exposure shot, and a Huawei TOF camera which accurately measures object depth — making this phone a photographer's dream. It also features an energy efficient and advanced Kirin 980 chipset, the 40W SuperCharge that makes it virtually needless to take charging stops, and a 15W wireless charging that promises power efficiency you could only have dreamed of. Besides, the phone's acoustic display, its attractive and optimum screen-to-body ratio, and the in-screen fingerprint sensor make it quite simply all that you could ever want out of a technological companion.