Here Are The Best Thin And Light Budget Laptops In The UAE
Times are changing and gone are the days when laptop used to be a luxury item. Nowadays, laptops are getting thinner and lighter, but also faster than ever before. If you are looking to buy a thin and light weight laptop that falls within your budget, then you are going to have a bag full of options and brands. Here, we have listed out the top-selling laptops which are incredibly slim and stand tall with amazing specs and performance. Take a look!
Lenovo 80X800C-NAX Yoga 520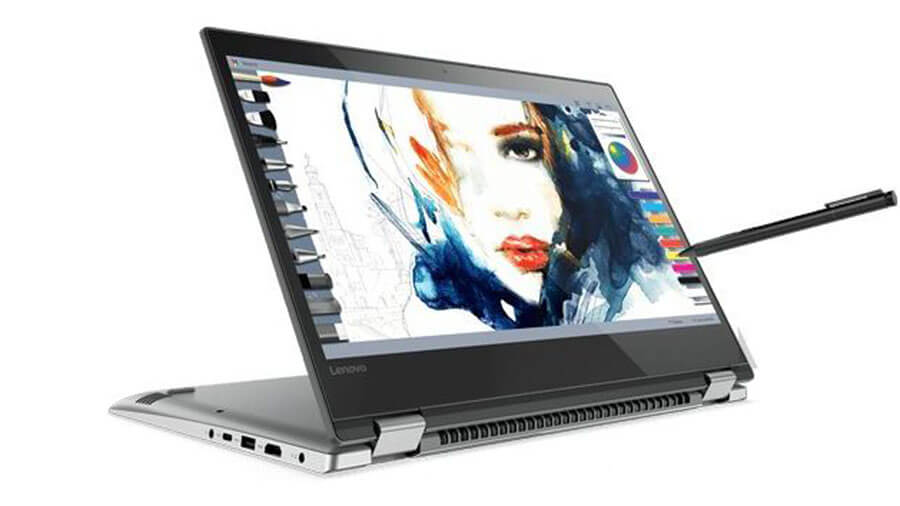 With Pentium Dual-Core processor and pre-installed Windows10, the Lenovo 80X800C-NAX Yoga 520 2-In-1 turns out to be supremely efficient to handle all daily computing tasks. It is preinstalled with Windows 10 that features an expanded Start menu and a host of cutting-edge capabilities for an intuitive experience. The 4GB RAM and an internal memory of 1TB ensures high-speed performance and allows you to do multi-tasking. The durable 360-degree hinge allows you to flip the screen from laptop mode to tent mode or tablet mode for a perfect viewing angle. The thin and lightweight construction gives you the freedom to the slip the laptop into your backpack. Available in a stunning gray finish, the Lenovo Yoga laptop features a compact and lightweight construction, which allows you to slip it into your backpack for on-the-go computing. The battery provides up to 10.4 hours of charge to keep you connected all through the day. The 14inch screen, with its FHD resolution, gives you a crisp, clear viewing experience. The IPS technology allows you the view the screen clearly, even from extreme angles. Exquisite sound is guaranteed with Harman Speakers and Dolby Audio Premium. All in all, the Lenovo Yoga 520 laptop is a nice buy that will do your computing tasks with ease.
LENOVO YOGA 510 2-IN-1 LAPTOP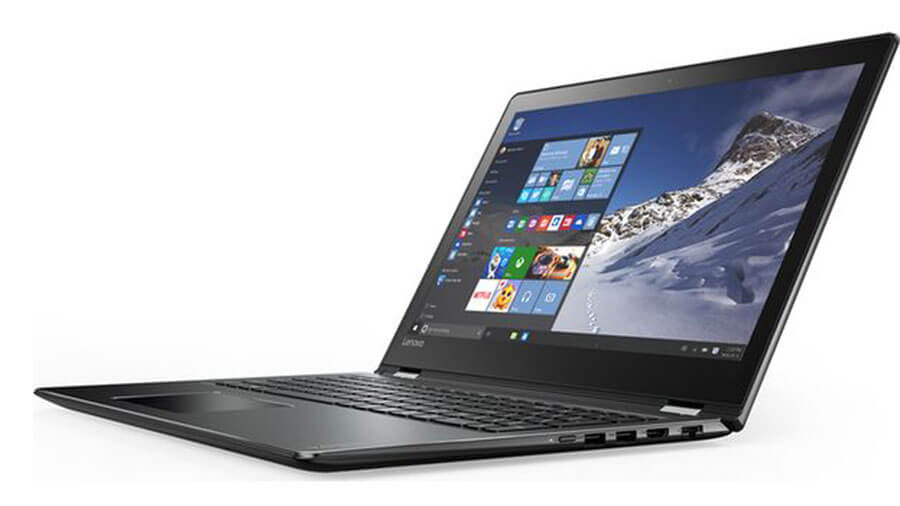 Sporting an Intel Core i3-6006U processor and 4GB RAM, the Lenovo Yoga 510 laptop is a winner by many means. The Lenovo Yoga 510 laptop can be turned into both laptop and tablet because of its 360-degree hinges. The 1 TB hard drive, Windows 10 and an EN-AR keyboard all add up to the glamour of this enticing machine. Thanks to the Intel Core i3-6006U processor, the Lenovo Yoga 510 laptop is effortlessly delivered utmost speed coupled with a shot of amazing features. The Lenovo Yoga 510 2-in-1 laptop is ultra-light at a mere 1.75kg and is only 20mm thin. The 14-inch full HD display delivers an impressive visual experience. With a 1920×1080 resolution, you will get an astounding performance no matter what you are doing, watching a movie, playing a game, viewing images or viewing documents.The ten-point multi-touch technology of the Lenovo laptop delivers an excellent touching experience and impressive responsiveness. If you face any difficulty, there is also the option of contacting your Windows Assistant, Cortana. Thanks to the In-plane Switching Technology, the Lenovo Yoga 510 laptop makes every viewing angle the perfect angle. The rapid charging technology will get you 100% battery refilled in only 2.5 hours.
DELL INSPIRON 5378 2-IN-1 LAPTOP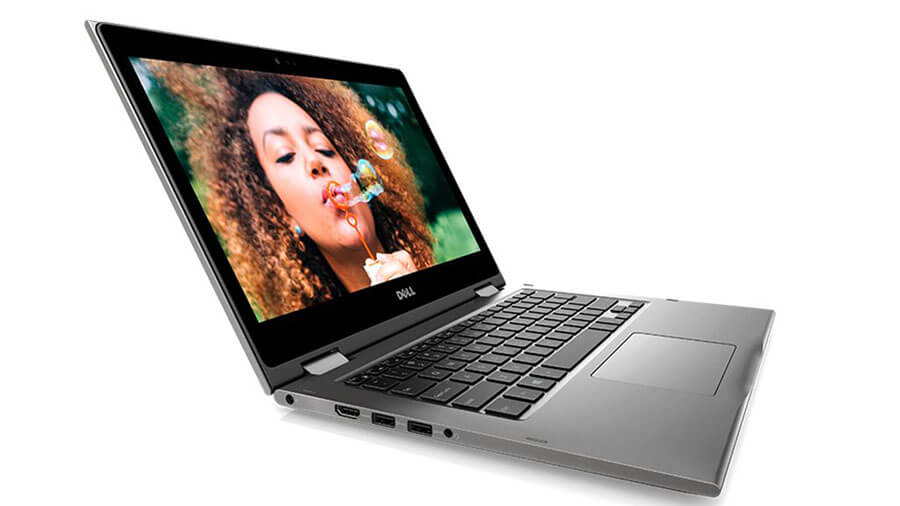 Set in by performance-oriented configuration, the Dell Inspiron 5378 2 in 1 laptop is a fantastic machine to flaunt. Incredibly slim and light, the Dell Intel Core i3 laptop features an Intel Core i3-7100 processor and 4GB RAM which ensures that your tasks are completed well in time. Pre-installed with Windows 10 OS, this Dell Inspiron 5378 2-in-1 laptop matches and manages your work and entertainment with amazing ease. Thanks to the Full HD resolution and its 13.3 inch display, the Dell Inspiron laptop boasts of rich colors, sharp contrast, and high clarity. Featuring a 360-degree hinge, this device can bend, flip, and rotate in four different modes so you can do various things on the laptop with utmost ease. Since this Dell Intel Core i3 laptop is slim and light, you can slip it into your bag and carry it around the world conveniently. The Waves MaxxAudio Pro sound technology produces crystal clear, rich, and immersive sound. As the Dell Inspiron Laptop is loaded with 1 TB capacity, storing movies, apps or your documents will never be a problem. The attractive design with dark gray exterior and a matching smooth, matte black interior gives the laptop a grand look.
HP PAVILION X360 LAPTOP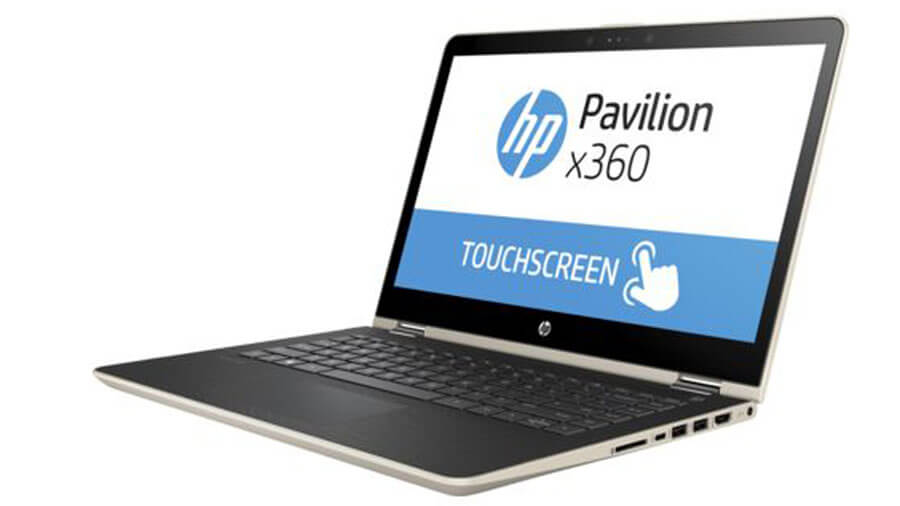 The HP Pavilion X360 laptop combines all the features you want from a laptop and tablet and puts it in one beautifully designed gadget. The 14-inch Full HD touch display delivers breathtaking pictures and a 1920×1080 resolution ensures the classic look the HP Pavilion brings to the table. The included Intel Core i3-7100 and 4GB RAM promises a great system performance coupled with the 1TB storage of the HP Pavilion X360 laptop gives enough space to store movies or songs and work related documents. The comfortable English and Arabic keyboard with the full feature studded Windows 10 promises an exciting time ahead with the machine. Thanks to the 3-cell, 41Wh Li-ion battery, the HP Pavilion laptop promises an amazing battery life of up to 10 hours and 45 minutes which literally means that you can trust this laptop for long meetings or binge-watching of your series. The 178° wide-view angle and the incredibly wonderful 14-inch touchscreen enable you to enjoy the HP laptop from all sides which makes viewing it a pleasant experience. There are two HP speakers with HP Audio Boost feature which promises superb bass and crisper audio quality. Completed with a beautiful gold design, the HP Pavilion x360 2-in-1 Laptop will soon become your favorite in no time.
ACER ASPIRE S 13 S5-371-35U5 LAPTOP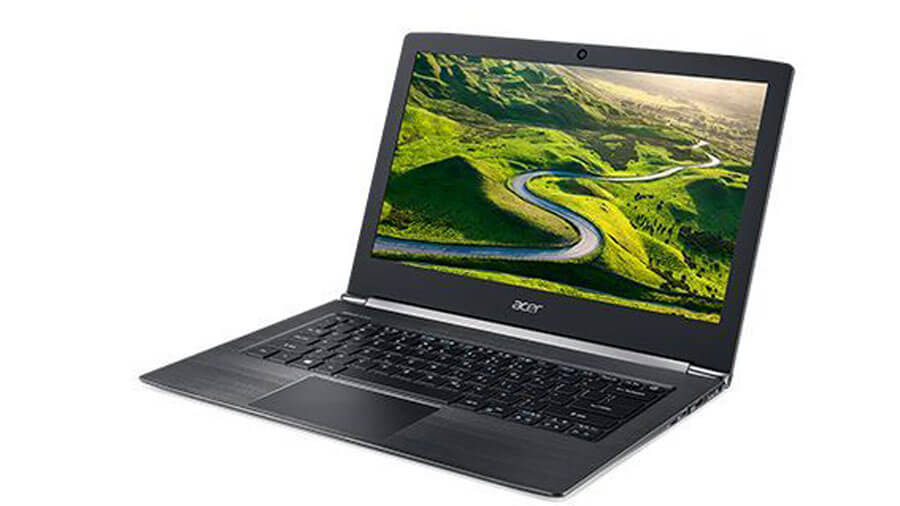 Combining style and performance, the Acer Aspire S 13 laptop is highly portable and convenient to manage. The Acer Aspire S5-371-35U5 Laptop features an Intel Core i3-7100U processor and 4GB DDR3 RAM which helps the laptop in helping run programs quite efficiently. With a grand 13.3 inch HD display that allows you to watch videos, movies, boredom can never hit you if you have the Acer Aspire with you. Thanks to USB 3.0 and two USB 2.0 ports, there are multiple ports for charging and data transfer. With a Windows 10 OS, this laptop is simple to use and learn. The 256GB HDD storage of the Acer Aspire laptop gives enough space for storing all your necessary documents, files, and presentations efficiently and effectively in one place. This Acer Aspire 13.3inch laptop is equipped with a three-cell 4030mAh Li-Polymer battery that gives you the access to work on long hours. Running on the latest Windows 10, this laptop gives you a more productive and versatile user experience. Video chatting and calling will turn out to be incredible with the amazing resolution of 340*480p with a microphone. Weighing 1.3 kg, the Acer Aspire laptop is incredibly slim and lightweight.
HP Pavilion 14-ce0002ne Laptop
The Intel Core i5-8250u HP Pavilion 14-ce0002ne is a 14-Inch Windows 10 laptop. It has a Full HD (1920 x 1080 pixels) screen with an anti-glare display. You can even work outdoors thanks to dynamic screen visibility even in bright sunlight. The screen is embedded with advanced IPS technology that enables the pixels to activate faster for a very seamless experience. The laptop comes with dual speakers and HP Audio Boost technology that renders impressive audio quality. The highly reliable 8th generation Intel Core i5 processor (quad core) gives you very good processing speeds and is complemented by an 8GB RAM. The graphics card capacity is 2GB. Thanks to 1TB storage space, there is no need to worry about how much data and media files you can store. This HP Pavilion laptop is backed by a powerful 3-cell battery and it also features high-speed charging. This good looking gadget has an elegant silver finish which goes really well with the superb design.
Acer Swift 3 SF315-51G-8117 Laptop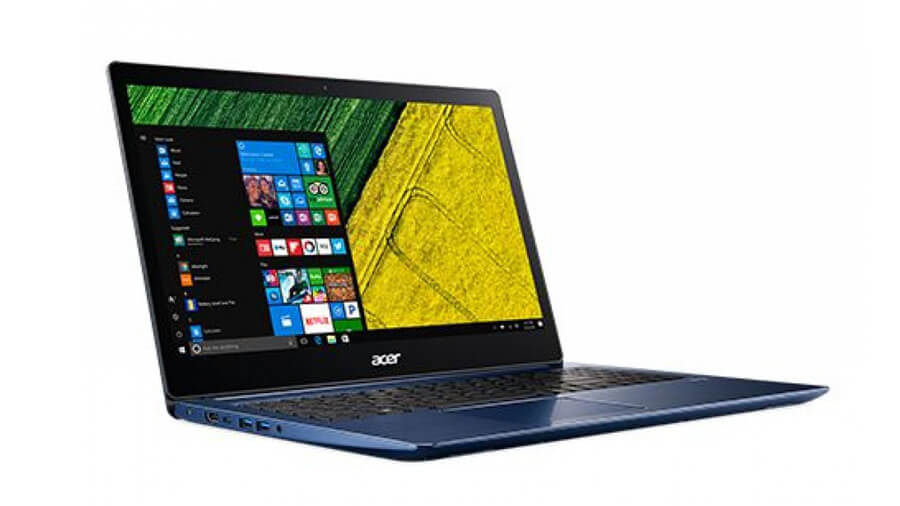 The Acer Swift 3 SF315-51G-8117 is an Intel Core i7-8550U laptop with a 15.6-inch screen. It is equipped with 8GB RAM. With a 15.6-inch Full HD display (1920 x 1080 pixels), this laptop renders crisp and very lifelike visuals and TrueHarmony technology delivers crystal clear audio. The Intel quad-core processor and the 8GB RAM together ensure really fast and lag-free performance. The graphics card capacity is 2 GB. The 1TB solid state drive in this laptop lets you store all your files in one place. Embedded fingerprint reader lets you login superfast and the brilliant backlit keyboard lets you work in low-light conditions. There's also 802.11 ac/a/b/g/n wireless LAN that supports MU-MIMO. 1 HDMI port and 4 USB ports are present for easy connectivity to other devices. The powerful 4-cell Li-ion battery gives 10 hours of battery life. The all-metal body gives this Acer laptop a stylish look and it comes with Windows 10 Home pre-installed.
Acer Spin 5 SP513-51N-50CJ 2-in-1 Laptop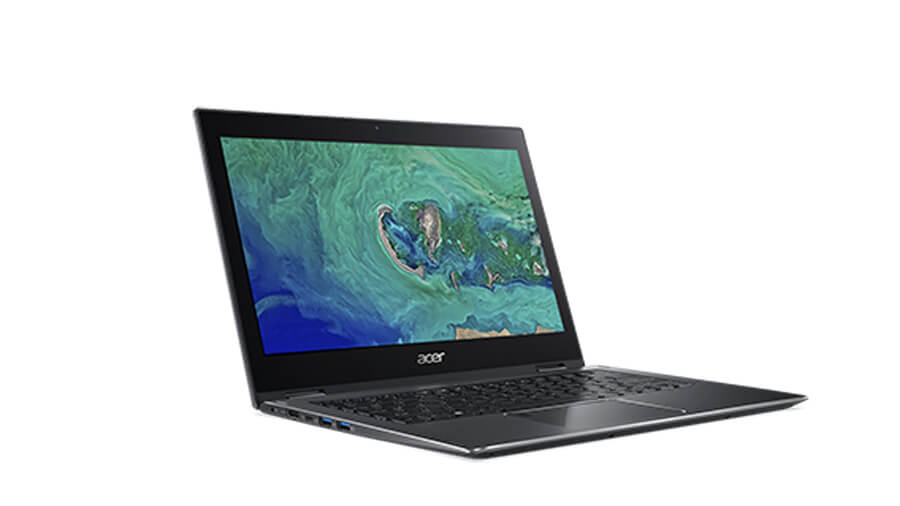 Acer's Spin 5 SP513-51N-50CJ 2-in-1 laptop is touchscreen-equipped and features an Intel Core i5-8250U processor. The 13.3-inch screen (multi-touch IPS LCD) is Full HD and Acer's Color Intelligence™ achieves very bright and crisp pictures. Acer's 360° dual torque hinge provides four different modes for you to enjoy. The 10-point touch feature lets you navigate menus with ease and interact with games. The Intel 8th generation processor and 8GB RAM work well to make this laptop a great multitasker. Hard disk capacity is 256 GB (SSD). The built-in graphics card lets you play games and run video editing software to your heart's content. Windows 10 Home is the installed operating system. This slim laptop, with a battery life of up to 13 hours, is designed for portability. Strategic antenna placement helps maximize portability. Gigabit Wi-Fi connectivity maintains strong and consistent wireless signal. Acer's TrueHarmony and Smart Amplification meet Dolby Audio Premium in this laptop. The front-facing speakers provide great sound.
Asus VivoBook Flip TP410UF-EC003T 2-in-1 Laptop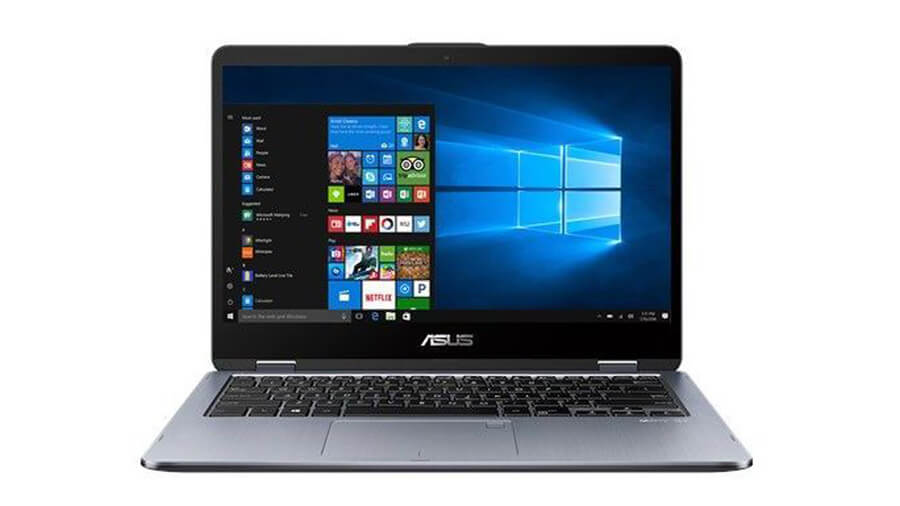 The Asus VivoBook Flip TP410UF-EC003T 2-in-1 is an Intel Core i5-8250U 14-inch laptop equipped with a touchscreen. The ultra-narrow Asus NanoEdge bezel allows the 14-inch Full HD display to fit into a frame that's typically a 13-inch size. The display also features 178˚ wide-view technology, which means that you can view the screen from any angle. The slim and lightweight VivoBook Flip 14 is highly portable. And you can use it as a tablet or a laptop or anything in between. With a 19.2mm profile and an overall weight of 1.6kg, it's one of the most portable convertible laptops around. High-precision touch sensors spaced at 6mm intervals ensure that the subtlest touches are detected by the touchscreen. Asus SonicMaster technology delivers incredible audio. The Intel 8th generation quad-core processor, 6GB RAM and NVIDIA GeForce MX130 graphics card (2GB capacity) let you complete everyday tasks speedily. 1TB hard disk capacity ensures ample space for everything.
Lenovo Ideapad 330s Laptop
Lenovo's Ideapad 330s features an Intel Core i5-8250u processor and a 15.6-inch screen. The battery gives you up to 7 hours of battery life. The Ideapad 330s also offers Rapid Charge (15 minutes charge in power-off mode will give you up to 2 hours of battery life). Windows 10 operating system is installed on the laptop. Full HD resolution (1920 x 1080 pixels) on the 15.6-inch screen (surrounded by super thin 5.9mm bezels) and the wide-angle display together offer a great entertainment experience. With Dolby Audio, the experience is further enhanced. And you can turn up the volume to the maximum without any distortion. There is 1TB storage capacity, so ample space for your documents, photos and movies. The 8th generation quad-core Intel Core i5-8250u processor and the 4GB RAM make this laptop an efficient multitasker. The NVIDIA GeForce GTX 1050 graphics card achieves up to 3 times the performance of previous generation laptops.
Lenovo YOGA 520 2-in-1 Laptop
The Lenovo Yoga 520 is a convertible laptop with an Intel Core i5-8250U processor. It features a 14-inch Full HD screen (1920 x 1080 pixels) and is touchscreen (multi-touch) equipped. The Yoga 520 has a durable 360-degree hinge that lets you easily convert it to tablet mode or tent mode. The Intel Core i5-8250U 8th generation quad-core processor and the 4GB RAM deliver a powerful performance. The laptop runs on the Windows 10 operating system. It has a 1TB SATA HDD that lets you store everything for work and entertainment in one place. The 2GB graphics card ensures that even the most demanding games run smoothly. This highly sleek and portable laptop features an aluminium finish and precision-cut bevelled edges. The battery offers a runtime of 10.4 hours. And it lets you charge various devices even when the laptop is powered off. The lightweight design of this laptop lets you easily carry it wherever you go. The advanced touchpad offers improved control.
Dell Inspiron 13-5379 2-in-1 Laptop
Dell's Inspiron 13-5379 is a convertible laptop with a multi-touch enabled touchscreen. With a combination of Intel Core i7-8550U 8th generation quad-core processor and 8GB RAM, this laptop delivers highly effective performance. The laptop comes with Windows 10 operating system. The infrared camera works with Windows Hello for secure facial recognition login. Hard disk capacity is 256GB (SSD storage). This convertible laptop can be used in four modes: tent, stand, tablet, and of course traditional laptop mode. The 360-degree hinge is rigorously tested for durability and reliability. The backlit keyboard offers excellent visibility even in low light conditions. The 13.3-inch Full HD display (truly wide-angle display with more screen and less bezel) offers great viewing experience. Music and dialogue are reproduced with great clarity, thanks to Waves MaxxAudio Pro audio. You can transfer data securely and at quick speeds – there are 2 USB 3.0 ports, 1 USB 2.0 port, and 1 HDMI port.