Here Are The Best High-End Wireless Routers For A Seamless WiFi Experience
If you are on the lookout for a new wireless router, there is a chance to get afraid of a lot of technical jargons. For the average person, most of those specs won't be all that relevant. All you want to do is to find the best router that suits right for your particular set of WIFI conditions
TP-LINK ARCHER C3200 WIRELESS TRI-BAND GIGABIT ROUTER
Possessing the Tri-Band Technology, the TP-Link Archer C3200 Router incorporates and creates three separate WiFi bands enabling you to connect more devices to your network simultaneously. This is facilitated by the presence of a 1GHz Dual Core processor and three coprocessors. You get a total of 3200Mbps WiFi speed over one 2.4GHz band that gives you 600Mbps, and two 5GHz band that gives you 1300Mbps each. It also employs the use of Smart Connect, a feature that helps devices run faster by assigning them to the optimum band, in order to balance the network demand. The router is equipped with six high-performance antennas that increase coverage area and the stability of your network. The TP Link Archer C3200 Router employs the Tri Band technology to run three separate WiFi channels simultaneously. This router is fixed with six high-performance antennas that stick out the top. These antennas serve the purpose of increasing the range and enhancing the signal stability of your TP-Link Archer C3200 Router. Clubbed with the Beamforming technology, the TP-Link Archer Gigabit Router helps the Archer C3200 locate wireless devices for an improved WiFi coverage. In short, the TP-Link Archer C3200 delivers excellent performance all the time.
LINKSYS EA9500 MAX-STREAM AC5400 MU-MIMO GIGABIT ROUTER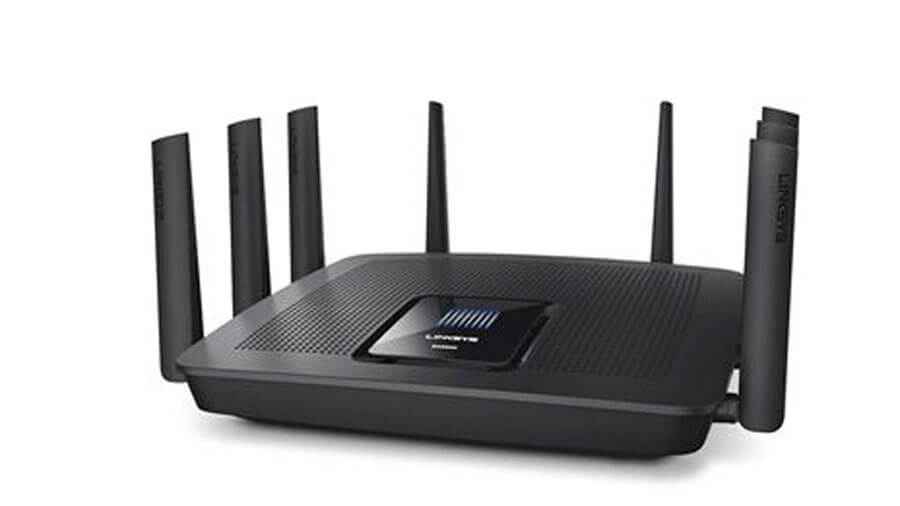 The Linksys EA9500 Max stream AC5400 MU MIMO Gigabit Router is one of the best high speed WiFi routers available in the market. The eight extended antennas give you a wide range and the Tri Band WiFi Technology is instrumental in delivering an amazing speed. The Linksys EA9500 Max stream AC5400 MU MIMO Gigabit Router is equipped with a Max Stream Range Extender to ensure that you have access to the strongest signals. The Linksys EA9500 Max stream AC5400 MU MIMO Gigabit Router employs the very powerful Max Streams' 1.4GHz Dual Core processor to deliver a power packed performance. The device is equipped to handle several high speed data streams at the same time. The Linksys EA9500 Max stream AC5400 MU MIMO Gigabit Router sports eight, adjustable, external antennas that can be positioned to suit your requirements. These antennas on the Linksys wireless router provide full WiFi coverage throughout your home or office, facilitating excellent internet range for your mobile devices. All in all, the Linksys EA9500 Max stream AC5400 MU MIMO Gigabit Router is a fantastic device to have in your home or office to ensure high-speed connection.
ASUS RT-AC5300 WIRELESS TRI-BAND GIGABIT ROUTER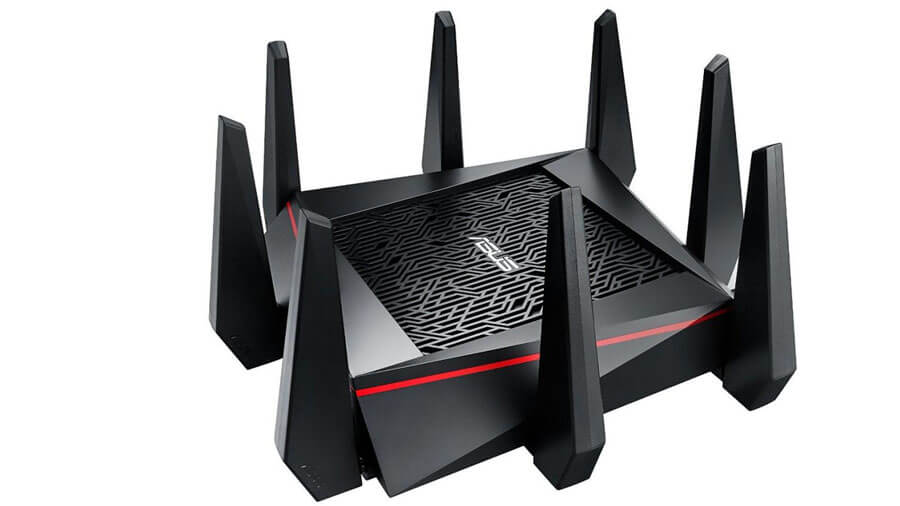 Equipped with the ultra fast 802.11ac module, the ASUS RT AC5300 Wireless Tri Band Gigabit Router takes your wireless network to the next level and boosts WiFi speeds for everyone. ASUS router offers a combined data rate of 5334Mbps to meet a wide range of gaming needs. It also provides Tri band Smart Connect that ensures a fast, stable connectivity option for all your WiFi devices. Its 4 x 4 antenna design with AiRadar Universal beamforming delivers unbeatable wireless signal coverage. If a wired connection is what you desire, then you can connect to any of the four available Gigabit Ethernet ports. Correspondingly, the dedicated link aggregation supports close to 2Gbps wired transmission data transfer speeds, for when a super fast Internet connection is required. The two different 5GHz wireless bands and the single 2.4GHz band work simultaneously to deliver the best possible wireless coverage all over your home. The Asus Gigabit Router lets you enjoy lag free online gaming, 4K video streaming, and file downloading experience on every device connected to the network. Tri Band Smart Connect intelligently moves devices from one band to another based on load and signal strength, ensuring that every device enjoys optimized bandwidth and coverage.
D-LINK DIR-879 AC1900 EXO DUALBAND WI-FI ROUTER
The EXO is a part of a new line of routers from D-Link with an orange-and-dark design and collapsible non-separable antennas. The D-Link AC1900 Wi-Fi Router (DIR-879) accompanies high power flag speakers that will convey extraordinary Wi-Fi to all your Wi-Fi gadgets. With remote double band speeds of 1300Mbps, a double center processor and SmartConnect innovation, the D-Link DIR-879 stays away from interference to convey the speediest wireless speeds, enhanced scope and dependable associations. The DIR-879 additionally accompanies another UI so controlling your system is less demanding than at any other time. You can get online in minutes with the Quick Router Setup (QRS) application. The D-Link DIR-879 is a hearty switch arrangement that will give you a superior flag all through your home. It accompanies four Gigabit LAN ports and one WAN port, which ought to be sufficient for some home clients. It highlights canny QoS, enabling it to recognize the sort of movement on the system and chooses which application to give most priority to. The web interface has been upgraded by D-Link and it is basic and alluring. The D-Link Dualband Wi-Fi router is an impressive device that wins your vote with quite a few attractive features.
ASUS RT-AC87U DUAL-BAND WIRELESS-AC2400 GIGABIT ROUTER
The Asus RT AC87U Dual-band Wireless-AC2400 Gigabit Router enables you to set up a secure and reliable wireless network. The Asus Dual-Band is an ultra-fast 802.11ac WiFi router that has an excellent maximum bandwidth of 2334Mbps. The router comes equipped with four MU MIMO antennas and AiRadar universal beamforming technology, which helps provide a reliable wireless signal in an area of up to 5000 sq ft. The router comes built-in with USB 2.0 and USB 3.0 ports that enable you to connect your printer and storage devices and enjoy up to 10 times faster data transfer rates. You can access, sync, share and stream your data across devices by using the ASUS AiCloud 2.0. It features a classic black color, and has slim dimensions, which enable you to place it anywhere in your home. This router is perfect for a large home and multi-floor buildings. This router provides you with incredible speeds and extensive coverage with more control and security than any other device has to offer. This router also gives you a smooth and vivid video streaming and lag-free online gaming experience. Sporting a four antenna design, this router provides you with a coverage area of 5000 sq ft so that you can enjoy a clear signal in different areas of your home. This router comes with one Gigabit WAN port, five 1000 Mbps Gigabit Ethernet LAN ports.
D-Link DIR-2660 AC2600 Smart Mesh Wi-Fi Router
Smart homes needs a smart router, which means you need a Mesh-Enabled Smart Wi-Fi Router. The D-Link DIR-2660 smart Mesh Wi-Fi Router is a highly recommended one. Mesh Routers are a real deal for larger homes. You don't have to install a bunch of wireless extenders to get high coverage network. If necessary you can even extend and customize the wireless AC network to increase the coverage of your home or office by adding compatible D-Link access points. Thanks to its dedicated 880 Mhz dual-core high-power processor, 128 MB of flash memory and 256 MB of RAM, you can enjoy buffer-free gaming, fast Web surfing etc. You can automatically optimize QoS with a built-in speed test and an automatic firmware update system ensures the best protection. This intelligent home router has built-in McAfee protection for every device on your network. Also, the integrated voice assistant compatibility for Amazon Alexa and Google Assistant lets you control your network with voice commands.
ASUS RT-AC88U WIRELESS AC3100 DUAL-BAND GIGABIT ROUTER
The fastest and most stable wireless internet connection is here with the powerful ASUS RT-AC88U Wireless AC3100 Dual-Band Gigabit Router. The Asus Dual-Band Gigabit Router looks sleek and flaunts a very futuristic design with an intense mix of black and powerful red tints on the antenna. This Asus dual-band router can give you speed up to 3167 Mbps for low-latency online gaming. It also lets you stream 4K UHD video playback smoothly. This stunning dual-band router equips the latest NitroQAM technology that intelligently boosts the WiFi speed for everyone using your busy network. Take your wireless internet to the next level and enjoy impeccable gaming speeds and beautiful 4K streaming. The RT-AC88U is a groundbreaking and incredibly powerful device that will instantly transform your home into a smart home. Get to know more about what makes this ASUS router the best available option out there. Compatible with all kinds of platforms from PCs to mobile devices and supports all operating systems including Windows, Mac OS and Linux. The ultra-fast 802.11ac dual band WiFi connection that provides you with speeds up to 3167Mbps using the NitroQAM technology (1024-QAM). All in all, the Asus Dual-Band Gigabit Router scores some impressive points with its performance and features.
D-Link AC2600 MU-MIMO Wi-Fi Gigabit
A must-have for anyone with multiple devices. The DIR-882 AC2600 MU-MIMO Wi-Fi Router features MU-MIMO (multi-user, multiple-input and output) technology powering it, which means that more than one device can be on the Internet simultaneously without sacrificing speed. The devices don't have to wait in turn to receive data from the router. You can stream, game, browse and transfer even large files within seconds. The router supports Wi-Fi speed up to 2533 Mbps (800 Mbps in 2.4 GHz and 1733 Mbps in 5 GHz). It sports both USB 3.0 and 2.0 ports allowing you to stream videos, music, photos etc. It also features one Gigabit Ethernet WAN port and four Gigabit Ethernet LAN ports. Its powerful Dual-Core Processor boost wireless and wired performance. The 4 high-powered external antennas enhance the coverage and the 4 x 4 data streams for increased throughput.
D-Link DIR-895L Wireless AC 5300 Tri-Band Ultra Wi-Fi Router
You need a powerful Router if you are a serious gamer. The D-Link DIR-895L Wireless Router is designed for gamers. The NitroQAM technology offers seamless Wi-Fi Experience for 4K streaming as well as for uninterrupted gaming. Smooth streaming, low-latency online, and wireless speed of 5300 Mbps, all the features a gamer in you expect with the NitroQAM (1024-QAM) technology. It offers the widest coverage with SmartBeam technology and also automatically improve the coverage by directing bandwidth to your devices when you move around your home. With the Smart Connect technology, the Wi-Fi Router chooses from the three Wi-Fi bands and automatically connects your devices to the appropriate Wi-Fi band for an optimal wireless experience. The D-Link DIR-895L comes with built-in optimization tools, like QuickVPN, iQoS, internet monitoring and parental controls. It support MU-MIMO (Multi-User Multiple Input Multiple Output) technology that allows multiple devices to get high-bandwidth Wi-Fi signal simultaneously. This router is also compatible with various platforms ranging from PCs to mobile phones, supporting different operating systems.
Dlink EXO AC1750 AC1750 Smart Mesh Wi-Fi Router
A budget-friendly router that got more features than some expensive routers. The EXO AC1750 Smart Mesh Wi-Fi Router is a feature-packed router that you just can't deny buying. Enjoy combined Wi-Fi speeds up to 450 Mbps (2.4 GHz) + 1300 Mbps (5 GHz) plus features like advanced Wi-Fi mesh technology, powerful McAfee protection, and voice-based Smart Home Wi-Fi control for your Smart Home. It's powerful 880MHz dual-core processor handles whatever you throw at like 4K streaming, online gaming etc. The Lightning-fast Gigabit wired connections also give you the blazing-fast speeds. It features MU-MIMO technology, allowing multiple devices to receive data simultaneously. It also features McAfee protection, parental controls, customised profiles, internet schedule setting, block/ allow internet access etc. The built-in Wi-Fi Mesh that extends throughout your home network with many advanced features connect every device effectively. These Routers has integrated Internet Test that lets you measure the speed of your Router-to-ISP connection with the D-Link Wi-Fi app.
Asus RT-AC86U Dual Band Wireless Gaming Router
Asus is a well-known brand especially when it comes to gaming products mainly laptops. Asus also produces several high ends routers. The Asus RT-AC86U is one of the best wireless gaming routers you can buy right now. Its stylish design looks familiar if you have already used any of the Asus gaming products. This AC2900 dual-band Gigabit WiFi Gaming Router with MU-MIMO technology, 1.8GHz 64bit dual-core processor, AiMesh for mesh wifi system, WTFast game accelerator makes it one of the most powerful routers. AiProtection provides built-in 24/7 protection from external attacks and threats even before they reach the network. The router is perfect for people who always complain about game lagging and constant disconnecting. It provides lag-free online gaming, 4K UHD streaming with WTFast Game Accelerator and Adaptive QoS. It supports ASUS AiMesh which is an innovative new router technology that creates a home-based Wi-Fi mesh system using multiple ASUS routers. In addition to solid performance and features, the Asus RT-AC86U also features intuitive ASUSWRT user interface which gives you access to 3-step web-based installation process and a lot of advanced options. Finally, the RT-AC86U has four Gigabit LAN ports, USB 2.0 port and USB 3.0 (USB 3.1 Gen 1) port.
ASUS RT AC68U Wireless-AC1900 Dual-Band Gigabit Router
Probably the first thing you will notice about Asus RT AC68U is the sleek design. It stands upright showing its diamond patterns. Let see but looks are not what we essentially look for in a Router. Powered by the 5th generation 5G WiFi technology, the RT-AC68U has superfast Gigabit wireless speeds. Furthermore, the TurboQAM technology boosts up the power of the 2.5G WiFi connectivity. It boasts a fast 800MHz dual-core processor that make sure that the Router works efficiently. The Asus AiRadar adds strength to the weak signals through the beamforming technology for a stable wireless network. It features three antennas, a gigabit WAN port for connecting to your modem, four gigabit LAN ports, a USB 2.0 and 3.0 port. The intuitive Asus Router App allows you to set up your router, manage network traffic, diagnose connection issues and even update firmware, advanced parental controls etc.