Cheap And Best Android Tablets For Your Kids To Help Them Learn And Play
Tablets are easily one of the most widely used consumer devices after a smartphone, and while there are many high-end tablets that could even potentially replace a laptop, there are many users who don't want a model that offers a lot of performance at an expensive price tag. This is particularly for those who want to be a cheap tablet for their kids without spending a lot. Their only requirements are to use a device that features a large screen and can be carried around without worrying about the weight. If you are looking for an affordable model, then we have lined up some of the best cheap tablets in the UAE.
Lenovo Tab 3 710i Tablet
There is no doubt that 7-inch tablets were one of the most widely preferred screen sizes in the past that had sold very well for many brands. However, there are few companies now that make tablets in this screen size. The Lenovo Tab 3 710i comes with a very modest 600 x 1024 screen resolution and the screen panel used here is an IPS display that features good viewing angles. The device comes with a modest MediaTek quad-core processor and supported with 1GB RAM. Normally, while this kind of configuration is very low, the tablet is more suited to use for younger children as parents will be able to keep them occupied during the holidays without spending much. The front camera of the tablet consist of VGA sensor and the rear camera features a 2MP shooter. The tablets weigh only 300g and the built-in battery features a capacity of 3450 mAh. Another unique feature of the tablet is that its splash-proof with IP52 rating, which is one more reason why the tablet is even suited for kids. There is also a multi-user mode feature that allows you to personalize each profile and a special kids mode with safe web browsing lock for the children.
Samsung Galaxy Tab E SM-T561
The craze of 9.7-inch tablets started since the launch of the Apple iPads and thanks to its special screen ratio, this kind of configurations are more preferred for reading and browsing. Many Android tablet manufacturers followed the same principle. However, Samsung made some much closer and that's the Galaxy Tab E with a 9.6-inch display. It's small and weighs only 490g. With extreme budget in mind, the screen has a modest resolution of 1280 x 800. While the device may have launched with the old KitKat update, recent firmware releases are based on Android 7.0 Nougat update for some regions. The quad core processor is decent enough for some modest work, along with 1.5GB of RAM and 8GB of internal storage. The front camera that can be used for your video calls is 2MP with an aperture of F2.4 and the rear camera is 5MP with F2.2 aperture. Users will be able to record a modest 720 videos at 30fps. There is a large 5000 mAh battery on the base model, however, there are variants with a larger 7300 mAh battery. The tablet also features 3G functionality for online connectivity on the go via its MicroSIM slot. There is also a dedicated microSD card slot for expanded storage.
Lenovo Yoga Tab 3 YT3-850F Tablet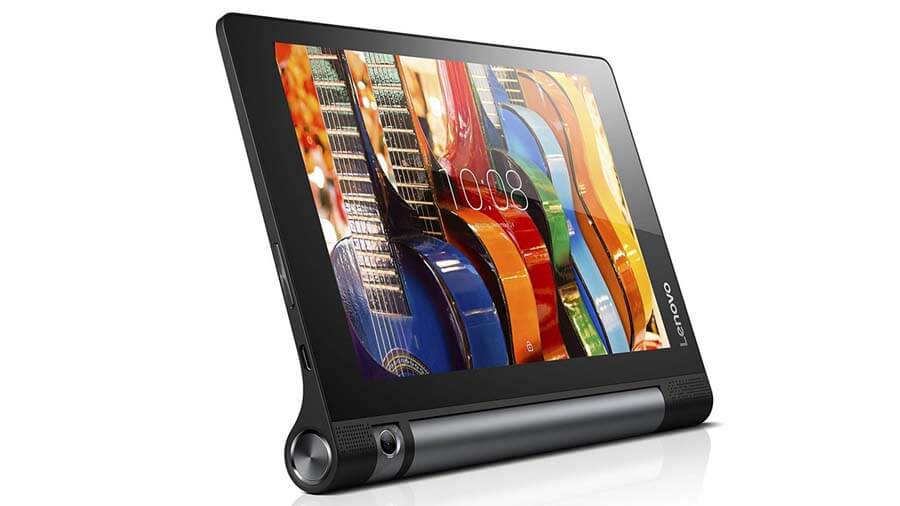 This is by far one of your favorite recommendations for cheap tablets. The distinctive feature of Lenovo Yoga tablets is that they come with a stand that lets users keep the tablet in a standing position to watch movies or other programs and kind of resembles the way the Microsoft Surface tablets work. The Yoga Tab 3 in this case, features an 8-inch screen with a screen resolution of 1280 x 800. The weight of the tablet is 472g. The device is powered by a quad-core processor and supported with 8GB RAM onboard that's enough for moderate multitasking. The in-built memory here is 16GB and the color of the tablet is black. The kickstand not only allows users to keep the tablet in a standing position, but also hold it like a book, tilt it while standing or rest it on the table surface, or also hang the tablet on the wall. This kind of positioning of the tablets helps better if you are watching movies, or while you work out or scroll through different recipes while you cook. The tablet also features dual front-facing speakers with Dolby Atmos for an immersive audio experience. The battery comes with a capacity of 6200 mAh.
Samsung Tab A SM-T585 Tablet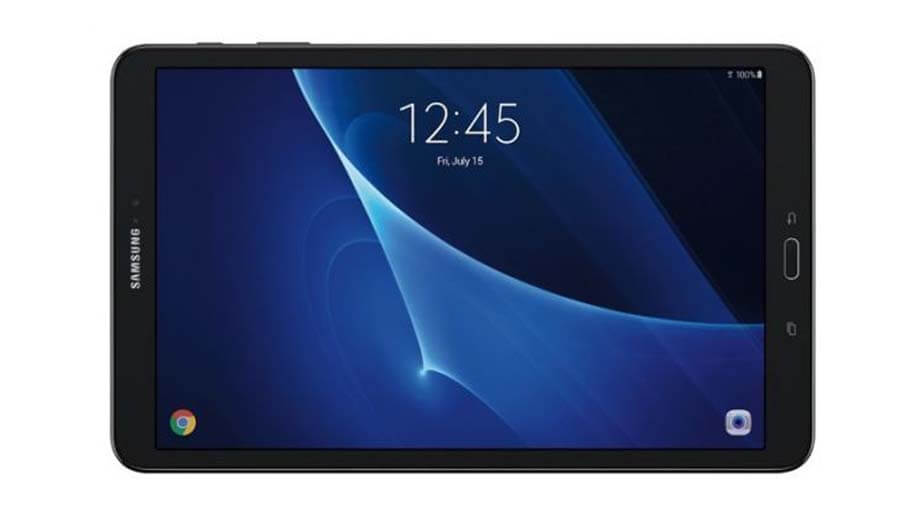 If you're looking for a large-sized tablet with respectable performance and screen resolution, then consider the Samsung Galaxy E SM-T561. While it may have released a bit back, the tablet is still worthy to be mentioned among the cheapest tablets. The display is PLS LCD panel with 10-inch of screen estate and features a resolution of 1200 x 1920. The device runs on Android 7.0 Nougat OS and the tablet is powered by the Exynos 7870 Octa-core processor that's capable of handling most of the general multitasking needs of the average user. And aiding the processor is 2GB RAM with 16GB of internal storage. If you wish to have more, you will be able to insert a microSD card for storage expansion. The primary camera module on the rear side consists of an 8MP image sensor with f1.9 as its aperture that should help a bit in low-light shots. The maximum video resolution that can be recorded is 1080p videos at 30fps. The front camera for selfies and video calls is supported with a 2MP image sensor. There is a 3.5mm audio jack so users will be able to use their headphones to watch movies or hear the music. The battery that comes with the tablet features a capacity of 7300 mAh.
Android Tablet for Kids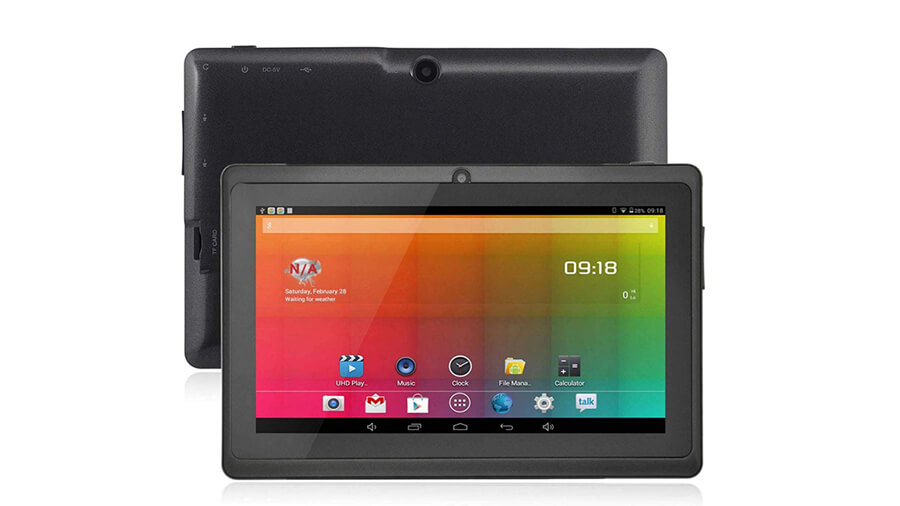 The best tablets for children are those which can help them learn and play. This one does just that. With a 7-inch LCD display that offers a 800×480 resolution, the tablet is a perfect solution for your child's needs that gets the job done without tiring the eyes. Equipped with an A33 quad core CPU and up to 1.3GHz CPU frequency, the tablet supports literally thousands of apps ranging from games to social media. Capable of charging itself fully within two hours, the tablet also has the newest Androud 4.4 Kit Kat camera and built in speakers that can help your tiny tots hear everything with the clarity it deserves. The tablet also comes with technology that can support external hard disks, digital cameras, card readers, keyboards and mouses. It also supports a series of languages, from Afrikaans to Croatian.
Ctroniq KinderTab K9 Kids Tablet
This kids' tablet uses the perfect combination of fun designs to whip up the magic that kids need. The tab comes at dimensions of 197 x 125 x 11.5 mm, that makes it easiest for children to hold and enjoy. Available in the eternal kids' favourites of blue and red, the tablet has a 7-inch touch screen sheathed within a kid-proof soft protective case. The screen offers a startling resolution of 600×1024 pixels. It even comes with a rear and front cameras 2 megapixels and 0.3 megapixels respectively. The KinderTab comes with WiFi support and has 8 GB of internal storage. The device, which has a 1 GB RAM that ensures smooth running, comes with a Quad Core processor. Its highlight, of course, is the iWawa kids app which comes pre-installed and makes this tablet one of the most intellectually stimulating ones you can buy for your kids' entertainment and education.
I-Life Kids Tab 4 Tablet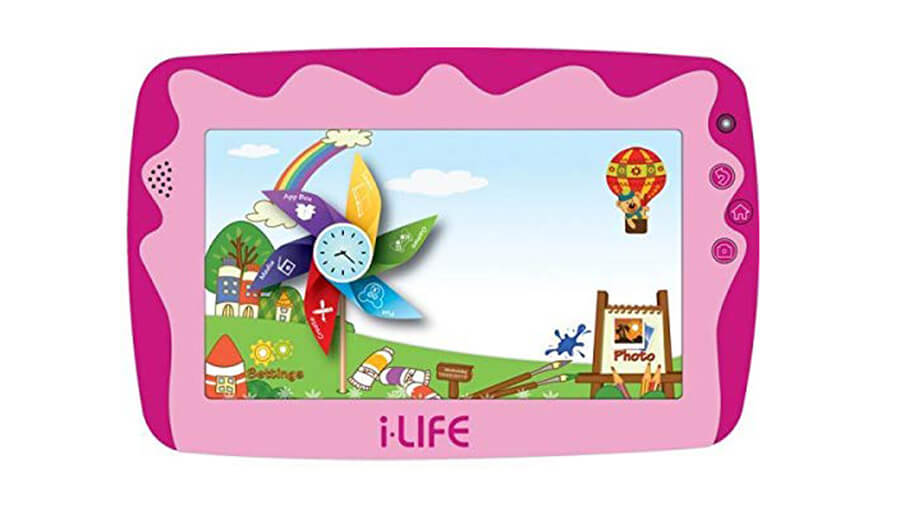 This is a tablet which will trigger your kids' enthusiasm without straining his or her eyes. Combining cutting-edge parental control systems with adorable features that will make it the favourite of every child, the device comes in a 7-inch touch screen model that displays 1024 x 600 pixel pictures. It is packed with the latest technology, like the ARM Mali 400MP2 GPU that enables even those games that demand the most complex of graphics to come alive with the aid of a 1.2 GHz Quad Core processor. An internal storage capacity of 8 GB makes this tablet the home for all the apps your kid can think of. In addition, a 512 MB RAM gives it the smooth functioning it needs. The tablet also has a 2 megapixel rear camera and a 0.3 megapixel front one. What makes it a special favourite for children is its gliding pink finish!
Iconix C703 Kids Tablet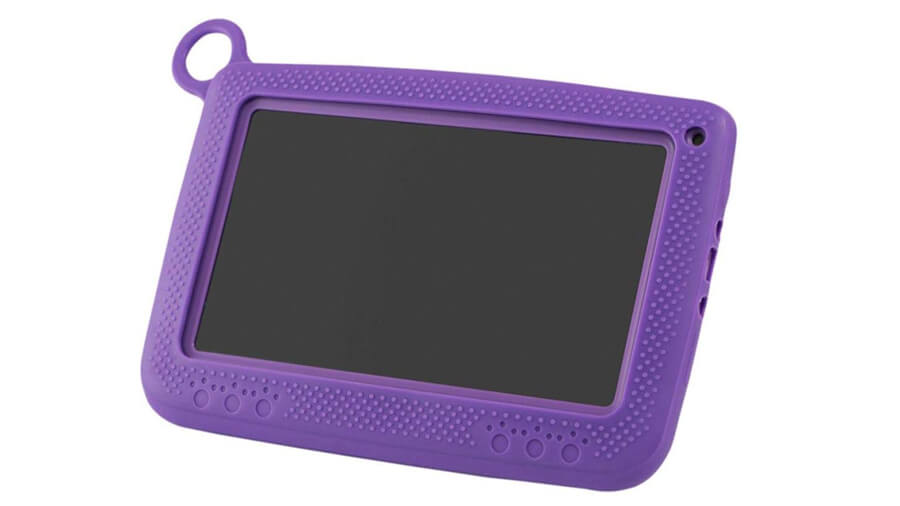 It's fun, it's efficient and you never need to worry about it cracking, with its awesome safety system in place. The Iconix tablet comes with a single core processor that gives it enough efficiency to run for hours. Run on Android, the set is equipped with a battery capacity that ranges between 1000 and 2000 mAH. With an enviable RAM size of 512 MB, the tablet runs smoothly and makes your kids' learning and gaming experience all the more fun and educational. The tablet has an LCD display and comes fitted with a rearview camera which has a resolution of 2 to 5 megapixels. Its front camera is a neat feature which offers less than 2 megapixels of resolution. The tablet's 7.9-inch screen is perfect for optimal viewing by your child. With a display size of 7 inches, little is lost between the edges and the actual display.