Best Touchmate Tablets In UAE
A Great Tablet Brand Offering Quality Tablets
This is a very powerful tablet and incorporates power of a computer in a powerful sleek, compact, portable frame. Many of its users have very kind words for its performances and design. It is one of the fastest rising devices in the tablet world. The Touch mate tablet offers a commendable entertaining experience, dependability and excellency. Its unique features continue to mesmerize its users who continuously loving the device. Manufacturers of Touch mate tablet have kept constant improvement of the device to the amazement of the users. If you wish to own a tablet, then this device should never escape your consideration it really offers value for money. With these excellent features, touch mate tablet offers indispensable service and prestige to its users. You need to own one from online retailers because this device serves you in both your social life and business life.  Manufacturers of Touch mate have continued with investment in research and innovation to improve the device and making it competitive in the highly changing market of tablet devices.
Touchmate TM-MID1020W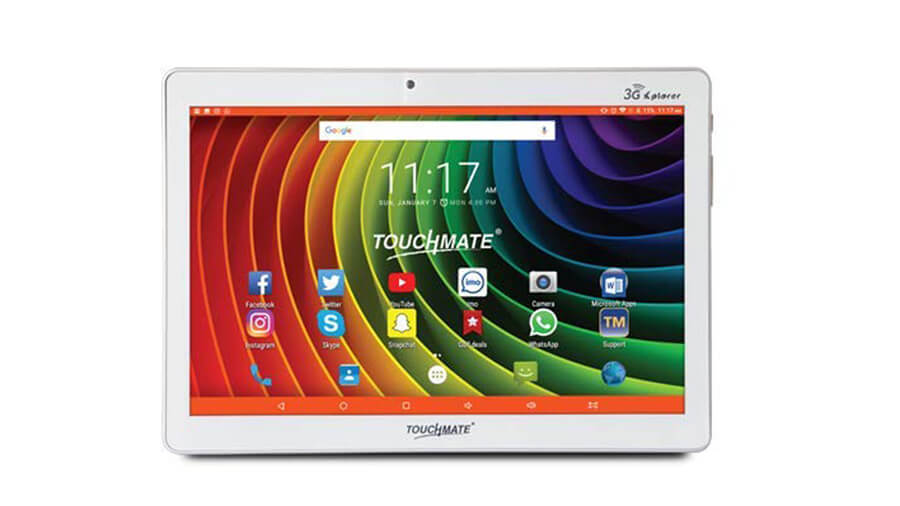 This 10-inch tablet is best suited for those who need a cheap tablet but cannot compromise on quality. It is a complete value-for-money offering in this price segment. The device has 10.1-inch HD Capacitive Multi-Touchscreen with a resolution of 1024 X 600 pixels. It offers super clear viewing experience. It has a dimension of 26cm(w) x 16.8cm(h) x 0.8cm(d) and weighs about 510grams. Speaking about the specifications of this device, it is powered by a 1.5 GHz Quad-Core high-speed CPU paired with 1 GB RAM. It provides 16 GB built-in memory for storage which can be further expanded up to 32GB via a microSD card. It sports 5MP rear camera and 2MP front camera. The device sports 5000 mAh Li-ion Poly Battery that lets the device stays juiced up to 6 hours while watching videos and up to 10 hours for listening to music. It comes with a built-in G-Sensor for 360º rotate for easy all side screen view.
Touchmate My Little Pony
Cute tablet for little ones. My Little Pony from Touchmate has 7-inch capacitive 5 points multi-touch super sensitive screen. It has got a phone calling feature, and 3G wireless internet access by inserting 3G package sim. It is powered by1.3GHz Intel quad-core processor for quick browsing, gaming and video playbacks. It runs on Android 5.1 operating system and specifically designed with easy GUI for quick entertainment experiences. It sports a 5MP rear camera and 2MP front camera. Since this tablet is specifically made for kids it is equipped with built-in parental controls.
Touchmate TM-MID794CB
The Touchmate TM-MID794CB is an Android tablet you can get under 600 AED. The 7.0-inch capacitive 5 Points TFT LCD multi-touch-screen with 1024 x 600 resolution. The tablet is powered by a 1.3 GHz Quad-Core high-speed cortex CPU paired with 1 GB DDR3 RAM. The tablet offers an 8GB of internal storage, which can be further expanded up to 32GB via a microSD card. It comes preloaded with Android 7.0 Operating System along with Google Apps and unlimited internet contents. Connectivity features include Bluetooth 4.2, Wi-Fi, GPS, and a micro-USB slot for data transfers. The device is juiced by a 4850 mAh lithium polymer battery, which delivers up to 8 hours of continuous usage. Camera features include a 2MP front camera and 2MP rear camera. Other features include a built-in Stereo speaker and microphone, G-Sensor for 360˚ gravity induction for all side easy view.
The Most Adorable Features
The Touch mate tablet is offered in different versions and with different features and prices, it's better as consumers to know where your interests lie. You need to know the different features and series of a Touch mate tablet to make a better decision. With multiple releases of highly advanced devices Touch mate continues to ensure that its presence is felt in the tablet market. The most likable features include windows 10 operating system, highly portable 7-inch display, Bluetooth, Wi-Fi enabled, 3G and 4G enabled I resolution front and rear cameras and so on. The most popular versions include 7 inch 4G calling Tablet 16GB , Transformer 7 tablet, MID730  white, MID730 blue, TM MID793 3H. Online retailers are able to provide the consumer with a variety of Touch mate products at differing prices. To own the best Touch mate tablet, you need to visit the most popular online retailers and make a careful analysis on the best that strikes your imaginations. The market is there with what you need, the choice is yours, act now.
Why Should You Visit WOWLYST.COM?
It is true many quality tablets are available on the market and you need to buy one to serve your needs and purposes. One thing you should know is that many of the retailers may want to get your money without offering quality products. The greatest weapon in your arsenal is the information about the prices that the retailers offer on different Touch mate tablet in UAE. To get this information, you need to visit every site of all the popular online retailers and sometimes you may never get to know them all. Think of getting this information from one site! Well, WOWLYST.COM is one such site that you can use to make comparison Touch Mate Tablet prices in UAE offered by different online retailers. Thus make use of WOWLYST.COM to get the best deal in your purchase of a Touch mate tablet in UAE.