Best Samsung Televisions in UAE
Samsung Televisions and the Current Market Trends of the UAE
Samsung is a renowned brand that is highly known in different parts of the world for the provision of different kinds of electronic products. The company offers a complete variety of different types of household electronic products but it is especially known for its TVs. Some of the best TVs are manufactured and marketed by Samsung and are being used all across the world. In comparison to all other brand names, Samsung is known to be the strongest and most trusted TV brand name in the whole world. The reason behind this kind of popularity is evident from the quality that the company has been instilling in its TV sets. So just like the rest of the world, the overall market in the UAE is very favorable to Samsung when it comes to TVs. It won't be wrong to say that Samsung Television in UAE is known as a benchmark in the existing TV market. People always prefer buying their TV sets as they believe Samsung offers the best pictorial quality, the best circuitry and the best after sales services as well.
 Some Prominent Features Offered by Samsung TVs
Samsung offers a complete range of different kinds of HD TVs including LCDs, LEDs, OLEDs, QLEDs, curved TVs, Smart TVs, 3D TVs and many others. Regardless of the type of TV you are interested in, you can always find it under the brand name of Samsung. The new range of TVs launched by Samsung incorporates full HD screens with a resolution of 4K while the supporting features are pretty high end at the same time.
The Smart TV series offered by Samsung is powered by the Android operating system. In addition to offering an HD resolution of 4K, these TVs offer a lot more than any ordinary TV normally has to offer. They include a number of different applications that allow their users to do what they could never do before. Using these high-end TVs, you can connect to the internet, play different games, watch different YouTube videos, communicate with your loved ones over Skype and do a lot more than you used to do with your old TV.If you are a fan of the latest technology in TVs, you can always turn to the QLED series offered by Samsung. It incorporates the latest advancements and offers the most ultimate TV viewing experience that you could ever experience in the present day TVs.
Samsung 65 Inch QLED 4K Curved TV – 65Q8CNA (2018)
Enjoy pure entertainment with Samsung 65Q8CNA QLED 4K curved TV. It has 65-inch QLED screen with a 4K resolution which offers excellent picture quality. The TV commands the edge of the room, though in an exquisite way. There is a super thin bezel, so it's all screen which is perfect for a cinematic viewing experience. The 4K gives you around four times the current HD resolution on your display, and HDR improves those pixels look. No matter the time of the day, the Auto Depth Enhancer adjusts the contrast of every zone in the picture to enhance the sense of depth and contrast. The sound quality is amazing as it features Dolby Digital Audio Plus technology and set of woofer and speaker for 3-dimensional sound. You can connect multiple smart devices to the TV using its SmartThings technology. It has 4 HDMI ports to connect multimedia devices, 3 USB ports and Ethernet connectivity. This TV has a silver and black finish which perfectly blends any home.
Samsung 65-inch Series 7 4K Ultra HD LED Smart TV – UA65MU7000KXZN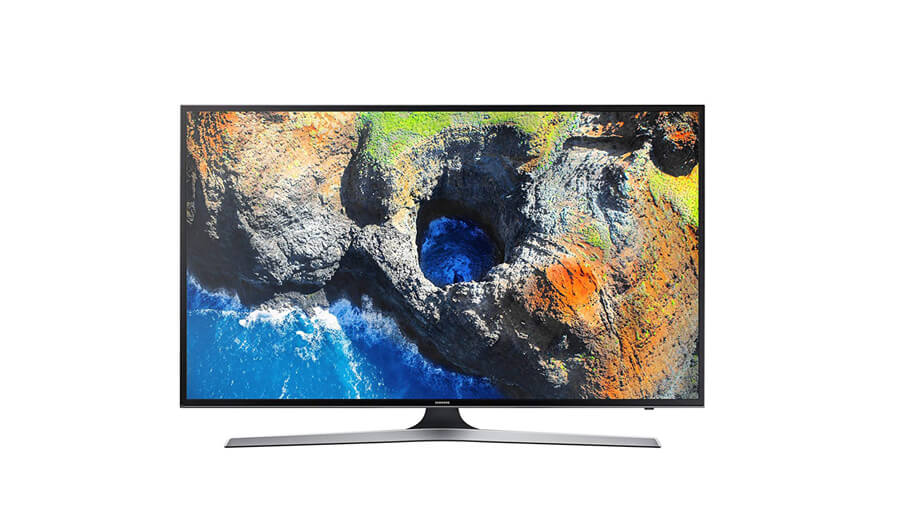 A midrange 4K TV having premium features. MU7000 Series is available in four screen sizes: 40, 49, 55, and 65-inch. The first thing to note about the design is the integrated stand. The model has feet toward the edge of the display and doesn't use a central pedestal stand. It has panels on the back to hide the cabling and connections. It's minimal in the bezel department for a clean and modern look. As far as the connections are concerned, there are four HDMI slots on the One Connect box, which will be the mainstay of your connections, and all support 4K HDR (high dynamic range) so you have plenty of choices for attaching the latest Ultra-HD devices. One of the HDMI is ARC enabled to cater for audio, plus there's optical audio for those wanting to connect to older AV kit. The MU7000 comes with two remotes, the standard all-the-buttons remote and a smart remote. The latter comes into its own with Samsung's new setup process, which is now probably the slickest you'll find on a modern TV.
Samsung 50 Inch 4K UHD Smart LED TV – 50KU7000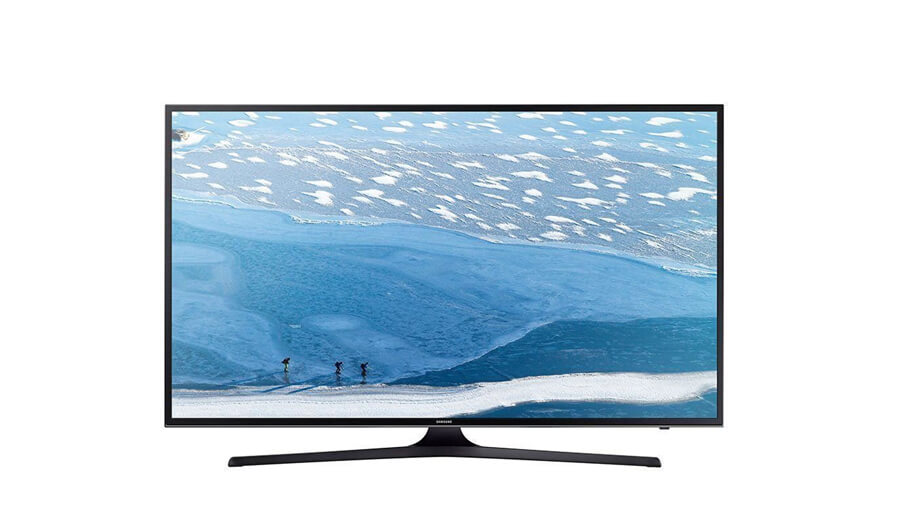 Samsung KU7000 Series 7 is a UHD 4K TV from Samsung, available in screen sizes: 43, 50, 55, 65 and 70 inches. These are high-quality 4K/UHD TV that possesses premium picture quality. The KU7000 Series 7 has an excellent design with a half inch border charcoal black matte frame surrounding the screen. The main features of KU7000 Series 7 are Purcolour and HDR technology. HDR guarantees deeper blacks and brighter whites. Purcolour technology expresses a wider range of colours and shades that are close to real life. Thus, giving us astounding colours and shades that are refined and richer. The 4K UHD brings out vivid details and with 3840 x 2160 pixels, everything looks better. The Smart Hub feature provides a single access point to Live TV, Over The Top (OTT), Games and more. The powerful Quad Core Processor speeds up the TV responding to commands and running apps instantly. You can enjoy multitasking with the Multi-Link Screen. Other features include built-in Wi-Fi, ConnectShare to help you watch a variety of content by just plugging your USB or HDD into the TV.
 Make Comparison of Samsung TV Prices at WOWLYST.COM
In order to keep the Samsung TV sellers from making you pay more, we at WOWLYST.COM provide our visitors with the great opportunity to make a thorough comparison of the Samsung Television prices in UAE offered by all the popular online TV retailers. As a result, you get to find a Samsung TV of your choice while being able to purchase it from a vendor that offers the best possible deal in the entire UAE market.