Best Canon Digital Cameras in UAE
Canon Digital Cameras in UAE
Canon is a well-known company and is very famous especially for manufacturing the best digital cameras. The company offers the most renowned DSRLs in the industry these days and is getting more and more fame for offering the best quality features with an outstanding quality. There are different models of the cameras offered by cannon like Canon EOS 650D, Canon Power shot S200, Canon Power Shot SX700 HS, Canon EOS 1D Mark 4, and the Canon EOS 5DS R. The online service provider WOWLYST.COM always offers the best prices from the major retailers of the United Arab Emirates over the web. It allows the users to keep on comparing the Canon Digital Camera prices in UAE. The most famous retailers on the web in UAE are Amazon.ae, Jumbo.com, Carrefour Online, Noon.com, etc. you can easily compare of the best Canon Digital cameras prices in UAE and then choose the one which is the most suitable for you.
Features and Specifications:
The cameras offered by Canon are considered to be the old-line leaders of cameras in the photo industry. They cover a wide range from a beginning level point and the shooting modes to the most professional SLRs considered being at the top of the industry of cameras. There are two major product lines in which the Canon cameras are supposed to be divided. They are the Canon EOS and the Canon's Power Shot for the designs of point and shoot. In the previous year, Canon also answered the challenges of a number of cameras that were mirrorless with the help of its Canon SL1. This camera has the functionality that it packs up into its tiny package from the Canon T5i. Canon also has introduced the revolutionary technology of autofocus while shooting any videos. This price range of a camera offering this functionality would definitely be high. It is offered in 70D.
Models:
Canon 5D Mark IV
A top performer in all sense. Canon 5D Mark IV most advanced, and versatile Canon EOS 5D Mark IV camera, a brilliant device that allows you to take high-quality pictures under all conditions. The EOS 5D Mark IV camera features a 1.62 million dot, low-reflection 3.2-inch Clear View LCD II monitor for bright, sharp display in a wide variety of shooting situations. There's a customizable quick control screen that adds flexibility and convenience for users, who have specific preferences. The EOS 5D Mark IV offers a higher-resolution sensor with Dual Pixel autofocus, 4K video capture, an upgraded AF system, a touchscreen, improved weather sealing, built-in Wi-Fi/NFC, an interval timer, and GPS. The 30.4MP CMOS sensor, along with the Digic 6+ processor makes it ideal for a broad range of applications with its remarkable high-resolution abilities. On the performance front, the camera is good at capturing still pictures as well as 4K video clips, suitable for significant post-processing, retouching, and cropping. With an ISO range of 100–32000 (expandable to 50–102400), it is incredibly well-suited for low-light photography.
Canon 800D
Appreciated for its best User-friendly interface, touchscreen controls, and live view AF, Canon EOS 800D helps you to put style and performance in your hand. This compact and lightweight DSLR has a 24.2 Megapixel CMOS sensor along with Canon's latest generation DIGIC 7 image processor that process data 14x faster than its predecessor, which enables the 800D to provide a higher maximum burst speed of 6fps. It has a 3.0" LCD screen that allows easy shooting and playback. It comes with inbuilt flash and removable lens. Canon EOS 800D has Full HD 1080p movie recording with dynamic image stabilizer which helps to shoot easily. It has a plastic build with a polycarbonate outer shell that is comfortable to grip and hold. The internal electronics of the 800D is protected by an aluminium alloy chassis. The most striking enhancement the 800D enjoys over its predecessors is the addition of Canon's Dual Pixel CMOS AF technology, Canon's proprietary on-sensor phase-detection technology. Dual Pixel AF enables speedy, touchscreen-operable autofocusing during Live View shooting.
Canon PowerShot G9 X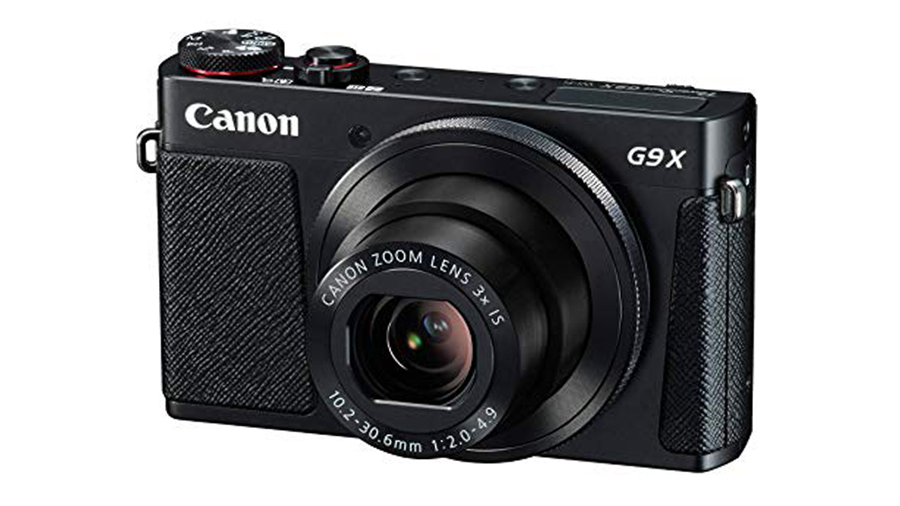 Canon PowerShot G9 X is an excellent choice for people who want a compact camera, which offers a surprising amount of control over the pictures that you take. While, many of its competitors have automated everything the Canon G9 X offers a good number of manual options, making it popular among keen photographers. This pocket-sized camera combines adjustability, with a good range of features. It delivers sharp images and HD-quality video, which is more than most people ever need from a camera. It comes equipped with an easy to use LCD touchscreen, which certainly enhances the user experience. The Canon G9 X is equipped with a 20.0MP 1″ (13.2 x 8.8 mm) sized BSI-CMOS sensor and features DIGIC 6 processor. This means that you can shoot at a maximum resolution of 5472 x 3648 pixels with aspect ratios of 4:3, 3:2 and 16:9. The camera allows you to record videos at the highest resolution of 1920 x 1080 at 60p,30p fps, which means that it is HD-ready.
Canon EOS R
There is a growing popularity of mirrorless cameras and 2018 was a big year for mirrorless cameras. The EOS R is a full frame mirrorless camera that can be an alternative for EOS DSLR owners looking for a capable mirrorless camera. The camera has a premium build. The body of the EOS R has a pleasing matte finish, with a sturdy magnesium alloy body and magnesium shell. Its full-frame 30.3MP sensor with Dual Pixel autofocus produce quality images with stunning detail. It is an interchangeable lens camera with 3 optional mount adaptors. It makes the device compatible with the new era of RF lenses. The mount incorporates a 12-pin connection between the camera and the lens to communicate at a higher speed for fast AF and enhanced image stabilization and optimization.
Canon PowerShot SX740
An ultra-compact camera that can be your next travel companion. It has all the specs you need in a camera for travel photography. The compact body of Powershot SX740 packs 40 x optical zoom which is great for flexibility and versatility. The optical zoom ranging from 24 – 960mm so you can capture landscapes as well as wildlife photos. It features 20.3-megapixel CMOS Sensor, five-axis image stabilisation and DIGIC 8 image processor to capture quality pictures and 4K video. The 4K movie shooting features include 4K Frame Grab, 4K time-lapse movies and 4K 30P/25P movie recording. With its short startup time and shooting interval, you can never miss capturing some unexpected photos. If you are travelling alone or want to capture self-portraits, the high-definition tilt-type LCD screen that can flip 180°upward assists you for that. You can also edit and beautify the shots on the spot as well.
Browse WOWLYST.COM Canon Digital Cameras to Get Cheaper Offers in UAE
Using WOWLYST.COM, you can easily compare the prices of different models of Canon digital cameras in UAE. You can choose the best online store by checking out the prices offered by each of the stores, and then compare the specs and prices of different models of Canon digital Cameras in UAE. WOWLYST.COM makes the lives of tech buyers in the UAE very easy.