Best Back-To-School Tech Products That Will Help Out Your Kids
While your kids are enjoying their summer vacations, it is also the best time to shop for things which will make your children happy on their way back to school. Gone are the days when the school stationery meant fancy pencils and pens. With the advancement of the digital age, the needs of kids have also changed quite dramatically from pencils to laptops to iPads. Here, we have listed out a bunch of tech items for your kids that will make their school days brighter and easier.
HP 15-BS008NE LAPTOP
The HP 15 BS008NE laptop combines all the features you want from a laptop and tablet and puts it in one beautifully designed gadget. The 15.6-inch Full HD touch display renders beautiful images and a 1920×1080 resolution so you can enjoy everything you watch as if you're watching it for the very first time. While the Intel Core i5 and 4GB RAM guarantee a smooth and seamless performance, the 1TB storage gives you ample space to save all the data you need, from work files to e-books, audio files, movies, and more. Constantly worrying about glitches and running out of space will soon become a memory from the past. The HP-15 promises to be the star whenever you want to watch movies or events with friends on a rich HD or on FHD display and HD camera. The wonderful patterns and unique textures all around effortlessly render an amazing experience for everyone, be it students or professionals.  The comfortable English keyboard along with all the features of Windows 10 gives you the chance to unleash your creativity by making life easier. All in all, the HP 15 BS008NE impresses everyone with enticing looks and great features at a reasonable price.
ACER SPIN 1 SP111-31-C2PZ 2-IN-1 LAPTOP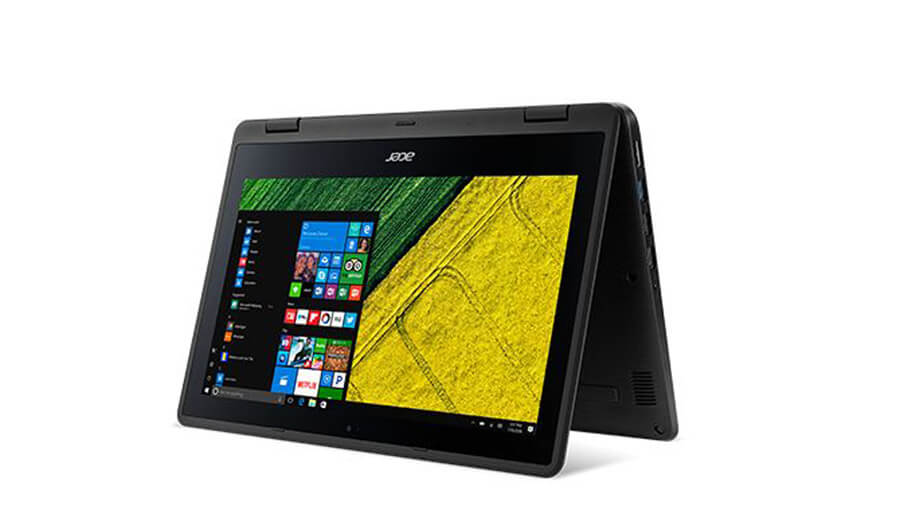 One of the best laptops around, the Spin 1 from Acer has a sleek, metal chassis, a snappy keyboard and one of the most colorful screens seen in this price range. The 11.6-inch laptop has an outer shell that sports a fabric-style pattern and provides good grip and should hide scratches well. At just 2.65 pounds and 11.4 x 7.9 x 0.56 inches thick, the Spin 1 is thin, light and compact which helps you to carry it everywhere.  The Acer Spin laptop works on Intel Celeron N3350 1.1GHz quad-core processor. Thanks to the 1920×1080 image resolution, the 11.6-inch screen of this laptop provide the best possible picture quality to the user every time. The 4GB DDR3L RAM of the Acer Spin 1 ensures that the user can process multiple programs at the same time at the same processing speed. On the left side of the laptop, you can find a USB 3.0 port, a full-size HDMI out connector and a microSD card reader which can be used to expand the inbuilt storage capacity of 32 GB. The right side holds a USB 2.0 port and a 3.5mm audio jack. With its eye-catchy design, responsive keyboard and brilliant display, the Acer Spin 1 sets a new standard for 2-in-1s that suits perfectly for your budget.
APPLE IPAD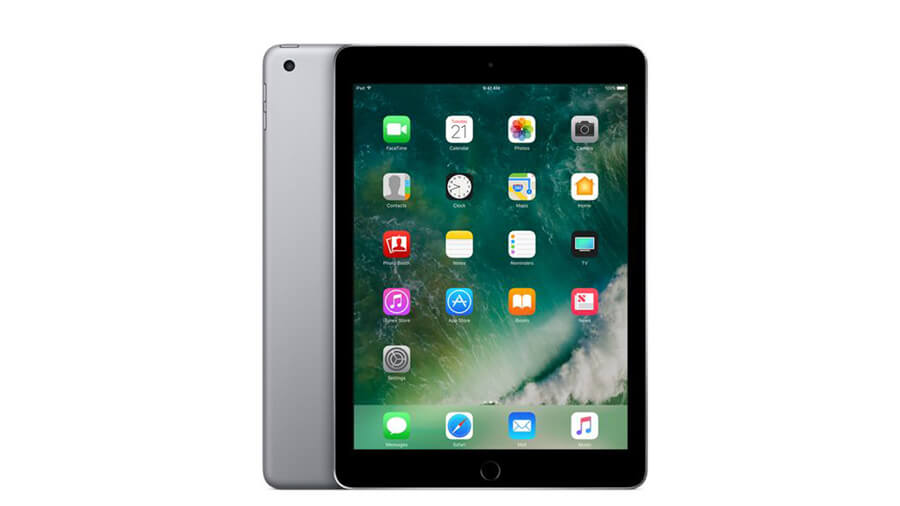 Released in March 2017, the Apple iPad is meticulously built with amazing technology and innovative features. The 9.7inch iPad features an internal storage of 32GB and has a powerful A9 chip with M9 motion coprocessor. Powered by a 64bit A9 chip, the iPad runs on iOS 10 that offers a fantastic range of amazing features and apps for an insightful experience. The 32 GB internal storage of the iPad enables you to store photos, apps, movies and music. The AirDrop feature allows you to share files instantly and wirelessly between compatible devices. This Apple iPad is equipped with an 8MP rear camera that clicks sharp and crisp pictures. The 1.2 MP front-facing Facetime HD camera is ideal for an amazing video calling experience and for stunning selfies. The iPad has an aluminum unibody construction that offers a solid feel. Available in a stunning silver finish, the Apple iPad 9.7 inch features a Touch ID fingerprint sensors to keep your apps and personal data safe and secure. Built on 64bit architecture, the Apple iPad is equipped with a leading edge A9 chip that helps to increase the performance up to 70 percent faster than its predecessor. The powerful 32.4W Lithium Polymer battery provides up to 10 hours of extended uptime
SAMSUNG GALAXY TAB E SM-T561 TABLET
With a 16:9 display and resolution of 1280 x 800, the Samsung Galaxy Tab E SM-T561 Tablet mixes technology and design that will make everyone happy and satisfied. Featuring dimensions of 241.9 x 149.5 x 8.5mm, the Samsung Galaxy Tab E is compact enough to fit almost anywhere making it extremely portable and easy to use and carry around. Enamored by the amazing TFT technology, the Samsung Galaxy Tab delivers brilliant images, all thanks to the wide 9.6-inch display and high resolution of 800 x 1280 pixels. With 8GB memory space for storing your pics, movies, games songs and apps, the Samsung Galaxy Tab ensures you are never stranded for storage. Possessing dual cameras of 5MP rear camera and 2MP front camera, the Galaxy Tab has highly sensitive CMOS sensors that pave the path for bright images and videos.  The rear camera gives you high-resolution images and lets you record videos in HD at 1280 x 720 at the rate of 30 frames per second.  This tablet is equipped with a Quad Core processor that has an intense capacity of 1.3GHz. The battery is powerful with around more 7 hours of guaranteed playback or internet usage. In short, the Samsung Galaxy Tab E SM T561 tablet is truly a gem of a device for everyone.
HP Color LaserJet Pro M180N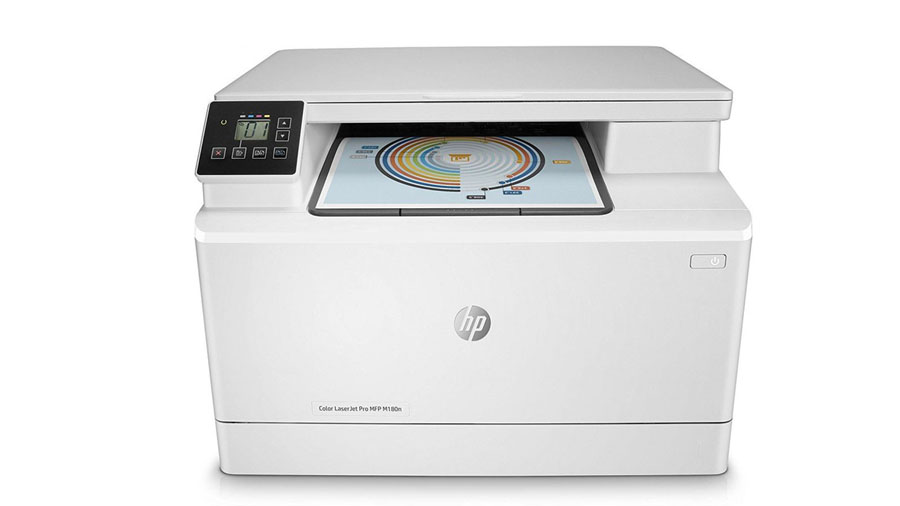 If you're looking for a printer/scanner combo that can aid you in scanning or printing important office documents or help out your kids on their summer holiday projects, then take a look at the HP Laserjet Pro M180n. This is a good model for those who prefer a laser jet at an affordable price so they can get most of the features without spending much. It's one of HP's smallest LaserJet MFP models that also suits to be kept on tight office workspaces. The printer is capable of printing out up to 16 pages each minute for both color and black and white. The device also features an auto-on or auto-off mechanism to help out save energy. You will need to connect the device to your laptop via the USB 2.0 port. The printer is capable of producing very sharp texts and bold black colors with crisp graphics and color tones. The machine also comes with a 7-segment ICON LCD display to handle the controls. The scanner mechanism has an optical resolution of 1200dpi. The machine package weighs about 18.4 kg and the device alone weighs 15.7kg.
HP DESKJET INK ADVANTAGE 3785 ALL-IN-ONE PRINTER
Regarded as the world's smallest all-in-one printer for the home, the HP Deskjet Ink Advantage 3785 comes in a small package. Measuring about 15.86 x 6.97 x 5.55 inch in size and weighing around 2.3 kgs, this HP printer comes with one HP 65 Setup Black Instant Ink Ready Cartridge, one HP 65 Setup Tri-color Instant Ink Ready Cartridge, a USB cable for connecting to the computer, a CD for installing the drivers, a power cord and some manuals guides. Since the Ink Advantage cartridges are believed to offer more prints for lesser cost per page, the HP 3785 saves money at a good rate. The 3785 printer has USB connectivity and Wi-Fi connectivity which means it has also the capacity to support HP's All-in-One Printer Remote mobile application for Android, iOS and Windows devices. With this app, you will be able to wirelessly print material from your tablet or smartphone very easily without involving your PC. The company claims that the 3785 printer can deliver up to 19 pages per minute when printing in black and white and 15 pages per minute when you are printing in color. In short, the HP Deskjet Ink Advantage 3785 has all the ingredients to score above its competitor and suits perfectly as a reliable printer for your home.
SONY EXTRA BASS HEADPHONES, BLACK - MDR-XB250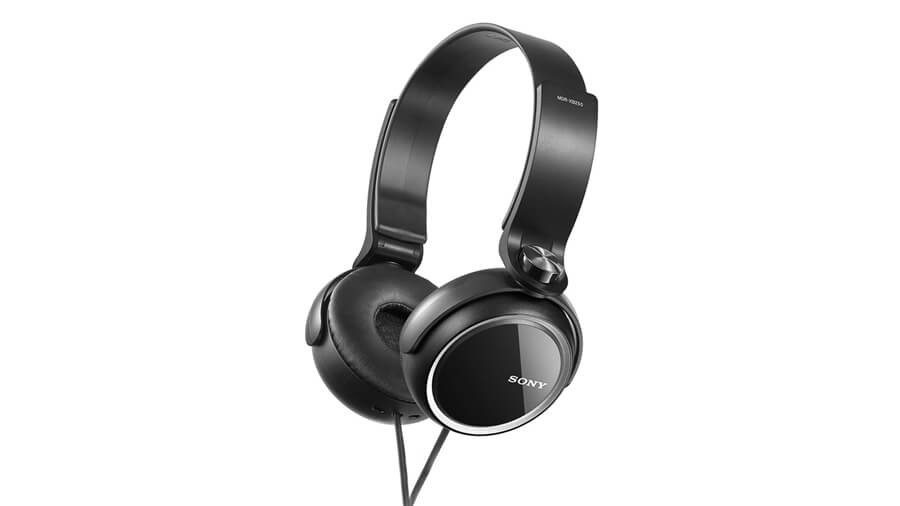 Blessed with an ergonomic design and powerful drivers that offers deep and crystal clear sound, the Sony Extra Bass Headphones MDR- XB250 is an amazing companion for you during long distance travels.  The Sony MDR-XB250, considered as an upgrade to the Sony MDR-XB200 has a headband which is connected to adjustment sliders which are bound by huge plastic screws that hold the earpads. Weighing 140g, the MDR-XB250 headphones are some of the lightest headphones ever to be introduced by Sony. They are super comfortable to wear for long periods of time. The 1.2m tangle-free jagged cord has an L-shaped gold-plated 3.5mm plug at the end.  Furthermore, it has a 1.2m long cable, enabling you to move freely from one place to another while enjoying your favorite tracks. The Sony MDR–XB250 features a 3.5mm gold-plated L-shaped stereo mini plug that will plug into any mobile device with a 3.5mm jack, be it your smartphone, tablet, laptop, and more. The Sony MDR-XB250 has 30mm drivers and can reproduce sounds in the frequency range of 5Hz to 22,000 KHz. The MDR-XB250 is available in black and white/purple.  If are looking for a pair of headphones that play your favorite songs with extra bass, then the MDR-XB250 is a decent option.
SENNHEISER MX 365 IN-EAR EARPHONE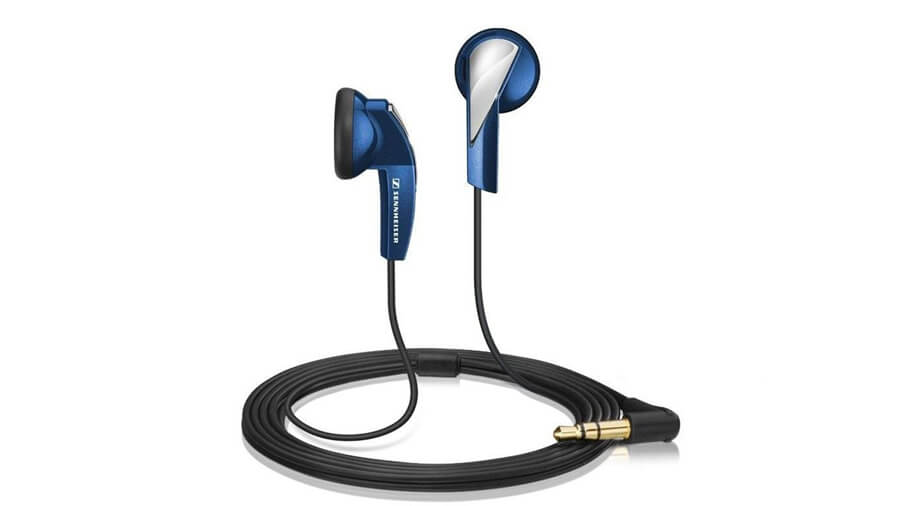 Delivering a dynamic bass and clear sound, the Sennheiser MX 365 in-ear earphones will never allow you to miss you a beat. With a bold blue finish, the Sennheiser MX 365 in-ear Earphones has a streamlined design that is elegant and light at once making them comfortable to use even for long hours. The MX-365 has a high-performance dynamic driver system that delivers a powerful bass-driven stereo sound with thumps and lows in detail. With no tangling issues, the earphone has a strong cable and provides the finest wearing comfort. Available in blue, the 3.5mm gold plated and angled plug connects with your smart devices quickly. Made of high-quality materials, the Sennheiser MX 365 in-ear earphones turn into strong that makes them sturdy and durable. Thanks to a symmetrical cable that keeps the wires free of tangling, the Sennheiser in-ear earphones offer outstanding wearing comfort while you are travelling. Compatible with most of the modern-day gadgets available in the market, the Sennheiser MX 365 turns out into a heady combination of style and performance. Optimized for CD, MP3 players, and portable gaming systems, the Sennheiser MX 365 in-ear earphones are perfect for jogs and gym sessions.
CANON EOS 1300D LENS KIT
Carrying on the good work of its predecessor EOS 1200D, the Canon EOS 1300D is an enticing prospect for budding photographers and camera enthusiasts. The body is built entirely of plastic with a matte texture which is good for grip and resists scratches and cuts. Lighter at 440g and compact than the EOS 1200D, the EOS 1300D has the features to impress you. On the left, the 1300D has an input for a wired remote, a Mini-USB port, and a Mini-HDMI port. All the buttons are placed to the right of the LCD and include shortcuts for ISO, drive mode, white balance, and autofocus. The Canon EOS 1300D is equipped with an 18-megapixel APS-C CMOS sensor, native ISO range of 100-6400 and is capable of 3fps burst shooting. With EOS 1300D, you can shoot in various modes such as JPEG, RAW and JPEG+RAW modes and video recording at 1920x1080p at 30fps. What separates EOS 1300D from its predecessor is its built-in Wi-Fi with NFC pairing which uses Canon's Camera Connect mobile app to enable wireless image transfer and remote camera control.  With impressive features and functions and available in black, the Canon EOS 1300D 18MP DSLR camera is a fantastic device to possess.
WD 1TB MY PASSPORT PORTABLE EXTERNAL HARD DRIVE USB 3.0
The WD My Passport USB 3.0 Portable Hard Drive gives 2TB of computerized storage limit with regards to USB-empowered systems. The WD My Passport highlights metal and matte design and comes equipped with USB 3.0 tec that gives up to 5 GB/s exchange speeds. Controlling the drive is refined by means of a transport fueled USB port. Moreover, the drive comes preformatted for use with Windows, and a basic reformat is required for the Mac working support. Notwithstanding the My Passport, WD incorporates WD Discovery programming, so that you can import photographs, recordings, and documents from online networking and distributed storage sites to the drive. Besides security, WD Backup programming is given to protect content put away on your PC's drive. The My Passport drive wires metallic and matte design to make a one of a kind style. It fits serenely in the palm of your hand, pocket, or handbag, so you can without much of a stretch take this Hard Drive anywhere you go. The My Passport Hard Drive accompanies 256-piece AES Hardware Encryption with WD Security programming worked in to help keep your documents secure. All in all, the WD My Passport External Hard Drive is a very useful device that safely keeps your documents and images for a long time.
SANDISK ULTRA FLAIR ISB 3.0 FLASH DRIVE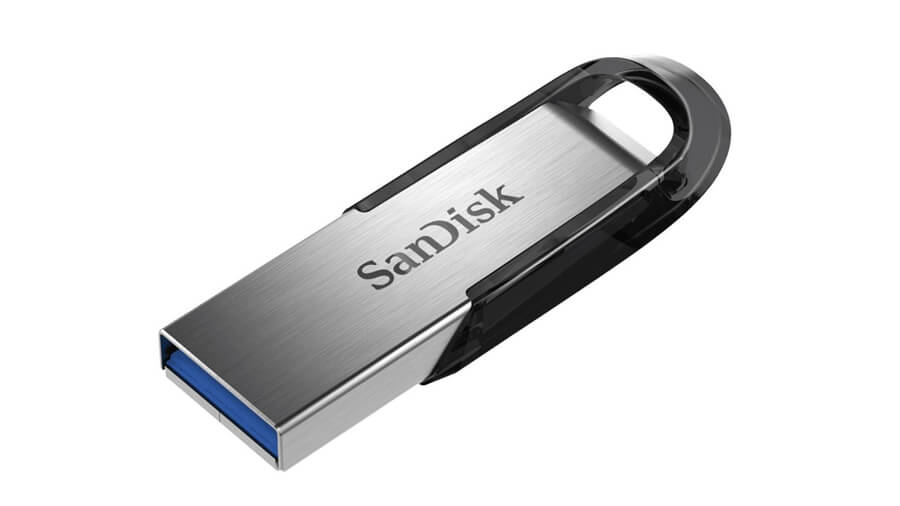 Offering transfer speeds of up to 15X faster than standard USB 2.0 drives, the SanDisk Ultra Flair USB 3.0 Flash Drive is designed to move your files safely. The SanDisk Ultra Flair USB 3.0 Flash Drive is backward-compatible with USB 2.0, so you can plug it into any USB 2.0 or 3.0 port. With a stylish and tough metal casing, the SanDisk Ultra Flair USB 3.0 Flash Drive has the power to protect it from scratches and knocks. Thanks to the compact design, the SanDisk Flash Drive effortlessly fits into your pocket or bag. The SanDisk Ultra Flair ISB 3.0 Flash Drive is designed to deliver a high-speed performance of up to 150MB/s1. The SanDisk Flash Drive has also password protection ensuring the safety of all your important documents and files. You can also create a private folder on your drive with SanDisk SecureAccess software and the 128-bit AES encryption software makes it effortlessly simple to password-protect critical files and documents.  This USB 3.0 flash drive features a capacity of 128GB, allowing you to comfortably store plenty of data. In short, the SanDisk Ultra Fair 1SB 3.0 Flash Drive is a very handy tool that enables you to store and save your valuable documents.