BEST APPLE IPAD TABLETS IN UAE
If you thought buying an iPad is a simple task, think again. Though you may be inclined to buy whatever is new on the market, it's not a cakewalk like what you might have imagined. When you're planning to buy an iPad, you should know about the latest models on offer as well as their advantages and drawbacks, if any. Since several older iPads too could be available in the market, which often look fairly identical to their newly launched counterparts, knowing what you're really paying for, the key differences between the newer and older models, and if your chosen one is worth the price are important. To make your choice somewhat easier, this article talks about some of the popular iPad models worth buying in the UAE. But before you start browsing online stores to shortlist your device, here are a few things you should ideally know to make an informed decision.
Advantages of buying iPADs
Portability: Unlike many full-sized laptops, iPads are smaller, lighter, and easier to carry, even in a handbag. They are more convenient to use too, be it on the bed or couch, on the go, or anywhere else.
Use of leading-edge technology: From TrueDepth camera and Liquid Retina display with True Tone and ProMotion to LiDAR scanner, A12 Bionic chip, and much more, iPads use the most updated technology. This has made many models surpass several laptops when it comes to pure processing power.
A wide variety of apps: From word processor and spreadsheet to music studio, presentation, video editor, video conferencing, and much more, the App Store has several free and paid apps that are designed to let you handle a number of routine tasks easily.
Multiple accessories on offer: Even when you move beyond the standard wireless keyboards, tablet cases, and external speakers, there's an extensive and vibrant ecosystem of iPad accessories that you can tap into to empower your device.
Stability: Since Apple controls both the software and the hardware, the iPad has a closed system that offers rock-solid stability. Additionally, Apple and iPad app developers typically support an extremely limited number of tablets, all of which are based on the same basic hardware. Due to Apple's comparatively slower app approval process than Android apps, stability is boosted as even the most severe bugs are fixed or removed before the apps are approved.
2021 Apple iPad Pro (12.9-inch, Wi-Fi + Cellular, 256GB) - Space Grey (5th Generation)
This portable iPad Pro has up to 10 hours of battery life and comes equipped with the Apple M1 chip to deliver next-level performance. To provide you with the most advanced mobile display, it has a 12.9-inch Liquid Retina XDR display with True Tone, ProMotion, and P3 wide colour. For unmatched ultra-wide shots together with better immersive AR, it has TrueDepth camera system featuring a 10MP ultra-wide camera, 12MP wide camera, and LiDAR scanner. This device supports 5G to enable high-quality streaming and lightning-fast downloads.
2020 Apple iPad (10.2-inch, Wi-Fi, 128GB) - Space Grey (8th Generation)
This iPad gives you up to 10 hours of battery life on a single charge and lets you do several amazing things with its iPadOS 14. This user-friendly, versatile device has an LED-backlit multi-touch display measuring 10.2 inches (diagonally) that's powered by IPS technology. Coupled with its 2160X1620 pixel resolution at a pixel density of 264 ppi (pixels per inch) and stereo speakers, this iPad ensures your images, as well as favourite shows, movies, and content offered by streaming services, look and sound good. For an immersive gaming experience, this iPad has an A12 Bionic chip. It also has an 8MP camera and facilitates 1080p high-definition video recording at 30 fps.
2019 Apple iPad mini (7.9-inch, Wi‑Fi, 64GB) - Gold (5th Generation)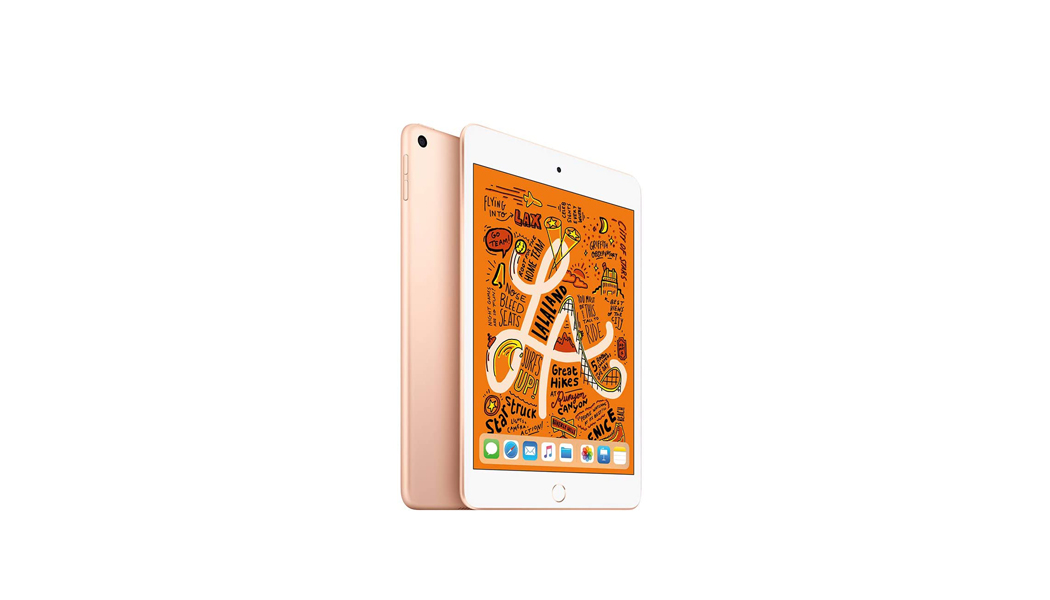 This thin, lightweight iPad mini comes with 10-hour battery life, can run the most powerful apps, and deliver superfast performance. It features the A12 Bionic chip and a 7.9-inch Retina display with True Tone and wide colour for automatic adjustments of colours based on lighting conditions to deliver more accurate and realistic images. This mini iPad also features a 7MP FaceTime HD camera in the front, an 8MP back camera, stereo speakers, and a Touch ID fingerprint sensor together with Apple Pay.