Don't miss these Valentine's gift options for the perfect host in your life
Valentine's Day is on the horizon and it is time to get shopping for the significant other in your life. Is your loved one a homebody who loves cooking, hosting parties and spending quality time at home in general? Well, you are in luck. Wowlyst.com has a host of suggestions for those who love to host and entertain regularly. These gorgeous kitchenware items are sure to make the perfect gift for enthusiastic chefs not just on Valentine's Day but any day of the year.
Luminarc Salad bowl, Red
Luminarc is one of the foremost names in glassware brands and is well-known for the superior quality glass items they produce. This elegant bowl from Luminarc is a welcome addition to any kitchen. The 16 oz size of the bowl is perfect for serving salads, fruits or any kind of munchies. Made from premium quality heat-resistant glass this bowl is very durable. The glass is cadmium-free and microwave-safe for easy heating of food items. The inner wall of the bowl is a muted grey shade which makes it easy to clean while the outer surface is a cheery red colour which makes it a perfect gift option for this time of the year.
Atlasflask Stainless Steel Vacuum Bottles
For the caffeine addict in your life get an Atlasflask stainless steel vacuum bottle designed to keep hot beverages at the same temperature for up to 18 hours at a time so they do not have to keep making a fresh cup every time they need a coffee or tea hit. If hot drinks are not what s/he craves, no problem! Atlasflask stainless steel vacuum bottles are good for holding any kind of beverage and can keep cold drinks chilled for 24 hours. The bottles are made from high-grade steel which can withstand shock and stress for longer durability. The bottles are made using a double-walled German technology to preserve the temperature of the drinks inside. Available in 6 colours with 3 capacity options, these vacuum bottles are a functional and attractive gift item.
Kula stainless Steel mugs
You can never go wrong with a coffee mug when it comes to gifts. Warm the heart of your special someone every time they have a cuppa with a stainless-steel mug from Kula. These eco-friendly mugs are as stylish as they are functional. The mugs feature an easy-to-hold rounded design with a powder textured outer wall which gives it an anti-slip- grip. The texture on the outer surface of the mug makes it easy to hold it even with very hot or cold beverages inside. Kula mugs are made of BPA and toxin-free stainless steel which ensures that the drink inside does not get any metallic aftertaste. Choose from 3 attractive colours to surprise your love with this mug.
Eclat Lady Diamond Cristal Glass Tumbler
Crystal in any form is an excellent gift option. Crystal items are highly valued as jewellery, drinkware and other home decorating items. Discover the Eclat Lady Diamond Cristal range for Valentine's Day gifts that are elegant and classy. This glass tumbler from the above-mentioned range is a beautiful item that will increase the elegance of any table setting. Made from specially developed crystal, the material has a 98.9 transparency index giving it a flawless look. The faceted design on the tumbler reflects light to make the material sparkle like diamonds. The entire tumbler set consists of 6 pieces each having a capacity of 270ml. It is without a doubt a set which anybody would love to own.
Frost Blue HB Tumbler 36
Hygge, the Nordic concept of cosiness is also a kind of feeling of well-being which is evoked in the company of loved ones. Give your loved one the Hygge feeling with a Nordic-style tumbler to cater to their hydration needs. The Frost Blue HB tumbler from Luminarc is inspired by the designs of classic Scandinavian drinkware. The design and frosty colour reflect Nordic influence on aesthetics and are a celebration of their culture. The tumbler is made from glass free of lead, bisphenol and cadmium thereby ensuring that no harmful materials are leached from the glass into your drink. So, go ahead and put a smile on your dear one's face with this unique looking tumbler.
Eclat Champagne Flute Cristal Glass – Lady Diamond
Raise a toast to love with exquisitely crafted champagne flutes from the Eclat Lady Diamond Cristal range. This set of 6 champagne flutes are made of a specially developed crystal by the Arc International Research and Development Center, France. The crystal developed by this process is of very high quality with a 98.9 transparency index marking it out as one of the purest forms of crystal. The crystal is 50% more resistant to shock and damage and produces a clear, ringing sound. The flute itself features a stunning faceted design which gives it a classy appeal. Dishwasher safe and long-lasting, these flutes are an ideal testimony to your love for each other.
Queen Anne Pair Tall Candlesticks
Help to set the most romantic ambience with candles beautifully setup in decorative candlesticks. Queen Anne silver-plated candlesticks add vintage drama to your décor with their elegant rose-inspired design. These candleholders feature a clean and minimalist look with the rose design etched on the base and the sconce edges. The candlesticks are made to hold dinner candles in a stable grip and the wide base catches drips so that your table or any tableware is not damaged. They can be displayed as accent pieces in the home when not in use. This set of candlesticks surely makes a thoughtful gift for the love of your life.
Eclat Lady Diamond Cristal Glass Tumbler 36cl
Go the extra mile this Valentine's Day with a gift of 6 crystal tumblers to add to your loved one's drinkware collections. Eclat Lady Diamond Cristal Glass is specially developed crystal by the Arc International Research and Development Center in France. This crystal is noted for its 98.9 transparency index, shock and damage-resistant properties and the clear sound it produces. This tumbler set is optimal for serving water, fruit juices, sodas and many other types of beverages in style. The crystal tumblers add to the appeal of any dining table by sparkling brilliantly bringing the best of aesthetics and functionality into one product.
Eclat Longchamp Pitcher 1.5L
If the love of your life loves playing the host often then make sure they have the best drink and serve ware at all their parties with the right accessories. A pitcher is an indispensable serving item to have at any get-together, whether it is to serve water or juice. Get this Eclat Longchamp pitcher to meet the beverages serving needs of any party. Made from specially manufactured lead-free crystal, this pitcher has 50% more durability than other crystal pitchers apart from also looking very stylish. The diamond-cut design complements any type of dinnerware and the shine of the product adds to the overall attractiveness of the jug.
Eclat Cristal D'Arques Longchamp Champagne Flute Crystal Glass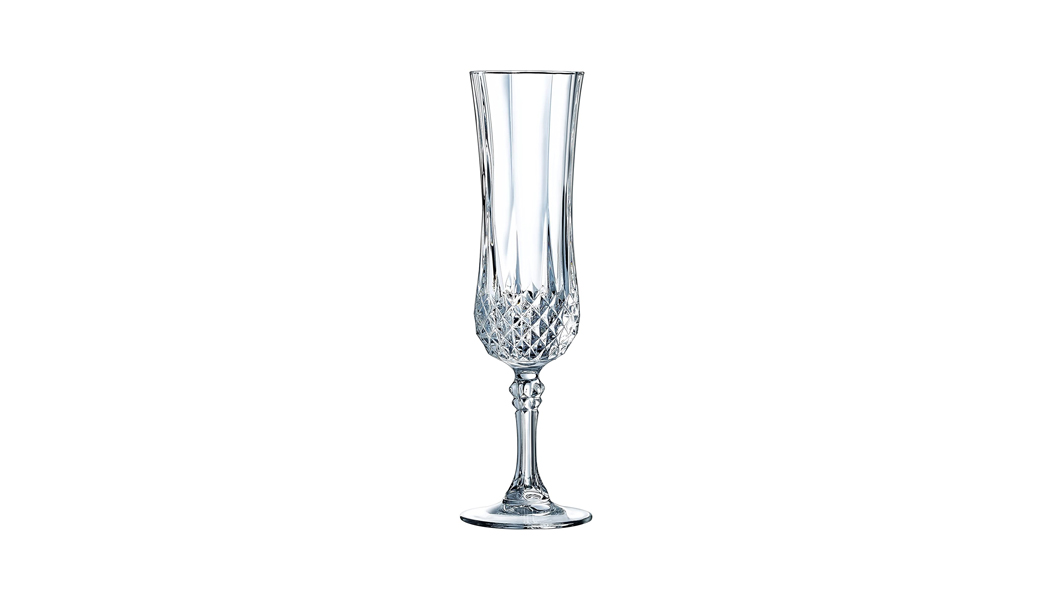 A gift of champagne flutes makes a great addition to your Valentine's Day celebrations. This elegant set of 6 flutes is made from lead-free crystal specially developed in France. These glasses have a luxurious feel to them and are sure to elevate your dining experience with their looks and function. Unlike regular crystal products, these glasses can be washed in a dishwasher making cleaning a breeze. The glasses retain their original sheen for up to 300 washes thereby proving their durability. It is undoubtedly a charming gift option for that one person in your love whom you want to make feel special.
Kula BPA Free Stainless-steel water bottles
For a gift that is as unique as your love, why not consider cute looking water bottles. Kula water bottles are made from BPA-free stainless steel which is environmentally friendly and sustainable. The bottles are constructed in a double-walled design which seals the temperature of drinks to keep them warm or cold, as per the user desires. These water bottles are very durable and are available in 4 capacity options for indoor or outdoor use. The ergonomic design makes the bottles easy to hold. And the outer wall has a slight texture which gives the user a non-slip grip on the bottle. Choose from among 4 peppy colours for the hue which you think best suits your loved one.