How to Buy a Gaming Monitor: Your Best Buying Guide in the UAE
What is the ideal screen size for a gaming monitor?
Buying the right panel size depends on the budget, the type of games you play and also the desk space available. The most minimum screen size that you should go for is a 24-inch gaming monitor. But if your desk has room for more, a 27-inch gaming monitor is one of the best that you can buy. It's one of the most common screen sizes available that isn't too small or big for any user. There are also gaming monitors that go all the way till 34-inches if budget and desk space isn't an issue for you.
What is the perfect screen resolution while playing PC games?
Full HD screen resolution is one of the most widely used setups among gamers, and while these resolutions are best played on a 24-inch monitor, there are several 27-inch gaming monitors that are also available in the same resolution. But it's also recommended to go for a higher resolution like 2560 x 1440 or simply known as QHD. The higher pixel counts that you go for, games will look sharper on large-screen displays. Nowadays, there are gaming monitors that feature ultra-wide aspect ratios of 21:9 as opposed to the standard 16:9. And with 4K gaming becoming the new trend, large monitors now come with an ultra-sharp 3840 x 2160 screen resolution. Of course, you need a powerful graphics card to play games at such ultra-high definitions.
Which are the different types of panels available for a gaming monitor?
If you want gaming monitors with the fastest refresh rates and are more affordable in the market, then you should look for the one with a TN panel (Twisted Nematic). The only downside is that TN panels don't feature good color reproduction and bad viewing angles. You will have to look straight at the monitor to avoid losing vision and washed out colors.
Then there are the gaming monitors with VA panel (Vertical Alignment) that offers good contrast ratio, deeper levels of black and better color reproduction. However, VA panels are known to create ghosting effects.
The next popular monitors are called IPS (In-Plane Switching), which features the best color accuracy and viewing angles but may to match the response time and refresh rates of TN panels. That said, monitor manufacturers have been releasing IPS gaming monitors with improved performance that closes the gap when compared to TN panels.
Why is the response time and refresh rate important while playing fast action PC games?
While purchasing a gaming monitor, one should keep an eye on the response time and the refresh rate of these displays. The pixel response time is often referred to as GtG (Gray-to-Gray) and is measured in milliseconds. Lower response time will result in smoother gameplay and eliminates any motion blur effects. Gaming monitors with 4ms and below are generally considered good for gaming, although, you should be aiming for 1ms if possible.
The refresh rate relates to a number of times the monitor takes to redraw the screen contents (measured in Hertz). If you're on a budget, then 60 Hz gaming monitors are your best choice. It means the screen contents are refreshed 60 times per second. The problem is that there are good chances of blurry images occurring while playing fast action games, which is why gamers go for a higher refresh rate such as 120Hz, 144Hz or even 240 Hz.
What are FreeSync and GSync and why are they a big deal for a gaming monitor?
In order to reduce screen tearing, gaming monitors now come with synchronization technologies such as the G-Sync from NVIDIA or FreeSync from AMD. These gaming monitors offer super-smooth gameplay with reduced input lag.
What are the essential ports required on a gaming monitor?
While gaming monitors usually come with HDMI ports, gamers should look for models that feature the latest in connectivity standards if they want to set up a multimonitor configuration or if you're purchasing a monitor with a high 144Hz refresh rate. Make sure that the monitor features the latest Display Port 1.4 or HDMI 2.0 ports if you want to game on wide-angle or 4K resolutions. Just stay away from the monitors that come with VGA ports. That said, FHD resolutions will work just fine with older gaming monitors with older HMDI or DP ports.
Where can we buy the best gaming monitors in the UAE?
Gamers will easily be able to get the best gaming monitor prices in the UAE from most of the popular online retailers such as Souq.com, Noon.com, Jumbo Electronics, Sharaf DG, Carrefour, Gear-up, Microless and more. You can also visit the stores of the mentioned retailers above and also take a trip to Al-Ain Centre where most of the distributors offer gaming monitors at cheaper prices.
CHECK OUT SOME OF THE BEST GAMING MONITORS THAT ARE AVAILABLE IN THE UAE
ASUS VG248QE
One of the most popular gaming monitors of all time, the ASUS VG248QE is a 24-inch gaming monitor with 1920 x 1080 resolution, offering a response time of 1ms and 144Hz rapid refresh rates, ensuring that gamers experience a blazing fast gameplay for instantaneous kills. The display features an ergonomic tilting mechanism along with swivel pivot and height adjustment. The contrast ratio of this monitor is 80:000:000:1. There are also two 2W stereo speakers. And for connectivity, the monitor holds a Display Port, Dual Link DVI, AND HDMI ports. The ASUS VG248QE is priced at AED 1099 in the UAE.
ASUS PG278Q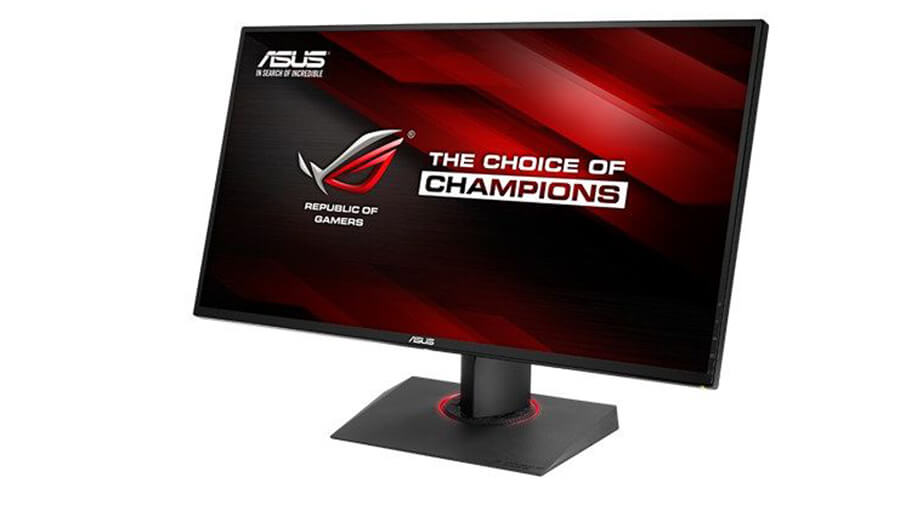 If you're looking for sharper resolutions, then consider the ASUS ROG Swift PG278Q monitor that offers resolutions up to 2560 x 1440. The refresh rate of this monitor is also 144Hz, something that any gamer would want, along with 1ms response time. The monitor also features a turbo key for refresh rates for 60Hz, 120Hz or 144Hz. Connectivity of the monitor includes on Display Port 1.2 and two USB 3.0 ports. The contrast ratio is 1000:1. There is also a 5-way OSD navigation joystick to navigate through the monitor's on-screen menu. The monitor also supports the use of shutter glass 3D technology. The ASUS ROG Swift PG278Q is priced at AED 3060 in the UAE.
ASUS PG348Q
Easily one of the best and the sexiest looking gaming monitors ever released, the ASUS PG348Q comes with a 34-inch IPS display, with a wide aspect ratio of 21:9 and features an ultra-wide resolution of 3440 x 1440. The 100Hz refresh rate is impressive for such a large resolution and also provides G-Sync capability. The monitor also showcases a Titanium and Plasma Copper scheme. Other features include ASUS Ultra-low Blue Light, Flicker Free, GamePlus and GameVisual technologies. Additionally, the screen features a curved design for an immersive gameplay. The monitor also comes with special lighting effects with ROG logo. The monitor also comes with 2x stereo speakers, one HDMI, one Display Port and four USB ports. The ASUS ROG PG348Q is priced at AED 4799 in the UAE.
BENQ ZOWIE RL2755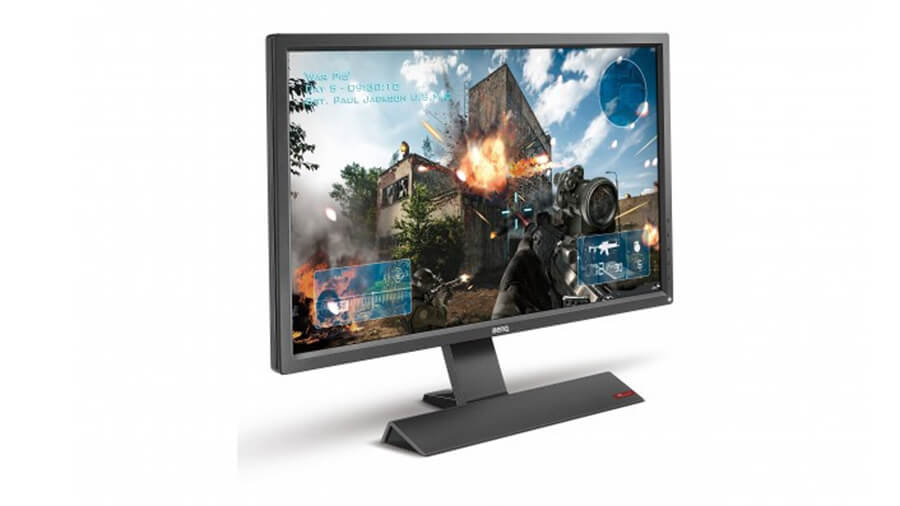 If you're into e-Sports gaming then try out the BenQ RL2755 gaming monitor, featuring a 27-inch TN panel with 1920 x 1080 resolution with 75Hz refresh rate and contrast up to 1000:1. The response time of the monitor is 1ms. There are two 2W speakers. Special features include Black equalizer, Low blue light, flicker-free mode, and K locker. The dimensions are 478 x 639 x 214 and the net weight of the monitor is 5.5 kg. The connectivity ports include D-sub, DVI, HDMI x 2, a headphone jack and line-in. The BenQ RL2755 gaming monitor is priced at AED 1406 in the UAE.
ASUS PB287Q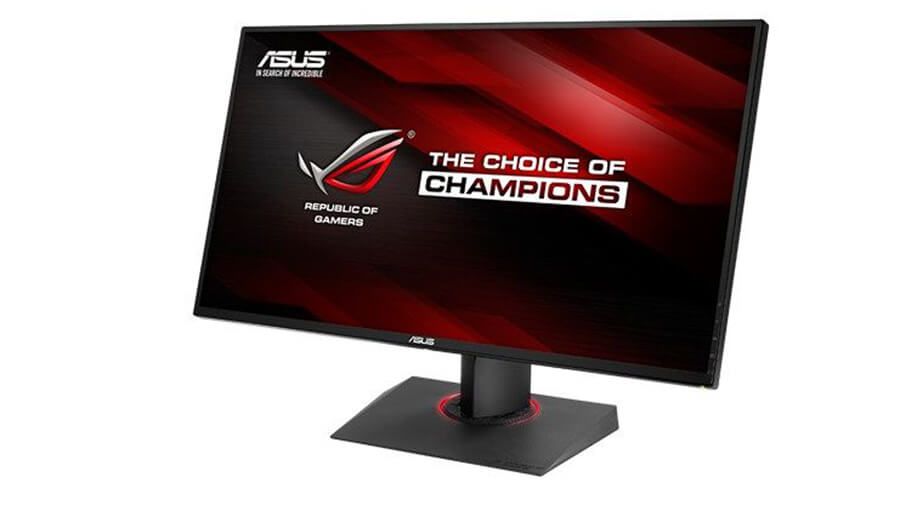 If you're are looking for a 4K monitor that suits for both gaming and professional work, then how about the ASUS PB287Q, featuring a 28-inch display with 3840 x 2160. With the Display Port, you can game at full resolution with 60Hz refresh rates and 30Hz with HDMI port. The response time of the monitor is 1ms. The device comes with 2x 2W stereo speakers. The display offers two HDMI 1.4 ports, one Display Port 1.2, one audio in, and one earphone jack. The monitor provides presets for reading mode, darkroom, scenery, Theater, Game mode, Night view and more. Special features include flicker-free, low Blue Light and Vivid Pixel. The ASUS PB287Q is priced at AED 2489 in the UAE.