How to buy a camera in 2020: Your best buying guide for cameras in the UAE
Digital cameras as we know it has come a long way from the development of professional camera technology to pocketable models. Almost every person in the UAE has a means of capturing the most memorable moments, regardless of the type of camera they use. While media professionals are skilled enough to choose a camera for themselves, there are still a lot of people in Dubai who lack the knowledge and the factors that affect their buying decisions. The specifications and capability of the different type cameras are too complex to understand, or yet, it may be a boring topic for any normal consumer to read.
We can't blame them because they need to know the right type and model of the camera that suits their usage and budget in an easy and simple way, without racking their brains or complicating things further for them. That's why our team has extensively researched the most frequently asked questions and queries asked by users from the UAE, regarding the most important aspects of camera technology and answered them in the simplest way so that you can then choose the right camera for yourself.
What are the different types of cameras available in the market?
It's the most basic question asked by users around. Cameras are now available in different size factors and capabilities. You can buy the compact cameras or the point and shoot cameras that are very pocketable. These cameras used to be very popular before the sudden boom of smartphone cameras. That said, most smartphones do not feature longer optical zoom capability (30x and above), which is why zoom compact cameras are used to capture images from far off places. Pocketable zoom compact cameras are suitable for tourists and are slightly larger than normal compact cameras.
You also have the option to opt for the super zoom cameras that resemble a DSLR because of its hand grip and built-in viewfinder, but with a fixed and powerful long-range zoom lens. Super zoom cameras offer more manual control options than compact cameras, but not in any way better than a DSLR in terms of control and image quality. The focal length of super zoom cameras is much longer than the standard zoom cameras and is long enough to even reach the moon. Super zoom cameras are also known as bridge cameras because they are positioned in between a compact camera that offers portability and a DSLR which offers better control and quality.
Next, comes the DSLR (Digital Single Lens Reflex) cameras that are meant for those who want better image quality and advanced shooting control options. Unlike the compact and bridge cameras, users can change the lens of a DSLR, depending on the type of use. The interchangeable lens can vary from wider or longer focal lengths of different sizes and aperture. DSLRs are the most customizable form of camera technology and can be used by any user, whether he is an amateur or a professional. However, DSLRs are larger in size than bridge cameras and compacts.
Mirrorless cameras have become increasingly popular and better over the years. The image quality from mirrorless cameras are almost as good as DSLR cameras and offer the option of interchangeable lens in a smaller and compact body. But they are not pocketable by any means. The term "mirrorless" is used because these cameras do not feature a mechanical mirror that changes the scene between the image sensor and the optical viewfinder.
How important is the image sensor size in a camera?
The image sensor is basically what defines the capability of a camera in terms of image quality. It's a light sensitive solid-state device that captures the light needed to form the image you captured. There is a significant difference in the size of the image sensor between compact cameras, bridge cameras, and DSLRs. Bigger image sensors mean more detail and information are captured, which is why DSLRs produce much better image quality.
What are the different types of image sensor sizes?
The size of the image sensor varies between the different forms of cameras. Compact cameras, zoom compacts, and some bridge cameras feature smaller sensors that are good enough for daytime usage. However, the low-light performance of these small sensors is just moderate and will appear to have image noise.
There are some advanced compact cameras that feature a 1-inch image sensor. While these sensors aren't as good as DSLR sensors, they are definitely better than compact camera sensors. 1-inch image sensors are also used in some bridge cameras and advanced video cameras. Micro Four Thirds or MFT sensors are positioned between the 1-inch image sensors and the DSLR image sensors and are used in many mirrorless cameras. These sensors offer the flexibility to use the smaller interchangeable lens as compared to DSLRs.
Speaking of which, DSLR cameras come in two common image sensor sizes: APS-C and Full-Frame. Many manufacturers produce DSLRs with APS-C image sensors of different price factors and are more preferred by any type of user. The image quality of APS-C sensors is far better than compact camera sensors, 1-inch image sensors, and even MFT sensors. APS-C sensor cameras are the perfect affordable alternative for expensive full-frame cameras.
Full frame cameras produce the best-looking image quality and perform better in low-light performance. They are used mostly by professionals for event coverages, shows, modeling, product showcases, nature photography, weddings, and more.
Are megapixels important when buying a camera?
While camera brands do promote their cameras with megapixels as the most important aspect, that may not be the case with everyone. Megapixels, which is counted as 1 million pixels, is a term that's referred to the number of pixels used to regenerate the image captured to digital data. Higher megapixels mean you can take larger prints. Normal users who will be using compact or smartphone cameras won't be needing to take large-sized print outs and 12MP-20MP cameras are sufficient. There are many DSLR cameras with APS-C image sensors that feature 24MP and above. Some full-frame DSLRs offer more than 36MP and above, which is used for professional purposes.
However, there are some aspects of megapixels that you need to know. If the image sensor size is small like the ones used in compact cameras, opting to use higher megapixels can cause more noise to occur. This is particularly noticeable in low-light conditions. Also, a 20MP smartphone camera or compact zoom doesn't mean that the image quality is the same as a 20MP DSLR with an APS-C image sensor. Megapixels higher than 20MP is better off used with DSLRs with APS-C and full-frame image sensors for the best image quality and ensuring less occurrence of noise.
Do you need a water-resistant camera?
Water resistance is not a necessary requirement, rather, it's meant for those who want to use a camera on swimming pools, beaches, rain, or water parks. Water and dust resistance have now become a native feature on several flagship smartphones in the market as well as certain compact point and shoot cameras. These cameras can stay under water for up to 30 minutes on average for 1.5m deep, depending on the specifications that it is certified.
However, there are no proper water-resistant bridge cameras and DSLRs that can be taken underwater. That said, some of the models are capable of resisting rain drops up to a certain extent. But that doesn't mean that there is no way to shoot DSLR under water. Those who want to take a DSLR under water can buy the special underwater housing accessories.
Do I need a fast burst mode on my camera?
Burst mode can be a very useful feature in situations where fast action and movement is happening. High-speed burst mode of 10-11fps can be used in sports to catch the right moment continuously. Currently, there are cameras in the market that offer over 20fps continuous burst mode. The continuous images captured are more than enough to create a great GIF.
What's an ideal video resolution to use on a camera?
Cameras are now capable of recording videos with a resolution of 720p, 1080p and even 4K. The most preferred video resolution is 720p or 1080p, and they can be played at higher resolution displays. These resolutions take up lesser data size than 4K videos. However, 4K videos are only offered by flagship smartphones, high-end compact zooms and DSLR cameras.
How important is the flash on a camera?
If your DSLR or compact camera doesn't feature a flash, then it will affect places when you need extra light while shooting images. Usually, most common compact cameras, zoom cameras, and DSLRs come with built-in flash. But certain full frame DSLR cameras do not feature built-in flash as photographers will be using their own tweaked flash modules and lighting. For normal consumers, flash can be used in situations like night-time parties. Also, it doesn't make sense to use flash when the subject or the scene is far away from you.
When do I need long range zoom on my camera?
While many cameras do offer digital zoom, the image quality isn't as good as an optical zoom lens. Cameras with native long-range optical zoom lens can capture far off places easily without the need to switch to digital zoom. It's suitable for users who are traveling a lot, or while in a stadium to snap images of the player, or shooting snaps of the moon up-close. Bridge cameras and zoom compacts come with a great zoom lens. That said, DSLR and MFT camera users can always interchange for a better zoom lens that fits their budget and requirements.
What type of lens should I buy for my DSLR camera?
This is a very subjective question. If you are into portrait photography, then try 50mm and 85mm prime lenses with apertures from F1.4 to F1.8. These lenses help to produce stellar image quality with an exceptional focus on the subject and a beautiful bokeh in the background. Users, who are onto street photography can opt for the 24mm and 35mm prime lenses. You also have fixed wide-angle lens that is very much suitable for landscape or group photography. Wide-angle lenses come from 8mm, 12mm and above can be used to shoot great landscape scenes. A standard zoom lens can be used for those who want an all-rounder lens for all purposes. They may not produce images that are as good as a prime lens, but it's any day better than smaller cameras. The focal length of standard zoom lens ranges from 16-200mm and above and are more affordable than other lenses. For those who want to reach further, there are interchangeable lenses up to 500mm and more.
Should you buy a camera with an interchangeable lens or fixed lens?
While DSLR's offer the flexibility for different lenses, it may be a tedious process for normal consumers to keep changing the lens for different occasions and have to carry all of them wherever they go. Fixed lenses that are found in bridge cameras and compact zoom cameras don't require any change as the lens used already has a moderate wide-angle and long range focal length. For example, there are bridge cameras that feature a 24mm-600mm lens. However, if you feel to have wider or longer focal lengths with brighter apertures, then choosing a DSLR is the best option.
What is the difference between a mirrorless camera and a DSLR?
As we mentioned before and as the name suggests, mirrorless cameras do not hold a mechanical mirror as DSLRs. This allows the mirrorless cameras to feature a smaller body profile while retaining most of the DSLR camera capabilities. Mirrorless cameras also come in APS-C and full-frame image sensors, which is a big deal, considering the fact that the size of a traditional DSLR is quite large. Due to the lack of a mirror, mirrorless cameras do not come with an optical viewfinder. Also, mirrorless cameras depend on the image sensor for its autofocus capability, otherwise known as phase detection. Mirrorless cameras are also interchangeable as DSLRs. There are camera brands which allow users to use DSLR lenses on a mirrorless camera by using a special adaptor. The image quality and performance of mirrorless cameras are almost as good as DSLRs.
Are wireless capability or WiFi important for a DSLR?
Wireless capability is only required when the user wants to make wireless image/video transfers to their smartphone or laptop, on the go, without the need of swapping SD cards. Wireless connections also allow the user to upload the data online or control the camera via the smartphone application. Almost all major cameras offer WiFi capabilities.
Do we need a touchscreen on a DSLR?
While smartphones solely depend on their touchscreen displays for camera controls, DSLRs and compact cameras need to be controlled by buttons or control rings. However, controlling with a touch panel can be very convenient for any casual user who doesn't want to go through the complicated button controls. Not all DSLRs offer touchscreen control. With touchscreens, users can simply tap on the subject to focus instantly and change the settings with ease. So, it is just a matter of personal preference.
How long can a DSLR battery life last?
This depends on the type of camera you use and what format are you capturing the image or video. While the numbers vary between different models, DSLR's and compact cameras can capture an average of 200+ images at a stretch, depending on the image settings chosen. Using flash continuously can take a toll on the battery life and recording high-resolution videos will easily drain the battery. It's always good to have a spare battery for your camera so you don't run out of juice at the most intense moments. Some cameras can charge on the go while they shoot images.
What type of DSLR should I use for travel?
Users who are going to travel can use any APS-C based DSLR and a standard zoom lens that can shoot long range and wide-angle scenes. If their budget permits, they can take a 35mm prime lens for street shots and a 12mm lens for great landscape scenes.
What type of DSLR should I use for fast action photography?
Fast action photography requires a DSLR that features a very fast autofocus system with phase and contrast detection and a fast-continuous burst mode of 10fps and above.
What type of camera should I use for low-light and night photography?
DSLR cameras with better sensitivity and low-light performance are best suited for low-light, provided that you also use a good prime lens. Like we said before, while APS-C image sensors perform well in dark situations, full-frame sensors eliminate most of the noise in low-light situations. Noise can occur when you increase the ISO of the camera to lighten the scene.
Should I try a DSLR before buying?
Definitely! If you have the opportunity to toy around with the camera and its features from any of the retail stores in the UAE, then it's worth it and you can check out all the features of the device before making a decision. We also recommend renting the particular DSLR model that you wanted to buy if possible so that you get more time and freedom to explore its capabilities.
Will DSLRs do better than a flagship smartphone camera?
While most smartphone flagship cameras sold in Dubai, produce great looking images, DSLRs offers better details and clarity when zoomed in. There is no doubt that the size difference of the image sensors used on a smartphone and a DSLR is like a day and night. The details are more obvious when you zoom in the image for the smallest details. Also, DSLRs with a great lens outperforms smartphone cameras on low-light situations.
Should I buy a flagship smartphone camera if I'm buying a DSLR?
Yes and no. It's again a matter of personal preferences and budget available. We did mention that a DSLR produces far better image quality, but in return takes a lot of space. Normal consumers will not carry around their DSLRs and lenses wherever they go. If their budget permits, they can invest in a flagship smartphone that easily doubles as a great pocket camera.
UNDERSTANDING CAMERA TERMINOLOGIES
It's quite important to understand the essential factors regarding most of the terminologies associated with using a camera or professional DSLR. Read below:
What is ISO of a camera?
ISO is the term used to indicate the sensitivity of the image sensor. The ISO can be set to lower or higher, depending on the situation and the environment. You can use higher ISO in darker situations that help in faster shutter speeds. But choosing higher ISO can cause noise to occur. This ranges from 1600-6400 and above. Lower ISO settings can be used in normal light conditions.
What is shutter speed?
Shutter speed is the term used for the time taken with the camera shutter to remain open while exposing the light to the image sensor. Fast shutter speeds help to capture scenes instantly and slow shutter speeds help to produce blur effects in places where the subject moves.
What is the difference between optical zoom and digital zoom?
Optical zoom refers to the true zoom capability of the camera lens and offers the best possible image quality that the camera is capable of. Digital zoom is considered as an extension of the camera's zoom capabilities and is processed by different software processing methods using the image processor and other factors. Digital zoom produces good results, but may not be as good as an optical zoom.
What is an aperture of a camera lens?
Aperture or f-stops are the terms used to define the opening of a lens diaphragm through which light passes. F-stops range from F1.4 to F16. Users who want depth of field effects should use lower/higher f-stops from f1.4 to f2.8. Lower aperture also helps in low-light photography.
What is continuous burst mode?
Continuous burst mode refers to the high-speed shooting capability, where the camera captures multiple photos at once when the user holds down the shutter button. Continuous burst mode can be used for many occasions or instances where some cameras lack optical image stabilization and help to capture great moments.
What does intelligent mode do on a digital camera?
Since normal consumers may not know about how to choose the right camera settings, all cameras come with an intelligent or Auto mode that automatically chooses the right settings for the situation. Auto settings are generally impressive and help to avoid the confusion on which ISO settings, shutter speed and white balance to use.
HOW TO BUY THE BEST CAMERAS IN THE UAE?
If you have gone through all our vital question and answers regarding the important factors of a camera, then we now provide some critical information on which brands to select and where can you get the best camera prices in Dubai. Read through below:
What are the best camera brands in the UAE?
The most common camera brands used are Canon, Nikon, Sony, Panasonic, Leica, Olympus, Fuji, and more.
Where can I get the best digital camera prices in the UAE?
The best camera prices in Dubai can be found at most of the online retail stores such as Souq.com, Jumbo Electronics, Sharaf DG Online, LuLu Webstore, Carrefour Online, and more. You can also check out the respective retail stores for special camera discounts and best camera bundle offers and deals in Dubai. Special promotions and sales are offered during GITEX, the Dubai Shopping Festival and other local festival occasions.
Any quick tips for buying a good and cheap DSLR in the UAE?
You can easily buy affordable DSLR cameras in the UAE within the price range of AED 1200-AED 2500. Always look out for bundle offers which include multiple lenses, tripod, battery pack SD cards and more. Retailers in Dubai offer Nikon, Canon and Sony DSLRs at affordable prices in the UAE. As we mentioned before, it's always good to try out different cameras from showrooms and read online reviews on what the experts have to say about the camera.
THE BEST DIGITAL CAMERAS IN THE UAE
Now that you have read through most of the points which can help you to buy the right camera that suits your needs, we have also listed some of the best cameras that you can buy in Dubai.
BEST MIRRORLESS FULL-FRAME CAMERA IN THE UAE: Sony A9
Sony manufactures some of the best mirrorless cameras on the market, with their latest being the full-frame Sony a9 camera, featuring top of the line specifications for fast-action photography and great photo quality. The camera has a whopping 20fps continuous burst mode and an impressive 693-point phase detection points, covering almost 93% image sensor area. The camera features dual SD card slots and a LAN port for FTP transfers. The 3-inch screen is tiltable. The camera is mainly meant for professionals. You can record videos up to 4K at 30fps. The ISO of this camera ranges from 100 to 204,800. Sony a9 also features 5-axis stabilization for steady shots and videos.
BEST MIRRORLESS APS-C CAMERA IN THE UAE: Sony a6300
For those looking for great portable pro-camera, the Sony 6300 features a 24MP APS-C image sensor with fast autofocus speed and is capable of capturing 1080p 120fps and 4K 30fps videos. The 425-point phase detection points ensure the fast AF speed. The camera is also capable of 11 fps continuous burst mode. Additionally, NFC permits users to control the camera via a smartphone. The BIONZ X image processor in the camera helps to produce great images and less noise processing in low-light situations. The camera incorporates a magnesium alloy for improved durability against dust and moisture. The Sony A6300 features sensitivity from ISO 100-25600 and extended to 51200. The Sony A6300 camera is perfect for travel photography and for any consumer.
BEST CHEAP DSLR CAMERA IN THE UAE: Nikon D3400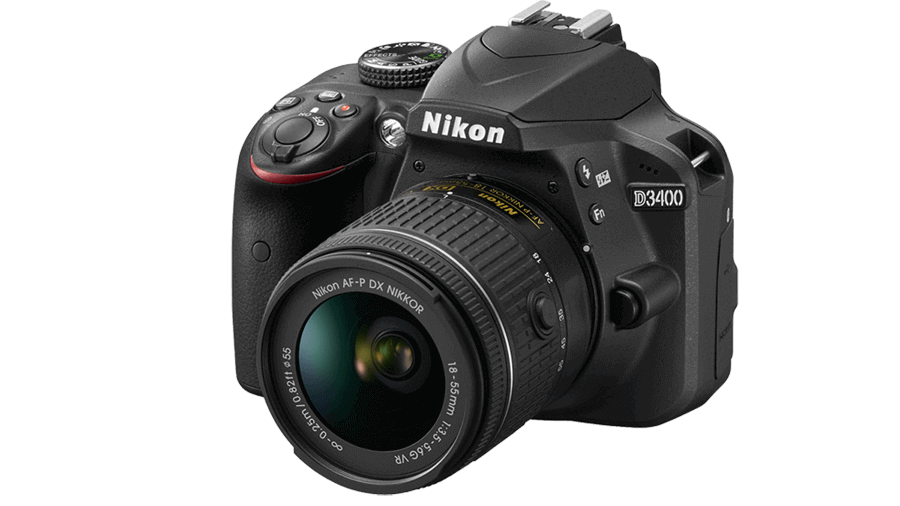 Nikon is one of the trusted camera brands for great and affordable DSLR cameras. The Nikon D3300 features a 24.2MP APS-C image sensor with its sensitivity ranging from 100-25,600. The camera can shoot continuously at 5fps and can record videos up to 1080p at 60fps and comes with the EXPEED 4 image processor for high-speed processing of images and reduction of noise effects. The Nikon SnapBridge option allows users to easily transfer images to their smartphones via WiFi. The camera comes with the Eye-level Pentamirror viewfinder.
BEST MIRRORLESS 4/3 CAMERA IN THE UAE: Panasonic GH4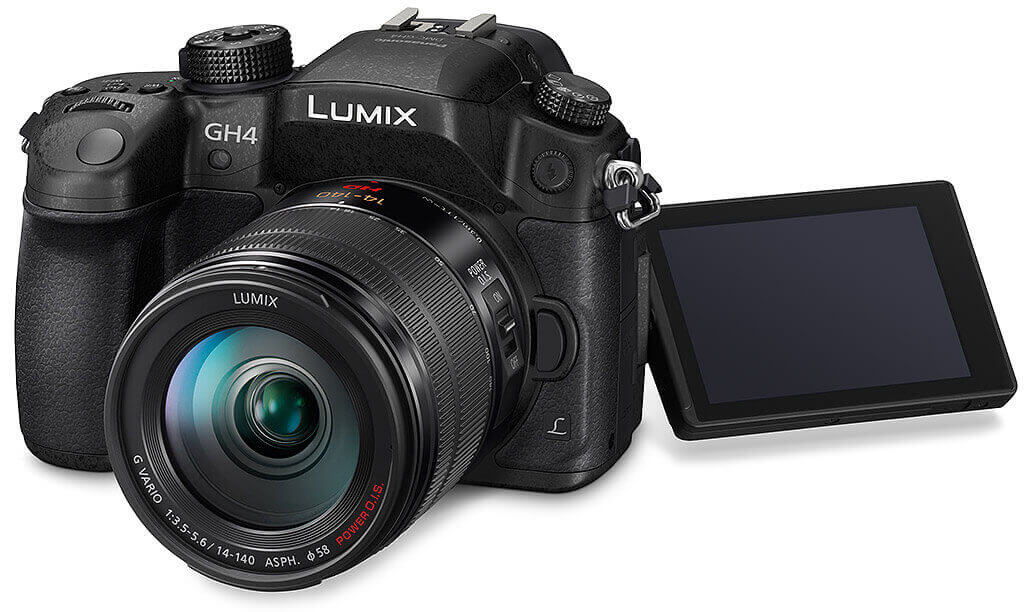 The Panasonic GH4 is one of the best-selling mirrorless MFT cameras in the market, featuring 4K cinematic and 4K QFHD video capture. The autofocus speed is fast with 49-area focus points. The tough magnesium alloy body helps in the ruggedness for tough environments to resist splashes. The 4K Photo mode allows users to select frames from a 4K footage that was captured and convert them to high-resolution images. The dual-OLED viewfinder displays 2359K dots and the main screen is 3-inches with 1036K dots. The ISO ranges from 100 to 25600.
BEST ADVANCED COMPACT CAMERA IN THE UAE: Canon Powershot G7 X II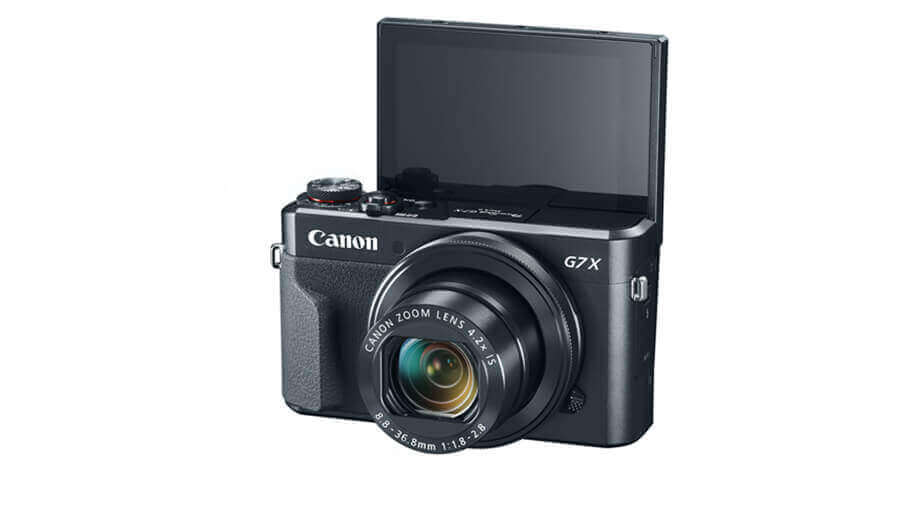 Canon has also joined the 1-inch camera bandwagon couple of years ago, with the Powershot G7 X II is the latest model. The 20MP image sensor is backed by the latest DIGIC 7 image processor for the best possible image quality processing. The aperture is variable from f1.8 to f2.8 for great depth of field effects and low-light photography. The focal length of the lens ranges from 24mm to 100mm. However, this camera doesn't feature its own viewfinder if you are fine with using the 3-inch tiltable screen. The camera is also capable of 8 fps continuous burst mode shooting. The ISO of the Powershot G7 X II goes from 100-12800. Users can opt for this camera for travel, street and casual photography.
BEST APS-C DSLR IN THE UAE: Canon 7D Mark II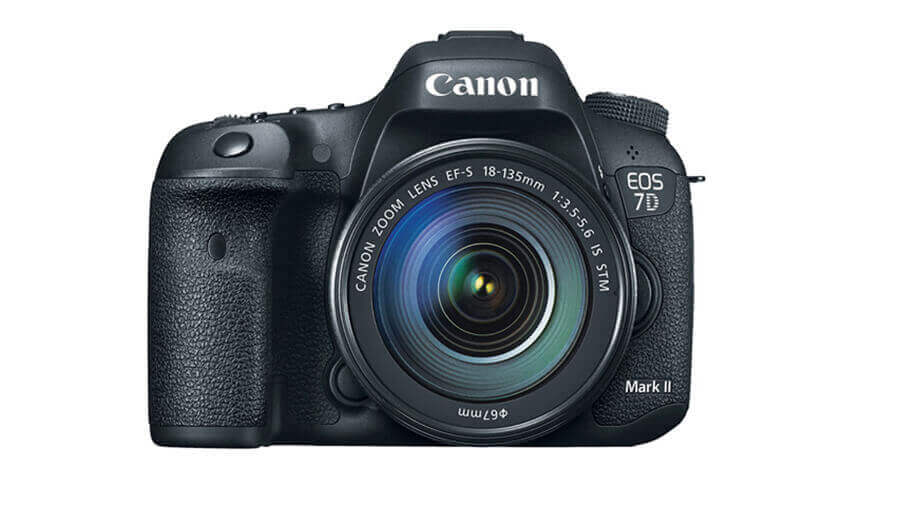 Looking for a high-end APS-C DSLR? How about the Canon 7D Mark II that features a 20.2MP CMOS APS-C image sensor with a 65-point autofocus system. There is a built-in pop-up flash module with a recycling time of three seconds and with an exposure compensation of +or – 3 stops. The 3-inch display features 1.04 million dot colors and is tiltable up to 360-degrees. The maximum continuous burst mode is 10 fps and the ISO ranges from 100-16000. The DIGIC 6 image processor helps in the processing of stellar images and videos.
BEST PROFESSIONAL DSLR IN THE UAE: Canon 5D Mark IV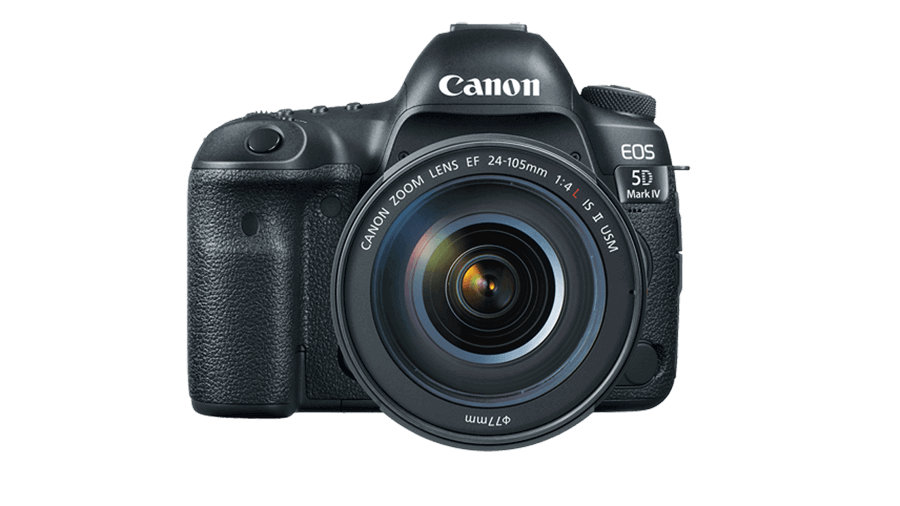 One of the best Canon full frame DSLR cameras in the UAE is the Canon 5D Mark IV DSLR. It features a 30.4MP full frame image sensor with the ISO sensitivity ranging from 100-32000. The ISO is expandable from 50- 102400 which is pretty big deal if you want to take images in low-light situations. The camera allows for video recording up to 4K resolutions at 30p or 24p, Full HD videos up to 60p and HD up to 120p. The Dual Pixel CMOS AF helps in fast autofocus speed for images and while recording a video. There are 61 Autofocus points with expanded vertical 41 cross-points. The built-in GPS helps in providing geotags with the Universal Time Code (UTC). The rear LCD screen allows for smooth touch controls. The screen is 3.2-inches in size and can be tilted up to a certain degree. Images stored in memory cards can be sent via WiFi to a PicBridge compatible printer with WLAN capabilities. The camera supports CF cards with Type 1 and UDMA Mode 7. SD cards are also supported with UHS-I standard. The shutter speed is 1/8000 to 30 seconds.
BEST BRIDGE CAMERA IN THE UAE: Sony RX10 Mark III

Sony also produces some of the best pro-level bridge cameras, with the Sony RX10 Mark III being the latest in the UAE. The Sony RX10 Mark III features a 1-inch image Exmor RS CMOS image sensor with 20.1 megapixels. The device is powered by the BIONZ X image processor for helping in for superior image details and fewer grains while shooting in low light situations. The 25x optical zoom lens has a focal length of 24-600mm (35mm equivalent) and an aperture from f2.4 to f4. You can also capture 4K videos at 30fps. You can also shoot a subject as close as 3cm for Macro shots. Users will also be able to record slow-motion videos up to 960fps. Sony claims that the autofocus speed is within 0.09 seconds. The Optical SteadyShot helps to compensate up to 4.5 stops shutter speed, thereby reducing blurs and shakes while recording videos. The camera is also capable of performing continuous burst mode up to 14fps with reduced blackouts. Sony has also introduced the Anti-Distortion shutter for fast and silent shooting. The ISO capability of this camera starts from ISO 100 to 12800 and expandable up to 128000.