Top 7 Must-Have Cool Accessories For Your Décor
Home décor encompasses multiple diverse elements of design. From living room designs to smaller aspects like the type of floor rug you use, how your position the furniture, what home décor items in Dubai to buy, and more, there's a lot to decide. And then there are some fail-safe accessories that can add interest and warmth to your space, no matter what style, theme, or interior décor you have.
If you need a handy list of go-to accessories for your home in Dubai that will never go out of style, are practical and welcoming, and can freshen up your interiors in a jiffy, we have the top seven for you to consider.
Leverage Flower Power
You can begin with fresh flowers – the most basic accessorising item. When choosing flowers to put into the vase on your living room's centre table, it will be wise to choose colours that complement or offset your room's palette.
For instance, you can select colourful roses to enliven a living room with walls painted in a monochromatic colour. Again, if your sofa cushions have yellow and white patterns, daisies or sunflowers could match them well.
Bring Home Some Potted Plants
When looking for home décor items in Dubai, you can consider investing in potted plants. Plants are natural accessories that are cool to show off and can add colour, warmth, and life to any space. You will just need to choose the size and colour of your pots and planters to ensure they match your room's overall style.
When it comes to choosing indoor plants, you will be spoilt for choice. From ornamental plants to air-purifying plants, pet-friendly plants, and more, you can take your pick based on what your aesthetic needs and preferences are.
Create A Focal Point With A Large Mirror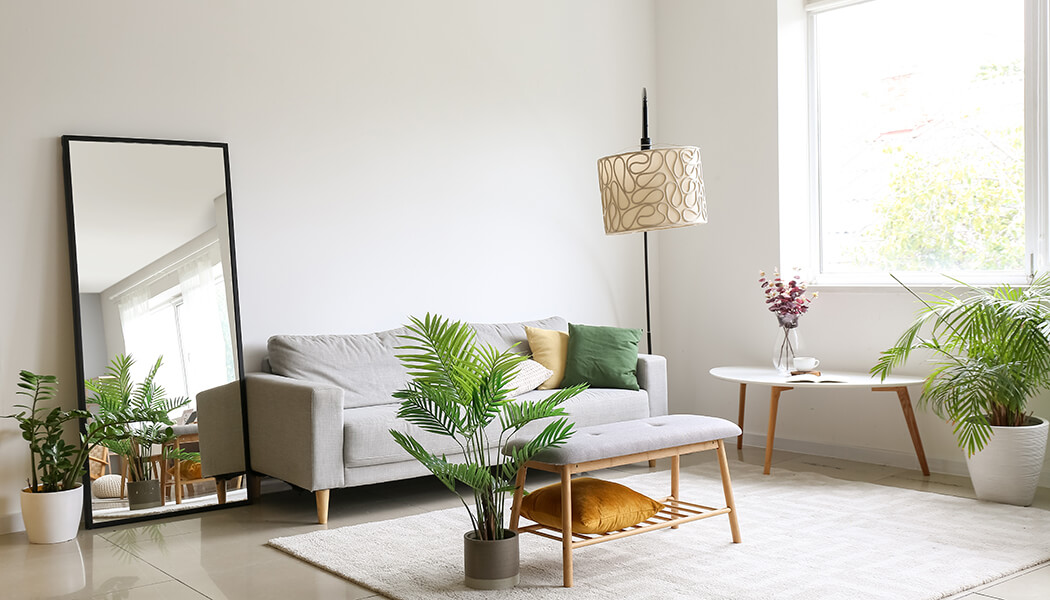 A large mirror positioned beside your living room sofa or mounted over it can create an excellent focal point. A unique mirror can make your space look bigger and brighter and even carry a room by itself.
You can choose mirrors in traditional shapes like rectangles or circles or experiment with shapes and styles like hexagonal mirrors, octagonal mirrors, starburst mirrors, etc., which enhance your space's style quotient.
Use Rugs
Nothing feels as good as a soft and comfortable rug beneath your feet. Rugs offer a layer of warmth and comfort that can hardly be matched by any other floor covering. If you need cool accessories that complement different living room designs, rugs can be sure-shot winners.
You can find rugs in almost an infinite number of colours, patterns, and styles to accessorize your abode. If you have an antique rug in good condition that has been a family heirloom, you could even use it to add a cosy, old-world charm to your space.
Add Some Drama With Wallpapers
If your space feels boring or lacks a focal point, adding a bold wallpaper to a wall or two can be the ideal solution. When searching for cool and stylish interior décor elements, wallpapers can perhaps be your best choice. They can even be a great choice for your outdoor wall décor.
From 3D artworks and geometric patterns to floral prints and other two-dimensional wall prints, you will be bowled over by unlimited choices when it comes to choosing wallpaper designs. By picking out home décor items in Dubai that either contrast or complement your chosen wallpaper, you can enhance the drama it adds to your space.
Create An Impact With Wall Art
Wall art can bring forth your personality and infuse the space with it while adding depth and character to the room. Instead of relegating wall art to the sidelines as many do, you should give it a prominent role in your design plans. Whether your room needs a focal point, a sense of texture, or a finishing element that pulls the space together and makes it feel complete, wall art call tick all the boxes.
From a painting or wall hanging to art prints, wall art that complements your room's colour palette and goes well with your space's overall décor can enhance the beauty of your room manifolds. You could even group your artwork to create an impact with your wall art. If you haven't given wall art for the living room a thought until now, we suggest you do it right away!
Beautify your Space With Candlesticks
If you own some candlesticks that are biting the dust, stacked somewhere in a cabinet, it's time to bring them out and use them as cool accessories to beautify your space. Whether you have candlesticks of similar or varying heights, you can display them on a sideboard, above a fireplace, or on an entry table.
It's not necessary for all your candlesticks to match. Even if you have a diverse collection, a balanced grouping of them can work like a charm and enhance your space's beauty quotient.
Wrapping Up
Amazing and cool accessories that integrate well with your living room designs need not break the bank. Even something as simple as an heirloom rug you possess, which has been passed down the generations, or a bunch of flowers picked from your neighbourhood store can help jazz up your interiors. If you have been struggling to find cool home accessories or worry about steep costs associated with designer home décor items in Dubai, the above ideas are worth implementing.
These staples have been tried and tested by many homeowners before you and are known to never disappoint. They look great, no matter what your interior or exterior theme, style, or overall décor is. And when you mix and match them with some of your most personal treasures, they can add an unmatched warmth and interest to your space to make it feel cosy and welcoming.
If you haven't been able to find accessories that transform your brick-and-mortar house or apartment into a loving home with a unique personality and character, try the seven cool accessories mentioned above. From wall art for the living room to wallpaper for outdoor wall décor and more, you will surely love them!