The Secret Sauce For Designing A Small Shared Bedroom For Two (Or More) Kids
Designing one small bedroom that two (or more) children share can be a tough task. If you are clueless about how to tackle this challenge or need some ideas and help to decorate a bedroom that's high on both fun and functional quotients, we have got you covered.
We bring you 7 tips and ideas to help create a shared bedroom your kids will love. You can use them as they are or tweak them to give a personal touch to the space that matches your kids' personality and preferences.
Bring In A Bunk Bed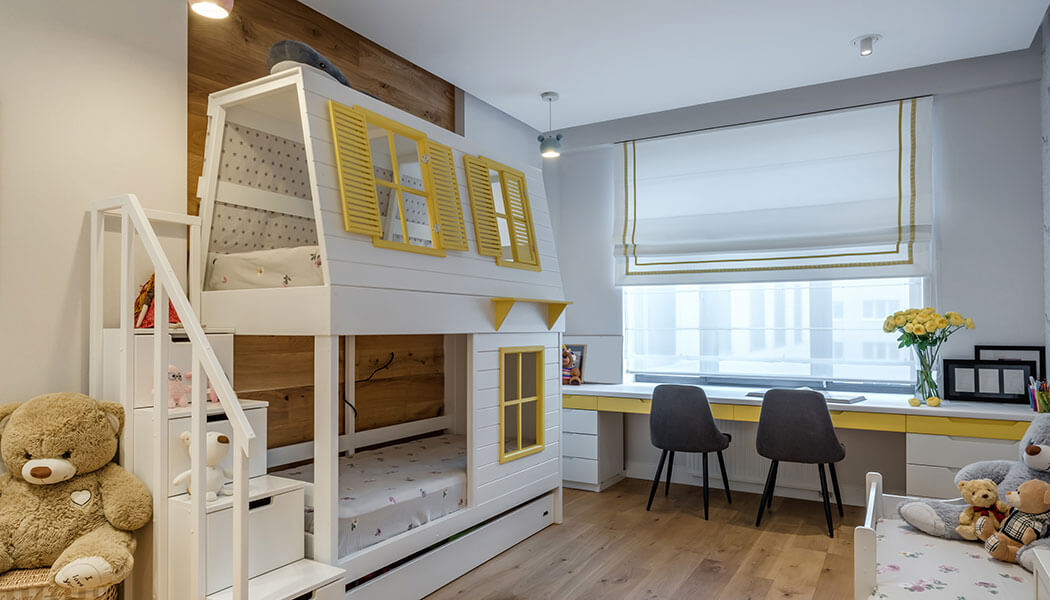 Bunk beds let you use the vertical space of a small bedroom optimally while creating separate spaces for your kids. You could either use symmetry to decorate the space (matching bed linen, pillows, etc.) or personalise the two beds based on what each of your kids loves or prefers.
You should remember to create a cosy corner dedicated to their studies and after-school activities, which will make the room feel like a space created just for them.
Use Paint Colours To Divide Space
You can paint each side of a small room in a different shade. This way, you can virtually divide and visually define the space in two. To give each of your kids a space to call his or her own, you can position the beds by the wall and use matching bed sheets, pillows, blankets, and even tables, shelves, sconces, etc., to add cohesion to each kid's space.
This will help you give each side its own identity. By leaving some space in the centre of the room, you can create a middle ground that your kids can use for activities and play dates.
Invest In A Trundle Bed For Temporary Shared Space
If you plan to create a temporary shared space for your kids, using a trundle bed is a good idea. Whether it's a vacation home or a space for sleepovers, having a trundle bed means your kids can pull it out for sleeping and stow it away during the daytime to reclaim extra floor space for their daytime play, socialising, and activities.
Even when your kids' friends come for sleepovers, a trundle bed together with the larger bed on top can accommodate 3 to 4 kids, which means the kids won't need to sleep on the floor.
Go All-In On Symmetry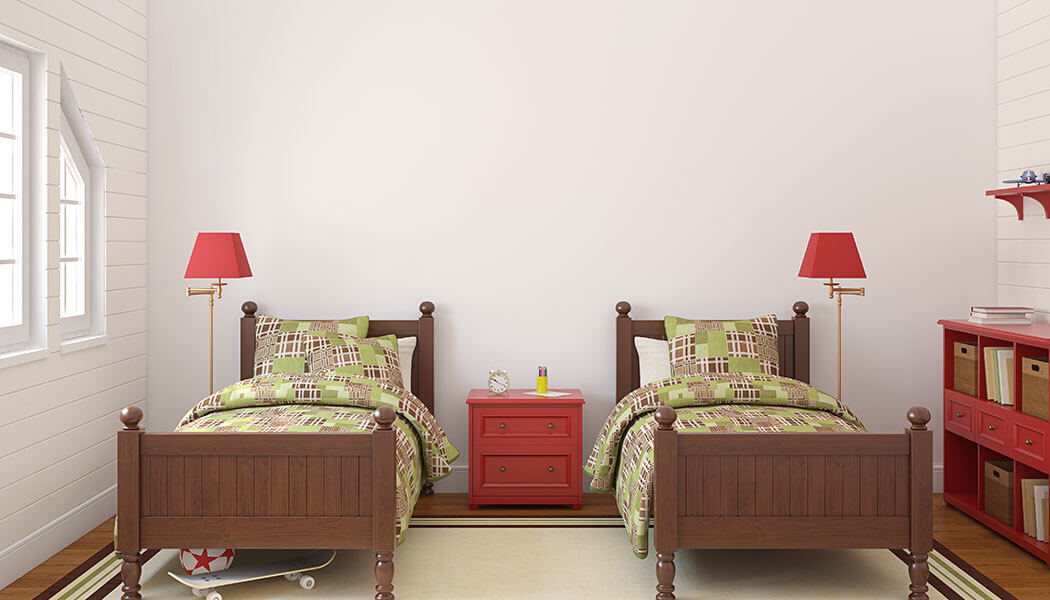 If your kids share a sense of style, you can decorate their shared bedroom in everything that matches, right from the beds and linens to pillows, rugs, and throw pillows. This will make each side of the room an almost exact mirror image of the other.
You could even place a bedside table, dresser, or study table in between the beds and put matching lamps, potted plants, or other accessories to create the overall effect of a unified, designed space.
Get A Shared Double Bed
If your small space isn't ideal for two twin beds or bunk beds, you can position a shared double bed. To distinguish the space of each kid, you can position a dresser on one side, and a dressing table and chair on the other.
You could even have nightstands on each side adorned by mismatched lamps or flowers in flower vases to give each kid a space with its own personality. Throw pillows in colours loved by your kids too could be useful additions to the space to add a certain degree of playfulness and visual appeal.
Create Adequate Space For Storage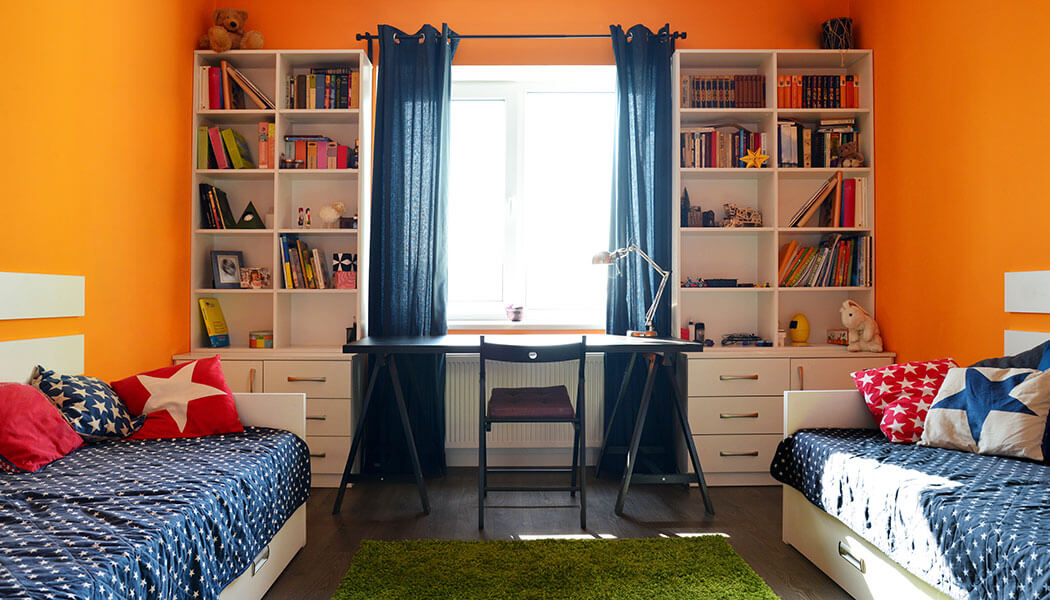 From beds with storage drawers to dressers, bookshelves, tables, bins, and baskets, you should create adequate storage solutions for your kids' shared bedroom. Ensure that the little ones have enough space to stow away their study materials, toys, art and craft supplies, and hobby materials.
Creating adequate storage solutions in the bedroom will help your kids develop cleanliness as a habit and ensure the space doesn't become chaotic and disorganised.
Add Colours and Patterns To Jazz Up The Space
You should add a pop of colour and pattern to your kids' shared bedroom. From personalised 3D wallpaper and photo frames (with images depicting the kids' special occasions, vacation moments, or achievements) to colourful toys, geometric patterns cut out from paper and hung on the walls, string lights, colourful rugs, and accent pillows, you can take your pick from a diverse array of things.
If you have chosen a minimalist design for your kid's bedroom or neutral paint colours for the walls, colourful accents can make the space come alive and give it a welcoming and visually appealing vibe.
Even if your kids' shared bedroom has tight quarters, you can use the above tips and tricks to design a space that the kids can call their own and love coming back to. So, what are you waiting for? Go ahead and create the ideal haven for your little ones!