5 Stylish And Easy-Breezy Teen Bedroom Ideas To Implement
Life as a teenager is often tough and somewhat confusing as the child gives way to the young adult who's still figuring out the world. The teenage years are a time of excitement, expression, and evolution. When designing a bedroom for your teenagers, you should take into account your teens' transition from childhood to young adulthood and design a space that's stylish and reflects their preferences and personalities. It should also feel true to their growth and inspire them to be fearless and excited while they decipher their desires, wants, aspirations, and much more.
Not sure where to start or how to go about designing a teenager's bedroom? Worry not because we have got all the bases covered to bring you several tips and ideas that you can use to create a dream bedroom for your teenagers. Whether you are decorating the space for one or a shared space that siblings will use, just remember to involve your teenagers while designing their bedrooms to ensure the space highlights their personal styles and interests while still fitting in with your overall home décor.
Work With Your Teens' Preferred Colour Palette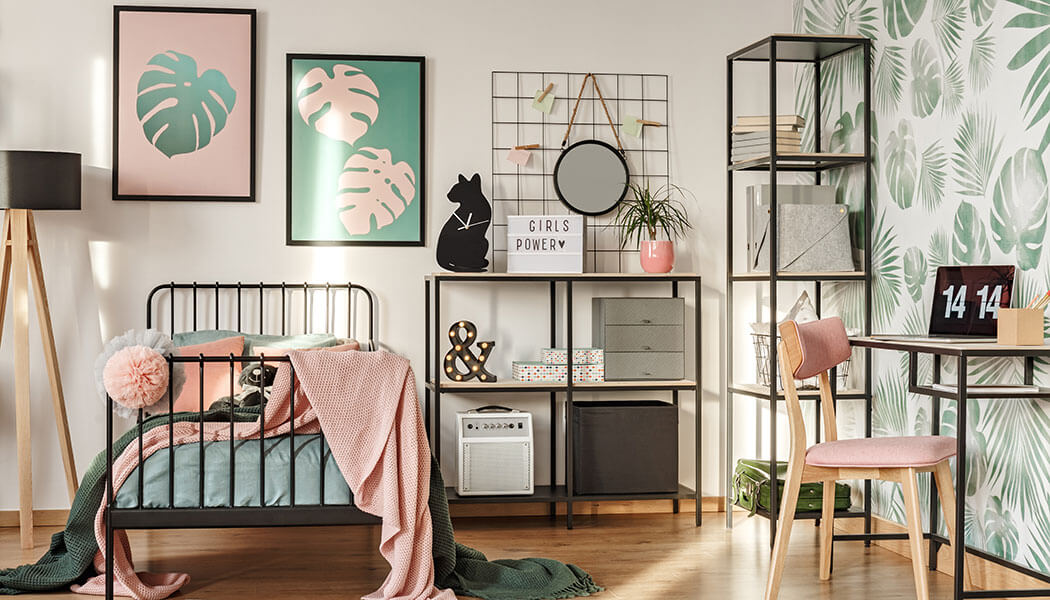 Since the choices and preferences of teenagers change fast, painting their bedroom walls in their preferred colour palette could be problematic once they fall out of love with what was once their favourite colour. A safer bet is to paint the walls in neutral colours and bring in their favourite colours in curtains, rugs, built-in furniture like wardrobes and headboards, or even cushions and throw pillows.
You may also use wallpaper on one of the walls as it's easier to change than paint colour.
Bring In Diverse Accessories That Are Easy On the Pocket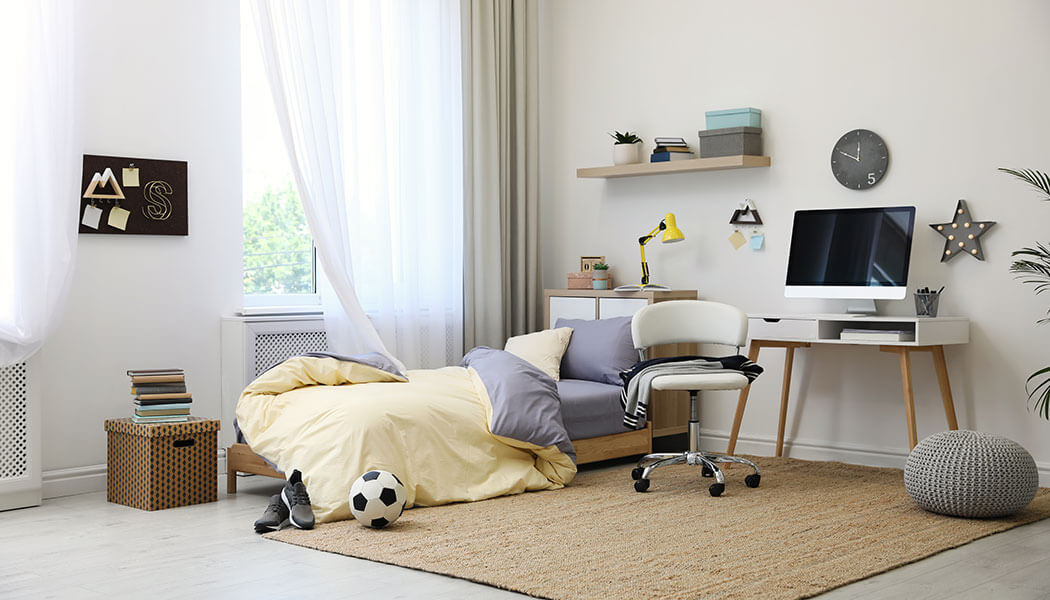 Framed photographs of your teenagers with the winner's medals, during vacation, acing a competition, or performing in an event are inexpensive ways to design their bedrooms and support their journey of self-expression and creativity. You could even create an image gallery on one of the walls or make a collage of special moments to use as a décor item.
It will be wise to select affordable and easy-to-rotate accessories like rugs, cushions, and bedspreads that match your teens' favourite colours or theme obsessions at the moment. You may even use some of your thrift store buys. Since you can swap them fast without breaking the bank to match the young adults' changing tastes, they are safe bets for decorating teenagers' bedrooms.
Get The Details Right
Your teenagers' hobbies or interests should be used to anchor their bedroom design. For instance, a musically inclined teenager would love to have a wall inscribed with musical notes or a guitar strategically placed in a corner of the room. Again, a football enthusiast would love to showcase the football or the jerseys.
An overactive teenager may love to have a punching bag hanging from the ceiling in his or her bedroom where he or she can box to spend the extra energy and sweat it out in complete privacy. The key is to knock out these smaller details that will make the teenagers feel the space is their own.
Introduce A Fun Quotient With DIY
Does your teenager love clicking pictures with a camera? Or painting? Or growing plants and nurturing them? Or creating posters and image collages? You could encourage DIY projects like these and use the results (a framed image, photo collage, painting, or potted plants) to decorate the bedroom.
You could even use past school projects (say, a world map with the countries labelled) to decorate the walls of your teenagers' bedroom. The idea is to have fun with DIY projects that are used as the room's interior décor elements, thus giving the young adults a sense of belonging.
When In Doubt, Rely On The Classics
Can't decide on the wall paint colours? Not sure what coloured accessories to bring in? When you are in doubt, you can fall back on time-tested colours like full white or black-and-white for your teenagers' bedroom. After getting the basics right in terms of the bed, bedsheet, pillows, curtain, rug, etc., you could introduce a pop of colour here are there to break the monotony a bit.
A potted plant, an open bookshelf, a decorative wall art, or a pouf can be welcome additions when designing the bedroom of your teenagers in case you want to play it safe.
Bedrooms for teenagers no longer serve just the purpose of sleeping and playing. Young adults need their bedrooms to be multipurpose where they can relax, study, have play dates, and entertain friends. Whether you are designing your teenagers' bedroom from scratch or re-designing the space as your kid has stepped into the teenage years, you should keep their changing preferences in mind to design a space they feel proud to call their own.
Use the ideas and tips shared above to give your young adults a versatile bedroom that can grow with their various phases of life without requiring you to do some heavy lifting every year to keep pace with their changing style preferences.