Tips to buy the best ironing board for crisp and crease-free clothes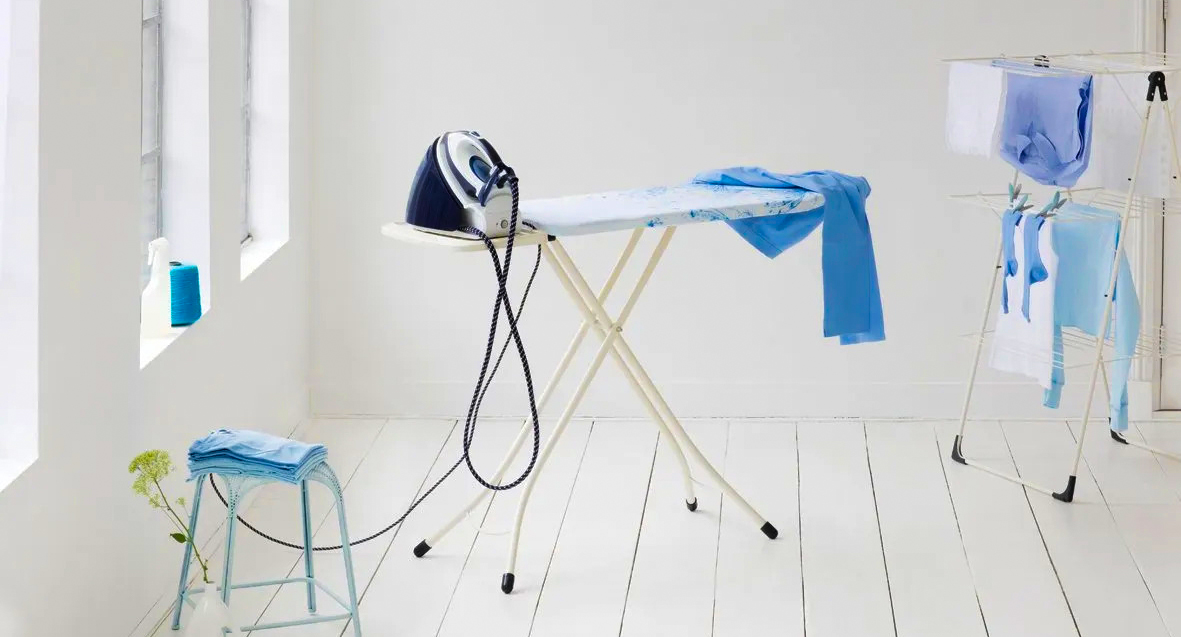 Whether it is a neatly pressed dress or a shirt with sharp edges, wearing properly ironed clothes makes a person stand out in elegance and sophistication. But, to get the required fresh and crisp feeling, you need to iron your clothes on a proper surface. A lot of people tend to iron their clothes on a desk, on the bed or any available surface. Pressing clothes on an uneven or cramped surface makes the work very difficult and will not give you the neat finish you hope for. This is where an ironing board or ironing table comes in. An ironing board is a flat, sturdy surface built to make the process of ironing clothes convenient with perfect results. It also acts as an aid to your laundry room where you can systematically iron your clothes and put them away in an orderly fashion.
But not all ironing boards are built the same and just having a board is not enough. Your ironing board should have a sturdy base with adjustable height to ensure that the clothes come out perfectly pressed without straining your neck and shoulders. There are several other factors too which add to the quality of an ironing board. If you choose an ironing board that is not well-built or is of an incorrect size, it will neither aid you in finishing your chore quickly nor give you the results you want. Given below are the features to look for when purchasing a good ironing board.
Features to look for in the best ironing boards online
Portability – The kind of ironing stand you buy depends on your ironing habits. Do you have a dedicated laundry area where you regularly iron and sort your clothes? Or do you take care of ironing wherever there is space available? If you have a fixed area where you can iron your clothes then a fixed board will be perfect for you. If not, then look for a lightweight and small ironing board which can be moved around easily. T-leg ironing boards are usually the most portable boards. Those with space issues can also opt for over the door ironing boards or back of the door ironing boards. Over the door ironing boards can be suspended from doors to create a makeshift table for pressing your clothes. Back of the door boards are folding wood ironing boards which hang from the door. They can be pulled out to carry out the job and then folded back up.
Size – Ironing board dimensions are varied to accommodate many types of clothes. If you need to iron trousers, you will need a long ironing board. For tees and dresses, a shorter board will suffice. So, the size of your board needs to be determined based on what types of clothes you iron. A few ironing board models have a main short-sized board with a pull-out section underneath which can be used to lengthen the board if needed. Width is also a factor to consider. Some ironing boards are extremely narrow while others can be as wide as 54 inches. Take note of the length and width to see what dimensions will fit your needs.
Height – The ideal height for an ironing board is having the board at chest level. A board lower than that will make you bend down leading to back and shoulder pain. A level higher than your chest will strain your arms and neck. If there are people of different heights who will use the ironing board then look for an ironing board with a range of adjustable heights.
Durability – A sturdy and durable ironing board will last you for ages. The common build for an ironing board has a T-leg structure. This kind of ironing board is easier to move around but offers less stability. A four-leg ironing table is comparatively more stable but quite heavy and not portable. Having a sturdy table means you have to apply less pressure during ironing. A flimsy ironing table has the risk of toppling over when you iron. The material used to construct the board is also important. Thin plastic can lead to the board melting or damage the clothes during ironing. The best ironing boards are made of heat-resistant material covered with a layer of padding with a cloth cover.
Padding and cover – Ironing boards come with padding and a cover. If the padding is too thin or the cover is not of good quality, then it may get scorched or burnt during iron. Proper padding will provide the required support for crisp ironing. Look for padding made from thin sponge or linen. The ironing board fabric should be of a thick heat-resistant material such as cotton to withstand high heat.
Additional features to look for in ironing boards in the UAE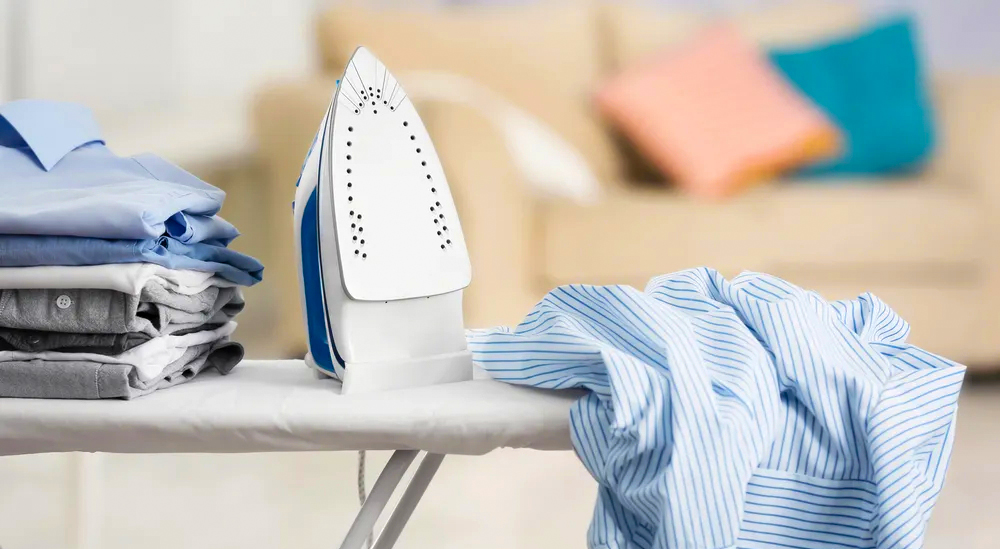 Apart from the regular aspects of an ironing board as listed above, you can look for a few add-on features too. Add-on features are a matter of personal preference. They are not essential but can be helpful to have.
Sleeve board – A pull-out board to accommodate sleeves makes it easier to press sleeves of a shirt, tunic or any other clothing.
Iron rest – Many ironing boards come with a stand for resting the iron in between changing or folding clothes.
Hanger hook – A hanger hook is a feature available in large ironing boards. These are provided so that you can use a hanger to stack the ironed clothes while you are taking care of the rest.
Ironing board hook – This is a feature available in foldable ironing boards that lets you hang the board on a wall once you are done using it.
The best iron board stands in Dubai and the UAE
The shops of today have a wide range of ironing board tables for sale. There are numerous types of ironing board designs available in the UAE from well-known brands such as Brabantia. Shop at online stores for the best prices on ironing tables in Dubai and the UAE to get the design you want the most.
To make ironing easier, we have a selection of ironing boards for you to consider. Have a look:
Brabantia Pink Santini Ironing Board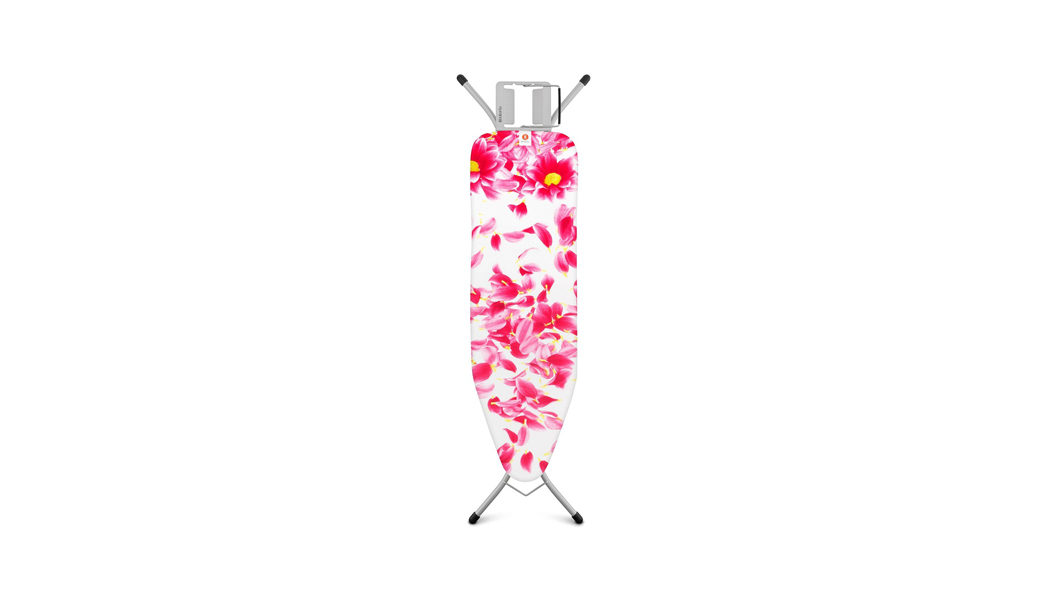 The Brabantia Pink Santini ironing board is one of the most convenient and sturdy ironing boards out there. This board has medium-sized dimensions of 124 X 38 cm which is adequate for daily household use. The board is height-adjustable to up to 7 variable heights so you can position it to the height most comfortable for you. It comes with child lock and transport lock to prevent the board from collapsing accidentally. The legs have rubber caps on the end for a sturdy non-slip grip and there is also a steam iron rest to keep your iron in between ironing. This board comes with a 10-year guarantee.
Brabantia Ironing Board 124 x38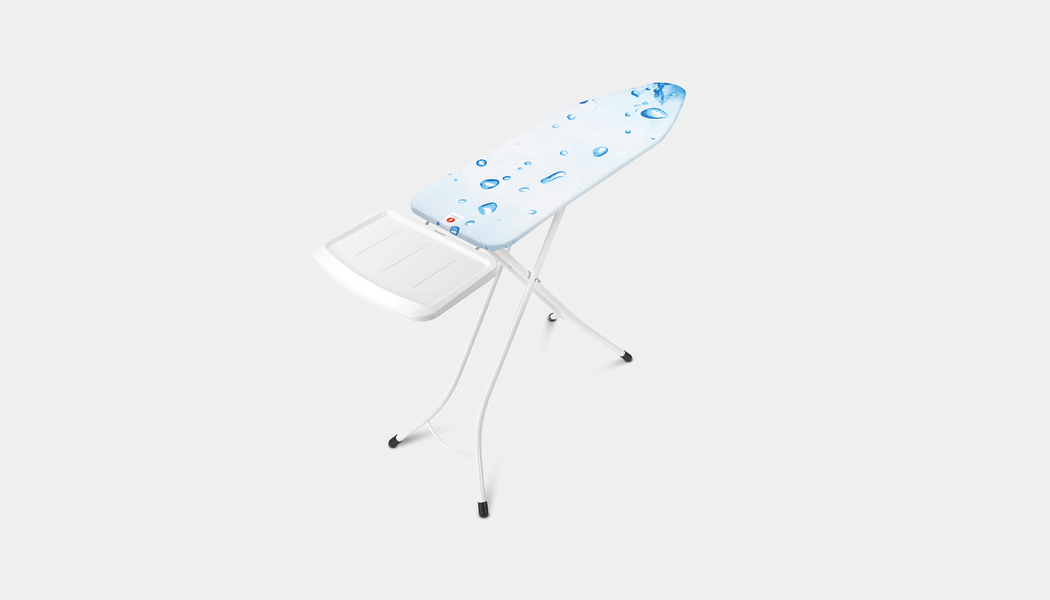 This sturdy ironing board from Brabantia is perfect for normal ironing as well as steam ironing. The board is fitted with a durable cotton cover having a resilient foam layer underneath for added support during ironing. The cover comes with a stretch and cord fastener system for a snug fit. The board measures 124cm x 38cm and is lightweight so that it can be positioned anywhere you want. This ironing board is available in two colours; ecru and ice-water blue. The covers come with a colour-coded label which makes it easy to purchase replacement covers if and when necessary.
Brabantia Ironing Board A
The Brabantia ironing board A is a dependable and durable offering from the brand. This board comes with a metal rest for the iron, a stable worktop which is adjustable to up to 7 heights, left and right-handed switch options, a child lock and protective rubber grips on the legs for a non-slip grip. The ironing board comes with a pure cotton cover which has a foam layer underneath to make the ironing smoother. The unit is foldable and has a transport lock system which prevents it from collapsing accidentally once it is unfolded and setup. The cover is available in three beautiful patterns termed as cotton flower, ice water and morning breeze.
If you lack a lot of space and are looking for a good cloth-drying option then look no further than this drying rack from Brabantia.
Brabantia Drying Rack T-Model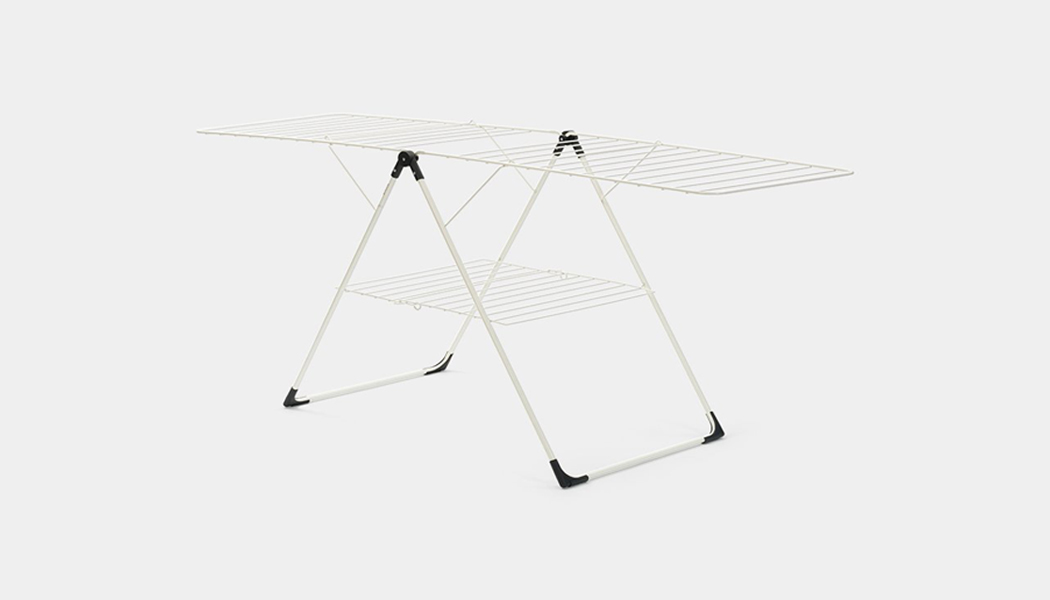 This drying rack from Brabantia is made of durable and corrosion-resistant materials to last you for a long time. The drying rack features a foldable design which can fit into a small space when not in use. When necessary, the entire unit unfolds into a spacious rack spanning a length of 20-25m. The legs are fitted with protective caps to prevent floor damage. There is a 5-year guarantee on this product and it is available in two attractive colours of white and metallic grey.