The Top 10 Houseplants for Apartment Dwellers
From purifying air and improving your mood to enhancing your home decor, houseplants can play various roles. However, in apartments with tight spaces and limited sunlight as well as humidity, it's important to choose the houseplants well. Not all plants can stay alive in such conditions, which is why you need to select the ones that are sturdy enough to survive in these conditions. We bring you ten sturdy houseplants that are ideal for apartments, can add a dash of life to your pace, and are easy to care for and maintain.
Snake Plant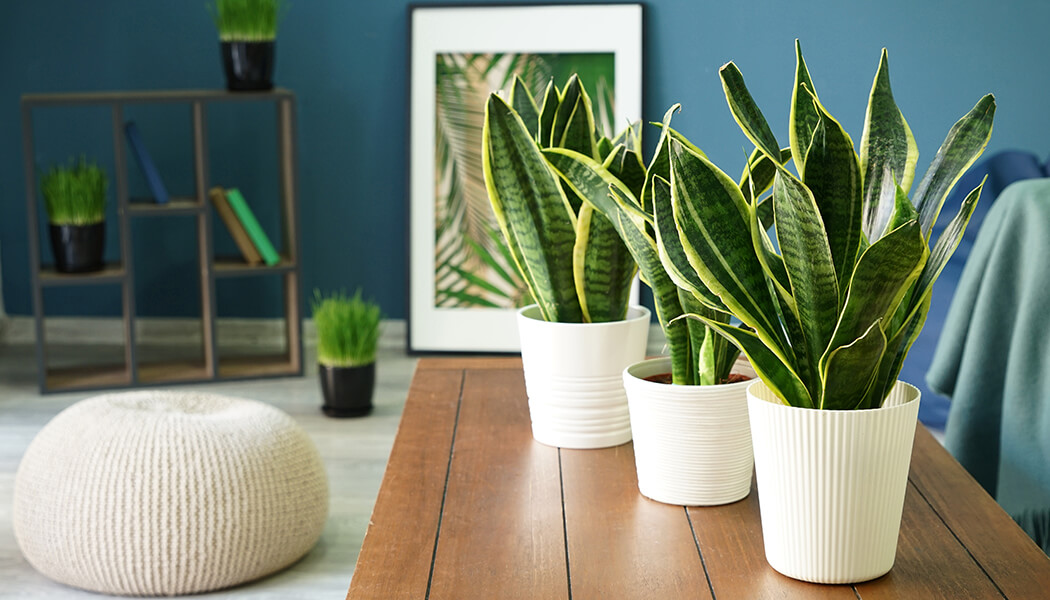 If you have a busy schedule and need a low-maintenance plant, snake plant is ideal. It can endure weeks of neglect without losing its fresh appearance and shape and is one of the most tolerant species of plant you can get. If you are a novice gardener or have a numb thumb (as you can't get plants to grow), snake plant could be your ideal choice. It can thrive with little water and sunlight and can help remove toxins like benzene and formaldehyde from the air to purify it.
Peace Lily
This is an attractive plant with elegant white flowers and long-sized dark green leaves. Since it needs little sunlight for survival, this houseplant is an excellent choice for small spaces. Ideally, you should keep this plant away from direct sunlight, which can damage its foliage. You won't need to water this plant a lot. When it does need water, its leaves will start to drop, indicating it's time to water it.
ZZ Plant
If you're looking for a low-maintenance houseplant with air-purifying properties, the ZZ plant (also called the Zuzu plant) should be your top pick. This plant, which is native to Zanzibar, requires watering just thrice each month, doesn't need a lot of light, and rarely attracts bugs or other insects. An added benefit it offers is cleaning the indoor air by absorbing pollutants like carbon dioxide, toluene, and xylene.
Aloe Vera
This plant can be a spiky decor piece for your living room or kitchen. It can also provide you with instantaneous medication for burns and scrapes and even act as an essential ingredient for your daily dose of skincare. Aloe vera plant needs plenty of sunlight, warm temperatures, and minimal regular watering to grow. You can position it near a sunny window and water it regularly. However, between waterings, you should let the top two inches of soil become dry.
Fiddle Leaf
If your apartment has minimal floor space but high ceilings, this plant is the ideal buy. Though this plant with dark green, waxy leaves grows tall, it isn't bushy. This plant can do well in medium light and just requires watering when its soil becomes dry to the touch.
Spider Plant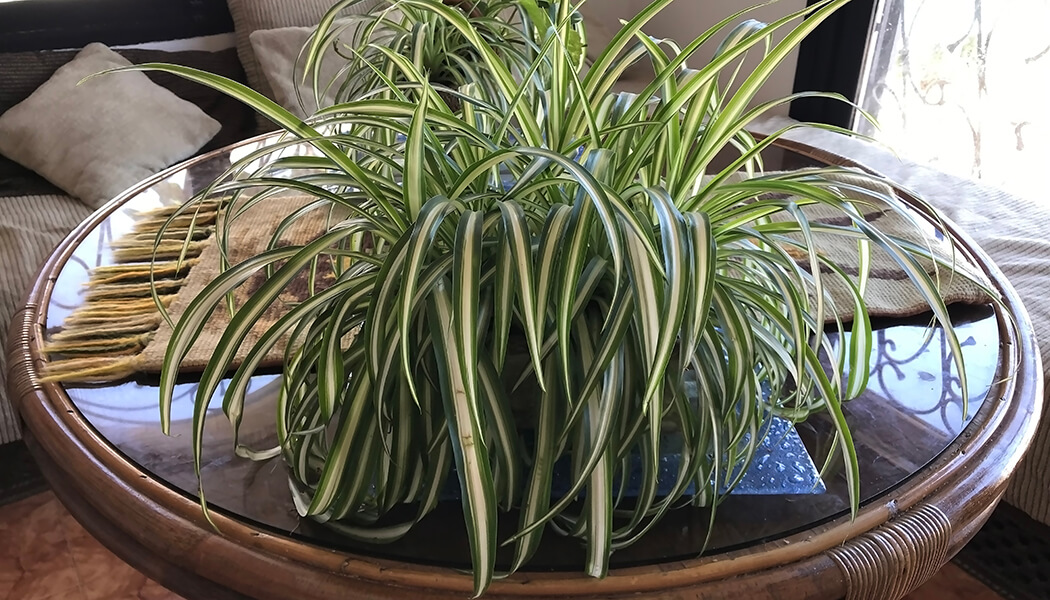 Whether you need to decorate your apartment's corners or want plants that need low light (including artificial light), spider plant can fit the bill just right. This plant sends out off-shoots to self-propagate, making it the ideal choice if you want an abundance of greenery in your apartment. This plant does well when it's planted in a bundle, and the roots are all crowded. However, it doesn't mean you can't plant one and let it grow on its own.
Bamboo
If you want to make your apartment's darker regions inviting and beautiful by adding a dash of greenery, bamboo can be your ideal bet. It just needs water and dim, indirect sunlight to thrive and can add a positive vibe to your space. Since it's considered a powerful example of leading feng shui elements of wood, water, and earth, placing it somewhere in your apartment can add a major sense of Zen to the space.
Pothos
If you want to add lively accents higher up in your space, you can hang this leafy green plant from a basket. This climbing plant can also be grown in pots and survives in diverse lighting conditions. Though it does well in medium to low light levels, it's ideal to avoid too dark corners as they could decrease its heart-shaped leaves' variegation. This houseplant is popular for its air-purification properties and can help get rid of toxins to improve your indoor air quality.
Cast Iron Plant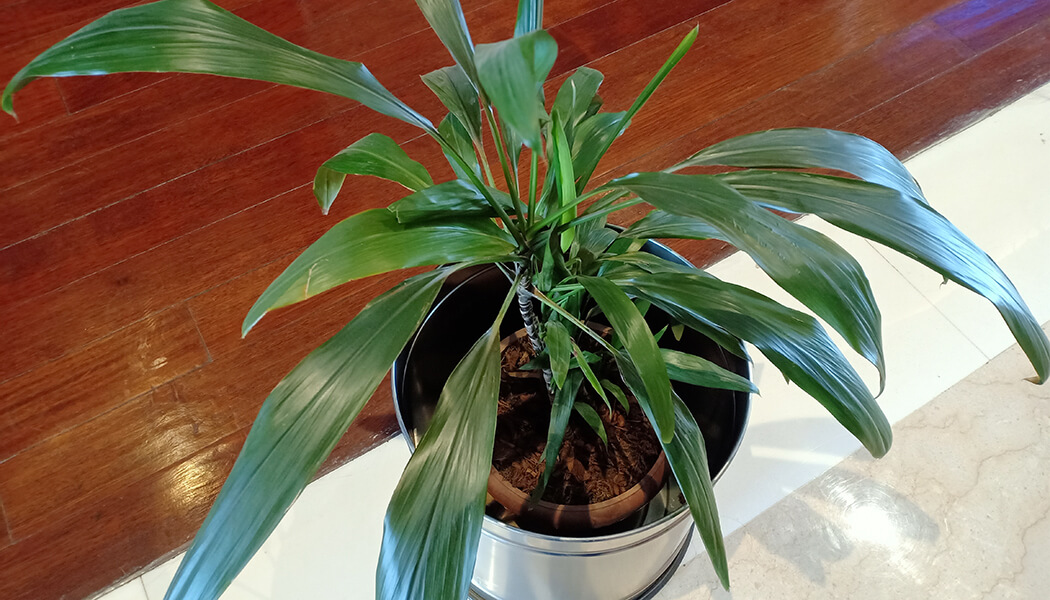 If you need a houseplant that can survive diverse growing conditions and even a lot of neglect that would have killed several other plants, you should bring home the cast iron plant. From poor soil and low light to minimal watering, this plant can endure them all. No wonder why it's called one of the sturdiest indoor houseplants. Whether you want to add an artistic element to your dark corners or enliven the space with a striking pop of colour, you can do it with this plant.
Happy Bean Plant
Even if the name doesn't entice you enough, there's a lot to love about this plant. It has thick, succulent leaves resembling the green bean pods. This plant grows almost 10 inches tall and should be watered sparingly, as it prefers to stay on the dry side. This houseplant needs bright (not direct) sunlight to thrive.
All these houseplants are ideal for small spaces as they don't grow large or take up a lot of room. Yet, they offer an unmatched "green" appeal and can enhance the beauty quotient of your indoor space.