Spice Up Your Kitchen with 15 Innovative Kitchen Wall Décor DIY Ideas
Since the kitchen is your abode's veritable heart, you should consider kitchen wall décor ideas to give the space a facelift. Your home's kitchen is a busy place. Every day, it experiences a lot of action when you prepare meals for your family members, wash the dishes, and perhaps guide your kids with their homework. When you entertain guests or host parties, your kitchen is where these events inevitably culminate. Thus, your kitchen should be functional. But it doesn't mean it can't be stylish. Though your existing kitchen appliances, cabinetry, and furniture will usually influence the space's décor, the way you spice up your kitchen's walls could enhance the space and, more importantly, your mood, too.
If you have been looking for super stylish and innovative, yet extremely practical kitchen wall décor ideas to give your space a new look and transform it for the better, here are 15 ideas worth a try.
Invest in appealing wood art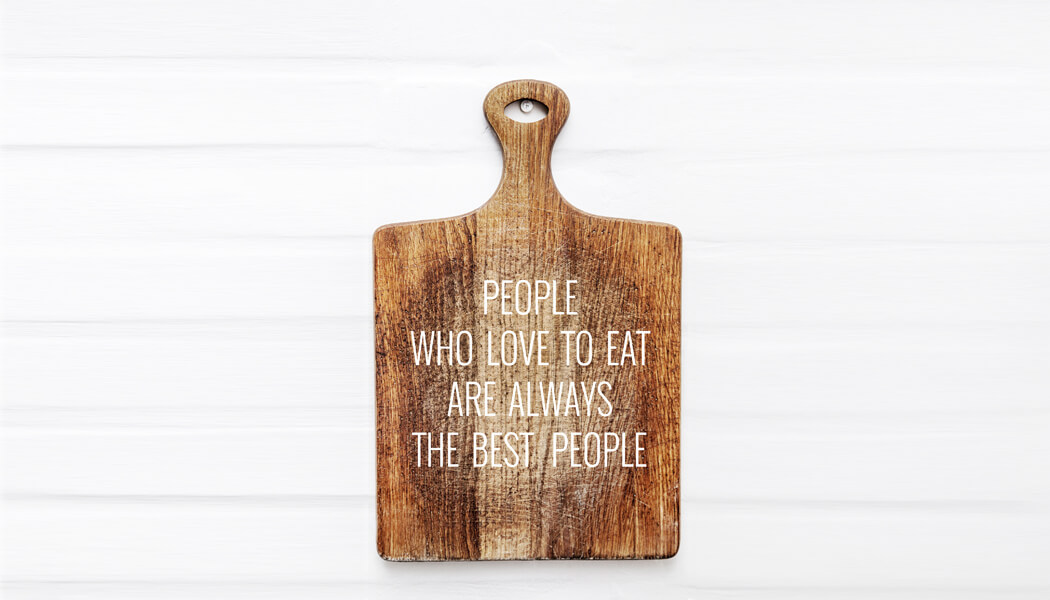 To add a rustic charm to your kitchen, you can decorate your kitchen wall with wood art. From a food-related quote to a beautiful image, wood art brings warmth into your kitchen by adding an astute element to the space's wall décor. You may even invest in wooden wall décor that adds depth to your kitchen's contemporary designs while keeping the space's overall balance intact.
Add a mural
You can give your kitchen wall a new hue with a realistic or rustic mural. You could either take your pick from an extensive range of designs or walk down the DIY route if you have a flair for artistic mural painting. Either way, murals on your kitchen wall are sure to grab your visitors' attention and act as conversation-starters.
Use chalkboard paint
Though it's inexpensive, chalkboard paint can instantly elevate the style quotient of your kitchen. Using chalkboard paint on your kitchen walls will instantly turn the surface into a notepad, which you can use for finalising your grocery shopping list or leaving reminders or notes for the rest of the household. You could even draw or doodle on it to add a fun vibe to the space. Apart from the standard black colour, you can get a wide range of colours and chalkboard finishes to choose from.
Opt for gallery walls
Though it's more common to have gallery walls in the hallway or living room, you can have them in your kitchen to up the space's style quotient. Ideally, you should get images or signs with a common theme for your kitchen's gallery wall. For instance, food-themed cute signs, images, quotes, or family vacation photos could work wonders for your space.
Add wall panels
Adding wall panelling is a relatively straightforward and classic way of giving your kitchen walls a smart new look. You could try experimenting with diverse panel widths if homogenous panels seem boring to you. You may even layer the look by having a special backsplash installed in a colour that contrasts your kitchen wall panel.
Choose wallpapers
Adhesive wallpapers are excellent ways to decorate your kitchen wall. From wallpapers with repetitive patterns or bold and colourful prints to scenic images, you can find a huge assortment of designs to select from. You may cover all four walls of your kitchen with wallpaper or choose to highlight any one. It's best to choose wallpapers that complement your kitchen cabinets, accessories, and the space's overall style.
Hang your colourful plates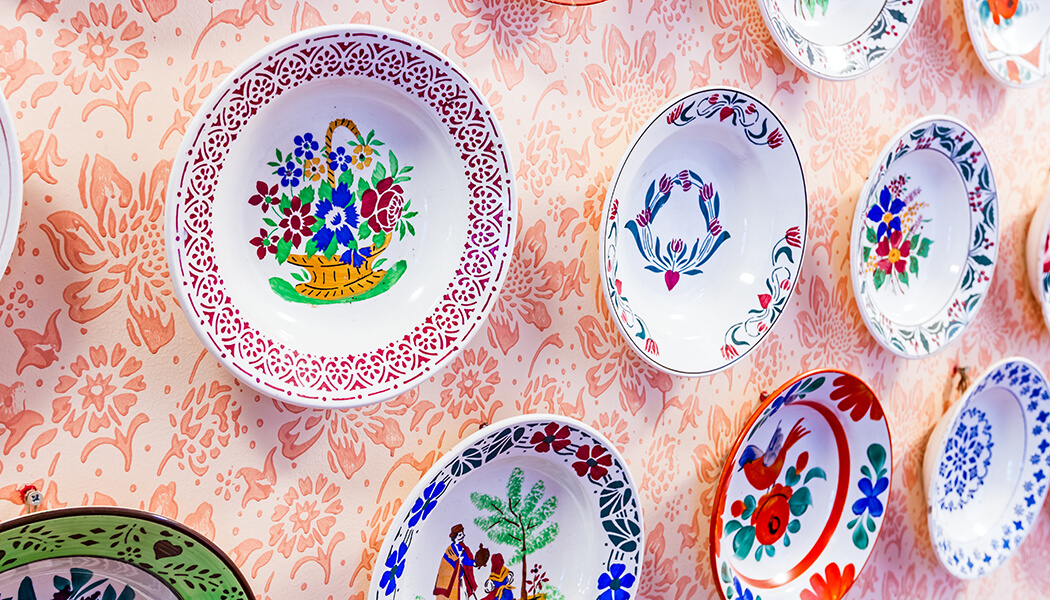 If you have colourful plates or own a magnificent set of Bone China plates in varying sizes, you can hang them on your kitchen wall to add a pop of colour to the space. Even if you're a collector and shop around to pick plates with interesting designs, you can hang some of them to decorate your kitchen walls and turn heads.
Use funny art and signs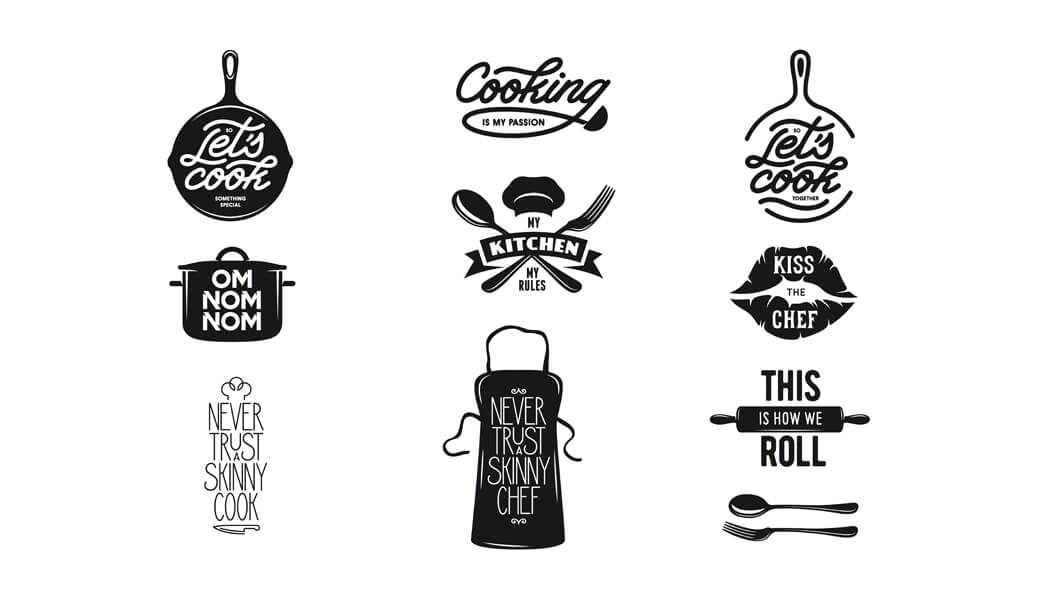 Your kitchen walls don't need to be drab and boring. You can get some fun art and signs for your walls that will bring a smile to your lips and deliver hilarious results collectively. Signs like "Never trust a skinny chef" or art prints that pair popular song lyrics with kitchen equipment like "Just Beat it" accompanied by the image of an electric beater can enhance your kitchen's fun quotient while decorating the walls.
Bring home some wicker baskets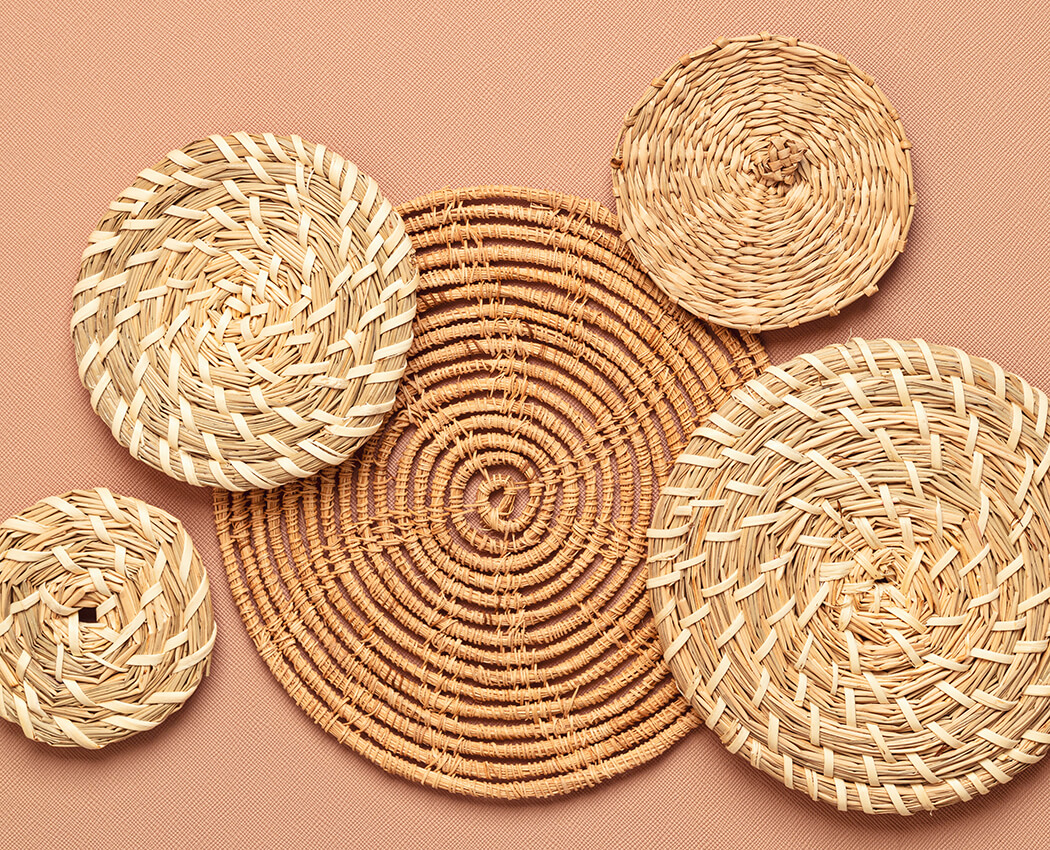 To spruce up your blank kitchen wall, you can add wicker baskets in varying sizes. They will add some welcome texture and warmth to the space. If you plan to decorate a narrow wall or a wall beside a graphic accent wall, wicker baskets can be an excellent choice. You could even use bamboo or rattan baskets as artisanal pieces for your kitchen wall décor.
Mount a big mirror
You can hang a big mirror horizontally or vertically on one of your kitchen walls. It'll invite more sunlight into your space to help your kitchen appear bigger than it actually is and make the space look beautiful. You could choose either contemporary or vintage mirrors, but you should ensure your choice complements your kitchen's overall design.
Hang your chopping boards together
If you own wooden chopping boards of different shapes and sizes, you can hang them all together on the kitchen wall using nails. This would neither cost you anything extra nor hog precious storage space. But by arranging them on your kitchen wall, you can give your space a pretty cool vibe. You may even add your wooden pizza boards or serving trays to the mix to spice things up.
Showcase your existing kitchenware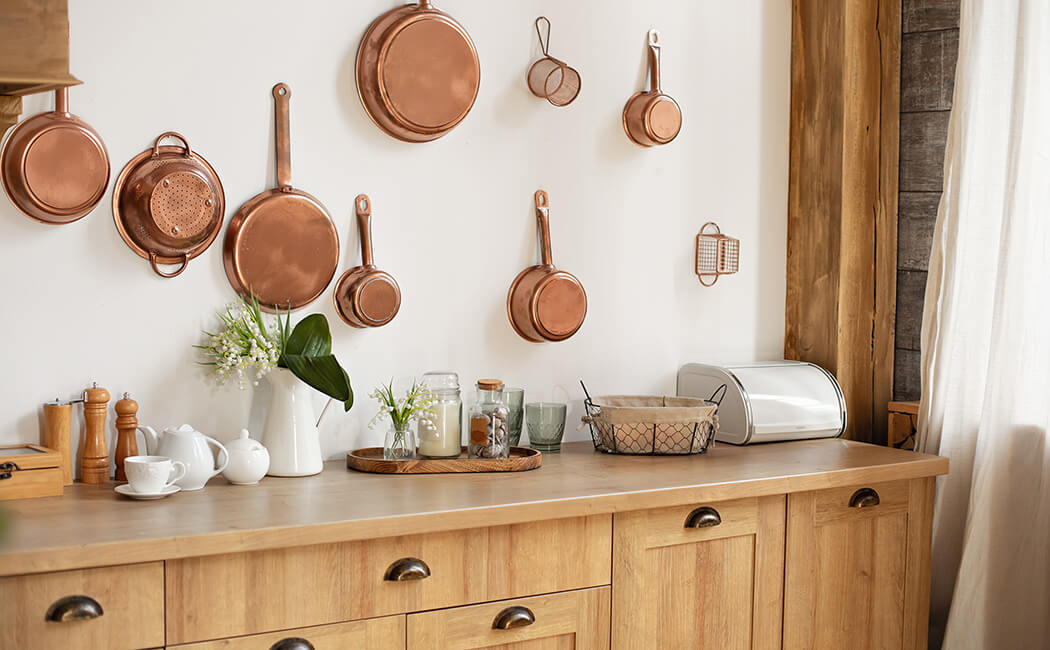 Instead of tucking away your beautiful and decorative kitchenware, put them on display on your kitchen shelves. If you have bare walls, you can install shelves on one of them and then place your cups, saucers, spice jars, ladles, spoons, etc., on it to make the space feel inviting and stylish at the same time.
Say yes to utensil bars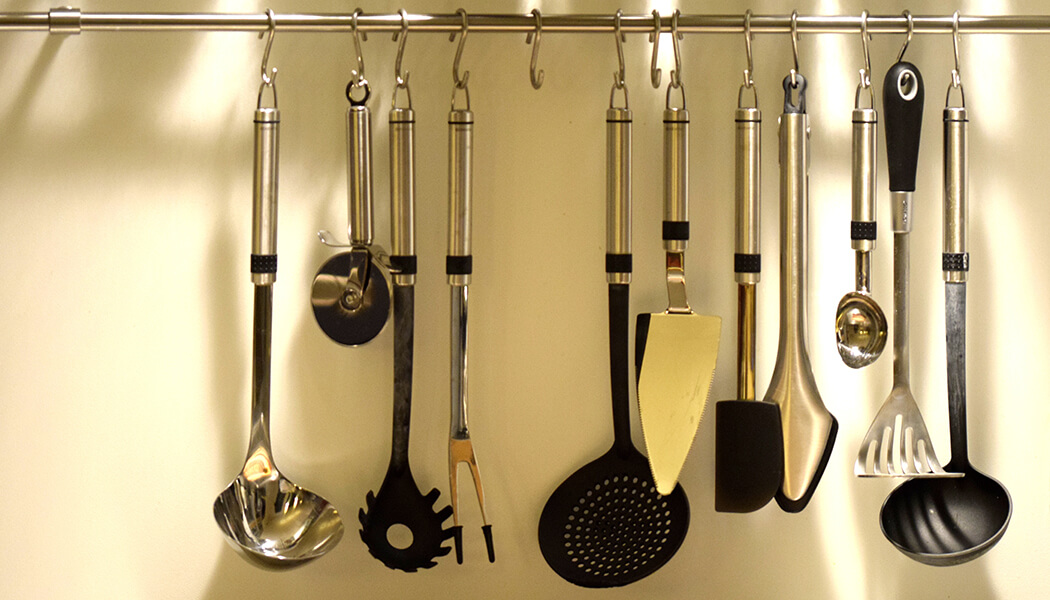 If a part of your kitchen wall is bare, you can install a utensil bar and use it to store the utensils needed for your daily kitchen duties. Utensil bars are best installed above your stove or sink to keep your ladles, spoons, knives, spatula, whisk, forks, strainers, etc., at hand. However, you can also have it on a nearby wall as a decorative element for your kitchen and even use it to add some extra storage space
Display a quirky wall clock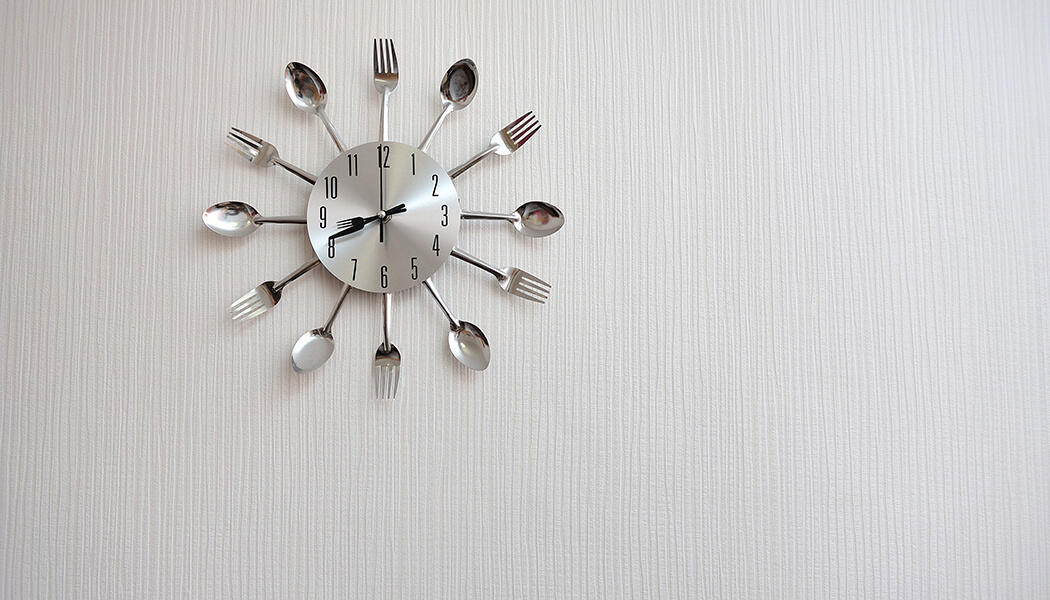 This trend in kitchen wall decorating can help your understated space stand out. For instance, you can hang a spoon-and-fork clock on your kitchen wall. This simple décor item will give your space a cosy and homey feeling. And the best part is you'll never go wrong with these functional and decorative pieces.
Use plants to enliven your kitchen wall
You can use hanging planters on your walls with climbing plants to bring a slice of nature into your kitchen. You could even grow spices and herbs in these planters to ensure they do double duties – help you with fresh cooking ingredients and enhance your kitchen décor. However, if you can't drill holes in your kitchen wall, you could consider potted plants to be kept on your shelves or racks.
We hope these kitchen wall décor ideas have adequately inspired you to use them as-is, tweak them a bit to add your personal touch, or decorate your own space your own way by taking inspiration from these innovative design ideas.