Make Your Room neat With Our Top 6 Room-By-Room Decluttering Methods
Decluttering your home is a time-consuming task, especially if you don't know where to begin from or how to handle the task. Jumping into it without proper planning would mean wasting hours on end and not achieving what you have set out to. Instead of overwhelming yourself by trying to deep clean every nook and cranny, you should focus on some key areas in your abode to make the overall space look tidier.
If you are clueless about how to do it all, our pro-organisers bring some effective room-by-room decluttering tips to help you zero in on the significant problem areas and tackle them one at a time. Implement them and you will soon handle the war zones in your rooms with the worst clutter like a real professional organiser.
Ready to do it? Here's how you should go.
Stick To The 3 R's
Be it your kitchen, living room, bedroom, or bathroom, you should stick to the 3 R's as your guiding principles to declutter the spaces. Not sure what the 3 R's are all about? Here they are:
• Reduce: Get rid of what you already own or have, as it's the easiest and most direct route to reduce the clutter in your home.
• Resourcefulness: You will find or learn newer, more creative ways of using what you already possess when you have lesser things to manage.
• Resilience: When you find you don't possess something you require, you won't be mad or in a rush to buy it. Thus, you can avoid hoarding things that you may eventually use just once or twice.
When decluttering your abode, your first step is to reduce. In your bedroom, check your wardrobe to get rid of clothes and accessories you no longer need or wear. You can recycle or donate them. If your refrigerator looks like a mess with excessive food, donate them to the hungry and consume the rest first before buying new items. If the shoe cabinet in your living room is chock-a-block, get rid of a few pairs you no longer love or wear.
When you are on a decluttering spree, you should use your resourcefulness (the second R). For instance, you can have a wire basket in your bedroom to hold the dirty or not-so-dirty clothes pile, insert decorative dividers and crocks in your kitchen cabinets to keep the contents organised, use stackable drawers and divided turntables underneath the bathroom sink and a plastic basket for empty bottles, cans, expired creams, used cotton balls, etc.
Lastly, you should trust your own resilience (the third R). For instance, if that paperclip or stapler seems like an absolute must, think of an alternative that's equally good or someone you can borrow the item from instead of buying it.
Start With The Living Room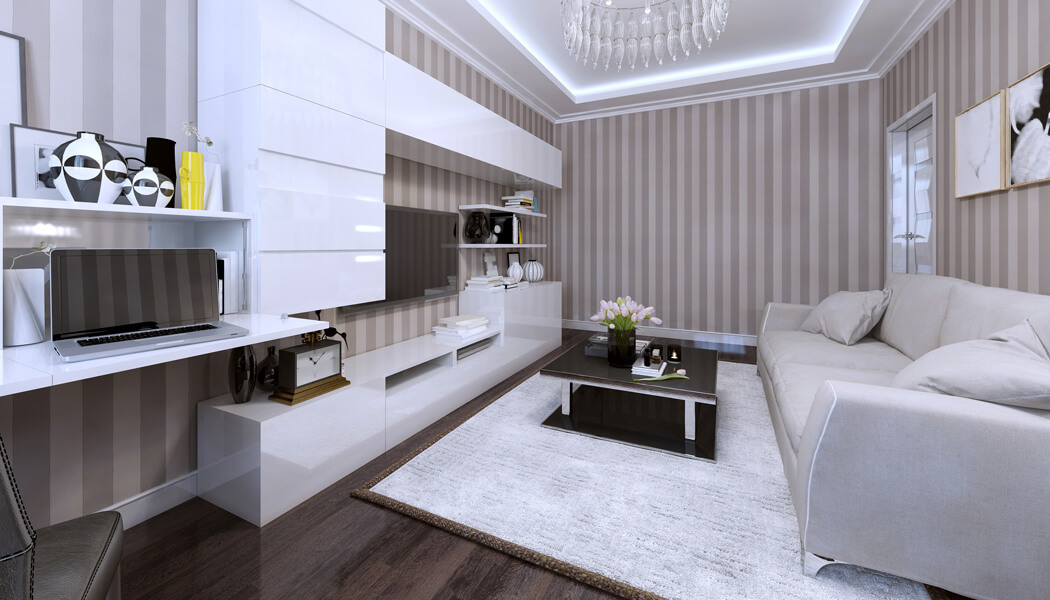 This space gets the most traffic in your home and is also where your guests and visitors sit. You may also have your entertainment unit or TV here, which means this is your relaxing space as well. A problem in most living rooms is the commonly used items lying scattered all across the room.
You can use storage boxes, shelves, and other solutions to keep everything organised neatly. For example, use a drawer or shelf for keeping common items like the TV remote, keys, books, and magazines, etc.
If your coffee table looks like a war zone with books and magazines, you can create a designated drop zone for these items. For example, a storage ottoman can hold your pillows, throw blankets, and even your kid's toys. A mail bag to keep all your bills and postal mails or a magazine rack to hold your magazines are other useful ideas to implement to declutter your living room.
Tidy Your Bedroom
This is another space that could get messy real quick if you aren't careful and lack a system to keep everything organised. You can use the four-box method where you label each of the boxes as trash, keep, give away, or re-locate. Enter your bedroom and sort the clothes pile into these four boxes, which will make the final organisation a bit easier.
For clothes that you need to relocate, find where they should go (into the laundry pile instead of the armchair, for instance). Next, organise the ones in your 'keep' pile by putting them in their designated places (folded clothes in the drawers or clothes bags, others to be hung on hooks behind the closet doors, or rolled and put away, like your pair of jeans or ties.
You can also use boxes, bins, and dividers to ensure the items in your closet stay put in their designated places, thus giving your bedroom a tidy look.
Move To The Kitchen
Are you troubled by stuffed and disorganised kitchen drawers? If yes, you aren't alone. If your kitchen drawers are brimming with cooking and baking utensils that tumble out every time you open them and try to bring a solitary item out, it's time to get things organised. Since your kitchen's central drawers and cabinets are prime real estate, put only your most-used utensils in the quick-reach areas.
The rest can be positioned farther back or higher up. It pays to use divided inserts (with sticky gel at the bottom to hold them in place) to create different zones within the drawers. You could also use multi-tiered inserts in your junk drawers to label the space for optimal and efficient use.
Instead of keeping your everyday-use appliances on the countertop, keep them in your cabinet or nearby closet once you have cleaned and dried them after every use. To make your refrigerator look organised, you can use acrylic bins and containers instead of making your awkwardly shaped packages occupy space on the shelves and side pockets. If your fridge's storage containers are too big for the available space, you can use zip-lock bags, plastic wraps, or tin foils instead.
Declutter Your Bathroom
According to our experts, decluttering your messy bathroom could become a breeze with a balanced blend of divided turntables and stackable drawers. For instance, you can have a turntable in front of the main pipe, two stackable drawers on the left or right, and a deep plastic bin on the other side that those using the bathroom can use to throw the empty sprays, cans, and bottles.
Shelves, cupboards, hooks, wire baskets, and drawer organisers too are good to use as they help keep everything in their designated spaces.
Though a lazy Susan is usually found in pantries and kitchens, you could have one in your bathroom if you have adequate space. It can work really well for your taller bottles of shampoos, hair sprays, and other products by letting you sift through things fast while weeding out the expired ones.
Put A System In Place
Trying to reinvent the wheel each day to declutter your home will make you feel tired soon. Instead, create systems to support your newly organized life and spend at least 5-10 minutes each day to ensure those systems are put to work. For example, Tuesdays could be set aside as bill-paying days.
This will make it easier to remember and help avoid paper pile-up on your coffee table or desk. In case you forget it one week, you will feel a sense of urgency to do it by the time the next Tuesday rolls around.
Again, you could have a post-dinner home cleanup routine where after dinner, the entire family pitches in by taking a particular room and putting everything away in their designated spaces before they settle down for TV or relaxation time and don't postpone the chores until just before bed when they will be too tired to move.
Decluttering your home room-by-room by identifying the vital problem areas and tackling them one by one will make a big difference in your life. It will also give your abode a cleaner, welcoming, and breezier vibe, which you are sure to love.
So, when are you using these methods outlined above to make your abode tidier?