Kitchen Cabinets – Know Their Types And Get Tips To Choose Them Like A Pro
If you think your kitchen is the heart of your abode, the kitchen cabinetry is definitely the star of your kitchen. By getting custom kitchen cabinet that's functional and visually appealing at the same time, you can make your mundane kitchen chores interesting. Your kitchen cabinets shouldn't just be eye candy. They should also be durable and help improve your kitchen's efficiency and organisation.
Before you plan and decide what kitchen cabinets you will have, it pays to know the various types available in the market that are in demand.
Types of Kitchen Cabinets
Base Cabinets
Your kitchen cabinetry's foundation is made of these cabinets that stand directly on the floor and offer adequate support to the countertop. Since such cabinets serve varied storage functions, their design should ideally be versatile.
Wall Cabinets
They are mounted on the wall, usually just above the base cabinets. They are used along with base cabinets and make your kitchen more functional by offering additional space for optimal storage.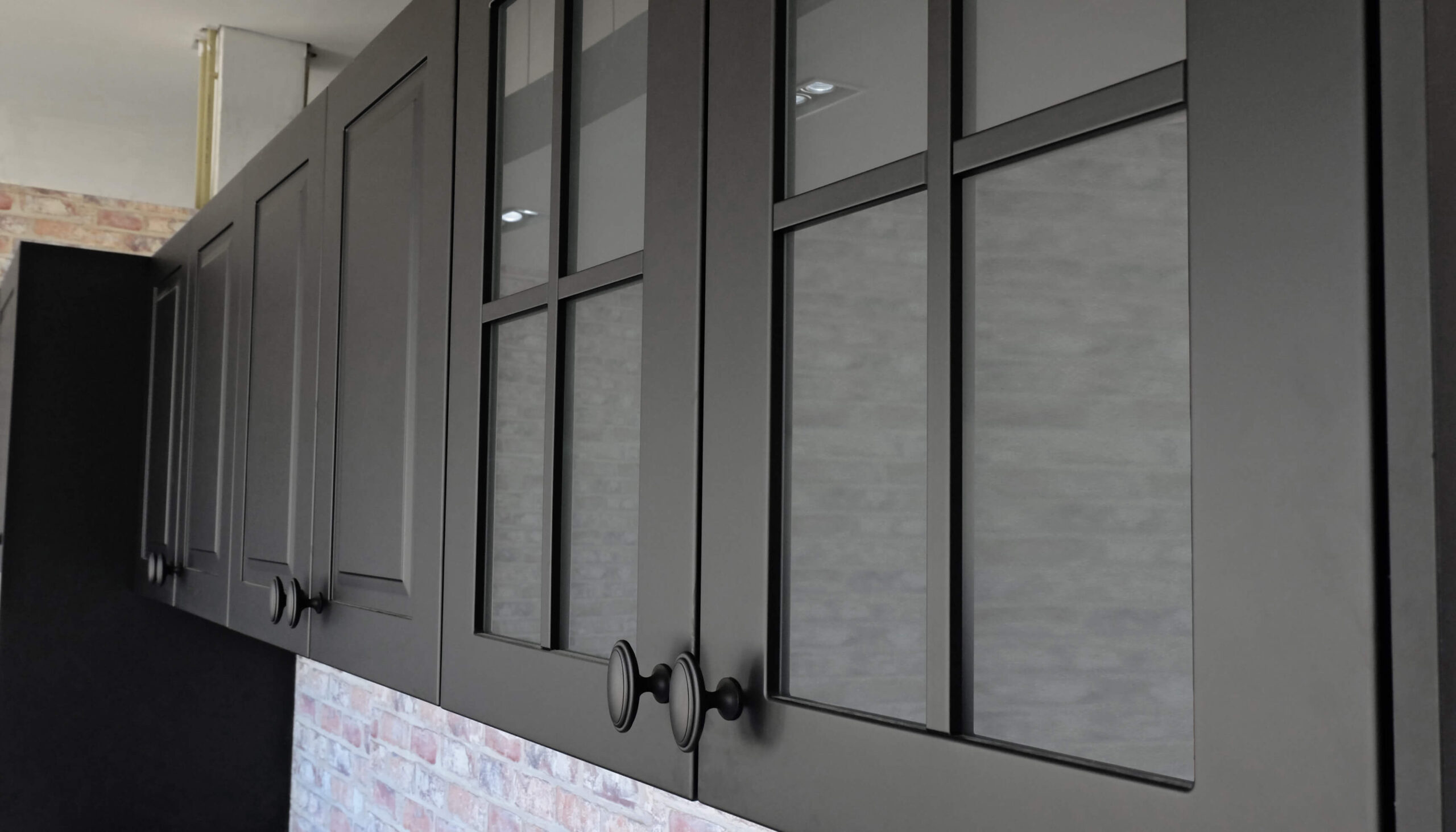 Tall Cabinets
Typically, these cabinets sit pretty in large modular kitchens with ample space. Also known as pantry or utility cabinets, they extend from the floor to the ceiling or close to it, and could have multiple shelves to facilitate bulk storage or fit your kitchen's built-in appliances like the microwave or oven.
Top 4 Tips to Plan Your Kitchen Cabinets
You should consider various components of kitchen cabinetry to decide what's perfect for your abode's heart. Here are the top four factors to take into account to plan your kitchen cabinets the right way:
Materials and Finishes
You can take your pick from a wide array of kitchen cabinet materials, such as PVC, plywood, wood (including engineered wood), particle board, and stainless steel. When it comes to finishes, laminate is the most popular choice, primarily because it's available in diverse colours and designs, thus making it easy to choose a finish that sits well with the rest of your kitchen beautifully.
For a glossy, lavish look, you can invest in acrylic kitchen cabinets but they need more maintenance than other finishes as smudges, stains, and dirt are more visible on them. For a cheaper and low-maintenance option, you can go for membrane finish cabinets. PU or polyurethane finish, distressed finish, glazed finish, natural finish, and glass finish are other options worth considering.
Optimisation of Space
If you cook regularly, having a kitchen with maximum storage space that utilises every nook and corner will be the ideal choice. You will do well to install base and wall cabinets for optimum space utilisation and reduce countertop clutter to a minimum. If you have a spacious kitchen, you could even create separate cooking zones and install cabinets accordingly to utilise the space better. Having a pull-out pantry with several cabinets that can hold bins and jars is another idea worth implementing.
If your cooking sessions are not frequent and usually restricted to the weekends, adequate base shelves will be good, but you may also have a few wall cabinets. This will give your kitchen an organised and uncluttered look.
If you are a home baker or love to entertain guests frequently at home, it's most likely that your kitchen is a busy space with pantry appliances, baking equipment, and much more. In such cases, custom cabinet designs are highly recommended to hold your essentials.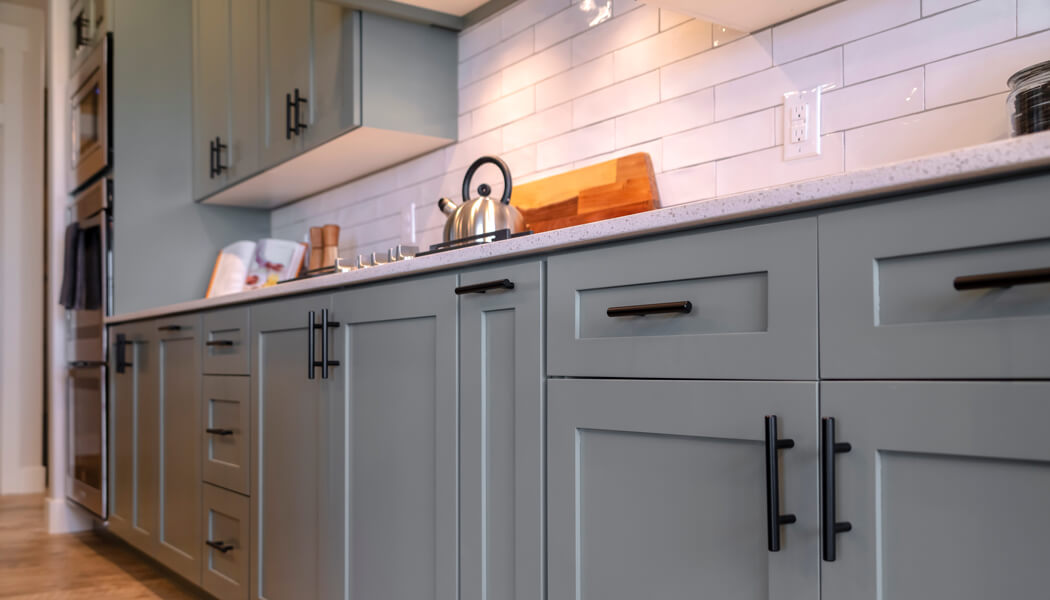 Colours and Styles
If you want your kitchen to have a minimalist look, Scandinavian designs are the popular choice. By using simplistic yet fashionable designs and neutral shade palettes, these designs can make your kitchen functionally efficient and aesthetically captivating at the same time.
For your kitchen cabinets, you may also opt for a blend of white and light woody notes. Though completely white kitchens would remain popular for a long time, we believe, those not inclined to have pristine white kitchen cabinets can select gentle grey notes or light hues like wood colourings with white. If you prefer to have kitchen cabinets with the feel of wooden grains, choosing light to medium-coloured timber for your white kitchen will work well.
You may even choose kitchen cabinet designs in shades of blue, combined with neutral tones, to give your home's heart a stylish look. When it comes to kitchen cabinet styles, you can choose from various popular and versatile options like traditional, urban rustic, rustic, contemporary, shaker, and slab.
Budget
The type of cabinets you need is largely determined by how much time you spend in the kitchen and your cooking requirements. The cost is tied directly to the type of kitchen cabinet you choose. For instance, someone who cooks occasionally or rarely will have needs quite different from a chef who works from home, someone who cooks regularly and loves to entertain guests with home-cooked food, or a home baker.
If you want to install base cabinets with shelves made of plywood that have sleek laminate finishes, you can get it done in a pocket-friendly way. But if you need excess storage space and want it to be opulent by using one-of-a-kind materials for your kitchen cabinets like marble or quartz, you should be ready to spend a lot.
If you stand somewhere in between and prefer to have stylish custom cabinets that give your kitchen a unique look and meet your needs, you can hire an experienced interior designer or work with a company that specialises in delivering such custom cabinet solutions.
To choose the right kitchen cabinets, you need to have a clear idea of your kitchen's desired functionality, the amount of storage required, and the pots, pans, appliances, and more you want the cabinets to hold. At the same time, you should consider your kitchen's overall decor and style to ensure the cabinet materials, colours, and finishes gel well and don't stick out like a sore thumb.
Use the above pointers to plan your kitchen cabinet designs well and get them created and installed by a professional to give your home's heart a stylish look that's functional and efficient as well.