How to design the perfect Make-up vanity at home
Applying makeup becomes a lot easier when you have a well-lit, organised vanity and a surface to perch at. If you are looking for ideas to design the perfect makeup vanity at home, we bring you the top 6 ideas curated by our in-house experts.
Ready to design your beauty station where you can transform yourself to bring out your inner diva so you can step out in style? Let's roll!
Choose The Placement Wisely If You Can
Though you may not always have the freedom of choice when setting up your makeup vanity, try to position it near a natural source of light if you can. Remember that your makeup vanity is only as good as the lighting surrounding it.
For instance, if you have space near a big open window, placing your vanity next to it will help it get adequate natural light, thus making it a breeze to apply your makeup. If your space lacks natural light, try using bulbs, sconces, and other lighting sources to ensure your makeup vanity is adequately lit.
Invest In A Freestanding Vanity
You could set up your makeup vanity in the bathroom, bedroom, or walk-in closet. Whatever be your chosen location, a freestanding vanity will be more affordable than traditionally-fitted vanities.
Its big advantage is that you can move it a bit if you feel you need to change its location for aesthetics, home remodelling, or better positioning.
Select The Right Mirror(s)
Make sure the mirror you choose is right. For instance, if the location is close to a window, a three-panelled mirror that can stand on its own will be a good choice, especially if you don't want to have a mirror that's fixed on the wall. Again, a walk-in closet could have a mirror positioned on the closet door.
You could even have multiple mirrors of different sizes, like a tall, freestanding, full-length mirror to check your attire before stepping out or a smaller one for closer touch-ups to your makeup. You may also take the DIY route to create a Hollywood-style lighted vanity mirror, where light bulbs are strategically positioned along the edges of the mirror. A folding mirror on your walk-in closet too could work pretty well.
Remember To Have Adequate Storage
Your makeup vanity should let you store all your skincare products, fragrances, lipstick, hair dryer, hair curler, nail polish collections, and other beauty and makeup essentials in an organised way. Try to install cabinets and drawers either in your vanity or nearby.
Alternatively, you could be creative and use floating shelves or a bar cart positioned close by as a solution to the small storage space in your makeup vanity.
Select Dual-Purpose Or Folding Makeup Vanities For Tight Spaces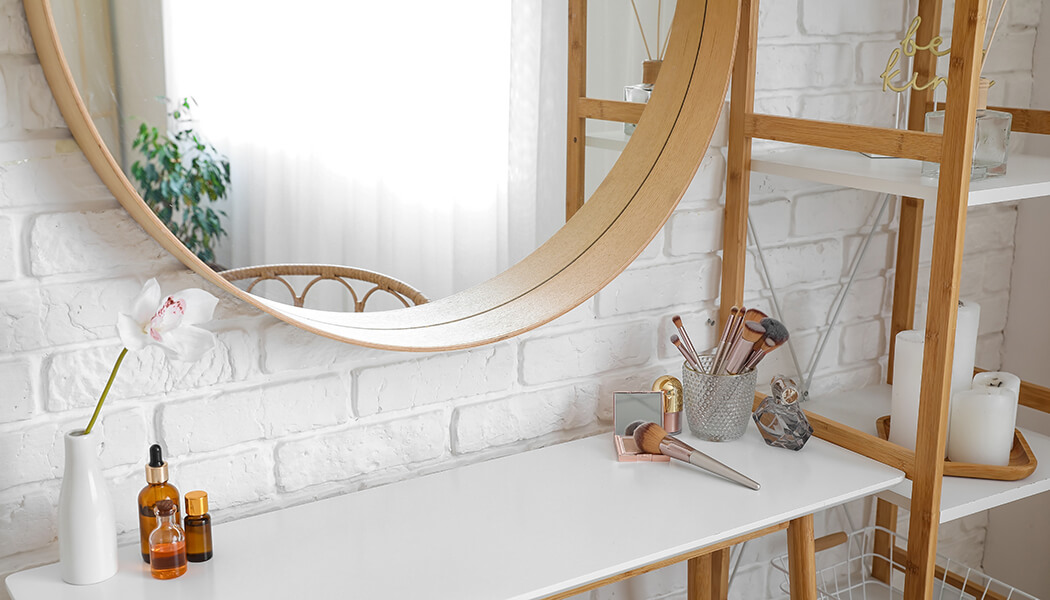 For tight corners or small spaces, it will be wise to choose dual-purpose makeup vanities. For instance, a small table that can work as your vanity table and even double up as your workspace or writing desk will be an excellent way to maximise your limited space's usage. Floating or folding makeup vanities are other design inspirations that can make you put your awkward corners or tight spaces to good use while adding some style quotient to them.
From a foldout desk to a floating cubby that's wall-mounted, you could experiment with different types and styles of space-saving makeup vanities to decide what fits your space, purpose, and aesthetics the best. You may even create a makeshift vanity out of your existing furniture where you can spritz yourself before going out.
Decorate The Space
Decorative sconces on the two sides of your vanity mirror, a flower vase with fresh flowers, a small decorative sculpture, etc., could all create a welcoming vibe and make the space feel your own.
Whether you like minimalist colours, a chic vibe, or a bold and sassy look, bring in the elements to create a unique, functional space that lets your makeup vanity blend in and makes you fall in love with the space where you step in to get ready.
When designing the perfect makeup vanity at home, you should focus on creating a space that's functional, organised, well-lit, fabulous, and adds a touch of pampering when you are getting ready. Above all, it should work for you and make your rushed mornings a bit easier.
Try using the ideas shared above and you will have them all, thus enjoying great results when applying makeup and getting ready to slay in style.