Give Your Interior A Lavish Makeover With These Seven Easy DIY Ideas
Home renovation and additions can help enhance your property's value significantly. But to give your abode a lavish facelift with luxury interiors, it's not necessary to break the bank or dig deep into your savings. Something as simple as a fresh coat of paint can change the entire look and feel of your property and give it a new lease of life.
If you need ideas for interior DIY projects to add a luxe appeal and real value to your abode, we bring you the perfect solution. Though the task will become a lot easier if you engage a provider offering luxurious interior design services in the UAE, you can still get it done on your own. You will just need to possess a DIY (do-it-yourself) attitude, invest a bit of sweat equity, and spend some dirhams on your home improvement project to transform your home into a luxurious and inviting haven.
Ready to get a luxurious interior with small property changes? Here are our top seven luxury interior DIY project ideas that can give you marvellous results without the need of digging a deep hole in your pocket.
Paint The Walls
If your property's interior walls have chipped or dirty paint, scratches, or permanent stains and marks, a few cans of high-quality paint together with a bit of elbow grease can create a dramatic difference and enhance your property's curb appeal. During your DIY painting project, don't forget to paint the trims as well as other home surfaces like doors and built-ins, which will help these areas sustain for long, despite the normal wear and tear.
If you have big rooms, you can use dark-coloured paint in case you want to make them look smaller and ooze the feel of a luxury interior. Light paint colours are ideal for small interior DIY projects as they help the space look bigger and brighter. For painting your interior surfaces, don't forget to prep them before you start putting the coats of paint.
Use Art For A Quick Makeover
If you don't have time for an elaborate paint job, you can create some pieces of art to give your property a complete makeover and turn your "blah" space into a luxury interior. If you can draw or paint, unleash your creativity on paper or canvas, which can then be framed and put up on your wall as an accent piece. Even if you can't play with colours or don't feel confident, you can get art prints of some of your favourite photos (of loved ones, vacations, family events, special moments, etc.) and put them on your wall to create a gallery of your cherishable moments.
Experts on board our luxurious interior design services in the UAE suggest that you could even create a collage of these images and get art prints of them to bring those endearing old memories to life and give them a place in your home's décor by turning them into visually appealing artwork.
Add New Pillows, Cushions, Or Covers
Our experts offering luxurious interior design service in the UAE suggest this step as an easy DIY home improvement project to liven up your interior. If your couches don't have pillows or cushions yet, you can make them appear more cosy and inviting by adding some plush ones.
If you already have pillows or cushions, you can spruce them quickly by making new covers, thus transforming your space into an inviting luxury interior. You can repurpose your old clothes to create a nostalgic feel or buy new clothes with interesting patterns and textures, which you can stitch up to make the covers. By adding dimension and texture to your space, pillows, cushions, and covers give it a rich feel and make it look lavish.
Update Old Light Fixture
This is a quick and easy DIY project to give your property a luxe appeal if you want to enjoy luxurious interiors with small property updates. You could either use a new light fixture or update your lighting to give your space a new lease of life. For instance, if you have a well-functioning lamp that no longer possesses its original aesthetic appeal, you could spray paint its base to make it appear attractive once again.
You will just need to buy a canister of your preferred shade from the hardware store, along with a paint sprayer or spray gun (if you don't have one already) to do it. You may even use patterned contact paper to give your old lamp base a new life. Changing your lamp's shade, your room's bulbs, or experimenting with different types of lights like track lights, recessed lights, pendant lights, and dimmers, among others, can help transform your dated or boring space into an inviting one by adding interest and visual appeal to it.
Update Kitchen And Bathroom Hardware
You can repaint your kitchen and bathroom cabinets to give them a stylish upgrade as part of your interior DIY projects. Remember to clean the cabinets first to get rid of greasy residues and dirt. Else, they will ruin your work.
In your kitchen, even a seemingly innocuous element like an old cabinet doorknob can make the entire space look dated or cheap. You could simply update this hardware for a quick facelift. For your bathroom, installing a new and stylish towel bar with coordinating door pulls and drawer is another excellent way to give the space a luxurious facelift.
Install New Window Treatments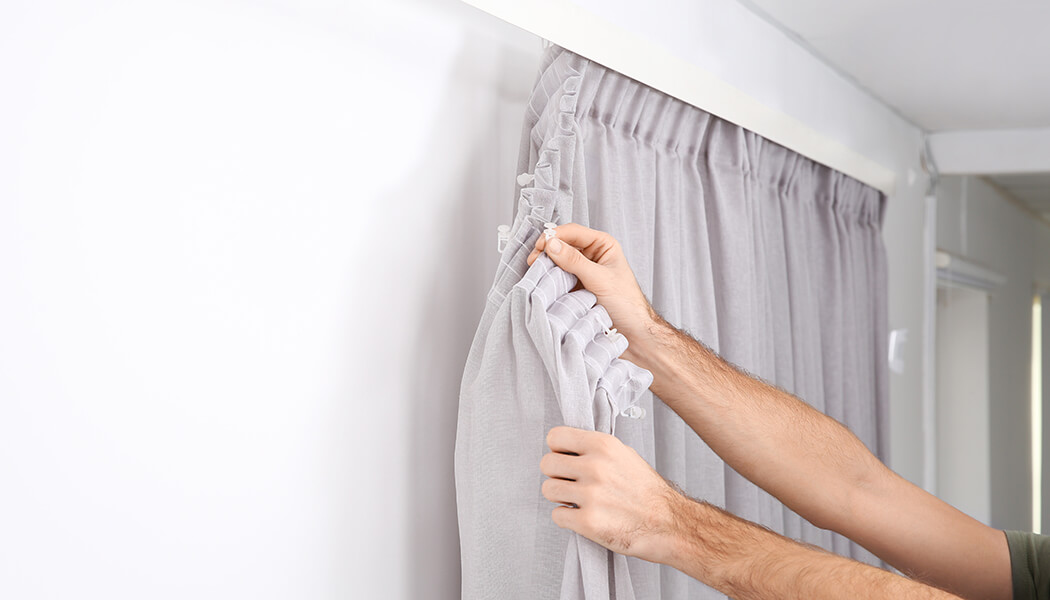 With simple window treatments like drapes, curtains, sheer shades, shutters, and Roman or wood blinds, you can add a bit of pattern to your home décor instantly, thus refreshing the space. You could even stain your window glass panes to welcome those colourful shadows they cast, to enjoy better privacy, without blocking the natural light that seeps in to make your space feel fresh, bright, and cosy.
Using wallpaper that matches or contrasts your window curtains is another luxury interior DIY idea worth trying as it could help ground the other décor elements of the space, thus creating a fully enveloped aesthetic.
Bring In The Greens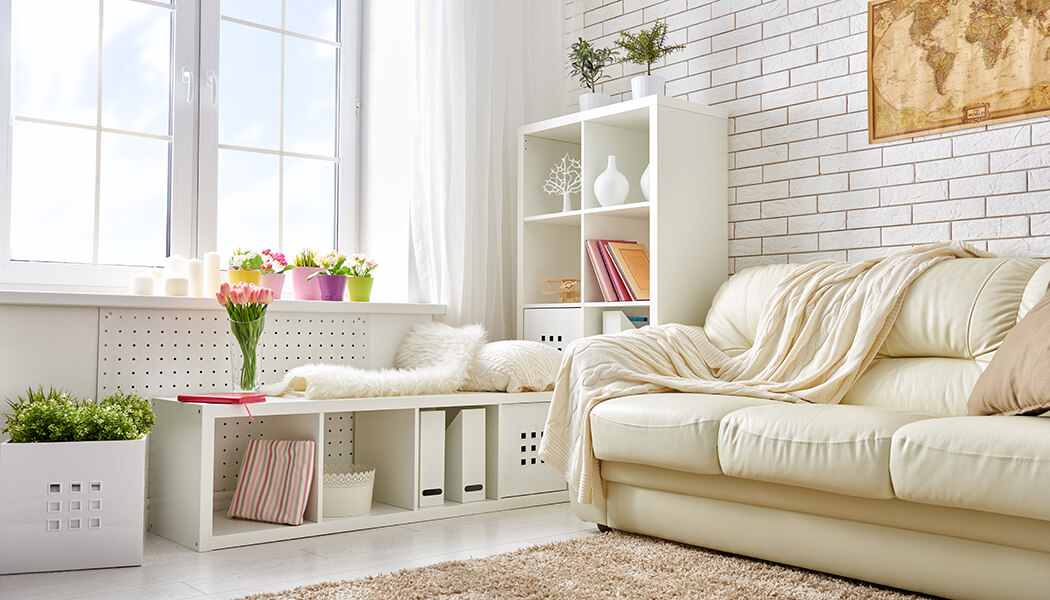 By bringing in flowers and plants as part of your interior DIY projects, you can level up your home décor and give it a luxe makeover. Apart from making your interiors come alive and feel brighter, calmer, and more appealing, these cheerful accents can also benefit your health, especially if you bring in plants with air-purifying, insect-repelling, or healing properties, among others.
If your boring interiors put you to sleep, adding a dash of colour, along with some character and texture, with beautiful flowers and plants is just what you need to do.
Wrapping Up
Giving your property a luxurious makeover doesn't have to be complicated or expensive. By implementing a few of these luxury interior DIY ideas, you can make a few small changes here and there that suit your home's overall aesthetic, give it a luxurious makeover, and help you get the most out of your assets.