Effective Tips for Room-Wise Selection of Artworks
Every home should represent its owner's aesthetic tastes and preferences. Since the art you choose to buy and showcase reflects your DNA, it pays to trust your gut above in-vogue trends and styles. If you aren't very artsy and decide to fill your rooms with stunning furniture and furnishings, they will still look incomplete if they lack artwork.
For a room, a piece of art is as important as the right punctuation is to a sentence. Without art, your rooms will feel bare and lack the personality and layer that artworks of diverse sizes, shapes, and styles can infuse them with. If you are struggling to decide the right art for every room, the following tips will help.
Living Room
Your living room is where the entire family gathers for socializing, entertainment, and play. When buying art for this room, it pays to select a focal point or an area in which your conversations should be centred. Accent pieces like a large painting or gallery walls are good ideas to decorate your living room. Apart from art pieces like oil paintings, framed photographs, and collages, you may also consider buying rugs, tapestries, masks, or other artefacts during your travels.
Your living room art can match and complement your interior décor or create a contrasting element. You could even mix it up, like using modern art to decorate traditional living rooms or older-style paintings to jazz up your contemporary setting.
Bedroom
As your bedroom is a relaxing and restful space where you spend almost one-third of your life, art for this space should mostly be comforting. However, not everyone may be looking for a calm or serene bedroom. If you want to infuse the space with a more sensual or playful vibe, the artwork you pick should suit your goal.
It all depends on the type of overall mood you want to set up in your bedroom. For a tranquil bedroom, traditional art choices span garden scenes, landscapes, ocean views, and botanical pictures. Graphic art pieces or soft abstracts that convey a sense of calm also work well in the bedroom. To create a sensual space, classy artworks in deep, rich reds that invoke a sense of passion would work well.
Kitchen
Not many homeowners think of putting artworks in the kitchen, but art belongs to this space as much as it does to your living room and bedroom. Beautiful pieces of art help tie the space and are an excellent way for homeowners to imbue their abode with their unique perspectives and tastes.
Showcasing art in your kitchen is also a great way to add life and zest to an otherwise utilitarian space. From placing a sculpture beside your dishware on open shelves to hanging a vintage or abstract oil painting at a height above your sink or countertop, you can use art to give your space a cohesive feeling. Small corners, unexpected locations like the hood of your oven, or even your countertop can come alive with a framed handwritten recipe from your grandma, a beautiful tapestry, or a vintage figurine.
Dining room
If you love bold, loud, and colourful artwork, your dining room is where you can showcase them. This is the ideal space where you can experiment with risqué art choices, from eclectic prints and 3D art to bold graphics and even different art mediums and styles. This space is also great for mixing and matching. For instance, you can pair your traditional artwork with 3D graphics or sculptures.
Art for your dining room doesn't always have to be large or overwhelming. If you have a large, blank wall, you can surely fill it up with a huge painting or photograph or even create a gallery wall. Large artworks also look good on your mantle or sideboard. However, having a focal point in your dining room doesn't mean it should be the only striking feature of that space. You can also position smaller pieces that complement your space's defined theme and can act as conversation-starters.
Nursery or Kid's Room
Earlier, parents used to design their kid's nurseries or rooms with themes based on their gender. However, most parents today opt for more gender-neutral themes, which make it somewhat easier to select art for decorating the space. From whimsical or playful art to the ones that reflect your little one's interests, trigger inspiration, or educate, you will have a wide variety to choose from.
It's best to decide what atmosphere you want to create in your kid's room when buying or creating art. For an active kid who plays, draws, sings, dances, and gets involved in other activities in the room, artworks in bright, vivid colours will be great for stimulating the imagination. However, if your child has trouble sleeping, something in more calming and relaxing colours and tones will be preferable.
Bathroom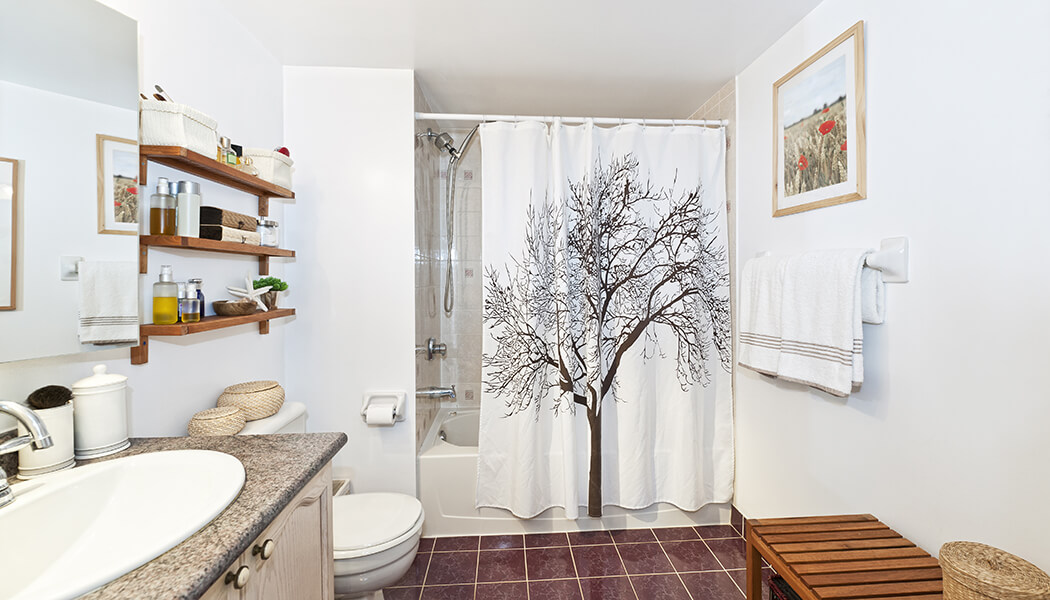 To make your bathing experience feel like nothing short of a spa session, consider adding art to the space. Artwork in your bathroom will make the area feel soft and sophisticated. You could even display a quirky piece or two in this room to add a playful element to the space.
From old paintings in waterproof frames and glass to soothing pieces and figurines collected during your travels, you can showcase your artworks over the toilet space, above the door, or anywhere else you feel fit.
Home Office
If you have a home office where you work alone, meet clients, or run a family business from, you can add a few pieces of art to break the monotony of this space. Framed favourite quotes, large natural prints of landscape, seascapes, travel photos, and abstract images with natural colours that help you feel closer to nature without getting out and bring a grounding effect are smart choices for your home office.
You may even invest in paintings or images of strong animals like lions or horses or architectural beauties like buildings and bridges that look formal and beautiful at the same time.
Every room in your abode serves a particular function. It pays to find, buy, or create art that helps set up the right mood, adds a visual appeal to the space, and imparts a personal touch while heightening its style quotient. Go ahead and use the tips shared above to find suitable art for each room to make your abode beautiful and unique – just like you!