Design And Plan An Efficient And Aesthetic Laundry Room With Our Expert Tips
Whether you plan to upgrade or update your existing laundry room or build a new one, a lot of careful planning and flawless execution should go into the process. If you aren't sure where to begin or how to go about it, we bring you our helpful design advice and planning guide. Our in-house design and layout experts share easy yet effective ideas and inspirations to help you create a functional and efficient space that looks beautiful as well.
Ready to begin? Let's take note of the basics before we move further.
Finalise The Location Of Your Laundry After Careful Consideration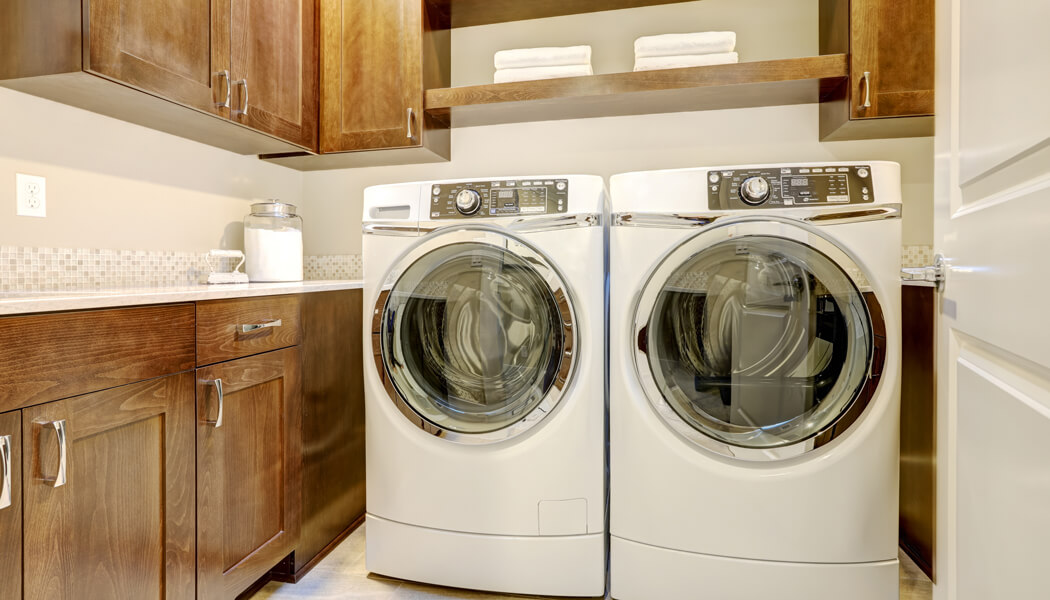 Where to position your laundry room could be a big dilemma. Though you want your laundry room to be located conveniently, it's wise not to have it pretty close to the living areas because the noise, while it operates, could be disturbing. Again, though your laundry room should have adequate space to accommodate big appliances, it shouldn't be so big as to steal room from your home's living areas.
In addition to convenience, easy access to plumbing and electrical points, as well as a venting location is crucial when finalising the location of your laundry room. If space-saving is on your agenda, you could even combine your laundry room with your mudroom, kitchen, or spare bathroom. So, it pays to take note of your pressing duties and lifestyle to ensure your laundry room's location is just right.
Don't Forget The Noise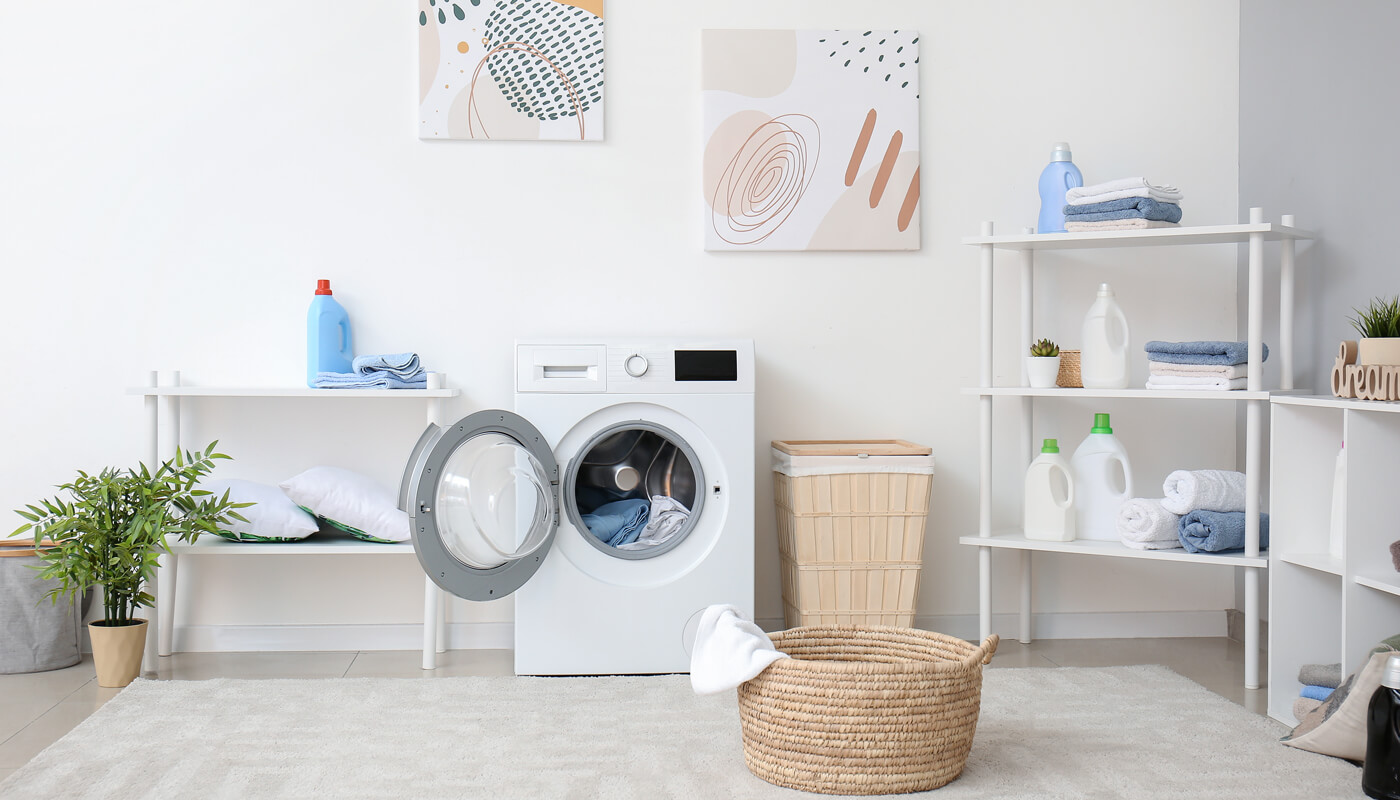 Though doors with hinges work the best to mask the sound of a washing machine and dryer at work, they may not suit all spaces. If you have a space crunch, you could opt for a sliding door or pullout pocket door that makes it easy to close off your laundry room.
In case you decide your laundry room's position close to your bedroom or living room, it would be wise to shop for appliances with improved suspension and additional insulation that promise reduced vibration for quieter operation.
If the dryer you want to shortlist doesn't list a decibel (dB) rating, perhaps it's too noisy to be positioned near the bedroom or living room. The same logic might be applicable to washing machines that come equipped with high-speed spin cycles (above 1,000 rpm), as they tend to vibrate too much to be located near your sleeping or living areas.
Consider Your Primary Laundry Duties
When designing your laundry room, you should take into account the steps involved in your primary laundry duties. An effective way is to install elements for each of these three key steps when you design your laundry room:
• Sorting: Make space for putting in the bins and baskets to sort the dirty and clean clothes, bed sheets, etc.
• Loading: Install cabinets and shelves for storing your laundry detergent and other cleaning products. These cabinets and shelves should be easily accessible and ideally located within easy reach of the washing machine.
• Folding: Having a countertop, either atop the washer and dryer or at another location (say, a centre island, similar to kitchen islands positioned in the centre), will help ensure you have space for folding your laundry after it's cleaned in the machines. Instead of a countertop, you could even have a tabletop to handle the job.
When planning your laundry layout and position, make sure to factor in any access requirements as well. For instance, would you like to clean up your kid's bedroom while the clothes are getting washed and dried? Do you need access via an external door so you can easily reach the outdoor clothesline from your laundry room? Will you be using your laundry room for storing kitchen appliances and need direct access to the kitchen?
Any additional storage requirements are also worthconsidering. For instance, if you want your laundry room to double as a mudroom, decide where you will store the soiled clothing andshoes.
Appliance Installation
When selecting where to position your washing machine and dryer, it will be wise to leave some extra space in case you need it in the future or decide to upgrade to an appliance of a bigger size.
When planning your laundry room, you shouldn't forget about the power outlets. Take note of the appliances you plan to use and make sure you have adequate power outlets in the space that are positioned in the right spots. Apart from the power outlets for your washer and dryer, you should consider the ones you are likely to need for an ironing station or a countertop appliance.
Since a leaking washing machine or one with malfunctioning parts could cause flooding, you will do well to add a drip pan under your machine. You could even get a floor drain installed to prevent the risk of flooding. You may even ask your plumber to make an automatic shut-off in case there's a water leak.
TypesOf Washer/Dryer To Buy
This is yet another factor to think about when planning your laundry room. Before you head out to a store to buy your washing machine and dryer or order them online, here are a few popular choices you could consider:
Stackable
If you have a space crunch and want appliances that let you utilise the available space optimally, stackable washer and dryer will work well. Just ensure that the appliances are attached firmly to avoid toppling. You can position such stacking appliances even in your kitchen or bathroom if finding a dedicated space is a problem.
Top- Or Front-Loading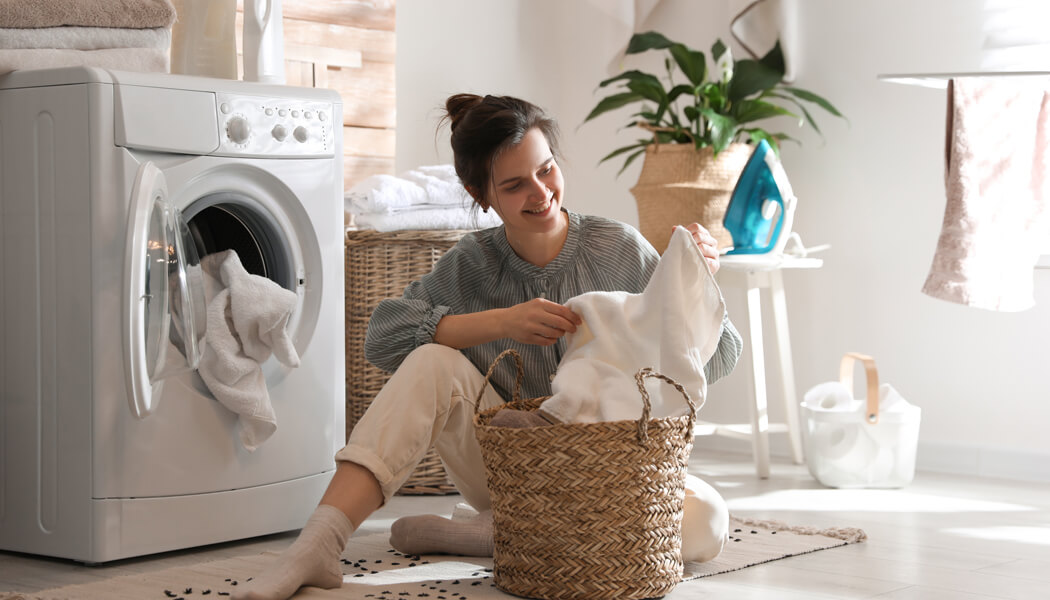 If you have a small frame, you could find it difficult to reach the bottom of your top-loading washing machine. Again, your back may complain if you aren't careful while using front-loading washers. To save your back from aches and strains, using a lower cabinet or pedestal to elevate your appliances at least 15 inches will be a good idea.
Washer-Dryer Combo
This is yet another effective space-saving option where the washer and dryer are combined in the same machine. You can automatically dry your clothes, sheets, and other items after washing them using such an appliance. You may even run such a machine either as a dryer or a washer when needed.
If you are looking to exercise full control over your appliance and wash load, a washer-dryer combo could be just what you need.
Other Vital Things To Consider
Separate Your Wet And Dry Zones
To make your laundry room more efficient, dividing the space into wet and dry zones will help. To keep wet tasks together, you should position your washer and dryer as well as the sink side by side. This will also help streamline the plumbing lines by keeping them together.
You can have a countertop in front of the appliances to keep the clean clothes, iron them, or fold them. If the space permits, you could even install a clothing rod or position a ladder shelf beside the dryer to air dry your clothes. Having shelves and cabinets above your washer/dryer or somewhere away from the sink and appliances to store the ironed clothes is another important consideration.
Carving out some space for a pull-out or stand-alone ironing board near the drying rod or shelf is an excellent way to facilitate speedy touch-ups to your wrinkled clothes.
Select Tough Materials
Since your laundry room will experience frequent use of water, chemicals, and hot irons, you should select a durable and resilient countertop material. For instance, an engineered stone countertop can withstand abuse well in your laundry room.
The materials you choose for your cabinets and shelves should also be exceptionally hard-wearing and capable of withstanding steam and moisture. Tiling the bottom of your cabinets and shelves is a good idea as tiles can withstand steam and moisture better, which your laundry room will have plenty of when you steam clean or mop the floor.
Install Countertops That Are Deep Enough
Countertops that are too narrow will give your laundry room a messy and ugly look. They may also be too small for your folding tasks and could make your washer and dryer stick out.
It pays to ensure you install countertops that are deep enough. Our experts recommend 26 inches as the minimum countertop depth that will ensure your appliances fit neatly underneath.
Invest More In Closed Overhead Cupboards
Since you will like most items in your laundry room, such as cleaning products, to be concealed, installing more closed cupboards and fewer open shelves makes sense. If you don't want to bend often and prevent backaches, investing in adequate overhead cupboards to store smaller items would be a good idea.
If you want some open shelves to add interest and a pop of colour to your laundry room design, keep them limited to make sure you don't compromise your overall storage requirements. You may also have a custom-made tall cabinet to accommodate big and awkward items like brooms, mops, and the ironing board.
Now that you know these insider tips shared by our layout and design experts, start designing and planning your laundry room that meets your needs and looks good and organised as well.