8 Actionable Décor Ideas For Your Contemporary Living Room
From minimal design trends to a piece of modernist art, contemporary homes today focus on keeping things simple, yet elegant, to create a relaxing haven people can come back to. If you are looking for contemporary décor ideas for your living room but don't know where to begin or how to do it, we have got you covered.
We present eight ideas that will help you to design your rooms to ooze a modern, welcoming vibe with a touch of innovative approach and clean finish that grabs attention and is visually appealing.
Ready to dive in? Here we go!
Stick To A Simplistic Colour Palette For Your Walls
As modern interior décor focuses on doing more with less, you can follow suit and choose paint colours that sit well with your overall décor plan. If you aren't sure of the furniture and other décor items you will purchase for your living room or don't want to change what you already have, going for neutral colours is the best bet. You can paint your walls in beige, white, gray, cream, black, brown, or taupe, as these colours will suit any setting.
If neutral or monochromatic colours don't appeal to you or you find them bland, you could mix and match colours based on what your aesthetic preferences are or play it safe by choosing classic combinations like black and white.
Leverage Line Focussed Designs
Did you know lines can define spaces? That they can affect everything from function, texture, and style in a space, add a visual focus, and direct the eye from one point to another? From using vertical lines to create an impression of a taller space to drawing eyes to a focal point, lines can do it all for your interior design. That's why it pays to use line focussed designs that encourage simple, easy, and clean finish, and echo in your living room with their bold vertical and horizontal lines.
For instance, you can use horizontal lines in the form of a chair rail, tall baseboards, wainscoting, or crown moulding to bring in a sense of stability. You could even leverage curved lines in your living room's furniture, windows, and arched doorways to add some drama, movement, and a dynamic and playful feel to the space.
Bring Home High-Quality Custom Furniture
Though you can always invest in store-bought furniture, getting customised pieces will always be a game-changer for your contemporary living room. From using geometric shapes and patterns in your furniture to getting pieces that fit your space, display superior craftsmanship, and are created to last long, custom furniture can offer them all and more.
Whether you are looking for natural textures, elegant effects, functional furniture that offer you additional storage space, or all of these features, you can get them in bespoke furniture that will support your practical living approach while making your modern home look unique and beautiful.
Invest in Modern Art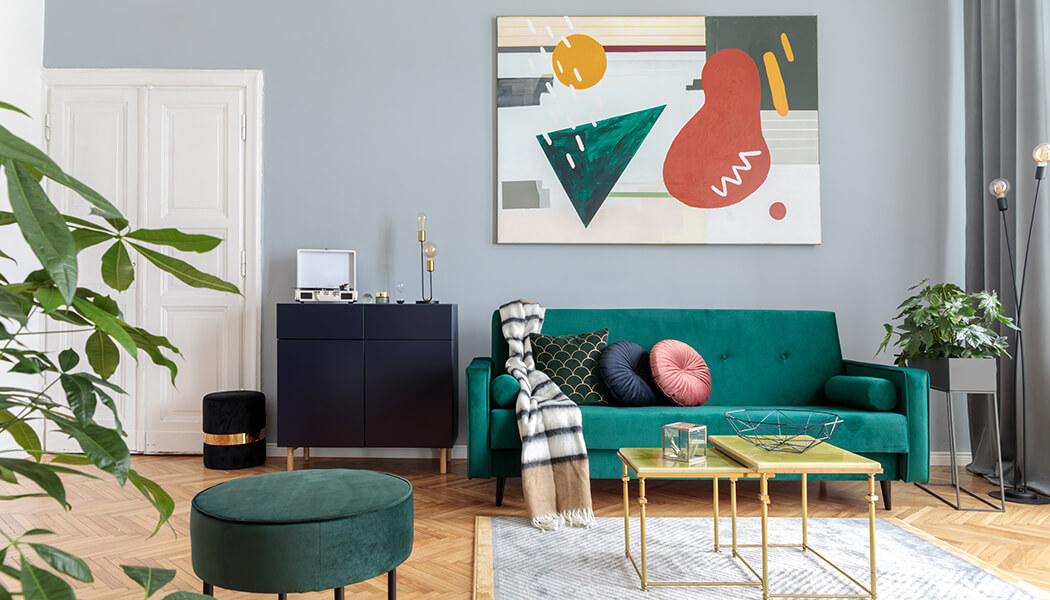 From abstract modern artworks that use vibrant colours to the ones that play or experiment with shapes like cubism, self-made art like personal image collages, or framed artwork made by your child, you will have a lot to choose from. Variety comes in the types of artworks, such as figurative works with still lives or landscapes to the mediums (watercolours, oils, pastels, etc), themes, sizes, inspiration, and more.
Choose what suits your persona and interior décor the best and don't be afraid to experiment a bit if you aren't sure what suits your living space. The artwork you select for your home is part learning, part gut instinct. Ultimately, it should speak to you alone but go well with your interior's other elements as well.
Blend Individuality And Modernism In Your Décor
Do you want a specific item to be your living space's focal point, say a figurine, artwork, heirloom piece, etc.? Or do you prefer to tie various elements together and group decorative pieces to create a modern, cohesive space? Whatever be your choice, make sure these items and elements appeal to the senses and are stylish, not chaotic.
Wherever you are sourcing them from, try to get good quality. You could even commission experts to craft bespoke pieces for your interior décor that will ooze a sense of comfort, showcase style, and be appreciated.
Add Texture And Interest With Natural Materials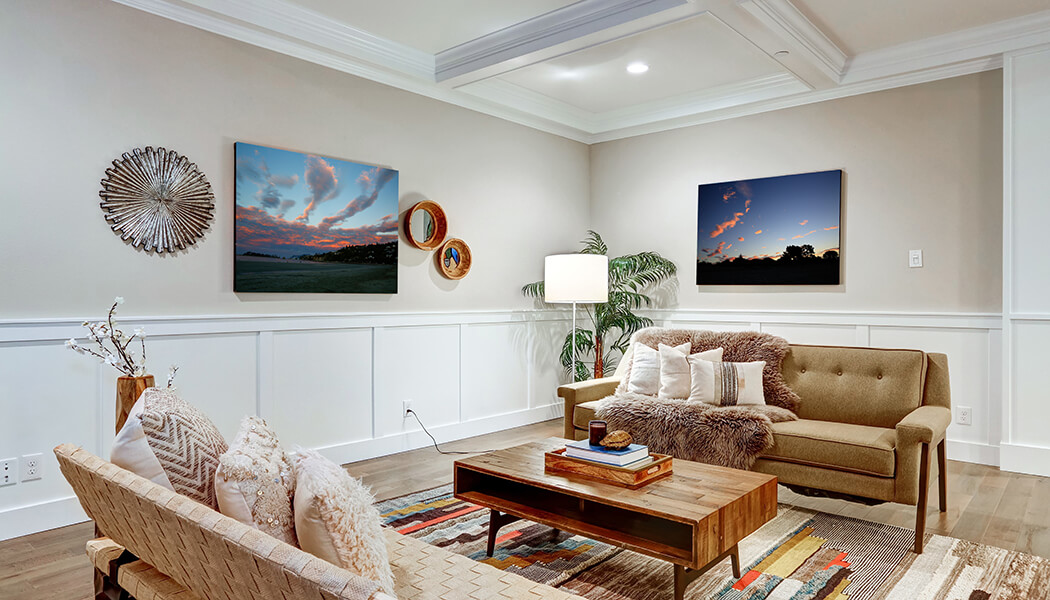 Contemporary living rooms are decorated using a minimalist style while being environment-friendly. You can bring in natural elements like wood, stone, glass, etc., to give your space a cosy feeling. Be it using wooden or rattan chairs, a centre table with a glass top, wicker baskets, woven window shades, jute carpets or area rugs, or building a stone fireplace, you can mix diverse natural materials and textural elements to make your living room look more interesting while giving it a cosy, lived-in feel.
Layering is another clever design trick to decorate your living room with modern vibes. For instance, you could position a textured area rug atop a natural jute rug to create a soft base for your contemporary living room. Using throw pillows on your couch and curtains on windows are other effective ways of layering. However, it's essential to remember that since contemporary design is clutter-free, you should keep your wall décor to a minimum.
Create Interest And Add A Pop Of Colour With Wallpaper
From bold prints and geometric patterns to floral designs, classic black and white designs, and UV prints, you can choose from a wide array of wallpapers to add a pop of colour and some interest to your living room. Your room's walls are the most valuable real estate for design and decoration, and cover the most area, thus instantly drawing your eyes to them. By using wallpaper, you can create a statement and wow effect instantly.
If you don't want to travel down the beaten path of bringing home wallpaper that you can find in several other homes, we suggest you go for custom wallpaper. By having them custom-made to fit your design and aesthetic preferences, you can use them to add an unmatched vibrancy and richness to your living room.
Experiment With Lighting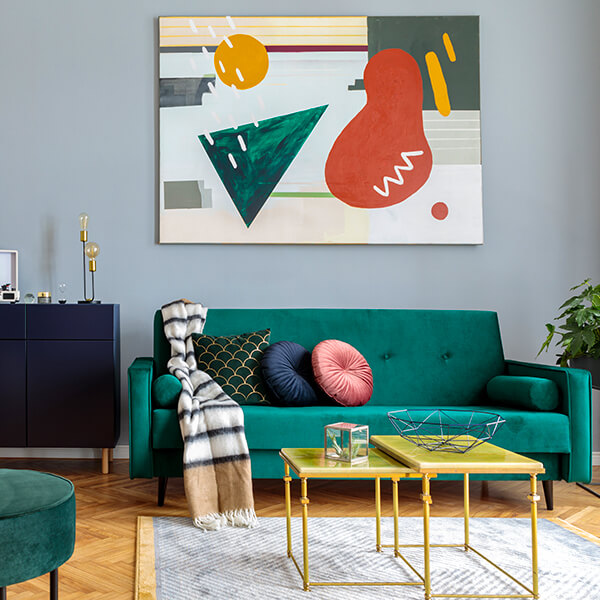 Since your living room is a versatile space, you should use an array of lighting options in such a way that they come together in unique ways to create a visually stunning and functional space. From ambient lighting with ceiling fixtures and table lamps for overall illumination to task lighting for reading, knitting, family game nights, etc., you will have a lot of choices.
You could even use accent lighting by investing in recessed lights, track lights, and LED strips to highlight wall art, family photos, architectural details, or other décor components. Decorative wall lights like pendant lights are also worth considering. Make sure that you layer various types of lighting to create a warm and inviting space.
Once you have decided on your living room's décor theme or overall design, use these ideas shared above to create a contemporary space that merges your image of an ideal abode with top-notch functionality and visual appeal. And don't forget to let us know how it all went!